Many thanks again for taking the time to visit and welcome to this Challenge Lawn Mower review which will cover both electric models and also Petrol models so that you have more than just 1 choice when it coming to making your final decision. The focus of this review will be to cover the Corded and Cordless models plus the Petrol Push and Self propelled models to give you a better understanding of what each of them has to offer plus all the pros and cons associated to each. Hopefully by the end of the review you will have a clear thought process if indeed a Lawn mower under the Challenge brand is for you or not.
Please be aware that only guide prices can be submitted at the time of this review so please make sure to view the price checkers outlined below to ensure you get the most up to date price information.
For the purpose of the review – it will be split into 2 parts – Part 1 will be Electric (Corded and Cordless) and Part 2 will be Petrol (Push and Self propelled) and comparison charts will be provided also of you need further clarification. In addition, if you want to explore further prices elsewhere, then make sure to check out the options provided at the end of this page that are worth a closer look also…
Lawn Mower Review Overview

| Brand: | Challenge |
| --- | --- |
| Models: | Compilation of Electric (2) and Petrol (2) models |
| Price Range: | At the time of this review - £50 to £160 |
| Cheap Place to Buy: | Argos UK – View Available Stock Levels Here |
| Warranty: | 12 months |
| Deliveries: | Location dependant – tends to be 3 to 7 working days |
Challenge Lawn Mower Review Part 1 = Electric
Frequently Asked Questions about Challenge Electric Lawn mowers:
Q. What is the length of the cable for the Corded Model?
A. The length of the cable is 10m
Q. What is the V drive system?
A. The V drive system motor increases torque levels when you come across thick/damp grass
Q. What is the warranty period available?
A. It depends on the seller but tends to be 12 months duration
Q. What are the boxed dimensions of the corded mower?
A. These dimensions are 58.5L by35.5W by 26.5cmH
Q. How long does the battery last for?
A. The runtime operation for the battery on the Cordless model is 30 minutes
Q. How long does it take to recharge the battery for the cordless model?
A. It takes 8 hours to recharge (which is extremely slow against more expensive brands)
Q. Can it be used without the grass collector?
A. Yes, but at high mow settings to avoid clogging
Q. Can the battery be used also for the Challenge strimmer 18V?
A. Yes it can also be used for the Challenge strimmer 18V
Challenge 31cm Corded Rotary Lawnmower 1000W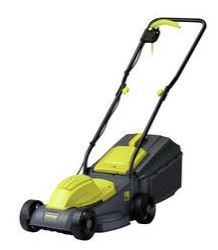 Pros:
One of the lowest prices around - Hard to beat
Ideal for bargain hunters
No charged batteries to worry about
No fuel/oil/maintenance costs involved
Handle can be folded for easier storage
A quick stop blade brake for added safety
Vdrive system to increase torque for thick grass
Includes the basic 3 level mow heights
Grass collection box included
Assembly process is simple and easy to do
Great value and reliable for small type lawns
Cons:
Only suitable for small town house lawns
Very narrow mow path – Only 31cm
Slower to get the job done – Patience needed
Thicker grass needs a double run over
Poor with wet or damp grass
Limited mow area with the Cables
Grass box is quite small – frequent emptying
Lower warranty duration than other brands
Wheel attachments could be a lot better


Challenge 31cm Cordless Rotary Lawnmower 18V 3Ah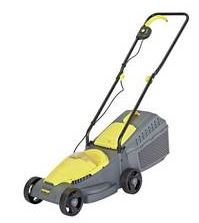 Pros:
No cables across the lawn to worry about
Environmentally friendly choice
No need to worry about fuel / oil costs
Zero maintenance costs involved
Also has 3 basic mow heights available
Small user friendly grass box collection
Price is hard to beat for a cordless mower
Not limited to the length of the cable
Simple assembly process (good instructions)
Overall a lot safer with no cables lying around
Battery and charger is included
Cons
Price is approx. twice the cost of corded version
Look elsewhere if mowing time is >30mins
Additional secondary battery may be needed
Potential added costs for new /2nd battery
Average with damp grass (not for wet grass)
Small grass box means a lot of emptying
Narrow cut path & wheels could be better
Charging batteries is very slow (8 hours)
Other brands have quicker rechargeable batteries


A summary comparison table is outlined below for added clarity for the Challenge Corded versus the Cordless model…

| Feature: | Challenge 31cm Corded 1000W | Challenge 31cm Cordless 18V 3Ah |
| --- | --- | --- |
| Operation: | Corded | Cordless |
| Mow Width: | 31cm | 31cm |
| Power level: | 1000W | 18V 3Ah detachable battery |
| Handle: | Foldable | Foldable |
| Lawn Size: | Small only | Small only |
| Cable: | 10m Length | N/A |
| Mow Heights: | 3 (2cm-6cm) | 3 (2.5cm-6cm) |
| Grass collector: | 30L capacity | 30L capacity |
| Recharge Battery Time: | N/A | 8 hours |
| Battery Runtime: | N/A | 30 minutes |
| Weight: | 9.5kg | 8.3kg |
| Price Guide: | £45 to £60 | £100 to £150 |
Challenge Lawn Mower Review Part 2 = Petrol
Frequently Asked Questions about Challenge Petrol Lawn mowers:
Q. How much fuel does it take?
A. The fuel tank can hold 850ml fuel
Q. Who can you contact for any problems such as parts / servicing?
A. You can contact the UK support team at 01904 727508
Q. How quickly can the mower be repaired / serviced and how much does it cost?
A. There is a free collection and return if repairs are needed – usually within 10 -14 days
Q. Can replacement blades be bought?
A. Yes and you will need to contact them directly on 0345 6052067
Q. Is the Engine oil included?
A. No, you will need to buy 400ml SAE30 engine oil separately
Q. What type of deck is used for the Petrol Mowers?
A. A corrosive and weather resistant polycarbonite deck is used (lighter)
Challenge 40cm Hand Push Petrol Lawnmower 129cc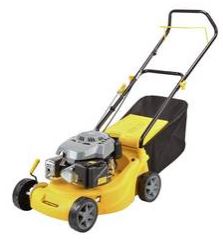 Pros:
Superior power for thicker and longer grass
No limitations with cable lengths
Don't have to rely on battery charge duration
Wider mow path of 40cm - saves time
More mow heights to work with (5)
Large grass collection box (45L capacity)
Highest mow height can go to 7.5cm
Dedicated UK support team available
Mow heights are adjusted with one lever
Competitive and good value price range
Simple assembly and start up process (5 mins)
Lightweight (only 21kg) so easy to work with
Noise level is lower than expected
Cons:
Ongoing fuel/oil and maintenance costs
Not self propelled, difficult with steep slopes
Warranty is less than other brands (12 months)
Unleaded petrol and Engine oil 400ml is needed
Additional strain when pulling the start cord
Several attempts on the pull cord can be needed
No indicator on the grass collector when full
Restarting with the cord can be difficult at times


Challenge 40cm Self Propelled Petrol Mower 129cc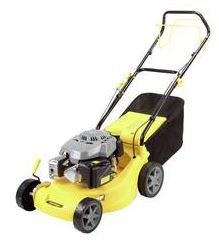 Pros:
Great for using around steep slopes or hills
No need to push as it is self propelled – easier
Price compares better than other brands
Ideal for small and medium size lawns
Lightweight vs metal deck alternatives
UK dedicated support team available
Mow height control with the single lever
Good range of mow heights to choose from (5)
Longer grass can be 1st done at the 7.5cm level
Decent size grass collection for less emptying
Support package available for 12 months
They will collect if any repairs are needed
Includes a foldable handle for easier storage
Cons:
Warranty only 12 months (other brands is longer)
Added oil and maintenance costs
Can be difficult with the start cord (few pulls)
Price level is one of the highest in this range
Engine oil & petrol need to be bought separately
Not suitable for larger type home lawns (small)
Lacks features such as the grass box indicator
Restarting with the cord could be a lot easier


A summary comparison table is outlined below for added clarity for the Challenge Petrol Push versus the Petrol Self Propelled model…

| Feature: | Challenge 40cm Push Petrol 129cc | Challenge 40cm Self Propelled 129cc |
| --- | --- | --- |
| Operation: | Push Petrol | Self Propelled Petrol |
| Power: | 129ccc 4 stroke engine | 129ccc 4 stroke engine |
| Lawn Size: | Small and Medium size | Small and Medium size |
| Mow heights: | 5 (2.5cm-7.5cm) | 5 (2.5cm-7.5cm) |
| Grass collector: | 45L Capacity | 45L Capacity |
| Mow Width: | 40cm | 40cm |
| Handles: | Foldable for easier storage | Foldable for easier storage |
| Wheel Size: | 165mm front & rear | 165mm front & rear |
| Weight: | 21kg | 24.5kg |
| Warranty: | 12 months | 12 months |
| Price Guide: | £130 to £150 | £150 to £180 |
If you wish to compare prices further, then also check out the price options provided below from Amazon which are always worth a closer look before you make your final decision…
Have you any previous experiences of using Lawn Mowers under the Challenge brand yourself in the past?
Then please share your feedback/comments with the UK community (good or bad) by leaving your thoughts in the comment box section below – So that they can learn also!!!
Finally, many thanks for taking the time to visit this review and best of luck with your final decision
Regards
Steve