Are you interested in buying an Einhell Lawn mower in the coming days or weeks? There make sure to check out this detailed Einhell Lawn mower review compilation which will cover several models under the Einhell brand be it Manual Hand Push Models, Corded Models, Cordless Models and Petrol self-propelled models so at least you have more than one choice when it comes to making your final decision.
View also: Popular Hedge Trimmers here
Pricing Options
Please be aware also that we can only submit guide prices at the time of this review so please make sure to view the price checkers provided below to ensure you have the most up to date price information. Further price options are also outlined at the end of this page if you are interested in taking a look also.
4 Part Review
In addition, we will outline their key features that they have to offer plus all the pros and cons associated to each that you will need to know about in advance. Hopefully at the end of this review, you will have a better idea if indeed a Lawn mower under the Einhell brand will fill your own set of requirements or not.
As there are several models in the range, this review is split into 4 parts (1, Manual, 2. Corded, 3. Cordless, 4. Petrol) so feel free to skip to whatever part interests you the most. So, without delaying you any further, let's get started…
View also: Popular Grass Trimmers here
Lawn Mower Review Overview
| Brand | Einhell |
| --- | --- |
| Models: | Manual x 2 / Corded x 2 / Cordless x 2 / Petrol x 2 |
| Orders Online: | Yes, orders can be placed online |
| Deliveries: | Location dependant – Tends to be 3 to 7 working days |
| Warranty: | Seller Dependant – Tends to be 12 months to 2 years |
| Cheapest Place to Buy: | Amazon – View Available Stocks Here |
Einhell Lawn Mower Review Part 1 – Manual Push
Einhell GC-HM 30 Manual Hand Push Lawnmower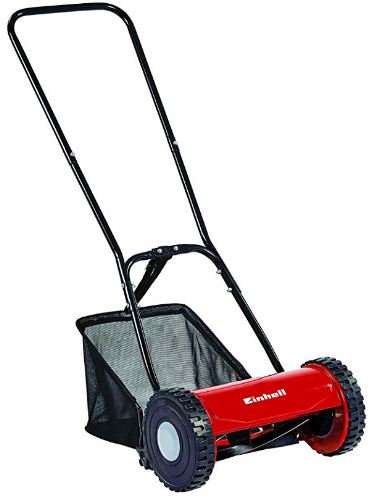 Pros:
Average Mow width available of 30cm
Environmentally friendly choice – no fumes or power
Great sense of exercise and burning countless calories
Attractive price tends to be less than £50
Solid and sturdy metal frame
Lightweight coming in at less than 8kg
Includes a 16L grass collector bag
Good mow height range of 1.5cm to 4.2cm
Includes 5 strong and robust steel blades
There is the mowing spindle with ball bearings
The plastic rollers have a diameter of 45mm for stripes
No cords, batteries, oil or fuel to worry about
Simple assembly process and no noise level
Overall basic, simple but effective with dry light grass
Cons:
Narrow mow path – slower and more passes needed
Grass collector unit is very flimsy and could be better
Grass bag may not stand the test of time
Max mow height is 4.2cm and need to avoid twigs
Only suitable for lawns up to 150m².
If your lawn is >150m², start looking elsewhere
Mixed results with uneven ground and heavy weeds
Wet or damp grass needs to be avoided at all times
Needs a higher level of energy for operation
Can slide on wet grass - you need to avoid it jamming


Einhell GE-HM 38 S-F Hand Push Lawnmower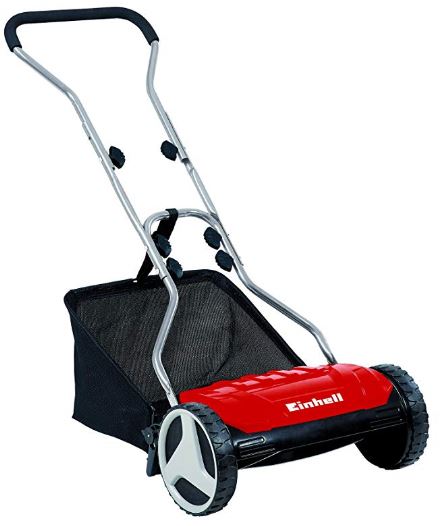 Pros:
Wider mow path of 8cm – total 38cm cutting
No noise level to worry about like electric/petrol models
Environmentally friendly alternative
Great form of burning calories and exercise
Metal frame is strong and solid
There is a height-adjustable handlebar
High-quality steel blades x 5 to stand the test of time
Includes the ball bearing mowing spindle
Lightweight and easy to operate coming in at <9kg
No cable cords or batteries to worry about
Very easy to assemble with good instructions
Can mow as low as 1.3cm for a clean crisp cut
Good height options x 4 to choose from (1.3-3.8cm)
Has the plastic roller with a diameter of 5cm
Cons:
Price is higher than the GC-HM, can be £100 or more
Need to avoid twigs and heavy thick weeds
Grass collection is a bit hit and miss & very flimsy
Filling the grass collection could be much better
Requires a great deal of energy to operate
Poor on wet and damp grass – gets jammed
Must always have dry grass and light weeds only
Recommended for lawns less than 250m² only
Grass collector quite small with capacity of only 26L
The higher mow heights can be too high and unusable


Einhell GE-EM 1233 1250W Electric Rotary Lawnmower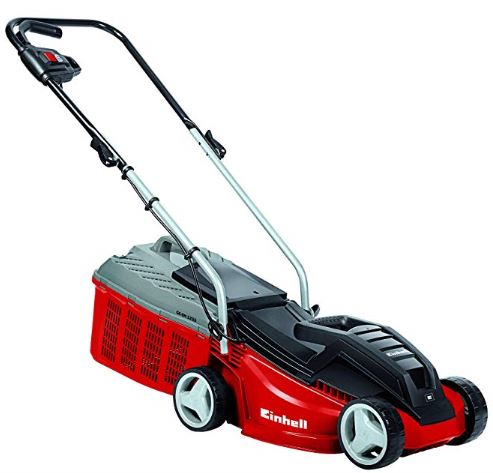 Pros:
Price compares very well in the industry, around £100
Standard grass box of 30L capacity included
Strong, solid and robust grass box collector
Lightweight to operate coming in at less than 12kg
5 mow heights are provided from 2cm to 6cm
No expensive addon features – basic design
Edge cutting system to reduce trim around walls
No oil or fuel costs ongoing
No ongoing maintenance costs
No toxic fume emissions
No need to worry about charging batteries
Includes the 1250W carbon powered motor
Wider wheels to reduce stress on the lawn surface
Integrated carry-handle includes to transport easier
Handle can be folded and has the quick clamper
Suitable for lawns up to 300m2 in size
Has the cable-relief clip which protects the power cable
Housing comes from high-grade, impact resistant plastic
Decent mow width of 33cm available
No difficult pull cords to deal with
Easy to empty the grass box and assembly is simple
Lightweight design makes it very easy to work with
Central height adjustment available
Overall basic yet good value for the price level
Cons:
Limited work area based on the cable length (10m)
Lacks the power to deal with long and thick grass
Second passes can be needed to get cleaner cut
If your lawn is >300m2, start looking elsewhere
No side discharge or mulching kit available
No rear roller provided for striped effect
A strong grip is needed on the lever while in operation
Constant pressure is needed on the lever (gloves can help)


Einhell GC-EM 1536 1500W Electric Rotary Lawnmower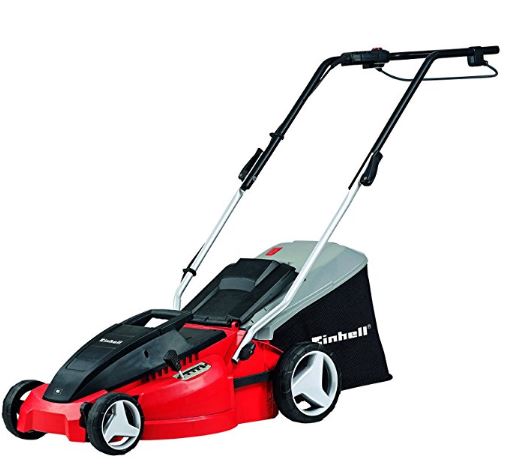 Pros:
Wider mow path by 3cm than the GE-EM 1233 (36cm)
Price level tends to be only slightly higher
Compact size of 72 by 45 by 32.5cm for storage
High torque carbon power motor included
Rear wheels are considerably larger
Wide wheels to reduce stress on the grass surface
No ongoing maintenance costs to incur
No toxic fume emissions to worry about
No oil or fuel costs ongoing during the season
More powerful motor 1500W for dealing with long grass
Impact resistant plastic durable plastic components
Simple assembly process – takes only a few minutes
No charging of batteries to worry about
No need for second or replacing of batteries
5 mow heights are provided from 2.5cm to 6.5cm
Collection box is larger by 5L (total 38L capacity)
Able to deal with lawns 600m2 in size plus cable relief
Lightweight and easy to operate coming in at 10kg
No continuous pull cords to worry about
Handle is height adjustable and can be folded
Quick clamping function for the handle when folded
Easy to operate carry-handle for easier transport
Grass box indicator when nearly full plus a safety switch
Mow height is adjusted with its central lever
Much better with dealing with damp grass
No expensive addons – basic design overall but effective
Cons:
No rear roller available for the striped effect
If your lawn is greater than 600m2, look elsewhere
Limited mowing distance to the length of the cable (10m)
No mulching kit provided or side discharge
No extension cord is included, only the cable cord
Some buyers have reported no cable delivered at all
Adaptor from certain sellers is not suitable (2 pin)


View also: Review of best Petrol Lawnmowers
Note: When I received the Einhell GC-EM 1536 1500W Electric Rotary Lawnmower it came included with the power cord cable however some have reported that they did not receive it. (it generally depends on where you buy).
If you have bought this model- please educate the UK wider community if the cable cord was indeed delivered or not by leaving a comment in the comment section below - so that they can learn also about the sellers to avoid such as BRICALIA who has been mentioned already as being one you must avoid…
Einhell Lawn Mower Review Part 3 – Cordless Electric
Einhell GE33 Li Kit Power X-Change 36V Cordless Lawnmower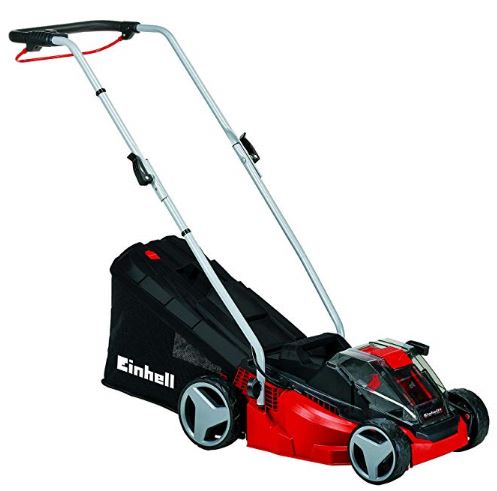 Pros:
Lithium Ion batteries provided and charger (18V x 2)
Decent mow width of 33cm available
Battery can be used also for other Einhell products
Suitable for lawns up to 200m2 and wattage is 2000
No need to worry about cords across the lawn (safer)
No toxic fumes to worry about
No maintenance costs or oil / fuel costs
Includes a central mow height adjustor
Good range of mow heights to choose from (5)
Mow height range can vary from 2.5cm up to 6.5cm
Must faster charge – generally complete in 1 hour only
The long handles can be folded for better storage options
You get 2 x 2Ah battery and 2 chargers included (Twin)
Battery system works of the Power X-Change
Batteries have LED indicators on charge levels
Has an Integrated carrying handle for easier transport
Grass box of 30L is included and has the fill indicator
Cons:
A lot more expensive than the corded versions
Must always remember to keep the battery charged
Delays in battery charging
A second battery /additional battery may be needed
Battery degradation over time
Additional batteries when needed are expensive to buy.
If your lawn is >200m2, then look elsewhere
Lowest mow height now low enough for some
Heavier than the corded coming in at 14.5kg
Grass collection is small & requires frequent emptying
Mow time is limited to the battery charge life 25-30 mins
Lacks the power others have with long, thick damp grass
Uses the battery charge quicker at lower mow heights
The service support network could be a lot better
Longer warranty periods are offered by other brands


Einhell GE36 Li Kit Power X-Change 36V Cordless Lawnmower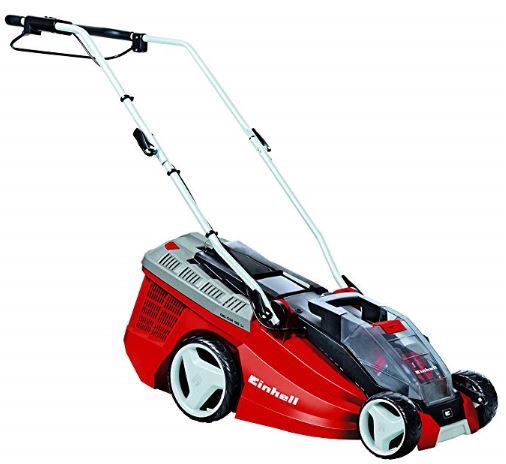 Pros:
Wider by 3cm which makes mowing quicker (36cm)
Also has 2 18V batteries included with chargers (36V)
There are the 3Ah Lithium Batteries x 2 provided
Grass box is 10L larger coming in at 40L capacity
Quick recharger operation of just 1-hour duration
Battery is adaptable to other power x-change products
There is the height-adjustable handlebar
Handles can be folded for easier storage in your shed
Much safer than having a cord across your lawn
Zero maintenance costs or oil, fuel costs
Includes an easy to use central mow height adjustor
No toxic fumes which helps the environment
Lawn-protecting high wheels to help the grass surface
6 different mow heights to choose from (2.5-7.5cm)
There is the filling level indication on the grass box
2 Lithium Polymer batteries & 2 chargers are provided
Has the battery capacity indicator with three LED's
Battery can be used also in the Power X-Change family
Ideal for lawns up to 350m2 in size
Easy to use carry-handle for easier transport
Cons:
Tendency for the battery to degradate over time
Additional batteries if needed can be very expensive
Price level can be too high for many - £300 region…
No mulching plug or side discharge available
Heavier piece of equipment at nearly 20kg
If your lawn is >350m2, then look elsewhere
Lowest mow height of 2.5cm not low enough for many
Battery charge goes a lot quicker with thick long grass
Limited to the duration of the charged batteries
Charging the batteries can take a lot longer than 1 hour
Assembly will be seen as tricky for some
Runtime duration on the battery can be too low
Spare or replacement parts if needed are hard to source


Einhell Lawn Mower Review Part 4 – Petrol Self-Propelled
Einhell GC-PM 40 Self Propelled Petrol Lawnmower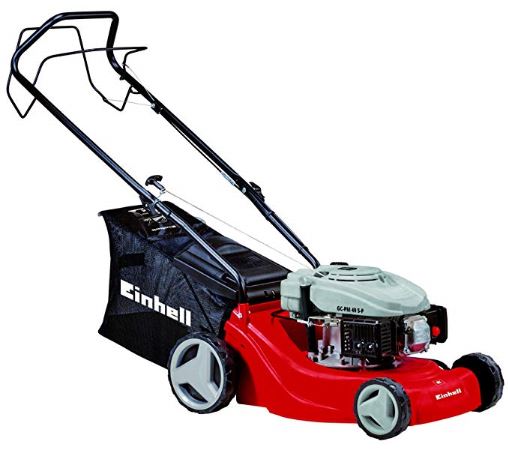 Pros:
Great around steep hills or slopes – less energy required
There is the disengage able rear-wheel drive available
You get 5 mow heights to choose from (2.5-6cm)
Decent mow width path of 40cm available
Includes the 4 stroke Einhell OHV engine & one cylinder
Includes the extra-high rear ejector for grass collection
5 mow heights are available on the central adjustor
Lightweight for a self propelled mower – less than 22kg
Has the ball bearing driving wheels
Able to cover lawns up to 1000m2 in size
Can engage and disengage power to the rear wheels
You decide if you want the power assist from the engine
Able to deal with heavy long grass and weeds with ease
Also can deal with damp grass and low lying weeds
Includes an extra-high ejector chute for better collection
Fill level indicator provided on the grass box
Tough plastic housing which is lighter than steel decks
Capacity of the grass collection unit is larger at 50L
Price level compares very well against other brands
Cons:
Price level is higher and can be in the £200 to £250 level
Noise level more difficult to deal with
Ongoing maintenance costs
Warranty could be longer like other brands
Regular fuel and oil added costs
Toxic fume emissions
Assembly for some will be seen as difficult
Capacity of the fuel tank could be larger
Back up support for parts etc is poor


Einhell GC-PM 46 Self Propelled Petrol Lawnmower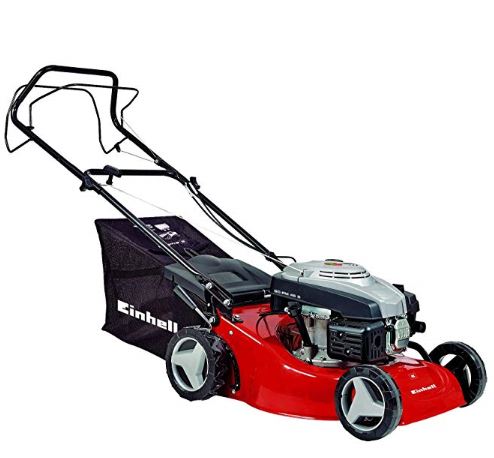 Pros:
Wider mow path by 6cm coming in at 46cm
Attractive price – has been seen in sale for <£200
Features a 139 cc four-stroke engine
Large grass container also at 50L capacity
Suitable for larger lawns 1400m2 in size
There are 9 mow heights to choose from 3cm to 8cm
Ideal for lawns with steep hills or slopes
Much easier to mow and work with being self propelled
The rear-wheel drive is disengageable when needed
Handle is adjustable and foldable also for storage
Level indicator included on the grass box
At a glance, you know when the grass box is nearly full
Superior power with thick weeds, long and damp grass
Operates at a power level of 1.9 kW
Can be switched to a push mower around tight corners
Few pulls can be needed when cold
Overall very powerful and reliable for large lawns
Great value when compared to various other brands
Cons:
A lot heavier to work with coming in at 34kg
Lowest mow height of 3cm too high for many
Assembly will be seen as difficult for some
Annual maintenance costs and heavy to move
Spare parts are a lot harder to source than you think
Ongoing oil and fuel costs
Toxic fume emissions harming the environment
Support and back up service is very poor in the UK
Noise level a lot higher than electric
Only has one speed level setting but starts easily


View also: Popular Weed killers here
Community Feedback
Have you any previous experiences of using Einhell Lawn Mowers yourself in the past?
Then please share your feedback/comments with the UK community (good or bad) by leaving your thoughts in the comment box section below – So that they can learn also...