There is a wide range of Lawnmowers to choose from at Wickes so we have picked out some of the most popular lawnmowers under each of their lawnmower categories be it electric, robotic or petrol lawnmowers to help speed up the process when making a final selection.
In addition, we have also included the opportunity to compare prices and brands elsewhere to help ensure you are getting the best bargain or best possible value for money across the wider UK market
View also: Treatments for Weeds here
Lawnmower Range
There is an impressive range of over 200 lawnmowers available at Wickes be it corded lawnmowers, cordless, robotic, hover and self-propelled Petrol lawnmowers and over 100 of them are on sale for less than £250. While the range of Petrol Lawnmowers would be somewhat limited, the range of Electric lawnmowers is far more diverse and superior plus there are several different popular brands to choose from.
Branded Lawnmowers
They offer several popular household name brands in their portfolio such as Bosch, Einhell, Flymo, Black + Decker, Greenworks and Yard Force. When it comes to Robotic mowers, they stock the Flymo, Greenworks, Yard Force and Bosch brands.
If you prefer to use Petrol lawn mowers instead, then they stock petrol lawnmowers from the brands of Webb, Einhell, Yard Force and Hyundai.
Wickes Corded Electric Lawnmower Recommendation
Flymo Chevron 32VC Electric Rotary Lawnmower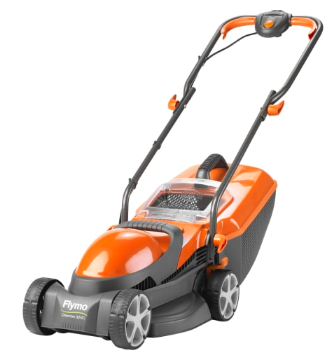 A popular corded electric lawnmower at Wickes is the Flymo Chevron 32 Electric Lawnmower that offers a 32cm mowing path, a 10m long power cable and rear rollers at the back to give you those nice attractive mow stripes. It provides plenty of power 1200W and plenty of mowing heights that range from 2m up to 6cm.
It has a lightweight design at just 10.5kg only so pushing it round your lawn is a breeze so to speak. Mowing heights can be adjusted using a single lever and it comes backed with a 2 year warranty
Price: £90 - £130
Compare: Argos Corded Lawnmower Prices Here
Read also: Popular Wheelbarrows here
Wickes Cordless Electric Lawnmower Recommendation
Einhell Cordless Self Propelled Lawnmower GE CM 36/47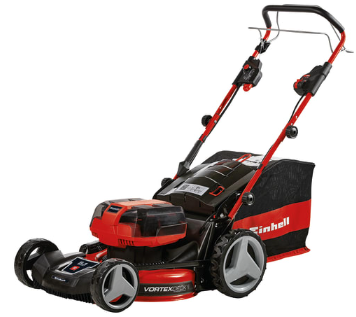 There are numerous cordless lawnmowers available at Wickes but the Einhell 3413200 Cordless self-propelled Lawnmower stands out in our opinion as you have the self-propelled support to help you get the mowing jobs done easier and there is a large storage capacity in the bag of 75 litres.
There are four 4.0Ah 18V batteries included in this pack as well as 2 twin chargers so the cost is a good deal more than your average cordless lawnmower. The mowing width is 47cm, there are several mowing height options from 2.5cm to 6.5cm and there is the side discharge option also that many other lawnmowers don't have.
Price: £600 - £700
Compare: Argos Cordless Lawnmower Prices Here
Read also: Best Electric UK Lawnmowers
Wickes Robotic Mower Recommendation
Bosch Indego XS 300 Robotic Lawnmower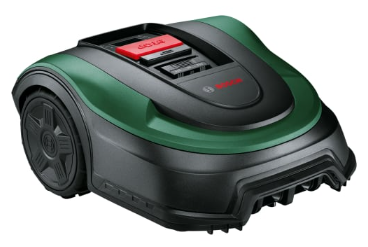 The range of Robotic lawnmowers is somewhat limited at Wickes but the model we liked the most is the Bosch Indego XS300 Robotic mower which does all the mowing hard work so you don't have to. This is particularly important for people who do not have the time during the week or weekends to get the mowing done by themselves.
It can create a mowing schedule once programmed and it has the LogiCut intelligent navigation to support the mowing across the entire garden area so that all parts are managed and mowed consistently each week.
It offers a mowing width of 19cm and it is designed for lawn area sizes of 300m2 on average. It returns to the docking station automatically when needed and it comes with a single 2.5Ah battery which takes around 45 minutes to recharge.
Price: £720 - £780
Compare: Amazon Robotic Mowers Here
Wickes Petrol Lawnmower Recommendation
Webb Self Propelled 41cm Petrol Lawnmower WER410SP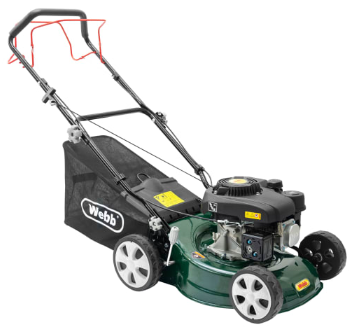 The petrol lawnmower we would recommend here is the Webb Self Propelled Petrol Lawnmower that offers a mowing width of 16 inches or 41cm and the self-propelled support to get the mowing jobs done easier and quicker (code WER410SP).
Many petrol self-propelled lawnmowers will cost well over £300/£400 so this smaller petrol lawnmower from Webb offers great value for the money in our opinion.
There are the soft grip foldable handles as well as 0.8 litre fuel tank and mowing heights that range from 2.5cm up to 7.5cm. The quality of the mow cut is very good, it has reliable starting and it comes backed with a 2 year guarantee.
Price: £230 - £280
Compare: Amazon Petrol Lawnmowers Here
View also: Popular Petrol Lawnmowers
Community Feedback
Have you ever bought a lawnmower from Wickes before? If possible, please share your feedback and opinions with the wider mowing community by leaving a comment in the comment box section provided below…