Hello and many thanks for taking the time to visit our list for the best Petrol lawn mowers in the UK which will comprise of a short list of 10 lawn mowers for you to choose from and many will be from brands that you should already be familiar with.
Affordability
We have avoided some of the really expensive lawn mowers which are too highly priced for the average home owner and stuck to a selection which we feel are more affordable for the average gardener across the UK. We reviewed and tested over 40 lawn mowers in this category and we have narrowed it down to just 10 which we felt performed the best in terms of starting, mow heights, power, mow widths and also their additional features that they have to offer such as self-propelled support.
Premium vs Value
Many of these lawn mowers are available for less than £600 and in some cases less than £400 so there should be something here that can meet your own budgetary requirements as you scroll down through our list. Before you begin, please note that guide prices can only be presented at the time of this best petrol lawnmower review list so please make sure to view the price checkers outlined below which will help ensure you get the most accurate up to date price information.
Read also: Our Best Cordless Lawn Mower list – Check them out Here
Best Petrol Lawn Mowers UK
1, Mountfield 167cc Self-propelled Rotary Petrol Lawnmower SP53H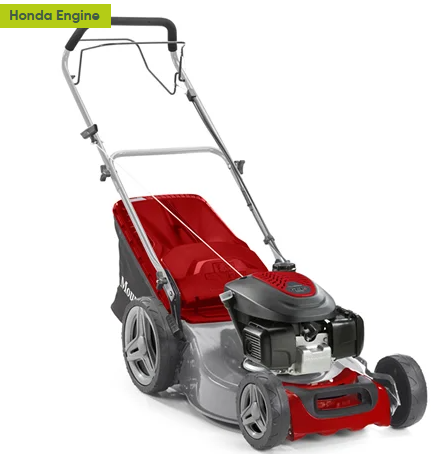 Our first recommendation would have to be the reliable Mountfield 167cc Self-propelled Rotary Petrol Lawnmower code SP53H which is available from Mowers Online in Gloucester and they offer free deliveries as well as a 90 day money back guarantee for peace of mind. For the serious mowers out there, you have the option of getting some extras such as ear defenders, a face mesh, the 4 stroke engine starter kit and a fuel kit at an extra cost if you wish (optional).
This powerful self-propelled lawnmower from Mountfield offers a 51cm mowing width with a 20 inch steel chassis and it includes a powerful Honda engine (GCVX170) plus the auto-choke feature and anti-scalp plate
It's a larger lawnmower to manage but you have the self-propelled function included to help you get around the garden a lot faster and with a lot less effort. The grass collection unit has a sturdy hardtop with a 60L storage grass capacity and the mowing heights range from 2.7cm up as far as 9cm. You can either collect the grass clippings as normal or use the mulch plug to return them back into the soil to act as a fertiliser and it starts with a normal recoil string lever. In addition, this impressive petrol lawnmower has a fuel tank of 1 litre and it comes backed with a 5 year warranty for further peace of mind.
Price Guide: £450 to £550 @ Mowers Online UK

2, Cobra 21 inch Hydrostatic Petrol Lawnmower M53HST-PRO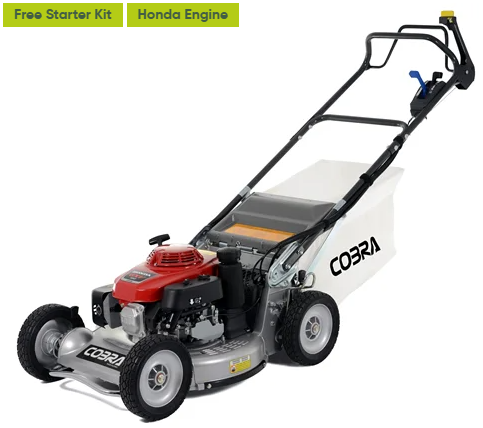 A brand that has certainly impressed us when it comes to Petrol lawnmowers is Cobra and our favourite petrol lawnmower from the brand of Cobra is definitely the Cobra Self Propelled 21 inch Hydrostatic Petrol Lawnmower code M53HST-PRO which would be considered too expensive for the average household but it is certainly worth a mention on our list.
Please note that multiple other models are available from Cobra at lower price points under £800 so you are not just limited to this premium M53HST-PRO model.
This Cobra Pro-Series is designed in the UK, it comes with variable speed options, it is powered with a Honda 163cc engine and it also includes a blade brake clutch. In addition, the deck is reinforced rust resistant, the wheels are made from Aluminium and you can either mow at a slow pace or mow at a much faster pace. Lastly, this self-propelled petrol lawnmower from Cobra comes backed with a 2 year warranty and a 90 day money back guarantee. There is also a free starter kit thrown in for good measure which includes engine oil, a fuel funnel and a fuel container.
Price Guide: £1500 to £1700 @ Mowers Online UK

3, Mountfield SP41 Self-Propelled Petrol Lawnmower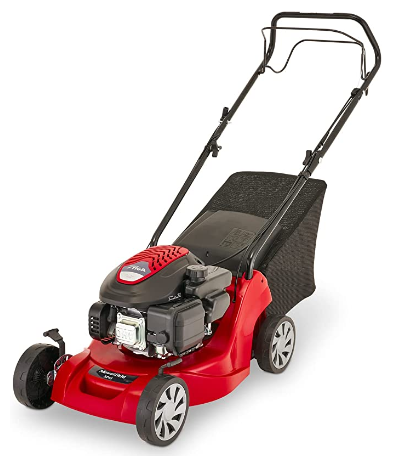 Another mower from Mountfield that offers great value is the Mountfield Self-Propelled SP41 Petrol Lawnmower that is suitable for small and medium sized lawns up to 250-300m2 and it offers a 39cm mowing width and the auto-choke petrol Stiga ST120 engine. The engine power is just 123cc and the grass collection unit has a capacity of 40 litres storage. There are multiple other lawnmowers from Mountfield that we liked also but this smaller self-propelled lawnmower offered superb value in our opinion for what you get.
You get 5 mowing heights here that range from 2.5cm to 7cm, the fuel tank can hold 0.75L and the oil tank can hold 0.5L. While it is not the best Mountfield lawnmower we have ever seen, it still is up there when it comes to value, cost, quality, reliability and of course the self-propelled support. If you need a cheaper lawnmower then you can choose the Mountfield Hand push lawnmowers instead. For small to medium lawns, this lawnmower can do the trick for you and it also comes backed with a 2 year warranty.
Price Guide: £200 to £250 @ Amazon

4, Honda 4-Wheeled Self-Propelled Lawnmower 18 Inch HRG466SKEH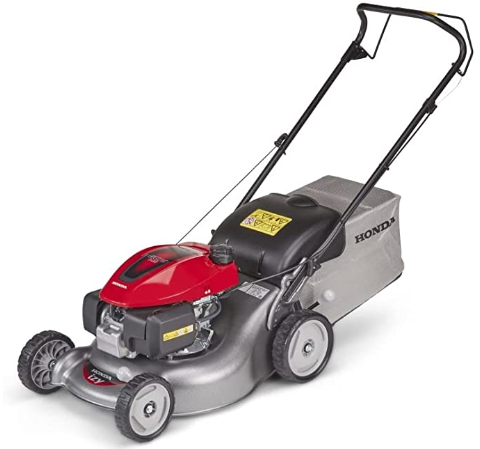 Our list would not be complete without including Honda and the model in question that we recommend is the HRG466SKEH Honda 4-Wheeled 18 inch Self-Propelled Lawnmower which is an absolute beast of a machine in our opinion and can cut through thick dense grasses and even wet grasses without troubling it one bit.
It's not until you try out the Honda SP lawnmower for 10 to 15 minutes and then you will know what I am talking about – the power under your arms as you cut is certainly impressive and it succeeds where many other lawnmowers can fail.
Many Honda lawnmowers can be very expensive so we selected this smaller version as it offers good value, great mowing, super power under your arms and of course the self-propelled support. There are 6 mowing heights available, it has a Honda GCVx145 OHC Engine, the deck is made from pressed steel and the grass collection unit has a storage capacity of 50L.
The new design has easier maintenance when it comes to spark plugs, oil drainage and a large filler cap for fuel and it is well capable of handling lawns up to 1000-1200m2. Like I said before, the difference in the power offered under your arms is superb and that is why we liked it so much – power, power and more power to make your mowing time that bit easier to do…
Price Guide: £500 to £600 @ Amazon

5, Murray EQ300 41cm Self-propelled Petrol Lawn Mower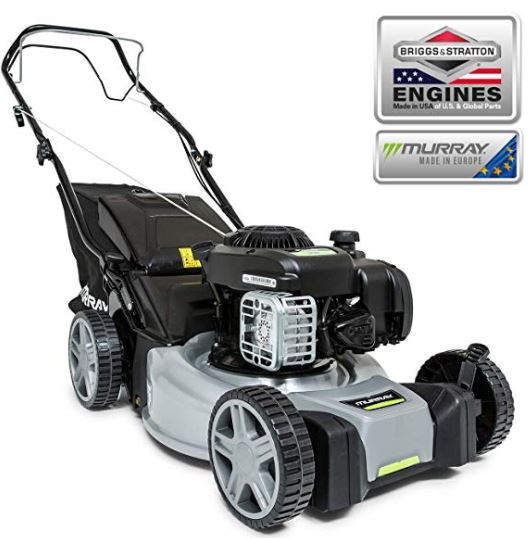 5th on our list of the best petrol lawn mowers is the Murray 41cm wide self-propelled Petrol Lawn Mower model number EQ300 which comes with a 16 inch or 41cm wide mow path and the reliability of this engine for starting over and over again was a lot easier than expected. There are several other lawnmower types from Murray such as the EQ200, the EQ400 or even the EQ500 which can work better for you but we found that this model EQ300 tends to suit the average home owner or gardener the best based on its capabilities and the features it has to offer. It is a solid machine with a weight of 32kg, it has a robust and sturdy Briggs & Stratton 300E Series engine and the height of the handle can be adjusted to 3 different levels to suits different heights for people.
Again, the handles here can be folded down when not in use and there are 6 mow heights to choose from that operate from approx. 2.8cm up as far as 9cm. The higher height level here is ideal where the grass heights in your garden have grown out of control and you need to get it down to a more manageable level. Before you start, it will need unleaded petrol and a half Litre of SAE30 4-stroke oil and then it is ready to go – the oil is not included and needs to be bought separately.
This lawn mower is also self-propelled and operates on a single speed level of 3.6 km per hour, the grass box is made from a soft mesh and has a grass collection capacity of 60 litres which is one of the largest that you can get. Overall, this is a simple but very effective lawn mower with a reliable engine that starts easily and it is backed with a 2 year warranty to protect your investment.
Price Guide: £250 to £300 @ Amazon

6, Hyundai 173cc 51cm Petrol Self Propelled Lawnmower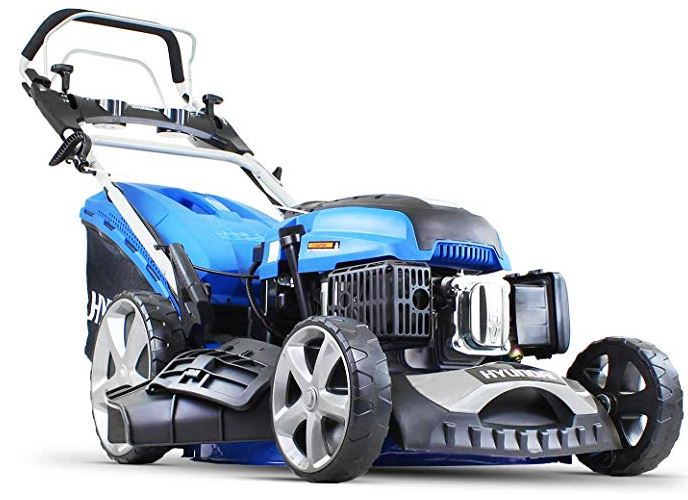 At number 6, we have the Hyundai 51cm wide Petrol Self-propelled Lawnmower supported with a 173cc engine and a wider mow path than the 2 previous options provide above. If your lawn is that bit larger than normal, then this lawn mower would be a more suitable option for you as it gives you a much wider mow path of 51cm (10cm more than number 1 and 2 above) and you also get a much larger grass box with an increased holding capacity of 70 litres which means more time is spend mowing and less time is spent emptying. The self-propelled support works great with the lever provided and it can be used without it if necessary around tight corners or flowers beds – all you have to do is disengage the self-propelled lever so you can work the lawnmower as best as you see fit.
There is the option here also to get a wider package with the lawn mower which means you can get the service kit, a spare blade and 600ml oil included so if you are experienced at DIY at home, then these additions will work well for you as long as you have the ability to complete it yourself. One thing that you will really like here is the easy push button start which means a lot less strain is needed for the start-up – no starter coils to pull which worked perfectly every time it needed to be started. There is also a side discharge chute and it is supplied as a 4-stroke engine with a lower level of fuel consumption
The mow heights can be adjusted using just one single lever so the mow heights can be changed very easily and it is backed with a 3-year warranty which they stand over hassle free as long as the lawn mower is serviced and maintained as well as it should be. There are no tools required for assembly so that is one less thing to worry about, there is a mulching plug included to help out nutrients back into the soil and there are 2 handy drink holders included which are a nice addition to have especially when mowing and working on hot summer days.
Price Guide: £350 to £400 @ Hyundai UK

Comparisons
A short summary comparison table is outlined below for some of the options outlined so far to help you make whatever comparisons you need to make yourself be it weights, power, warranties or engine information.
| Feature: | Spear & Jackson | Murray | Hyundai |
| --- | --- | --- | --- |
| Mow Width: | 41cm | 41cm | 51cm |
| Operation: | Self-Propelled | Self-Propelled | Self-Propelled |
| Engine: | 4 stroke 125cc | 4 stroke 300E | 4 stroke 173cc |
| Mow Heights: | 5 (2.5-7.5cm) | 6 (2.8-9cm) | 6 (2.5-7.5cm) |
| Mulching: | None | None | Included |
| Weight: | 24.5kg | 32kg | 36kg |
| Warranty: | 3 years | 2 years | 3 years |
Read also: Our Best Corded Lawn Mower list – Check them out Here
Another short summary comparison table is outlined below to compare the Mountfield vs other brands to help you make whatever comparisons you need to make yourself…
| Feature: | Mountfield | Frisky Fox Plus | Einhell |
| --- | --- | --- | --- |
| Mow Width: | 39cm | 51cm | 40cm |
| Operation: | Self-Propelled | Self-Propelled | Self-Propelled |
| Engine: | 4 stroke 100cc | 4 stroke 173cc | 4 stroke OHV |
| Mow Heights: | 5 (2.5-7cm) | 7 (2.5-7.5cm) | 5 (2.5-6cm) |
| Mulching: | None | Included | None |
| Weight: | 20kg | 37kg | 22.5kg |
| Warranty: | 2 years | 2 years | 1 year |
Read also: Our Bosch Lawn Mower Review – Check it out here
Best Petrol Lawnmowers continued - Last 4 in Brief
8, Webb 'Supreme' Self-Propelled Petrol Lawnmower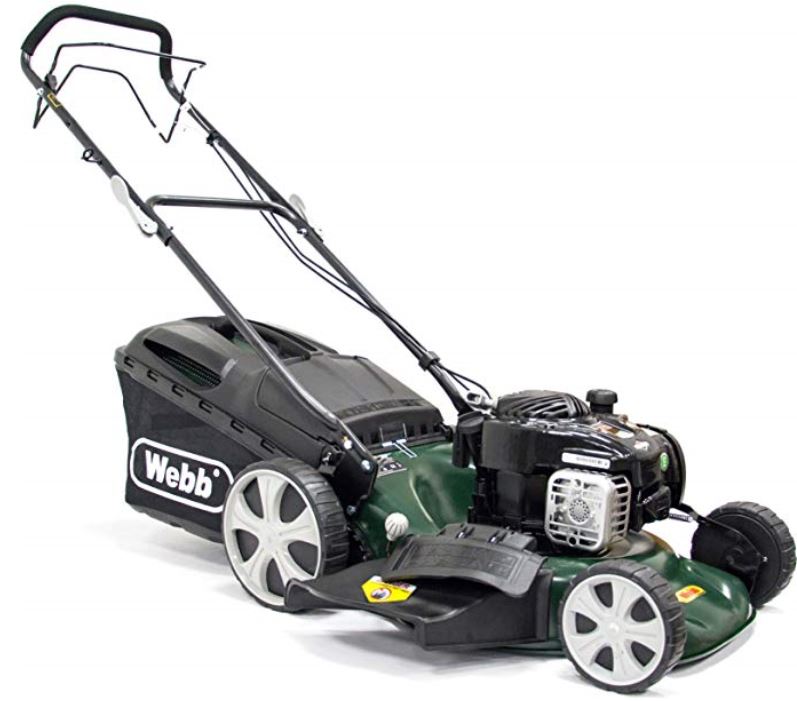 Key Points to Note:
Model number WER18HW / Hi-Wheels included
Briggs & Stratton 500 engine / Grass box 60L
Mow cutting width 46cm or 18 inches
Side discharge / collect / rear discharge options
7 mowing heights from 2.5cm to 7.5cm
Price Guide: £250 to £350

9, ParkerBrand 53cm Self Propelled Petrol Lawnmower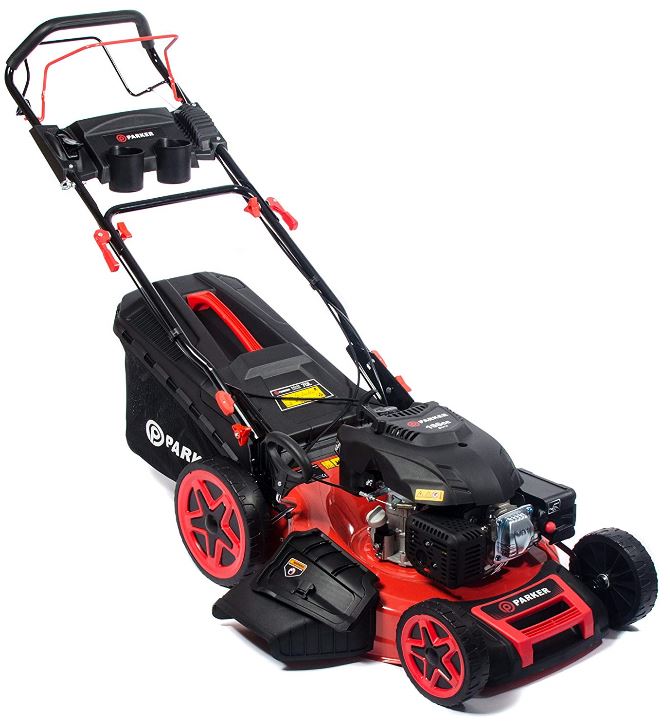 Key Points to Note:
Four Stroke Petrol Engine173cc
Mow width 53cm / Grass box capacity 70L
Side discharge options available
Mow height ranges from 2.5cm to 7.5cm
Hard top grass collection unit / Foldable handles
Drink holders / Mulching options available
Price Guide: £250 to £300

Part 4: Conclusion and Optional Feedback
After completing this difficult review and compiling this list of the best petrol lawn mowers, we sincerely hope that it has been beneficial to you in some small way. It wasn't an easy task to complete but we hope our results from our own top 10 has helped you in terms of making your own final decision.
Optional Feedback
Have you mowed with any of these Petrol Lawn mowers yourself in the recent past? Did you come across any problems that we should know about or is there any models that you believe should be excluded or included on our list?
If at all possible, please share your own feedback or thoughts by leaving a short comment in the comment box section provided below – so that others across the UK can learn also!