If you need to learn more about the Hayter Harrier 48 Lawnmower, then make sure to check out our review which will outline all the main features, pros and cons that we came across so you can decide for yourself if indeed this is the right lawnmower for you or not.
Our focus will be reviewing the Hayter Harrier 48 Cordless Electric lawnmower but we will also include the Hayter Harrier 48 Petrol Auto-Drive lawnmower at the end of this page so at least you are not limited to just one lawnmower type.
View also: Popular Robotic Lawnmowers
About Hayter Harrier
The company was started by Douglas Hayter in Hertfordshire over 70 years ago and they have become one of the leading manufacturers of rear roller lawnmowers in the UK marketplace. They specialise in battery and petrol powered lawnmowers with rear rollers and they are designed specifically for the UK lawn garden type to leave a nice attractive striped effect across your lawn.
They developed the horizontal crankshaft on the 4 stroke engine, a safety guard for stones plus many other innovations and their lawnmowers are even used as part of the British Royal estate which deserves a special mention.
Hayter Harrier location
Hayter Harrier is a brand owned by Toro UK Limited and they are based in Spellbrook, Hertfordshire
Video Introduction: Hayter Harrier 48 Electric Lawnmower
View also: Popular Cordless Lawnmowers
Cordless Lawnmower Overview
Hayter Harrier 48 VS Green-Series 60V 7.5Ah Cordless Rear Roller Lawnmower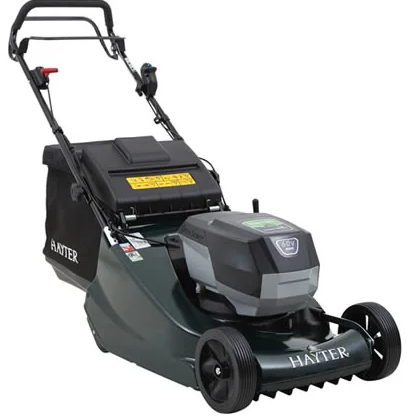 One of the best performing cordless electric lawnmowers from Hayter Harrier in our opinion is the Hayter Harrier 48VS 60V 7.5Ah Cordless Green-Series Rear Roller Lawnmower which offers significantly more than your average cordless lawnmower and it is certainly a lot more powerful giving you a longer mowing running time. The Green Series are their more environmentally friendly alternatives to petrol and there are 3 types of electric mowers in their range namely the Harrier, the Hawk and the Osprey
The deck is made with Aluminium plus there is the 2 piece ribbed rear roller, you get the power boost technology when you need more power and of course the Vari Pitch mow cutting system technology for optimum height mowing. The mowing width is 19 inches or 48cm, the mowing heights can be adjusted from 1.3cm up to 6cm and it can work on larger lawn sizes of up to 900-950m2.
You can start this mower with a push of a button plus it has the power of a DC brushless motor 60V 2.0kW and one main advantage is the self-propelled feature with the auto-drive that offers variable speed options that range from 1mph up to 3.3 mph. You get a 90 day money back guarantee from a supplier in Gloucester plus fast deliveries and a 5 year warranty as long as it is serviced annually by an authorised Hayter dealer.
Pros for the Hayter Harrier Cordless Electric 48
It is made in the UK unlike many other brands that are made in China so you are supporting your own economy if you decide to buy
You get the wash port included in the design that many other electric lawnmowers don't have
The quality of the striped effect from the rear rollers are certainly impressive and probably one of the best in the market from what we have seen
Most cordless lawnmowers need to be pushed but this lawnmower is an auto drive self-propelled mower up to 3.2 miles per hour so it makes the whole job of mowing your lawn that bit easier to do
The more powerful batteries give you a much longer mowing time unlike other cordless brands that would offer only 20-25 minutes average mowing time each session
You have the option to mow at a lower height of 1.3cm for a tighter finish where many other cordless brands have minimum mow heights of 2.5cm to start with
Cons for the Hayter Harrier Cordless Electric 48
The cost of this electric lawn mower is well over £1000 so it is certainly not for everyone. There are plenty of other cordless lawnmower brands in the market available at significantly lower prices.
Lacks the superior power of many petrol engines for dealing with longer and wet grasses
The price of the batteries is much higher than expected (over £300) if you need to buy a second back-up battery
Price Guide: £1200 - £1500

View also: Popular Ride on Tractor Mowers
Video Review: Hayter Harrier 48 Lawnmower
Mowing Heights
This Hayter Harrier 48 electric lawnmower comes with 7 different mowing height settings that range from 1.3cm up to 6cm. Many other cordless lawnmowers from other brands offer a minimum cutting height of 2.5cm so if you need a tighter lower cut, then this lawnmower will give you the results that you will be looking for.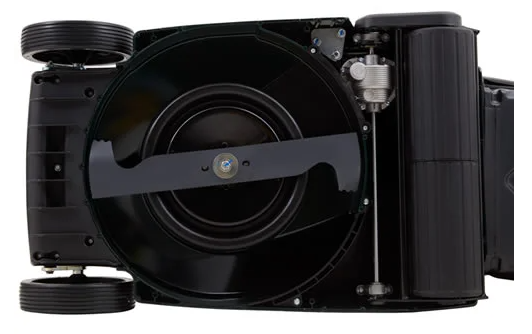 Self-Propelled Support
Unlike many other cordless lawnmowers that you need to push, this particular electric cordless lawnmower is self-propelled auto-drive so it can give you that extra support to get the job done quicker and easier. This is particularly useful when you have a larger garden, tough terrain or even slopes to deal with and we also liked the fact that it offers variable speed settings instead of a fixed speed setting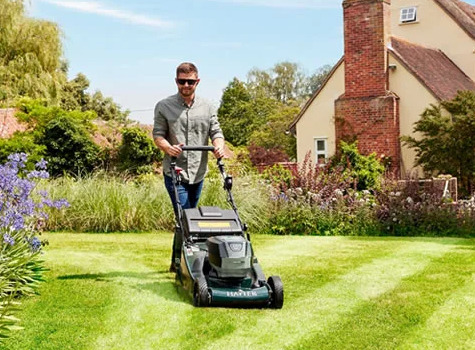 Striped Effect
We have used many lawnmowers that give stripes across your lawn but the quality of the stripes you get from this Hayter Harrier 48 electric lawnmower is certainly one of the best we have seen if not the best overall. When all your hard work is done, it feels great to have something nice to look at as it adds a touch of class to your overall garden appearance and design.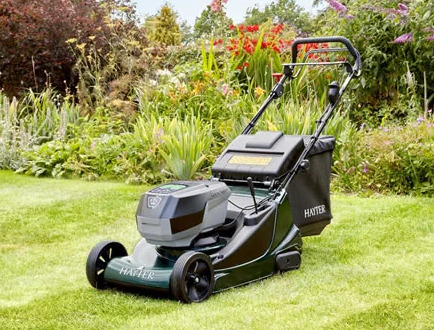 Package
Included in the package for this Hayter Harrier 48 cordless lawnmower is the Hayter Toro 2 Amp charger plus the Hayter Toro 7.5Ah rechargeable battery. You open the lid at the front frame and simply slot it into place until you hear a click.
Other cordless lawnmower brands can only offer lower priced 2.5Ah batteries that give 20 minutes average mowing time but you get significantly more mowing time done even up to 60 minutes with this more powerful 7.5Ah battery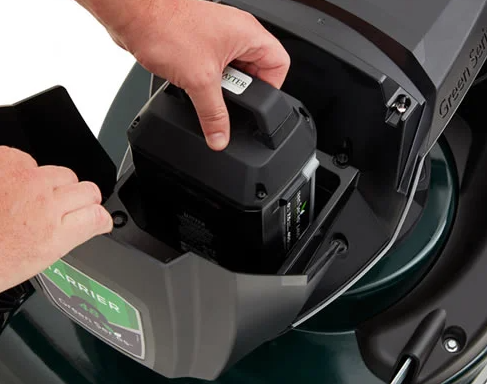 Price Comparisons
Like we said before, the price of this self-propelled electric cordless lawnmower from Hayter Harrier is quite high so make sure to check out the price comparison options provided below before you make your final decision…
View also: Treatments for Weeds here
Wash Port
Included in this design unlike many other electric lawnmowers is the useful wash port connector that allows a cleaning of the deck underneath so that dried grass and dirt don't build up which can affect the air flow and collection of the grass clippings into the grass box. When the deck underneath is cleaned regularly, you will find that the grass box fills better, the quality of the cut is improved and the overall performance of the mower is much more efficient plus it prolongs the lifetime of the machine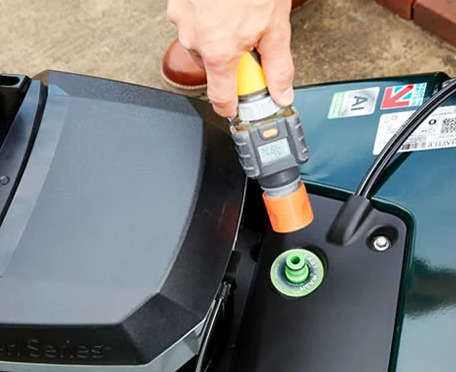 Warranty
While the warranty on the battery is 3 years long, the warranty of the lawnmower itself is longer at 5 years but this is conditional that it is serviced annually by a authorised Hayter Harrier service shop dealer. There is a lifetime guarantee on the aluminium deck and you also get a 90 day money back guarantee from the supplier Mowers Online in Gloucester.

Hayter Harrier 48 Petrol Alternative
If you need to work with a petrol lawnmower instead of a cordless battery lawnmower from Hayter, then you need to check out the Hayter Harrier 48 PRO Petrol Auto-Drive Mower which has the 48cm mowing width, the auto-drive self-propelled support and it is designed with a superior Honda 4 stroke OHV engine.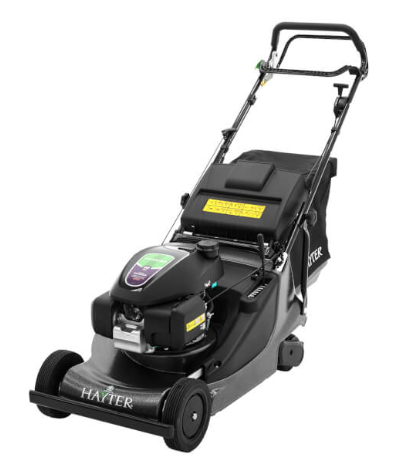 The self-propelled speed is fixed (unlike the cordless) and it works up to a speed of 3.2mph which works fine in our opinion. You have the striped effect with the rollers, an aluminium deck, the easy wash port in the front frame plus 7 different mowing height options that range from 1.3cm up to 6cm.
This petrol 48 lawnmower is designed for lawn sizes 500-600m2 on average and it offers a power output of 170cc as well as the innovative blade brake clutch that makes the whole job of mowing that bit easier to do. The grass bag here is also impressive for collecting all the clippings as it offers a large storage capacity of 70 litres.
Price Guide: £1200 - £1500 @ Amazon

FAQ's - Hayter Harrier 48 Petrol Lawnmower
Q1, Can the speed settings be changed?
A, No, the speed level of 3.2mph is fixed and cannot be changed
Q2, What size lawns is it designed for?
A, This Hayter Harrier 48 is designed for lawn sizes up to 500-600m2
Q3, What engine type is used for the petrol version?
A, This petrol lawnmower comes with a Honda GCVX170 engine
Q4, What is the power output in CC?
A, The level of power output you get is 170cc from this petrol lawnmower
Q5, What is the capacity of the fuel and oil?
A, The fuel tank capacity is 0.9 litres while the oil capacity is 0.4 litres
View also: Popular Hedge Trimmers here
Conclusion
After completing our review work for the Hayter Harrier 48 lawnmower, we hope our work here can help you out in some way when it comes to making any final decision. We included both the Hayter Harrier 48 Cordless and Petrol lawnmowers, the opportunity to compare prices plus our pros and cons which should give you a better idea of what these lawnmowers are all about. Which one would we buy? Our personal preference would definitely have to be the Hayter Harrier 48 Pro Petrol Auto Drive lawnmower and further information along with updated prices can be double checked below

Community Feedback
Have you ever user a Hayter Harrier lawnmower in the past? Did it live up to your expectations or were you disappointed in any way? If possible, please share your own opinions and thoughts with the wider community by leaving a comment in the comment box section provided below….