If you are thinking about buying the Mountfield 827H Ride on Mower in the coming days, then check out our quick review which will cover everything you need to know and will include 2 video clips so that you can see it in action so to speak.
At a glance and first impressions, this is certainly one of the most compact ride on mowers we have ever used and it is a lot more user friendly and better at dealing with awkward garden layouts and designs from what we have seen.
View also: Best Ride on Tractor Mowers
Lawn Size Guide
This Ride on Mower is designed for lawns up to 3000m2 or 3/4 acre in size so you should get a rough measurement of your garden mowing area before you make any decision about this ride on mower. You will also need to mow every 2 weeks to keep the grass under control during the growing seasons.
Video: Introduction to the Mountfield 827H Ride on Mower

Mountfield 827H Ride On Lawnmower Overview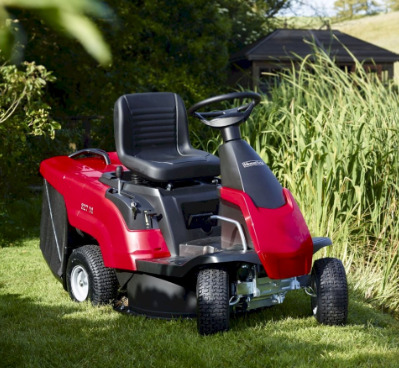 This lawnmower has a Stiga ST 250 ES OHV 224cc Engine with 4.8HP, 26 inches (66cm) mowing width and the grass bag has a large collection capacity of 150 litres which can be tipped when emptied from the driver seat. It is designed for medium to large scale garden areas up to ¾ acre in size (3000m2) and it is particularly useful for getting through narrow gates and around trickier flower beds and trees.
It is an established Ride on mower from Mountfield and it has proven to be one of their best sellers in recent years. The fuel tank holds 3.8 litres of fuel, it has the electric start ignition and the mulch kit can be bought as an additional extra (not included in the standard package) The mowing machine itself weights 129kg, it has the parking brake and it can work in reverse mowing as well as mowing in a 155cm mowing turn circle
Included in the design is the Hydrostatic transmission, 6 mowing heights from 2.5cm up to 8cm, the electric key start ignition and a highly efficient and reliable OHV engine from Stiga. From the supplier, you get a 90 day money back guarantee, a mow-ready mower upon delivery and a 5 year warranty as long as it is serviced annually by a reputable Mountfield dealer.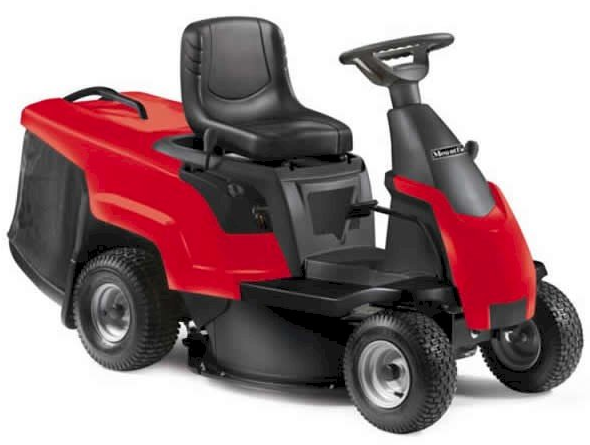 View also: Popular Cordless Lawnmowers
Pros for the Mountfield 827H
Narrow design width of 73cm that can fit through small garden gates
Better at dealing with tighter conditions and manoeuvrability around flower beds, trees and awkward corners
It can cover lawn sizes up to 75% of an acre and it includes the Hydrostatic transmission so you don't have to change any gears
Emptying the grass container can be done from the driver's seat
It is delivered ready to mow and ready for action – just add fuel
When promotions are in place, there is a £200 cashback scheme available from the supplier
Cons for the Mountfield 827H
Limited really to areas under ¾ acre. If you mowing areas are larger than this, then you should invest in a larger and more powerful ride on mower than this
The mulch plug and hitch is not included so you have to pay extra for these if you need them
Stock availability can be unpredictable at time so you may need to wait for stock restoration
Engine power can lack the power to deal effectively with tall grasses and mulching – regular and consistent mowing is recommended
There is no side discharge available or any headlights to help with mowing in darker evenings
Price Guide: £1800 - £2300

FAQ's about the Mountfield 827H
Q1, What horse power is provided?
A, The ride on mower provides 4.8HP only
Q2, What is the mowing widths?
A, The mowing width is 26 inches or 66cm
Q3, What size lawn garden can it work for?
A, It can work on lawns up to ¾ acre or 3000m2 as a guide
Q4, Does it include a hitch and mulch plug?
A, Not in the standard package but can be bought as additional extras
Q5, What is the engine capacity?
A, This ride on mower as a displacement capacity of 224cc
Q6, What engine is used in the design?
A, It is designed with a Stiga OHV engine
Q7, What is the capacity of the fuel tank?
A, The fuel tank can hold 3.8 litres of petrol
Q8, What are the size of the wheels?
A, The front wheels are 13 inches and the rear wheels are 15 inches
Q9, Can it mow in reverse?
A, Yes it can mow while you are reversing
Q10, What are the frame dimensions?
A, This ride on mower is 183cm long by 73cm wide
View also: Popular Cordless Hedge Trimmers
Video demo: Mountfield 827H Ride on Mower Overview

Mulching Kit
The mulching kit comes as an optional extra but you can survive well enough without it in our opinion as the grass box can collect all the clipping with ease and you can empty it from the driver's seat. The 4.8HP engine may have difficulties with performing an adequate job on the mulching so there is really no need to buy it as an optional extra in our opinion. Only if your lawn needs the mulch returned back into the soil as a natural nutrient support.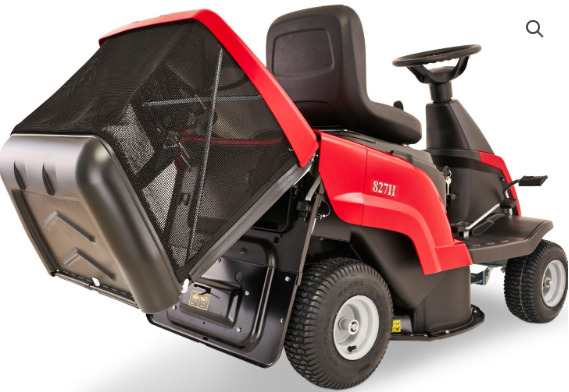 Hydrostatic Transmission
There is no gear box and no clutch with this mower as it has the Hydrostatic transmission so all you have to do is press the pedal for variable speed and this certainly reduces mowing times and it helps to get the work done easier, faster and with more versatility. This is a major plus in our opinion to have this feature included into the transmission design as it makes the chore of mowing so much more easier
Mower Technical Specification
Engine - Stiga ST 250 ES
Engine Start - Electric Key Start
Engine Power - 4.8HP / 3.6kW
Rotation Speed - 2450rpm
Engine Cylinder - Single
Transmission - Hydrostatic
Drive - Rear Wheel
Engine Type - Petrol 4-stroke
Engine Capacity - 224cc
Fuel Tank Capacity - 3.8 Litres
Cutting Width - 66cm
Cutting Heights - 25-75mm
Speed - 6.2km/hr Max
Turning Circle - 155cm
Blade - Single
Grass Collector - 150 Litres
Empty Grass from Seat - Yes
Mowing heights - 6 Positions
Blade engagement - Manual
Seat – Mountfield Classic
Wheels – Front 330mm
Wheels – Rear 381mm
Side discharge - No
Headlights - No
Dimension -105x73x183cm
Weight - 129kg
Lawn Size - Up to 3000m2
Choke – Automatic
Battery Voltage – 12V
Warranty – 5 years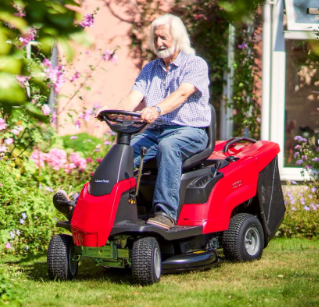 Price Comparisons
If you feel that you need a lower priced lawnmower than the Mountfield 827H, then check out some of our lower priced recommendations as follows…
View also: Popular Robotic Lawnmowers
Conclusion
After completing our review for the Mountfield 827H Ride On Lawnmower, we hope our work can help you out in some small way and give you the direction you may need. Would we recommend it? While it is not the best Ride on Mower we have ever used, it is still a reliable mower for the lawn areas for under ¾ acre size.
Any lawn and gardens with an area over this should invest in a larger, faster and more powerful Ride on mower in our opinion. Further information, images and prices can be checked out below from the supply base in Gloucester who offer the 90 day money back guarantee…

Community Feedback
Have you any previous experiences of using the Mountfield 827H Ride On Lawnmower yourself? If possible, please share your own feedback or opinions by leaving a comment in the comment box section provided below – so that others in the wider mowing community can learn also…