If you are thinking about buying a Toro Lawnmower in the coming days, then check out this Toro Lawnmower review which will cover the Toro Electric Lawnmower, the Toro Timemaster self-propelled Lawnmower and also the Toro TimeCutter Zero Turn Mower – all 3 lawnmower types covered in 1 compilation review which will only take a few moments of your time…
Navigation
For easier navigation, this review will be set up into 3 main parts – Electric, Petrol self-propelled and Zero turn mowing so feel free to skip to the part that interests you the most. As prices guides can only be shown at the time of our review, please make sure to view the price checkers provided below which will help ensure you have the most accurate up to date price information.
View also: Popular Ride on Tractor Mowers
Part 1: Toro Electric Lawnmower Review
Toro Proline 60V Cordless Self-propelled Mower (22275)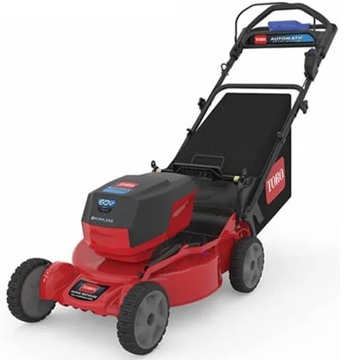 In our opinion, the absolute best electric Lawnmower from the brand of Toro would have to be the Toro Proline 60V Cordless self-propelled Electric Lawnmower code reference 22275 that includes 2 powerful batteries for longer mowing times and a powerful 5Ah charger in the pack.
This model is a new upgraded Toro Cordless electric self-propelled lawnmower with a 60V brushless motor, two 7.5Ah batteries and it offers a wide mowing path of 53cm or 21 inches which is similar to the average petrol lawnmower.
The deck is made using aluminium that is non corrosive and it is started with the easy push of a button so there is no starter pull cords to worry about. You get 4 mowing heights that range from 2.5cm up to 11cm (for dealing with taller grasses) an the capacity of the grass collection bag is much larger than your average lawnmower offering 77 litre capacity storage.
You can expect to get 30-35 minutes mowing time from the batteries, recharging takes 3 hours on average and it comes backed with a 2 year domestic warranty
Pros
Most cordless lawnmowers are push but you have the self-propelled support here at a nice walking pace up to 6km per hour
Mows as good and as wide as most petrol lawnmowers without any of the fuel, oil or maintenance service costs
There are no power cords or pull starter cords to worry about for stress free starting
Cons
As the batteries are more powerful, it takes longer up to 3 hours to get them recharged once again
The lowest cutting height could be a slight bit lower to give a tighter and cleaner cut
Price Guide: £2000 - £2500

View also: Popular Cordless Lawnmowers
Comparison vs Spear & Jackson Electric Lawnmowers
Part 2: Toro Petrol Self Propelled Lawnmower Review
Toro Timemaster 76cm Self Propelled Lawn mower (20978/21811ES)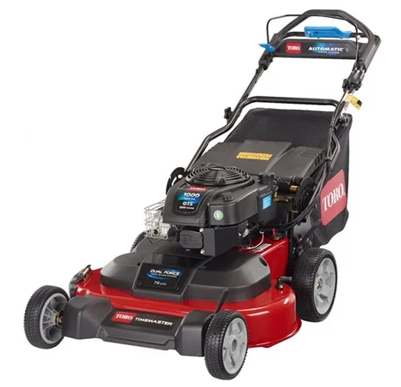 For a petrol lawn mower under the Toro brand, certainly our favourite would have to be the Toro Timemaster 76cm Self Propelled Lawn mower model number 20978/21811 ES which is designed with a powerful Briggs and Stratton 1000 series engine and a much wider mowing path of 76cm which ultimately means you get your mowing jobs done quicker and easier! (hence the name timemaster or time saver).
If you have a larger garden and you have little time for mowing, then this wider self-propelled petrol lawnmower would be the perfect solution for you.
It comes with an electric key starter for easier starting, a large fuel tank capacity of 1.4 litres and it is designed with an aluminium frame as well as a hybrid steel decking. Mowing speed blade rates are adjusted automatically to suit your walking pace for better efficiency and the blade brake clutch works great when stoppages are needed. We found the Briggs and Stratton 1000 223cc Series engine to work great without any problems and it is covered with a 3 year warranty as long as it is serviced annually.
Pros
As you have the much wider mowing path and the self-propelled support, your mowing time is significantly reduced allowing you to get on with other things in your life.
It has the wash-port, the auto drive with traction support and the electric key start so there is no starter pull cords to worry about
The larger fuel tank of 1.4 litres allows you to mow for 1 hour without having to refuel once again.
Cons
This lawnmower is very heavy at 65kg weight but at least you have the self-propelled support to get you around the garden
From what we have seen, the usage of petrol is quite high so you will need more fuel than your average sized lawnmower to keep it going and mowing
Price Guide: £1500 - £2000

View also: Popular Cordless Hedge Trimmers
Comparison vs Mountfield Petrol Lawnmowers
Part 3: Toro Zero Turn Mower Review
Toro TimeCutter 107cm Zero Turn Twin Riding Mower (ZS4200T)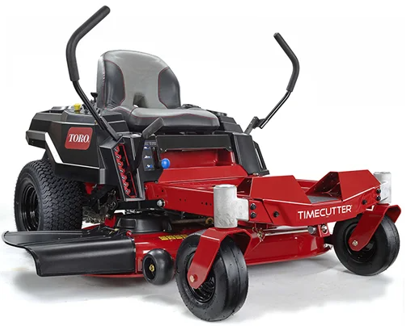 There are several Zero turn ride on mowers available from Toro but our preferred model would have to be the Toro TimeCutter 107cm Zero Turn Twin Riding Mower code ZS4200T that comes with a powerful Toro 708cc Twin Cylinder engine and offers a wide mowing path of 107cm. This zero turn mower is a beast of a machine and it is an absolute joy to work on to be honest – having fun while mowing is a brand new experience!
It comes with a large fuel tank that can hold 11.4 litres petrol and the 3 speed controls allow great flexibility depending on the type of work you are doing in your garden. It takes some time to get accustomed to all the controls such as the auto parking brake and the hydrostatic drive system but it all becomes easier after your first mowing session.
It has the dual blades, a comfortable high back seat and it also offers a hitch pack so you can use it for a lot more than just cutting grass. The steering is a pleasure to work with as it has the dual wrap around levers as well as the arm rests and it is also covered with a 3 year warranty as long as it is serviced annually by a reputable company.
Price: £4500 - £5000

View also: Popular Robotic Lawnmowers
Conclusion
After completing our Toro Lawnmower review, we hope our work can shed some light and perhaps give you a better idea of what these lawnmowers from Toro are all about. There are cheaper lower priced lawnmowers than this within the Toro brand but these were the 3 options that impressed us the most.
The only thing though is that the price can be on the high side so they are certainly not for everyone. If you need a lower priced petrol self-propelled lawnmower than Toro, then you should check out the reliable Mountfield or Honda Petrol self-propelled Lawnmowers instead that we can also recommend from Amazon below…

Toro Community Feedback
Have you ever used a Toro Electric, Petrol or Zero Turn lawnmower in the recent past? If possible, please share your own feedback and opinions about your Toro lawnmower experiences with the wider community by leaving a comment in the comment box section provided below…