Are you looking for a reliable & trustworthy Corded Hedge trimmer to cut your own hedges from a reliable brand in 2020? If so, then check out our researched and reviewed list for the Best Corded Hedge Trimmers for 2020 which are available in the UK at present. We have trialled and tested several electric hedge trimmers which you can buy and we have come up with a final list of 10 different corded models that has been narrowed down to make it easier for you when it comes to making your own final decision.
Our review for the best hedge trimmers 2020 which be focussed on availability in the UK market and all of these options can be easily ordered online and delivered to your home hassle free which is one less thing to be worrying about. If you believe that this list needs to be edited or if certain models need to be included also, then let us know by leaving a comment in the comment box section at the end of this page and we will certainly take it into consideration.
Best Corded Hedge Trimmer 2020 Content:
Part 1: Outline of the 10 Best Corded Hedge Trimmers in 2020
Part 2: Comparison Table
Part 3: Our Conclusion plus your Feedback (optional)
As guide prices can only be displayed at the time of this review, please make sure to view the price checkers provided below which will ensure you get the most up to date price tag information.
Part 1: Best Corded Hedge Trimmers 2020
Main Features in Detail:
First on our list is the reliable corded Spear & Jackson 450W hedge trimmer which offers you a long 3-year warranty, a longer cable of 10m and also the dual action blades which gives a nicer cleaner finish across your different types of hedges.
It has a lightweight design of less than 4kg which makes it easier to work it for longer and the handle offers different positions of workability be it for horizontal or vertical hedge trimming.
In terms of safety, you get the blade tip protector, a dual safety switch, a hand guard and an electronic brake so you know you are handling a tool that has all the safety standards in place.
The power handle here also has the 270-degree rotation and the tooth gap available is 16mm which allows branches with a maximum of 1.6cm in thickness to be cut.
You can also get an additional 3-year accidental repair replacement cover for this hedge trimmer which costs less than £10 (optional) and overall works great for angle trimming when needed.
Pros:
Great competitive low price
Longer warranty of 3 years available
Longer cable of 10m than many others (2m longer than McGregor)
Cons:
Only 16mm of a Tooth gap – limited in branches cuttings
Blade length is restricted to 45cm only – for low lying hedges only
For small or medium size hedges only

Main Features in Detail:
At number 2, we have the McGregor 500W 51cm Corded Hedge Trimmer which also comes with lots and lots of positive customer reviews among the UK general public which adds a lot of confidence before you buy.
This hedge trimmer is backed with a 2-year warranty that they stand over hassle free, the length of the power cable cord is 8m long and the length of this cutting blade is 51cm long
The thickness of the branches it can cut through is a maximum 16mm thick from the tooth gaps provided, there are the dual action blades to cut the hedges and shrubs easier and the soft grip provided reduces the level of hand fatigue that may set in after longer hedge trimming sessions.
Another thing that stands out is the low level of noise and vibrations when in operation and it is ideal for low lying small to medium type hedges, bushes and shrubs across your garden.
For your safety and protection, you get the dual safety switch, the quick stop electronic brake, a blade tip protector and of course a solid and durable hand guard as standard. Another thing you will like is the hanging hook on the blade tip which certainly helps when it comes to storage in your garage or shed when not in use.
Pros:
Superior power of 500W (50W more than Spear & Jackson above)
Lighter tool than Spear & Jackson by approx. 1 kg above
6cm longer blade than Spear & Jackson S4545EH
Cons:
Limited to 1.6cm branch thickness and low lying hedges only
Lower warranty than Spear & Jackson by 1 year
Shorter cable than Spear & Jackson by 2m

Read Also: Our McGregor Hedge Trimmer Review Here
Main Features in Detail:
Third on our list is the lower priced Challenge 550W 55cm Corded Hedge Trimmer which is aimed towards people who are seeking the lowest possible price and is ideal for people seeking the best possible bargain.
Despite the lower price and budget brand type, this hedge trimmer actually works better than expected and is backed with tons of happy customer reviews from previous users in the UK at present which certainly adds confidence about this particular model.
You get a great level of power with the 550W cable, it is lightweight at less than 3kg and the length of the cable is also quite long at 10m which can be used on medium to larger type hedges. The thickness of branches it can cut is 16mm from the teeth gaps and the blade length is slightly longer at 55cm.
For your protection, you have the hand safety guards as standard, the dual safety switch, a quick stop electronic brake and the dual safety switch to ensure you are kept safe at all times.
Pros:
Budget alternative – ideal for bargain hunters
Lightweight design at less than 3kg
Cons:
Lower warranty period than both McGregor & Spear & Jackson
Tends to clog up a bit with denser hedges

Main Features in Detail:
Next on our list, we have the ever-reliable Bosch Ahs 420W 45cm Corded Hedge Trimmer which certainly is one of our personal favourites as the quality of this tool is excellent, it is easy to handle and operate and it gives a great tidy finish to various hedge types be it angled trimming, vertical or horizontal trimming.
You can also get a 3-year replacement care cover package from Argos for this hedge trimmer that costs less than £15 extra which adds further protection on your investment. You get the standard 2 year warranty from Bosch and a further 1 year can be added if you register your purchase online within 30 days of purchase.
There is a nice feel to this tool, it is well designed and balanced and you get the diamond ground blades which will stand the test of time year in year out. The length of the blade here is 45cm long and the tooth opening gaps is also at 16mm.
As it is smaller in length, it is designed for smaller low-lying hedges, bushes or shrubs that would be up to on average 1.5m high and an outer blade protective case is included when not in use which provides additional safety when in transportation.
Pros:
A third-year warranty is available if you register within 30 days
Trusted leading brand within the hedge trimmer sector
A 5-day repair turnaround service is available as backup
Cons:
Shorter cable of just 6m long (eg. 4m shorter than Spear & Jackson)
Slightly higher price tag than the 3 options outlined above
Lower power level of 420W (McGregor offers 500W of power)

Read Also: Our Bosch Hedge Trimmer Review Here
Main Features in Detail:
At number 5, we have a larger and longer hedge trimmer from Flymo and it's the Flymo Easicut 500W 60cm Corded Hedge Trimmer model number EasiCut610xt and it is certainly worth a closer look if you already enjoy the experience of other Flymo related garden tools in your shed.
This is the longest hedge trimmer so far on this list which has a 60cm long blade and it also offers a wider tooth gap opening of 19mm so it can deal with slightly denser type hedges and slightly thicker type branches of up to 1.9cm wide.
One thing you will like is the nicely designed handle here which provides great comfort and balance when trimming for longer periods of time as it can allow multiple types of hand positions – the less tired you are, the safer and more comfortable you are.
This hedge trimmer also has the extendable reach handle so you can deal with higher type hedges a whole lot easier which reduces the chances of having to buy or use a mini step ladder. The level of power it provides is a solid 500W, it has the diamond ground blades for nice and precise cutting and there is a soft grip handle for your hands along with a longer cable length of 10m long.
Pros:
You get the extendable handles for higher reach
Wider tooth gap of 19mm (3mm wider than the 4 models above)
Longer blade reach of 60cm (longer than the 4 mentioned above)
Cons:
Heavier tool to work with so fatigue will set in quicker
Lower level of warranty available (eg. Bosch is 2 to 3 years)
Price is generally higher and typically over £65 at the time of this review

Read Also: Our Cheap Hedge Trimmer List for the UK Here
Main Features in Detail:
At number 6, we have the popular Makita 240V 400W 48cm corded electric Hedge Trimmer which definitely needs to be included in our list as we were definitely impressed with its low-level hedge cutting ability which gave a nice and neat tidy finish
The one thing that stands out here with the slightly extra price is the higher quality blade which has been treated with non-electrolysed nickel plating which gives you a stain free blade exterior and the ability to be resistant to rough abrasion and heavy-duty work wear and tear which ends up giving you a nice outer coating on the blade for longer.
This hedge trimmer from Makita has double insulation, you get a hook for hanging on your waist belt or in your garage, a cable cord with 10m in length and a blade cover for extra protection when not in use or when you need to transport it.
Another thing that stands out here that you will like is the multi grip system which reduces the level of hand fatigue that may set in and each of the 3 grips include the switches to engage the tool. You always need to have 2 switches pressed by both hands which prevents you trying to operate it single handed for your own protection.
Pros:
Competitive price level usually found for less than £70
Decent length of cable cord is included of 10m
Stain free blade surface with anti-abrasion characteristics
Non-electrolysed nickel plating treatment included
Cons:
Lower power level of 400W versus the 5 previous that are 400W+
Heavy tool when compared elsewhere coming in at slightly over 5kg
Slightly narrower tooth gap of 15mm only

Read Also: Our Makita Hedge Trimmer Review Here
Main Features in Detail:
Another option ideal for bargain hunters is the Teccpo 500W 51cm corded electric Hedge Trimmer which comes with extra power and several positive reviews to back it up and sometimes can be found on sale for less than £50 which is great value for the quality of tool you are getting.
This hedge trimmer comes with a blade tip protector integrated so it prevents you from cutting wires or cables and it performs with extra safety in mind around tight corners or around stone work in the background.
The weight of this tool is only 2.6kg which makes it one of the lightest options in this category, it has the D type auxiliary handle and rubber grip to reduce hand and arm fatigue and it also has a special cable retention system to prevent any accidental disconnections.
You get a wider tooth gap opening of 20mm which can handle wider branches or bushes, it has a great shock absorption system built in and the quality of the cutting blade is solid, robust and well able to cut tougher branches over and over again.
Pros:
Wider tooth gap opening of 2cm for wider thicker branches
Comfortable handling with D-type auxiliary handle
Includes the integrated blade tip protector
Lower levels of noise and vibration than expected
Cons:
Black coloured cable makes visibility more difficult
Limited height capability so mini step ladders may be needed
Brand is not as highly recognised as some of those mentioned already

Read Also: Our Teccpo Hedge Trimmer Review Here
Main Features in Detail:
At number 8, we have the larger and very popular Ryobi 600W 60cm corded electric Hedge Trimmer which does cost a good deal more than some of models already outlined as this is a larger and heavier tool for dealing with thicker and denser type hedges that needs a more robust machine.
One thing that you will like here is the fact that it has a built-in saw function and also the hedge sweep system which is great at clearing away any debris as you work through denser type hedges. As it is larger and longer, the weight is heavier at 5.5kg, it includes the diamond cut blades as standard and you get a much higher level of power provided with 600W of power.
It has a nice solid feel to it and the handle is comfortable to grip and the rear handle has the option to be rotated 5 times which is great for angle trimming in particular as well as horizontal and vertical trimming. Overall this is for you if you need more power and a wider tooth gap for thicker and wider branch or bush cutting
It comes with a 2-year warranty as standard and you can add a further 1 year if you register your purchase within 30 days of purchase to further protect your investment.
Pros:
Much wider tooth gap opening of 28mm (12mm wider than Bosch)
Capable of dealing with taller and denser type hedges more easily
One of the longest corded options & higher 600W power level
Includes the built-in saw function and hedge sweep for clearing debris
Cons:
This hedge trimmer is over 5kg so arm fatigue will set in a lot quicker
Many other models are less than 3kg where this is approx. 5.5kg
Cord is shorter at 8m long only (eg, 2m shorter than Makita / Flymo)

Read Also: Our Ryobi Hedge Trimmer Review Here
Final 2 Corded Hedge Trimmers to Consider
If you are not fully satisfied yet with the 8 Corded Hedge trimmers outlined so far, then check out the last 2 corded hedge trimmers below which we also highly recommend and come from brands that you can trust and are summarised as follows:
9, Einhell 420W 45cm Corded Electric Hedge Trimmer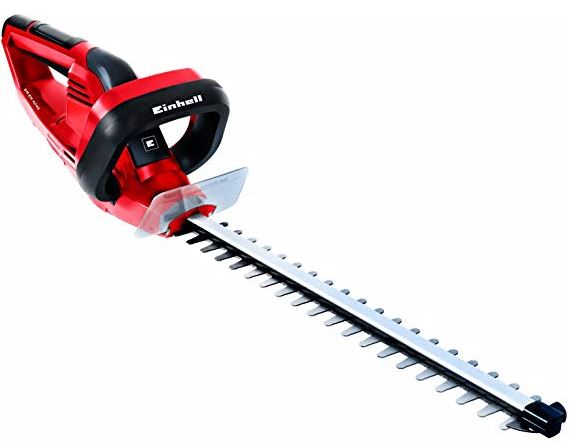 Key Features to Note:
Model number GH-EH 4245
Ideal for bargain hunters – budget buy
Mains Power level supply 420W
Blade length 45cm / Tooth gaps 16mm
Dead man's safety switch / Extra Handle
Weight 2.5kg / Cable is 8m long
Soft grip / Warranty 12 months
Price Guide: £35 - £50 @ Amazon

Read also: Our Einhell Hedge Trimmer Review
10, Black + Decker 550W 60cm Corded Hedge Trimmer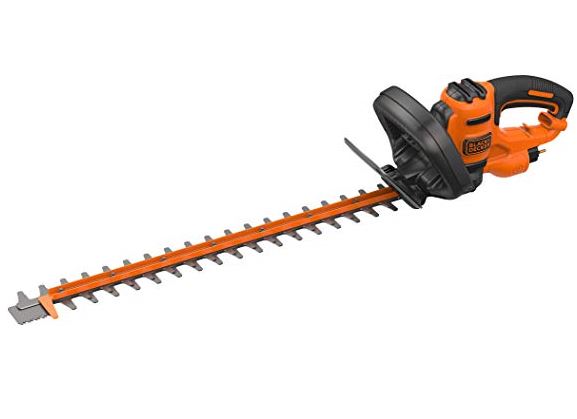 Key Features to Note:
Model number BEHTS451GB
Longer blade 60cm for hedges 1.8m high
Higher power level supply 550W
Includes a secondary saw blade
2 handed start up system as standard
Lightweight design 2.54kg for longer sessions
Saw speed 1870 strokes per minute
Price Guide: £45 - £65 @ Amazon

Read also: Our Black + Decker Trimmer Review
Part 2: Comparison Table
A short comparison table is outlined below for the main features for each of these hedge trimmers if you are still undecided at this point. The warranty periods may change depending on your individual seller but these are the warranty periods seen available at the time of this review and should be double checked prior to making any purchase.
| Model | Power | Length | Tooth Gap | Weight | Cable | Warranty |
| --- | --- | --- | --- | --- | --- | --- |
| Spear & Jackson | 450W | 45cm | 16mm | 3.6kg | 10m long | 3 years |
| McGregor | 500W | 51cm | 16mm | 2.5kg | 8m long | 2 years |
| Challenge | 550W | 55cm | 16mm | 2.9kg | 10m long | 12 months |
| Bosch Ahs | 420W | 45cm | 16mm | 2.6kg | 6m long | 2 -3 years |
| Flymo Easicut | 500W | 60cm | 19mm | 4.1kg | 10m long | 12 months |
| Makita | 400W | 48cm | 15mm | 5.1kg | 10m long | 12 months |
| Teccpo | 500W | 51cm | 20mm | 2.6kg | 8m long | 12 months |
| Ryobi | 600W | 60cm | 28mm | 5.5kg | 8m long | 2 -3 years |
| Einhell | 420W | 45cm | 16mm | 2.5kg | 8m long | 12 months |
| Black + Decker | 550W | 60cm | 16mm | 2.54kg | 8m long | 12 months |
Part 3: Our Conclusion plus your Feedback (if possible!)
Conclusion:
Which one would we recommend in particular from this list? We don't want to be biased and we certainly don't want to influence your own decision so we hope you can make your own mind up based on all the features outlined and the comparison table provided above. If you insist on us making a recommendation, then our top 3 from this list that we would have a preference for would certainly be the Bosch Ahs, the McGregor and the Spear and Jackson corded hedge trimmers - Why? Because we have other tools under these brands and they haven't let us down yet. However, for tackling denser hedges, we would insist on a tooth gap opening of a minimum 20mm and for tall hedges up to 1.8m high we would recommend going for 60cm length blades instead. Anyway, compiling this list certainly wasn't an easy job to do, but we do hope you found it beneficial in some way as it certainly took us a long time to finish it and eventually complete this list! Finally, we would like to wish you the very best with your own final decision with whatever brand you decide to go with in the end.
Feedback:
Have you ever used any of these Hedge Trimmer yourself in the recent past? Are there models here that you believe should be excluded or do you have other suggestions that need to be included?
If possible, please share your own suggestions by leaving a short comment in the comment box section provided below and we will certainly take it into consideration