Are you looking for a reliable and high performing Cordless Leaf Blower in the UK? If so, then make sure to check out our review for the Best Cordless Leaf Blowers in the UK which will be based on working with these tools over the past number of weeks. We worked with over 25 leaf blowers during these weeks and we have narrowed our list down to just 8 models with different capabilities and price points which can cater for everyone's needs.
Premium vs Budget
There are higher end spec leaf blowers which will cost more and offer you more in terms of features and power, but we also have included a few budget alternative options for people who are seeking a reliable yet basic cordless leaf blower at the lowest possible price. So, in summary, there should definitely be something here that can cater for your needs as you scroll down through our list of 8 cordless leaf blower recommendations.
Advantages
The main advantages to working with a Cordless Leaf Blower rather than a corded leaf blower are as follows:
There is more freedom with the areas you can work to, so you can maximise mobility
Typically, they are lightweight in design similar to the corded
No hassle of dragging cords around with you as you work
There are no constraints with the length of a cable
There is no need to buy additional cables such as extension cords
Best Cordless Leaf Blower in the UK – Top Recommendations
1, Stihl BGA 45 Cordless Blower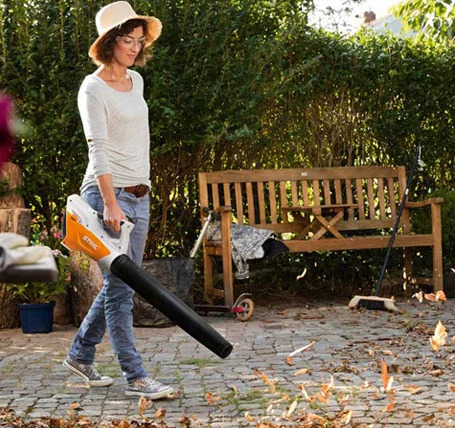 Our first recommendation when it comes to cordless leaf blowers would have to be the Stihl BGA 45 Cordless Blower which was a pleasure to work with and it offered an air speed of 44m/s² with a blow force of multiple knots which cleared all the pathways from leaves no problem whatsoever. Included in the pack is an 18V lithium-ion battery with the charging unit and cable plus you get a 90 day money back guarantee from the supplier as well as a 2 year warranty cover.
When fully charged, the battery will give you around 10 minutes work time and it is plenty powerful enough to remove all the leaves and debris from patios, footpaths and decking. You have the indicator on the battery for the battery charge levels, it weighs only 2kg and you should be able to get your hands on it for less than £300 when seen at the time of our review.
Price Guide: £200+ @ Mowers Online UK

2, Mountfield MVS 20Li Freedom 100 Series Cordless Blower & Vac Kit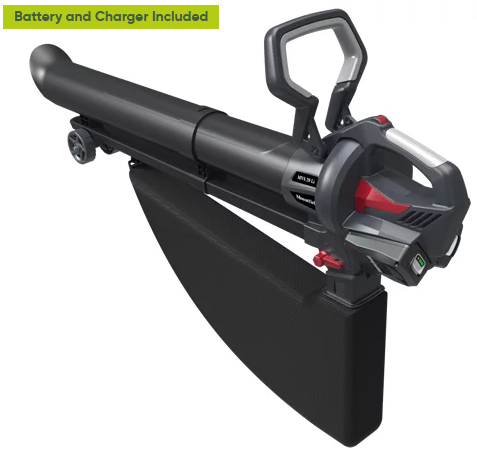 Up next is a very popular brand in the UK and the Mountfield MVS 20 Lithium Freedom 100 Series Cordless Blower and Vac Kit is a very impressive cordless tool which does not disappoint in any way. It is a little more expensive though so you will need to dig a little deeper into your pockets for this one but it is also good to know that this supplier also stocks Mountfield rechargeable batteries be it 20V 2Ah 36Wh Lithium batteries or 100B 240 20V 4Ah 72Wh Lithium batteries if needed.
Deliveries are free to the UK mainland and there is a 90 day money back guarantee from the supplier as well as longer 5 year warranty which is excellent and goes beyond the call of duty in our opinion. It is both a blower and a vacuum and there are 2 4Ah batteries and the dual battery charger included in the pack which explains the higher price level. You have the small transport wheels on the base to support mobility, a debris collection bag and it allows a longer working time of up to 22-23 minutes when used at the standard speed setting.
Price Guide: £150 to £200 @ Mowers Online UK

3, Spear & Jackson Cordless Leaf Blower and Garden Vac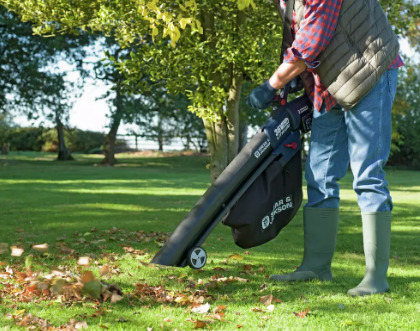 At number 3 is a brand that we particularly like working it and it's the Spear and Jackson Cordless Leaf Blower and Garden Vacuum code S36BVL which provides great value for the amount of money you need to spend. Spear & Jackson is an established brand in the UK marketplace and their cordless leaf blower did a super job on clearing pathways so we have no hesitation in recommending it to the wider public.
The weight of the units is 3.2kg, it offers a blow speed of 190km per hour and the pack includes 2 18V batteries which are both used at the same time – you have a dual charging unit so both batteries can be charged at the same time. Depending on the settings and conditions, you can expect to get a worktime of anywhere between 20 and 30 minutes on the 2 batteries, it has the 45 litre capacity collection bag and switching from the blow to the vac is done by simply pressing a lever. Finally, you have a shoulder strap and the mobility wheels for support plus a 3 year protected warranty.
Price Guide: £70 to £120 @ Argos

View also: Popular Weed killers here
4, McGregor Cordless Leaf Blower 24V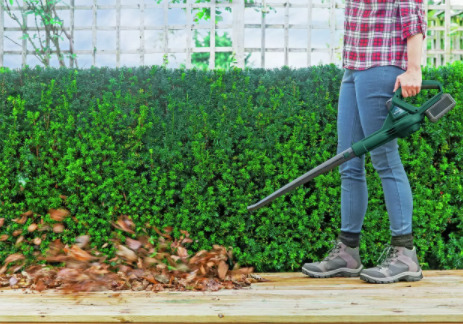 If you need a reliable lower specification cordless blower at a lower price point, then take a closer look at the McGregor 24V Cordless Leaf Blower code MCBL24 which was seen on sale with Argos and tends to be on sale for less than £80 when seen at the time of our review. Other blowers can offer 2 batteries but here it is just the single 2Ah lithium ion battery and you should get anywhere from 10 to 15 minutes worktime from what we have seen so it is more suitable for smaller level cleaning jobs.
There is no vacuum function here – only the blowing function and it offers an air speed of 120 to 135m per hour so the level of power here was better than expected. The battery has the charge level indicator which is handy to have, the charger is included in the pack (single port) and it comes with a 2 year warranty cover. Finally the weight is only approx. 2kg and the length of this blower is approx. 90cm long so arm fatigue is less of a problem
Price Guide: Less than £80 @ Argos

5, Hyundai 40V Li-Ion Battery-Powered Cordless Leaf Blower HYB40LI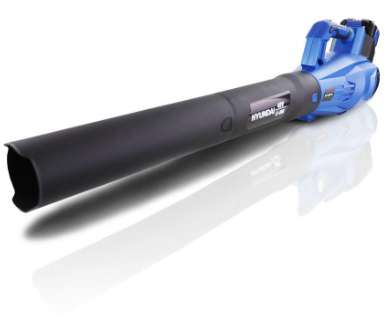 Another cordless leaf blower that worked well for us is the Hyundai 40V Li-Ion Battery-Powered Cordless Leaf Blower reference HYB40LI and it gave plenty of power for tidying up multiple dry leaves and debris around the yard and footpaths and you should be able to get your hands in it for less than £200 when seen at the time of our review. In addition, it can be paid for in 3 equal instalments using Klarna, it is covered with a 3 year platinum warranty for peace of mind and recharging the battery takes approx. 75 minutes long.
The level of airspeed provided is between 162 - 212km per hour or 101 - 132 miles per hour and the 40V battery can last up to 30 – 34 minutes depending on the speed settings used. Only 1 hand is needed to operate it as it weighs only 2.5kg approx. and it can be used for multiple tasks around the home such as leaf blowing, snow blowing, clearing sawdust, clearing yard debris or it can even be used to clear our blocked gutters. It can be used in lawns, yards, decking and footpaths and secondary additional batteries can be purchased as back up if needed.
Price Guide: £150 to £200 @ Hyundai

6, Bosch ALB 36V Li-ion Cordless Leaf Blower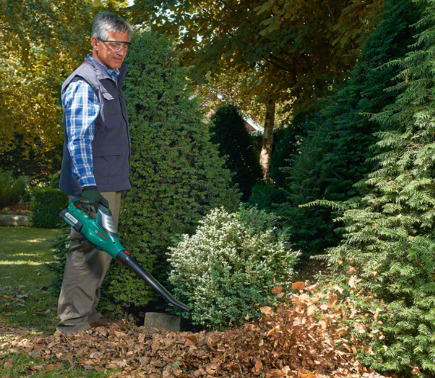 At number 6, if you like the Bosch brand like us, then take a closer look at the Bosch ALB 36V Cordless Leaf Blower which comes with a 36V 2.0 Ah Lithium-Ion battery and the charging unit plus variable speed options to suit different levels of leaves for removal and the types of surfaces you are working on. One thing we liked here is the fact that the unit weighs less than 2kg so you can work this tool for longer periods no problem whatsoever without any arm fatigue setting in.
This 36V 2Ah battery is interchangeable with similar Bosch tools in the wider range and you can expect the battery to last anywhere from 20 to 25 minutes from what we have seen. The power of the airspeed ranges from 170 up to 250km per hour and it will take approx. 1.5 hours to have the battery fully recharged once again. Bosch is a company that was founded back in 1886 in Stuttgart Germany so they have become an established brand that you can trust when it comes to gardening tools.
Price Guide: £160 - £230 @ Amazon

View also: Best Weed killers here
7, VonHaus Cordless Leaf Blower 20V
VonHaus is a brand that was established back in 2009 and their UK head office is based in Manchester. When testing their leaf blower, we were pleasantly surprised with the great results as this little leaf blower was well able to remove stubborn debris and leaves and leaving your garden and patios in a nice tidy finish. It definitely was one the lowest priced leaf blowers that we could find so it gives great value for what you get. If you are looking for a cheap and cheerful leaf blower for smaller type jobs, then you don't need to look much further than this in our opinion.
The battery has less power at 20V 1.5Ah  but the grip has a comfortable feel to it and it comes covered with a 2 year warranty for your added protection. It will take around 1 hour to recharge the battery and you can expect a lower runtime of around 10 to 12 minutes which explains the lower price to some degree and the lower costs associated to the lower spec battery. This leaf blower comes part of the VonHaus G-range and while it's not the best performing leaf blower here, it's certainly worth taking a closer look at if you need a solution at the lowest possible price.
Price Guide: Less than £90 @ Amazon

8, Einhell Power X-Change 18V Cordless Leaf Blower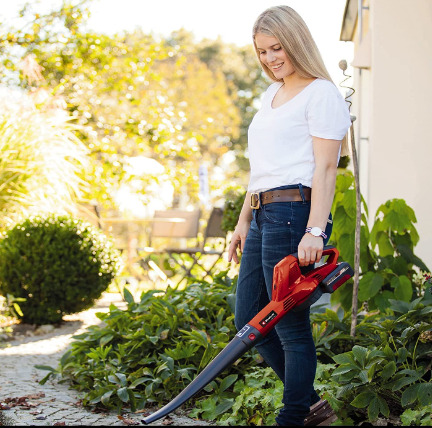 Another low priced leaf blower than gives great value for money is the Einhell Power X-Change 18V Cordless Leaf Blower that includes a lower powered 18V 2.0Ah Li-ion battery which in turns gives a lower run time so it is more designed for people who have smaller type leaf clearing jobs to complete and for those who are seeking out the lowest possible price. Despite the lower powered battery, the blowing results here are very good and its lightweight design at 1.7kg means it can be used with just 1 hand no problem whatsoever.
The grip is nice and comfortable on the hand, there are various blow speed settings available and it includes the charger, a harness and all the easy to follow operational instructions. Not only can it be used for leaves around the house, it can be used to clear cobwebs in high corners, clearing decking and footpaths, drying cars after washes and so much more plus it can get air speeds up to 200/210km per hour which was impressive from a tool of this size.
Price Guide: £50 to £90 @ Amazon

Read also: Popular Wheelbarrows here
9, WORX NITRO 20V Cordless Leaf Blower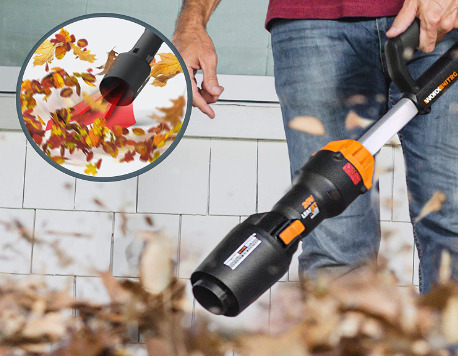 This higher spec leaf blower from Worx is called the Worx Nitro 20V Cordless Leaf Blower code WG543E and it comes with unique and innovative sonic turbine technology so you get more air blowed and pumped out while using less battery at the same time which in turns allows more efficient power usage from your tool. It has a brushless motor with 2 speed controls and a 4Ah battery as well as the charger included in the pack. Having the power battery, a brushless motor and the sonic turbine technology means basically that you get a lot more power from a leaf blower comparative and relative to its size.
For the power settings, you can switch simply from the high speed mode to the high volume mode and the 2 speed settings are standard speed and high speed. Please note that the higher speed will delete the battery more quickly. Overall, we would have to say this blower is an impressive piece of equipment as it can clear leaves, dry cars, clear cobwebs, clear grass clippings from the driveway and so much more so it is not just limited to leaves.
Price Guide: Over £150+ @ Amazon

10, Greenworks Cordless Axial Leaf Blower G40ABK2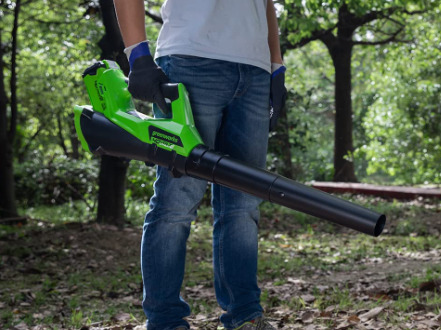 Our last final recommendation for today is the Greenworks Cordless 40V Axial Leaf Blower reference G40ABK2 which has a sleek and attractive design as well as great cleaning results, plenty of power and a long 3 year warranty cover protection. The blow air speed you get is up to 177km per hour and you get a 40V 2Ah battery and charger included in the pack as well as cruise control settings, a comfortable grip and a lightweight design to reduce any possible hand fatigue that may set in. The cruise control basically means that you don't have to continuously have your finger on the power lever at all times which again reduces hand or finger fatigue.
In addition to the cruise control, you have speed settings, a comfortable grip, good balance, super blowing power and a 2 year warranty on the battery as well as a 3 year warranty on the leaf blower tool itself. Please note though that the weight of the unit is slightly over 3.5kg so it would be considered roughly 1.5kg heavier than many other leaf blowers outlined already in our list.
Price Guide: £120+ @ Amazon

Read also: Recommended Wheelbarrows here
Conclusion
Which one would we recommend in particular? It is very hard to say to be honest but our top selection would probably be the Spear & Jackson, Bosch, Greenworks, Stihl and the Mountfield options above but the Worx was also very close to being in our top 5. If price is the thing that motivates you the most, then choose the McGregor or VonHaus options as they are simple to use, basic and the price is hard to beat for the quality you are getting and the battery and chargers are included in their packs as standard.
Community Feedback
What about you? What are your preferences?
If it's not too much trouble, feel free to leave some feedback about this review or your own personal favourite cordless leaf blower by leaving a comment in the comment box section provided below. Many thanks for taking the time to visit and best of luck with your final decision!