Are you considering buying a Hyundai Lawn Mower in the coming days or weeks? Then make sure to check out this brief Hyundai Lawn Mower review compilation which will cover 4 models currently available under their range which will give you more than just 1 choice when it comes to making a final decision.
This review will be split into 2 parts – Part 1 will cover 2 Electric Models and Part 2 will cover 2 Petrol Self Propelled models and all the main features that they have to offer will be outlined along with the pros and cons associated to each that you need to be aware of.
Please be aware also that guide prices can only be given at the time of this review so please make sure to view the price checkers outlined below to ensure you have the most accurate up to date price information. We will also outline comparison tables to help you if you need further clarity and some frequently asked questions that have come up that will be of interest to you. In addition, if you feel that you need to consider other options, then make sure to check out the alternatives outlined at the end of this page that deserve a closer look also.
Lawn Mower Review Overview
| Brand: | Hyundai |
| --- | --- |
| Models: | Compilation of Electric x 2 & Self-Propelled x 2 |
| Price Range: | At the time of this review - £110 to £320 |
| Cheap Place to Buy: | Amazon – View Available Stock Levels Here |
| Reliable Stock: | Hyundai Power Equipment UK - View Full Stock Availability Here |
| Deliveries: | Location dependant – tends to be 3 to 7 working days |
| Warranty: | 3-year duration |
Hyundai Lawn Mower Review Part 1 – Electric
Frequently Asked Questions about Hyundai Electric Lawn Mowers:
Q. What sound level comes from the Electric Corded Hyundai?
A. The noise level from the Electric corded model is 96 dBa
Q. What is the length of the cable?
A. The length of the cable is 12m (many other brands are 10m)
Q. Does the HYM3800E include a rear roller?
A. No, the HYM3800E does not include a rear roller unfortunately
Q. How long does it take to recharge the battery for the Cordless?
A. The recharge time for the battery is approx. 45 minutes.
Q. Does the cordless model include a mulching plug?
A. No the cordless does not include the Mulching plug
Q. How long will the charged battery operate?
A. It depends on the thickness and length of grass but should operate from 45 to 60 minutes.
Hyundai HYM3800E Corded Electric Lawnmower 1600W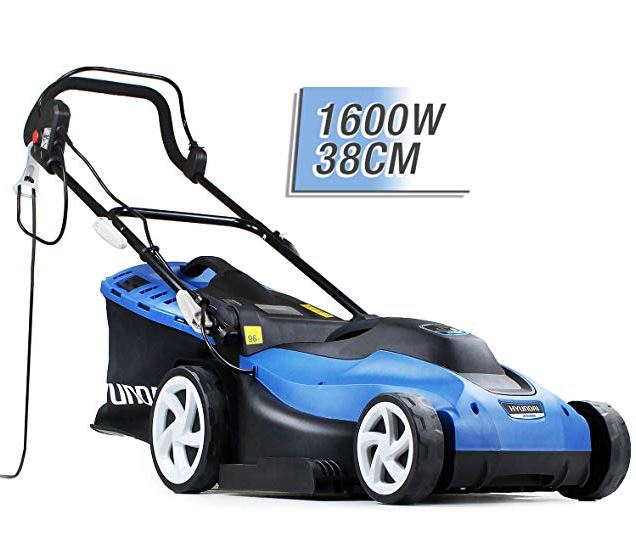 Pros:
Price level is competitive, usually less than £120
Decent size mow width of 38cm
Includes the heavy duty brushless motor 1600W
Longer 12m cable available (most are 10m)
Lightweight for small and medium type lawns
Handles are foldable for easier storage
Soft grip on the handles provide extra comfort
Much lighter at 12kg so easier to move around
Includes the durable rust-free plastic chassis
Grass collection capacity of 40L (hard top)
Mow heights is adjusted with one lever
Grass box indicator provided when nearly full
A brushless long life motor is included
No pull cords – simple push button start system
More or less ready to mow straight from the box
Collects grass cuttings really well
Noise level a lot lower than a petrol version
Able to deal with damp grass and even long grass
Durable, lightweight and overall great value
Cons:
Must be extra careful with a cable across the lawn
Not suitable for larger lawns
Limited to the length of the Cable (12m)
No rear roller included for stripes
Grass box attachment can be tricky for some
Instructions could be better and clearer
No mulching plug included
No side discharge available either (rear only)
Can be more expensive but is worth it for the quality


Hyundai HYM60LI380 Cordless Lawnmower 60V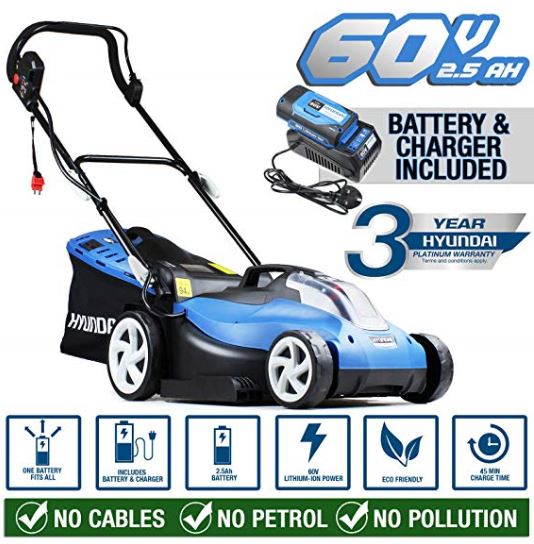 Pros:
Not limited to a cable length of 12m area
Price level competes well with other brands
No danger of cables across the lawn as you mow
Can cover medium and medium to large type lawns
Charger and battery is included
Soft grip handles much kinder to your hands
Handle will fold down for easier storage
Durable rust free plastic chassis provided
Has the LG lithium-ion 2.5Ah battery
60V Lithium Ion Battery is very reliable
No pollution and no oil and petrol or fumes
No added ongoing fuel or oil costs
No ongoing maintenance costs involved
Same mow path of 38cm (wider than many others)
Excellent warranty duration of 3 years
Allows up to 60 minutes mow time
Includes the brushless motor for longevity/efficiency
Noise level is a lot lower than expected
Battery can be used with other 60V Hyundai products
Cons:
Price range is a lot higher, generally over £200+
Recharging the battery will cause delays (45 mins)
Limited mow time based on the battery charge
Must always remember to have it charged
Lacks tougher power for longer or damp grass
No rear roller included for striped effect
A second battery may be needed for larger lawns
More batteries if needed are very expensive
Needs to be replaced after circa 1000+ charges


A comparison table for both of the Electric Hyundai Lawnmowers are outlined below for further clarity…
| Feature: | HYM3800E Corded Electric | HYM60LI380 Cordless Electric |
| --- | --- | --- |
| Power Level | 1600W Motor | 60V Lithium Ion Battery |
| Mow Width | 38cm | 38cm |
| Battery Run time: | N/A | 50 to 60 minutes (depends on grass) |
| Recharge Time | N/A | 45 minutes |
| Operation: | Corded Electric | Cordless Electric |
| Power Cable | 12m Length | N/A |
| Lawn Sizes: | Small & Medium (15m by 15m) | Small & Medium (15m by 15m) |
| Grass Collector: | 40L Capacity | 45L Capacity |
| Mow Heights: | 6 (2cm to 7cm) | 6 (2cm to 7cm) |
| Handles: | Foldable & Soft grip | Foldable & Soft grip |
| Rear Roller: | N/A | N/A |
| Weight: | 12.5kg | 12.8kg |
| Size: | 42cm by 37cm by 107cm | 104cm by 41cm by 112cm |
| Warranty: | 3 years | 3 years |
Hyundai Lawn Mower Review Part 2 – Petrol Self Propelled
Frequently Asked Questions about Hyundai Petrol Self Propelled Lawn Mowers:
Q. What is the speed rpm for the HYM430SP 139cc model?
A. It has a speed rpm of 3000
Q. What level of noise do they generate?
A. It depends on the model and starts from 96dBa
Q. Do they also have a warranty?
A. Must be from a reliable seller, they provide a 3 year warranty
Q. Who can I ring for any parts issues or problems?
A. You can call the distributor called Genpower Ltd on 01646 687 880
Q. Is oil included with the delivery?
A. No, you need to buy engine oil separately
Q. What is the horse power provided with the HYM51SP self propelled?
A. It has a 5 horsepower
Q. When it says 4 in 1 what does that mean?
A. It can cut and drop, side discharge, grass collect or Mulch
Q. Is it a manual or auto choke?
A. It is a manual choke for the HYM51SP
Q, How do you make sure it will last a number of years?
A. Even with a warranty, you should always try to get the machine serviced and blades sharpened annually
Hyundai HYM430SP Petrol Lawn Mower Self Propelled 139 cc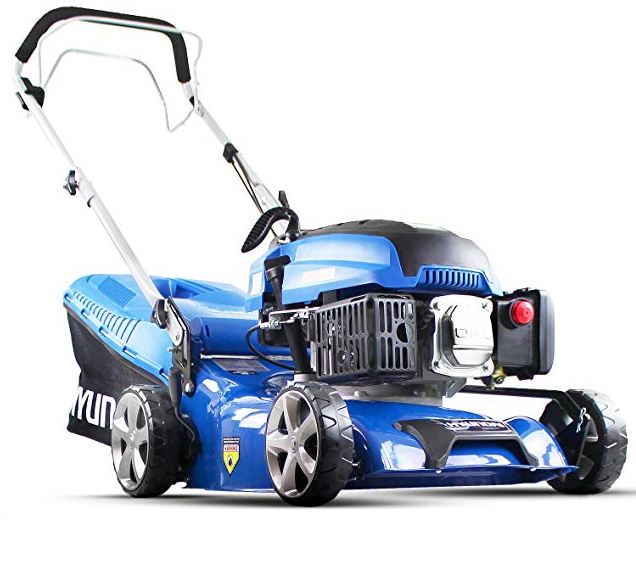 Pros:
Price level competes well – generally £180 to £220
No cables to worry about across your lawn
No recharging of batteries to worry about
No need to buy additional expensive batteries
Low priced self propelled (vs other brands)
Self propelled allows lesser exertion
Decent size grass box for collection (45L)
Superior around steep slopes and hills
Central easy to use lever for height adjustments
Great selection of mow heights to choose from (6)
A contactless ignition system for easier starting
The Polyester Grass Bag has a hard top
It has a recoil start engine for simple starting
No tools are required for assembly
Operator Presence Control for your added safety
Consumes lower levels of fuel than expected
Backed with a 3 year warranty
Hard wearing durable and robust steel deck
Cons:
Not environmentally friendly due to level of fumes
Additional fuel / oil / maintenance costs
No oil is included with the delivery
Not capable of dealing with very large lawns
No rear rollers included for stripes
No side discharge available (rear only)
Speed of the mower is too slow for many mowers
Instructions could be clearer and better
Some find the lowest mow height 2.5cm too high
Spare parts when needed can be difficult to source


Hyundai HYM51SP 4-in-1 Lawnmower Self Propelled 173cc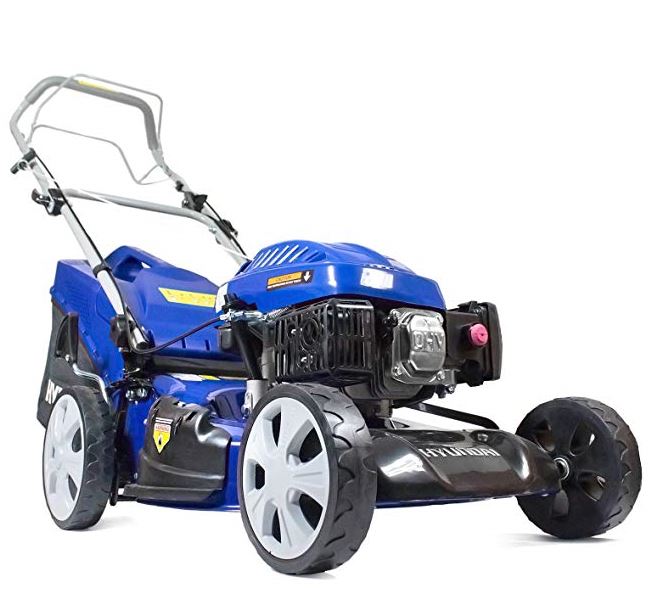 Pros:
Superior and more powerful 173cc engine
Capable of working through thick and longer grasses
Able to cover larger type gardens with no pushing
Wider mow path of 51cm available (less passes)
Able to deal with lawns 40m by 40m in size
Much larger 65L polyester grass catcher included
Mulching kit is included as another option
Option to use the side discharge is also available
Mowing heights of 7 is adjusted with just 1 lever
The handle includes a soft grip - additional comfort
Includes the 173cc OHV 4stroke with low emissions
No tools are required for assembly
Provides a CDI ignition system for easier starting
Drive belt can be accessed via the maintenance cover
There is a deck cleaning connection when complete
Operator Control technology for added safety
Handles can be folded down for easier storage
Includes a hard wearing steel deck as standard
User manual is included for additional support
Garden hose connection to reduce corrosion over time
Overall a beast of a machine that makes mowing easy
Cons:
Not affordable for many as it tends to be £300+
Additional oil, fuel & maintenance costs
Oil is not included with the delivery
Very heavy piece of equipment coming in at 36kg
Lowest mow height is not low enough for some
Parts can be more difficult than expected to source
Side discharge sometimes gets blocked with damp grass


A comparison table for both of the Self-Propelled Hyundai Lawnmowers are outlined below for further clarity…
| Feature: | HYM430SP Self Propelled 139cc | HYM51SP Self Propelled 173cc |
| --- | --- | --- |
| Operation: | 4-stroke Petrol Self Propelled engine | 4-Stroke Petrol 4-in-1 Rotary |
| Power Level: | 139cc | 173cc |
| Mow Width: | 42cm | 51cm |
| Lawn Size: | Small & Medium | Medium & Large |
| Rear Roller: | N/A | N/A |
| Mulching Plug: | Yes | Yes |
| Mow Heights: | 6 (2.5cm-7cm) | 7 (2.5cm-7cm) |
| Grass Collector: | 45L Capacity | 65L Capacity |
| Size: | 135 by 49 by 105cm | 125 by 65 by 154cm |
| Warranty: | 3 years | 3 years |
If you are still undecided about a Hyundai Lawn Mower after this review and want to look elsewhere, feel free also to take a quick look at 2 other options that we also like outlined as follows...
Conclusion
Do we recommend the Hyundai lawn mowers? While they are not the best we have come across, they are still a reliable option in our opinion and the lower price certainly goes a long way when it comes to seeking a self propelled lawn mower. Stock availability at times can be a problem especially at peak seasons but can be trusted more from Hyundai Power Equipment in the UK who also have all the spare parts that you would possibly need which goes a long way in our opinion

Have you any previous experiences of using Lawn Mowers under the Hyundai brand yourself in the past?
Then please share your feedback/comments with the UK community (good or bad) by leaving your thoughts in the comment box section below – So that they can learn also!!!
Finally, many thanks for taking the time to visit this review and best of luck with your final decision