Thanks again for taking the time to visit and welcome to this Flymo Lawn Mower review compilation which will cover the hover, corded and cordless models so that you have more than just 1 choice when it coming to making your final decision.
View also: Popular Hedge Trimmers here
Corded & Cordless
The focus of this review will be to cover the popular Hover, Corded and Cordless models to give you a better understanding of what each of them has to offer plus all the pros and cons associated to each. Hopefully by the end of the review you will have a clear thought process if indeed a Lawn mower under the Flymo brand is for you or if you should start looking elsewhere. Please be aware that only guide prices can be submitted at the time of this review so please make sure to view the price checkers provided below to ensure you get the most up to date price information.
Review Content
For the purpose of the review – it will be split into 2 parts – Part 1 will be the Hover Mower with 3 alternatives and Part 2 will be the Wheeled mowers and comparison charts with the main features will be provided also if you need further clarification. In addition, if you want to explore further prices elsewhere, then make sure to check out the options provided at the end of this page that are worth a closer look also…
Lawn Mower Review Overview
| Brand: | Flymo |
| --- | --- |
| Models: | Hover & Wheeled (Corded & Cordless) |
| Price Range: | At the time of this review - £50 to £300 |
| Cheap Place to Buy: | Argos UK – View Available Stock Levels Here |
| Orders Online: | Yes, Orders accepted online with delivery available |
| Deliveries: | Location dependant – tends to be 3 to 7 working days |
Frequently asked Questions about Flymo Lawnmowers:
Q1. What are the folded dimensions for the HoverVac 280?
A. The folded dimensions are 82cm L by 40cm H by 41cm W
Q2. Is the Visible Window available with the HoverVac 280?
A. No, but it is available on the Glider 330 and the UltraGlide
Q3. What cutting heights are available for the Hovers?
A. It depends on your chosen model but tends to be from 1cm to 3.2cm
Q4. What are the widths of the Hover Blades?
A. It varies with each model but starts at 28cm up as far as 36cm in width
Q5. Can the Hover be used side to side?
A. Yes but is more difficult that forward / backward motions
Q6. Do the blades need to be sharpened?
A. Yes, they should be sharpened at the start of every season for optimum performance
Q7. How long does it take to recharge the Cordless Battery?
A. The recharge time takes approx. 2 hours duration
Q8. How does the Hover actually work?
A. It works by the motor driving an air fan which is located above the cutting blade and the fan draws air in from the cutting region which creates a cushion of air lifting the mower from the lawn.
Read also: Best Electric UK Lawnmowers
Flymo Lawn Mower Review Part 1 - Hover Lawn Mowers
1, Flymo HoverVac 280 28cm Corded Hover 1300W Lawnmower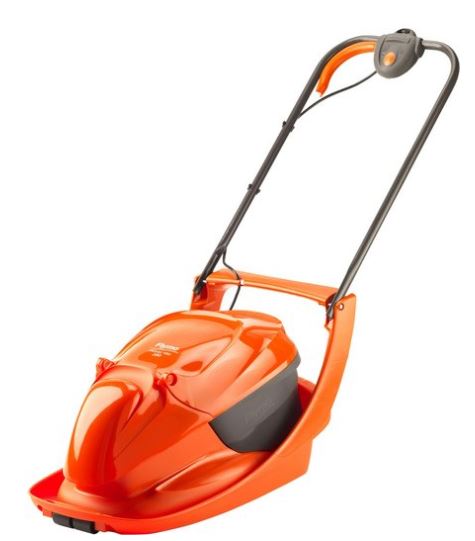 Main Features:
This is a Hover Electric lawn mower that can collect grass clippings by gliding across your lawn and operates with a power motor level of 1300W by floating on a cushion of air to allow quicker and easier cutting of grass.
There are 4 different mow heights settings that range from 1cm to 3cm and it has a metal cutting blade with a size of 28cm in diameter.. The power cable length is 10m long, the weight is less than 9kg and it includes a safety switch for your added protection.
It is highly manoeuvrable, the handles can be folded down and the price range tends to be between £45 and £80 when last seen on sale which depends on local discount activities and should be double checked below.
Pros for the Flymo HoverVac 280
One of the best priced Hover Lawn mowers around and tends to be discounted and promoted from time to time which gives additional savings (less than £50 at the time of this review)
Seriously lightweight and easy to move around the lawn and no assembly is needed on your end – it is ready to start using straight out of the box (more or less)
Can leave a very nice tidy trim level across your lawn and is ideal for people who have the small town house type lawns.
Good overall value for the level of money you have to spend without any of the fancy more expensive addon features – very basic overall design
Many people have managed to purchase this item when heavily discounted which tends to be the main attraction
Cons for the Flymo HoverVac 280
Very poor with long grass and even thick grass – multiple passes can be needed especially if damp and mows poorly around edges where additional trimming will be required (eg. Around border walls and fences)
Not suitable at all for medium or larger gardens – limited to small town house type lawns only or even small patches of grass only
Very narrow mow path which means several more passes and more time is needed – much slower overall and can be difficult to get the job done as you need – can be very slow with a moderate level of grass growth.
Grass collection is very small and will need to be emptied a lot more frequently. It has a 20L capacity where many other models have 40L+ and more available.
You are limited to a work area of 10m due to the cable length, if your lawn goes beyond 10m then start looking for extension cords.
Reports of it to start clogging and needs to be carried to the shed when complete. Overall quite flimsy and only ideal for very small patches of grass where you don't want to spend over the top for a standard or commercial lawn mower.
We don't recommend this hover mower but if you do decide to go ahead with it, make sure to keep your receipt in a safe place as you may end up needing to return it like many other people have in the past. You are better off saving more money and seeking a better-quality alternative as we also have seen far too many issues from several other people reported in the past – not worth the hassle in our view!

View also: Popular Grass Trimmers here
Further Flymo Hover Mowers
There are also a number of different alternatives of Hover Lawn mowers under the Flymo brand which may be of interest to you also and some of the more popular options are outlined below followed by a comparison table outlining all the main features you need to know…
Flymo TurboLite330 33cm Corded Hover Lawnmower 1150W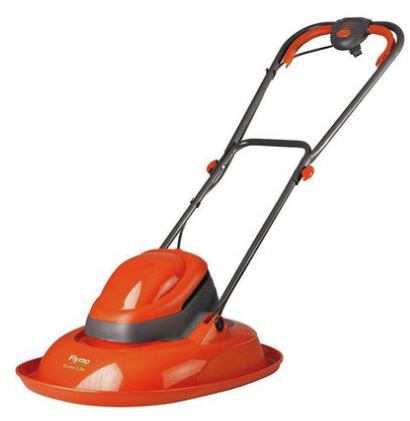 Flymo 33cm Easi Glide Hover Lawnmower 1400W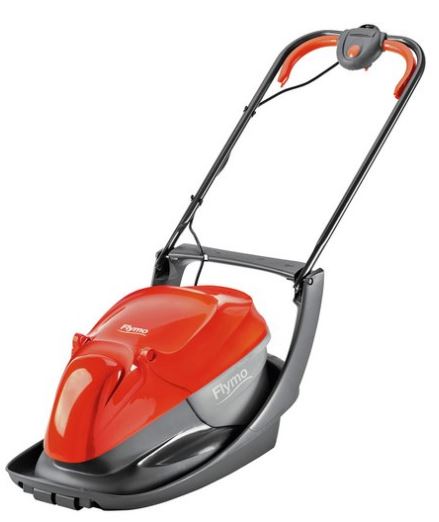 Flymo Ultraglide 36cm Hover Lawnmower 1800W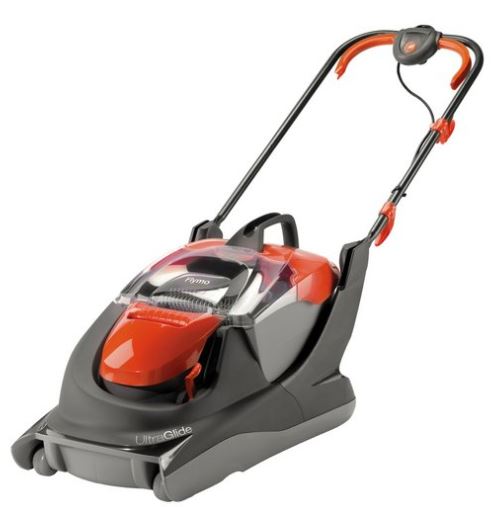 Comparisons
A comparison table for 4 Hover Lawn mowers under the Flymo Brand is outlined below…
| Feature: | HoverVac 280 Corded | TurboLite330 Corded | Flymo 33cm Easi Glide | Flymo Ultraglide 36cm |
| --- | --- | --- | --- | --- |
| Power Level: | 1300W | 1150W | 1400W | 1800W |
| Power Supply: | Corded | Corded | Corded | Corded |
| Lawn Size: | Small only | Small only | Small only | Small / Medium |
| Mow Heights: | 4 (1 to 3cm) | 4 (1 to 3cm) | 4 (1 to 3cm) | 4 (1.3cm-3.2cm) |
| Mow Width: | 28cm | 33cm | 33cm | 36cm |
| Grass Collector: | 20L Capacity | N/A | 20L Capacity | 30L Capacity |
| Safety Switch: | Yes | Yes | Yes | Yes |
| Weight: | 8.8kg | 6.5kg | 8.5kg | 12kg |
| Visible Window: | N/A | N/A | N/A | Yes |
| Cable: | 10m Length | 10m Length | 12m Length | 15m Length |
| Price Guide: | £45 to £75 | £45 to £65 | £90 to £120 | £130 to £170 |
View also: Popular Weed killers here
Flymo Lawn Mower Review Part 2 - Wheeled Lawn Mowers
Flymo Speedimo 36cm Electric Corded Mower 1500W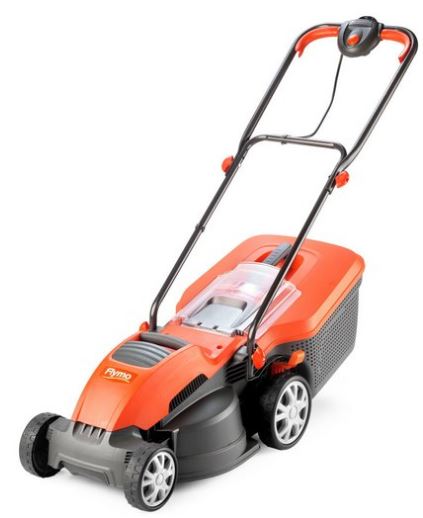 Pros:
Price level is generally one of the lowest available
Easy to start – no pull cords to worry about
No maintenance costs
No ongoing fuel or oil costs
Environmentally friendly option
Good range of mow heights available (5)
Handle can be folded for easier storage
Decent size grass collector coming in at 40L
Wider mow path of 36cm
Cable length of 12m (many others are only 10m)
Mow height is controlled with a central lever
Lightweight and easy to move around
No need to worry about poor battery performance
Overall the best model in our view from Flymo
Cons:
Limited to a cable length of 12m
No grass full indicator and no rear roller
Small and medium lawns only
Struggles with tough and thick grass
Longer grass will need a second going over
Narrower mow path (36cm) than other brands
Overall a much more reliable choice than the Hover


Flymo Mighti-Mo 30cm Cordless Lawnmower 40V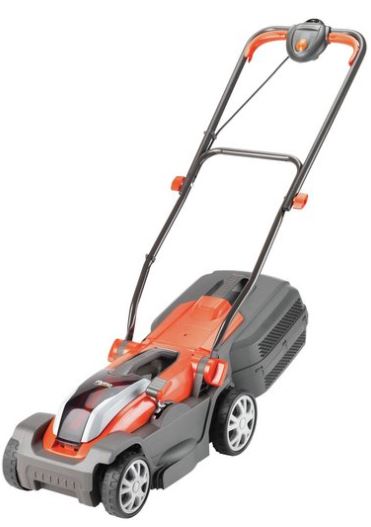 Pros:
Price is lower than many other Cordless brands
No pull cords to worry about
Highest mow height can go to 7.5cm
No oil / fuel / maintenance costs
Same number of mow heights (5)
Grass collector can hold 30L (10L less)
Much safer option than cables across your lawn
Charger and battery is included in the package
Side lever for adjusting the height is easy to use
Small compact design for easy storage in the shed
Battery charge level indicator is included
Cons:
Narrower mow path by 6cm than the Corded
Always need to remember to charge the battery
Limited runtime charged battery (15-30 mins)
Additional or a second battery may be needed
Prices of additional batteries are very expensive
Smaller grass box by 10L vs the Corded model
Recharging can cause significant delays (2 hrs)
Price is significantly higher than the Corded
Can't be used on wet grass / poor with damp grass
Battery degradation over time (shorter runtimes)


Comparison Table
A comparison table for 2 Wheeled Lawn mowers under the Flymo Brand is outlined below…
| Feature: | Flymo Speedimo | Flymo Mighti-Mo |
| --- | --- | --- |
| Power: | 1500W | 40V Battery |
| Metal blade Width: | 36cm | 30cm |
| Operation: | Corded | Cordless |
| Mow Heights: | 5 (2cm-6cm) | 5 (2.5cm-7.5cm) |
| Grass collector: | 40L Capacity | 30L Capacity |
| Cable: | 12m Length | N/A |
| Lawn Size | Small / Medium size | Small only |
| Safety Switch: | Yes | Yes |
| Recharge Time: | N/A | 2 hours |
| Battery Runtime: | N/A | 15 to 30 minutes |
| Handles: | Foldable | Foldable |
| Weight: | 11.5kg | 9.99kg |
| Price Guide: | £85 to £110 | £200 to £240 |
View also: Treatments for Weeds here
Price Comparisons
If you are looking for more price options, then make sure to take a quick look also at some of the prices available from Amazon that are always worth a closer look before you make your final decision outlined as follows…
Read also: Popular Wheelbarrows here
Community Feedback
Have you any previous experiences of using Lawn Mowers under the Flymo brand yourself in the past?
If so, then please share your feedback/comments with the UK community (good or bad) by leaving your thoughts in the comment box section below – So that they can learn also...