If you are considering buying a Cobra Lawn mower in the coming days, then check out our Cobra Lawn mower review which outlines our top picks in each of their lawnmower categories be it petrol, electric corded, electric self-propelled or Ride on mowers.
They have over 130 gardening tools in their catalogue and their portfolio of lawnmowers has expanded significantly in recent years so this review should speed up the process when it comes to selecting a reliable lawnmower from their catalogue categories.
View also: Treatments for Weeds here
Cobra Lawnmower Overview
The Cobra lawnmowers are designed in the UK for the British gardening type and they are made in Japan by a company called Kaaz who are able to manufacture it at lower price levels to make them more affordable for you the end consumer.
Some of their petrol lawnmowers use Honda engines such as the Honda GCV170 Engine and their professional lawnmower range also uses Subaru and Kohler engine types in their range while their original petrol lawnmowers use Briggs & Stratton engines. The company Cobra Garden Machinery was started in 2013 and they work in partnership with Henton & Chattell Ltd in Nottingham who have over 80 years' experience in this sector.
Cobra Range
One highly popular type of Lawnmower from Cobra is the electric cordless self-propelled lawnmower which costs a good deal more than your average cordless push lawnmower but you have the self-propelled support to help you get the mowing jobs done quicker and with a lot less strain. These are supported with the more powerful 7.5Ah batteries that you don't find in many other cordless lawnmower brands plus their GTRM models include the rear rollers for attractive eye catching stripes
Mowing Options
In addition to the self-propelled lawnmowers, there is also select lawnmowers that offer mulching, side discharge, hand push mowers, select drive functions, 4 speed gear boxes and large rear wheels for better traction on rough terrain or damp ground and slopes. You also have the option of choosing either a self-propelled electric cordless lawnmower or a self-propelled petrol lawnmower which again is not supported by all other lawnmower brands.
Read also: Popular Wheelbarrows here
Location
They are supported by Henton & Chattell Ltd who are based in Nottingham and they can be contacted directly on  0115 964 5915 or on email at info@cobragarden.co.uk
Cobra Lawnmower Review – Top Recommendations
To help speed up the process for your own online research, we have reviewed multiple lawnmowers in their range and narrowed it down to our top pick favourite lawnmower in each of the 5 categories below be it petrol, corded, cordless and Ride on. Price guides can only be shown at the time of this review so please make sure to view the price checkers provided below to help ensure you have the most accurate up to date price information
Read also: Popular Garden benches here
1, Cobra Review – Top Petrol Lawnmower
Cobra 48cm Petrol Lawnmower 4 Speed MX484SPCE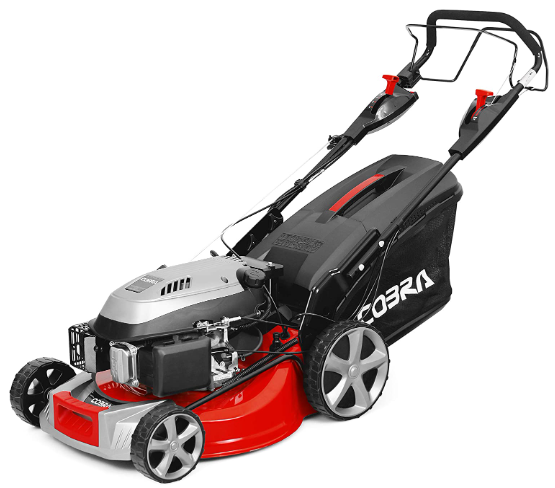 Our top petrol lawnmower in the Cobra range would have to be the Cobra MX484SPCE 48cm or 19 inches Petrol Lawn mower with 4 speeds, the electric push button start (no pull cord) and it comes with a Cobra Y173V 173cc 4-stroke engine which provides plenty of power for your mowing needs especially for tougher mowing sessions.
The self-propelled speed operates from 2.5km per hour to 3.9km per hour so it can be adjusted to suit you own mowing walking pace and you have the option to collect, mulch or use the side discharge. The grass collector has a capacity of 60 litres, there are 6 mowing heights and it comes backed with a 2 year warranty for peace of mind
Price Guide: £300 - £400 @ Amazon

2, Cobra Review – Top Electric Corded Lawnmower
Cobra 40cm Electric Corded Lawnmower GTRM40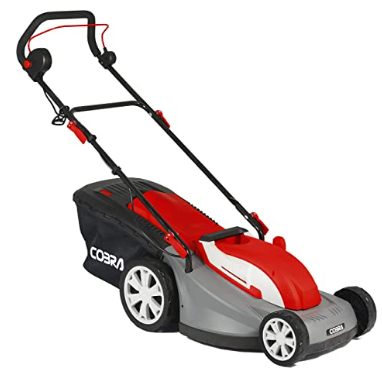 For the smaller townhouse garden looking for a lightweight corded electric lawnmower, the model we would recommend is the Cobra GTRM40 40cm / 16 inch Electric Corded Lawnmower which includes the roller plus a 1600w motor and it was on sale for less than £150 when seen at the time of our review.
The lightweight design of this lawnmower under 20kg makes the chore of pushing the mower a lot easier to do and it comes supported with a 10m long cable which can be plugged into your mains socket. There are 7 mowing heights that range from 2cm up to 7.5cm and the rear rollers at the back can give you that nice striped effect appearance. This corded electric lawnmower also has the 2 year warranty which protects your investment
Price Guide: £100 - £150 @ Amazon

3, Cobra Review – Top Electric Push Cordless Lawnmower
Cobra 40V 34cm Cordless Push Lawnmower MX3440V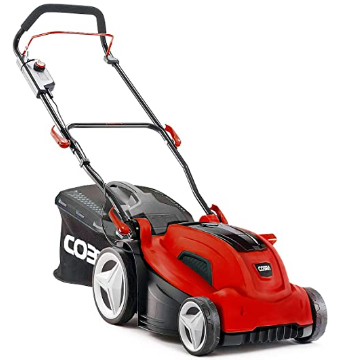 For those of you who prefer the cordless battery operated lawnmower, the model we would recommend from Cobra is the Cobra MX3440V 40V Cordless Push Lawnmower which comes at a much lower price than the self-propelled electric version.
It's a smaller framed lawnmower with a 34cm / 13 inch mowing width so it really suitable for the small to medium sized garden lawn type up to 300m2. The one advantage here is that there is no petrol or oil to worry about and also no cables or cords across your lawn as you work.
This grass box collector is small also at 35 litres capacity and it comes with a  2.5Ah battery which will give you 15-20 minutes mowing time depending on grass and terrain conditions. The battery itself is a 40V Samsung Lithium-ion battery and the charger comes included in the pack as standard.
Price Guide: £180 - £250

View also: Review of best Petrol Lawnmowers
4, Cobra Review – Top Self Propelled Cordless Lawnmower
Cobra 51cm Self-Propelled Cordless Lawnmower MX51S80V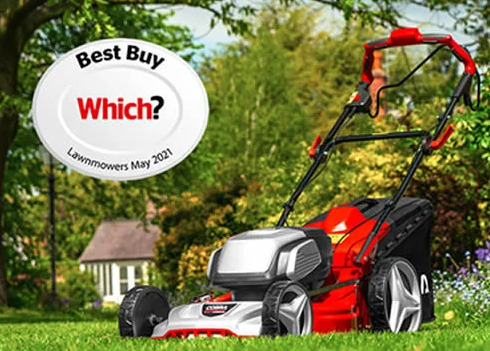 If you need self-propelled support on your electric lawnmower, then the model we would recommend from Cobra is the Cobra MX51S80V Self-Propelled 51cm / 21 inch wide Cordless Lawnmower which comes with 2 powerful 5Ah batteries and 2 chargers included in the overall package. The price is a good deal higher than the push model but the self-propelled support requires the more powerful and higher priced batteries to operate it.
You can start it with the push of a button, there are 7 mowing heights 2.5cm up to 7.5cm and the capacity of the grass collection unit is 60 litres. Recharging of the batteries takes 1 hour approx. and you can expect to get a mowing runtime on the batteries of 45 to 60 minutes again depending on terrain and grass conditions in your garden. Overall it's a pleasant lawnmower to work with and we would highly recommend it for an easier mowing experience
Price Guide: £550 - £650 @ Gloucester

5, Cobra Review – Top Petrol Ride on Tractor Mower
Cobra 42 inch 452cc Hydrostatic T2 Transmission Ride On Tractor Mower COLT108HSL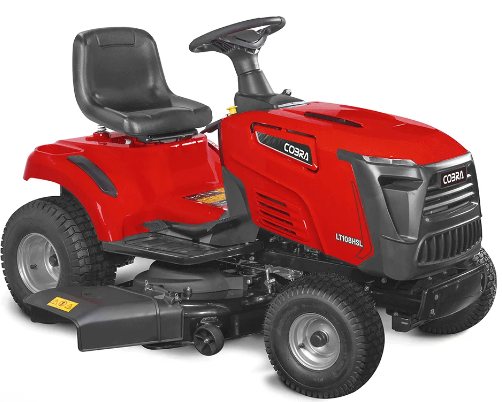 For the larger lawn areas that need a tractor ride on mower, then we would recommend the Cobra 42 inch 452cc COLT108HSL Hydrostatic T2 Transmission Ride on Tractor mower that doesn't have the grass collection but does have the side discharge instead. This ride on mower offers a cutting width of 108cm or 42 inches and it comes with a reliable 452cc Loncin OHV engine and the Hydrostatic transmission as standard for an easier and faster mowing experience.
There are 7 different mowing heights that range from 2.5cm up to 8cm, it has a twin bladed cutting deck and it comes with a 5 year warranty as well as the 90 day money back guarantee. The turning radius is only 45cm which helps when it comes to difficult corners, awkward trees and flower beds plus it includes the mulch plug and tow bar hitch as standard.
Price Guide: £2000 - £2500 @ Mowers Online

Read also: Best Electric UK Lawnmowers
Wider Range
In addition to the different types of lawnmowers, they also stock grass trimmers, chainsaws, hedge trimmers, brush-cutters and various other gardening multi-tools. Within each of these product categories, there are options for electric and petrol powered tools so there is over 130 different products to choose from under this brand of Cobra. The most popular categories and products they offer tend to be Rear Roller lawnmowers, Petrol Brush cutters, Cordless lawnmowers, trimmers and chainsaws
Community Feedback
Have you ever used a Cobra Lawnmower in the past? Have you anything positive or negative to report? If possible, please share your own opinions and experiences by leaving a comment in the comment box section provided below – so that others in the wider mowing community can learn also…