Are you thinking about buying an electric or petrol grass trimmer from Hyundai in the coming days? If so, then make sure to check out our Hyundai Grass Trimmer review which will cover both the best electric and the best petrol options available to you under this brand.
Compilation
This grass trimmer review will cover both the corded and the cordless grass trimmers from Hyundai and we have also included 2 great petrol powered trimmers one of which is supported by wheels so there is no heavy lifting involved – all you have to do is push it which works particularly well on denser grass regions, heavy weeds, large estates and tougher scrub type areas.
View also: Popular Weed killers here
Electric
Our review will outline some FAQ's that will be of interest to you, the main pros and cons that you should know along with all the main features that they can offer you. We will start with the 2 electric grass trimmers for lighter garden trimming work while the more powerful petrol trimmer options are outlined further down on this page.
Grass Trimmer Review Content
Section 1: Quick Overview & FAQ's
Section 2: Hyundai Grass Trimmer Review – Corded
Section 3: Hyundai Grass Trimmer Review – Cordless
Section 4: Hyundai Grass Trimmer Review – Petrol (2 options)
Section 5: Final Conclusion
As guide prices can only be published at the time of this Hyundai Electric and Petrol Grass trimmer review, please make sure to view the price checkers provided below to ensure you have the most accurate up to date price information.
Read also: Our Hyundai Lawnmower review here
Section 1: Quick Overview & FAQ's
| Grass trimmer: | Hyundai Grass Trimmers – Electric x 2 & Petrol x 2 |
| --- | --- |
| Deliveries: | 3 to 5 working days on average |
| Best Places to Buy: | Hyundai Power Equipment UK – View Stock Availability Here |
| | Amazon UK - View Stock Availability Here |
| Warranty: | 3 years duration |
| Support: | Customer support on 01646 687 880, info@hyundaipowerequipment.co.uk |
Frequently Asked Questions about Hyundai Grass Trimmers:
Q1. How long is the power cord on the corded trimmer?
A. This cord is 10m long (some other brands are only 6m long)
Q2. Which is the cheapest trimer to buy from Hyundai?
A. This would be the corded option which is usually available on sale for less than £40/£50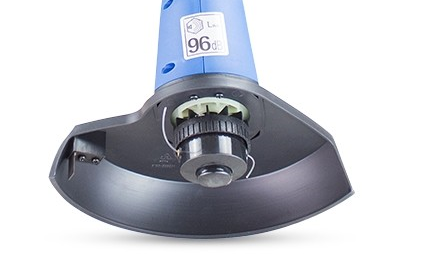 Q3. What is the length and thickness of the line on the corded trimmer?
A. The line length is 2m and the diameter is 1.2mm
Q4. Can they cut through brambles and heavy weeds?
A. The trimmers best suited for brambles are the petrol powered trimmers (outlined further below)
Q5. How long does the cordless battery trim for?
A. It depends on trimming conditions but generally has a runtime of 35 to 40 minutes on average
Q6. How long does it take to get the cordless battery charged up once again?
A. The expected recharging time for the battery is usually around 80 to 90 minutes on average
Q7. Does the petrol trimmer come with steel blades?
A. Yes, the petrol trimmer includes both an 8 tooth and 3 tooth steel blades.
Read also: Ways to get rid of Weeds here
Section 2: Hyundai Grass Trimmer Review – Corded Option
Hyundai 250W 25cm Electric Grass Trimmer HYTR250E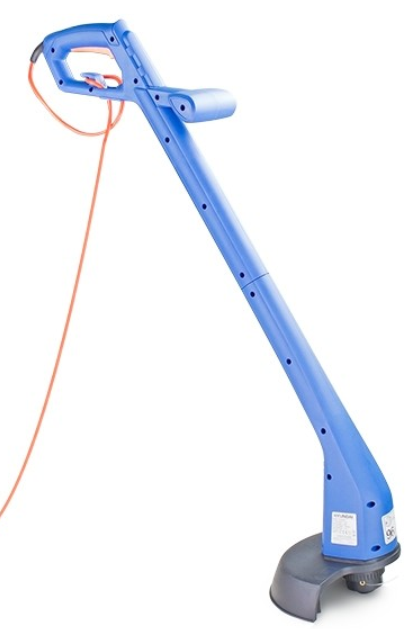 Main Features in Summary:
Budget type solution
Corded Electric grass trimmer
Motor power is 250W
Trimming width is 25cm
Twin line cutting mechanism
Cord length is 10m long
Lightweight at 1.7kg
Line diameter is 1.2mm
Plant trimmer guard included
3 year warranty applies
Pros for the Hyundai Corded Grass Trimmer:
One of the biggest attractions here is the low price on offer which tends to be available for less than £50 when seen at the time of this review and in some cases less than £40  - if the lowest price is what you are after, then you don't need to look much further than this
You have a reliable power supply with the cord and you don't have to worry about charging batteries, replacing batteries or the ongoing costs of petrol and oil products for that matter.
The cord length here is very good at 10m long. Many other corded grass trimmers we have seen have cords that are only 6m long, so the extra-long cord here goes a long way in reducing the need for an extension cord
Many other cheaper trimmers have a single line while this one has a twin line cutting system and the weight is less than 2kg which certainly helps in reducing arm fatigue setting in on longer trimming jobs
Cons for the Hyundai Corded Grass Trimmer:
Limited to lighter grass trimming and edging work as it doesn't have sufficient power to deal with heavy scrub, tall weeds and vegetation. Designed for tidying up after a lawnmower rather than trimming larger areas of dense grasses or weeds.
Even though the cord is 10m long, you still may need to invest in an extension cord so it would be better to measure up the trimming areas in advance
You need to master a technique of navigating the cord while you work and to avoid tripping over it or damaging the line while you work. This takes time but gets easier once you get the hang of it.
The diameter of the line is quite narrow at only 1.2mm. Superior and more expensive trimmers have much stronger and thicker cutting lines than this that don't break as easily.
The trimming head cannot be rotated here unlike the cordless version where that one can be rotated to 180 degrees.
Price Guide: Less than £65

Section 3: Hyundai Grass Trimmer Review – Cordless
If you dislike the idea of pulling a cord around with you while you work and you would prefer a cord free option, then check out the cordless Hyundai grass trimmer below which includes the battery and charger. If you have a charger and battery already in stock in your shed, then this can be bought also as a bare tool option which can end up saving you a lot of money as the battery is interchangeable with other Hyundai battery powered tools.
Hyundai 60V Cordless Battery Grass Trimmer HYTR60LI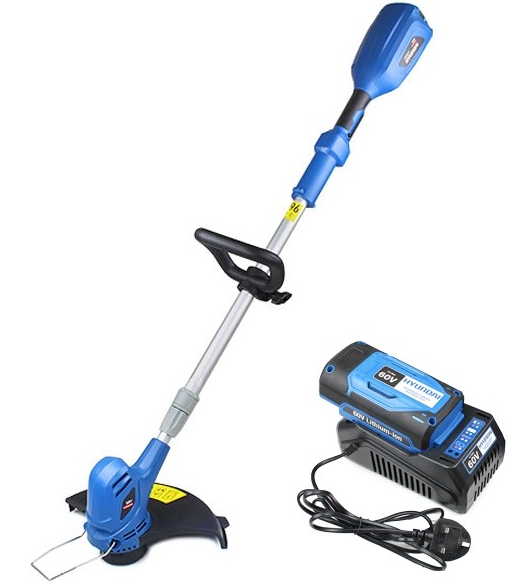 Main Features in Summary:
Includes battery & charger
2.5Ah battery 60V included
Lithium ion powered battery
Adjustable telescopic handle
Battery recharging 90 minutes
Battery runtime 35 to 40 minutes
Trimming width 33cm wide
Battery lifespan 1000 plus charges
Interchangeable battery tools
Rust free aluminium shaft
Auto spool line feed system
Thicker line diameter 1.6mm
Covered with 3 year warranty
Pros for the Hyundai Cordless Grass Trimmer:
Many batteries take 2 hours or 3 hours to get charged up while this battery can be charged a lot quicker in just 90 minutes which is a serious advantage if time is always against you.
Other batteries we have used in the past only last 20 minutes when charged up but this battery has a superior runtime length of up to 35 / 40 minutes.
The trimming width here is wider at 33cm (8cm wider than the corded) and the length of the shaft can be extended for taller people unlike the lower priced corded trimmer.
There is extra back up spare batteries and chargers readily available direct from Hyundai in the event you want to carry additional charged batteries in stock.
You have a cord free trimming solution here as there are no cords to navigate around and you are not limited to the length of an extension cord – more freedom overall with the distances you can work to
The auto line feed system worked exactly as expected so no problems to report on this end. Plus, it has a really long lifespan of 1000 plus charges which certainly goes a long way so you won't need to replace the battery any time soon
The head can be rotated here unlike the corded version which is a great addition to have especially when trying to trim under benches, garden furniture or even under trampolines.
Unlike many grass trimmers from other brands, this trimmer offers you a variable speed trigger which helps with thicker vegetation or heavier weeds to get more power from the tool when needed. Plus, the line diameter is stronger and thicker than the corded coming in at 1.6mm (versus the corded at only 1.2mm)
Cons for the Hyundai Cordless Grass Trimmer:
One thing we didn't like is the cost of the spare batteries and the spare chargers which were a lot higher than expected. The spare charger on its own alone will set you back around £40 which is nearly the same price as the corded trimmer! (so, it is advisable to look after it carefully as they don't come cheap!)
Lacks the power needed for heavy vegetation, tall grasses, dense scrub and brambles – again it is designed really for lighter duty work with the level of power it offers for tidying up after a lawnmower
Heavier duty work or thicker conditions will deplete the battery charge a lot quicker so be prepared in advance for this.
The weight of this tool is approx. twice the weight of the corded coming in at 4kg which can get tiring after a while (versus the corded at only 1.7kg)
The price of spare batteries is too high in our opinion and they can set you back a further £120/£130 which is too pricey from my liking
Price Guide: £180 to £280

Shaft Extension:
One of the serious advantages of the cordless grass trimmer from Hyundai is the fact that the shaft length can be adjusted which reduces potential backaches that can set in. The longest length that it can be extended to is 1.7m long while the shortest length then is 1.25m long as outlined in the diagram below.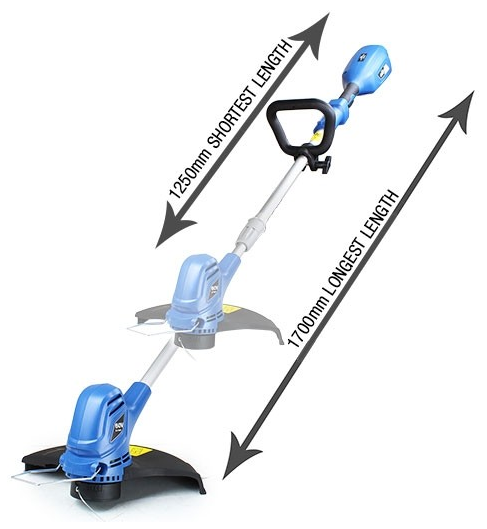 View also: Top Wheelbarrow picks here
Section 4: Hyundai Grass Trimmer Review – Petrol Options
If you want to avoid cords and batteries when it comes to grass trimming and you need more power for thicker vegetation and denser scrub, then you should choose a petrol powered trimmer instead – 2 examples are provided below. Our own preference would definitely be the Hyundai 50.8cc Petrol Grass Trimmer which also can work as a  Brushcutter for dealing with tall thick weeds and brambles and the other field trimmer is supported with wheels to reduce fatigue setting in on your hands and arms on larger projects.
Hyundai Petrol Superior Push Field Grass Trimmer HYFT56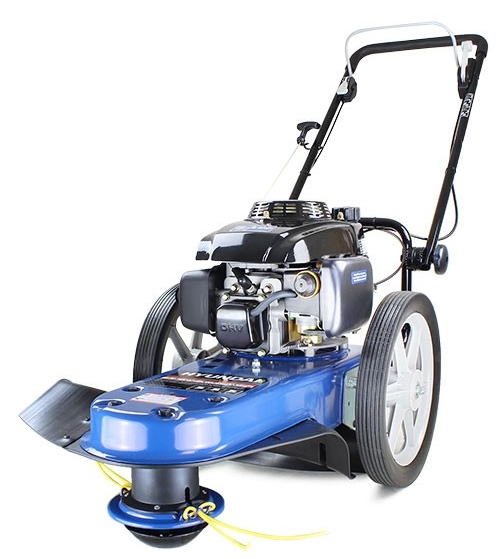 Main Features to Note:
Wheeled support for larger areas and slopes
Thicker line for denser vegetation and scrub
Superior power overall - 5.5hp Hyundai engine
Petrol push operated with 4mm nylon line
Designed for larger homes or estate areas
Price Guide: £350 to £400 (3 year warranty)

Hyundai 50.8cc Petrol Grass Trimmer Brushcutter HYBC5080AV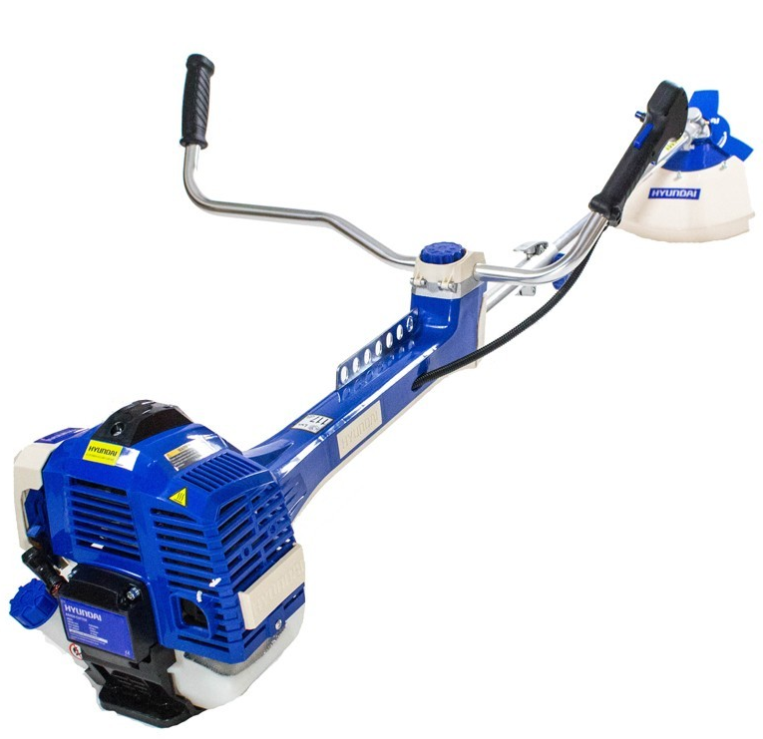 Main Features to Note:
Built in anti-vibration system included
Powered with 50.8cc 2-stroke engine
Bike handle support, harness, steel blades included
Bump line cutting system with 45cm trim width
For heavier scrub, weeds, brambles & vegetation
Price Guide: £150 to £200 (3 year warranty)

Read also: Our List for the Best Petrol Grass Trimmers Here
Section 5: Final Conclusion
The one thing we liked about the Hyundai Grass trimmers is the fact that there is a good range to browse and choose from and to be fair, we didn't come across any problems with them at all. If you have a small town house garden and you want a cheap and cheerful basic trimmer, then the corded will do the trick for you. If you have a larger house where you need to walk a lot further than 10m, then the cordless solution works great but the price is a little on the high side, especially if you want an additional battery which will set you back over £100 which is way too much in our opinion.
If you have a large estate with thick dense scrub, brambles and vegetation, then the petrol powered trimmers outlined above will provide more than enough power from what we can see, especially the last option which acts also as a Brushcutter with the steel blades attachments included in the pack

Optional Feedback
Have you ever used a Hyundai Grass Trimmer yourself in the recent past? Would you recommend the electric or the petrol powered versions?
If possible, please share your own feedback with the wider community by leaving your comments in the comment box section provided below.