Should you choose a Petrol or an Electric chainsaw from Hyundai? To find out more, then please check out our Hyundai Chainsaw review which will compare both the Hyundai Electric Chainsaws against the Hyundai Petrol chainsaws so you can decide for yourself which one will best suit your own particular set of needs or requirements.
Read also: Popular Wheelbarrows here
Direction
We will outline what we believe is the best in our conclusion at the end of this page but we want to show you what each of them can offer you which hopefully can give you a good sense of direction on which route you should take yourself. For the Hyundai electric lawnmowers, we will cover both the lower priced corded chainsaw and also the cordless Hyundai chainsaw which tends to priced on the higher end so at least you have more than just one choice when it comes to making your own final decision.
Petrol 66cc
Our review will focus though on the Hyundai Petrol 66cc 20-inch chainsaw as this chainsaw was by far our favourite under this brand and the main pros and cons, features will be covered along with some FAQ's that may answer some of your own possible queries. The electric Hyundai chainsaws will then be covered further down on this page. For easier navigation, this chainsaw review will be split into 5 main parts so feel free to skip to whatever parts interests you the most
Chainsaw Review Content
Section 1: Chainsaw Overview & FAQ's
Section 2: Hyundai Petrol Chainsaw Review
Section 3: Hyundai Electric Chainsaw Overview – Corded & Cordless
Section 4: Comparison Table
Section 5: Final Conclusion
Before you begin, please note that guide prices can only be published at the time of this Hyundai chainsaw review so please make sure to view the price checkers provided below to ensure you have the most accurate up to date price information.
Read also: Our Hyundai Lawnmower review here
Section 1: Chainsaw Overview & FAQ's
| Chainsaw: | Hyundai Chainsaws – Petrol x 1 & Electric x 2 (Corded & Cordless) |
| --- | --- |
| Deliveries: | 3 to 5 working days on average |
| Best Places to Buy: | Hyundai Power Equipment UK – View Stock Availability Here |
| | Amazon UK - View Stock Availability Here |
| Warranty: | 3 years duration |
| Support: | Customer support on 01646 687 880, info@hyundaipowerequipment.co.uk |
Frequently Asked Questions about Hyundai Chainsaws
Q1. Does the petrol chainsaw include a protective cover?
A. Yes, there is a chainsaw bar plastic cover to protect it when not in use
Q2. How can the chain be tensioned?
A. The petrol chainsaw has a side mounted chain tensioner system which can be adjusted when needed
Q3. How does it prevent kickbacks?
A. This petrol chainsaw from Hyundai has a double pivot safety brake which stops the chain instantly in the event of an unexpected kickback
Q4. Does the petrol chainsaw include any accessories such as a second chain or a chainsaw file?
A. A wide range of accessories are included in the box such as the bar cover, chain file, 2 chains, a multi tool and a fuel mixing bottle
Q5. What volume of fuel capacity can the petrol chainsaw hold?
A. This chainsaw has a fuel capacity of 550ml in this review
Q6. Do you need to manually lubricate the chain?
A. No, there is an automatic pump to keep the chain lubricated at all times (which can be adjusted when needed)
Q7. What are the dimensions of the chain and the bar?
A. The length of the chain bar is 20 inches on the petrol chainsaw while the chain is 3/8 inch. The electric chainsaws in this review have shorter bar lengths (corded is 14 inches while the cordless is 12 inches)
Q8. How long is the power cord on the corded chainsaw?
A. The length of the cord is quite short at just 3m long so extension cords will be needed also
Q9. How long does it take to recharge the cordless 60V battery?
A. On average it will take 80 to 90 minutes to have the battery fully recharged once again
Q10. How long will the charged battery cut and last for before having to recharge it again?
A. You can get 100 plus cuts from the 12 inch cordless chainsaw and the runtime generally works for 60 to 75 minutes on average.
View also: Top Wheelbarrow picks here
Section 2: Hyundai Petrol Chainsaw Review
Hyundai HYC6220 62cc 20 Inch Petrol Chainsaw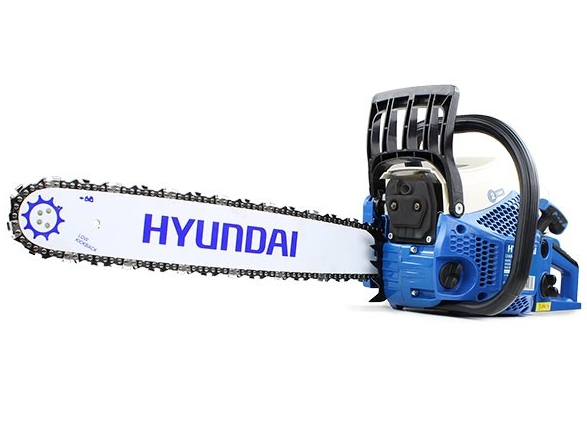 Key Features in Summary:
Twin pivot safety brake
Hyundai 62cc 2-stroke engine
Auto kickback safety brake chain
Chain catcher mechanism
Twin pivot safety brake
20-inch bar, 3/8 inch chain
2 chains included, weight 6.7kg
Side chain tensioner
Walbro Carburettor
Auto chain lubrication
Covered with 3 year warranty
Pros for the Hyundai 62cc 20 Inch Petrol Chainsaw
The first thing that we seriously liked was the really attractive price level on this chainsaw which is generally available for less than £180 when seen at the time of this review which compares very well against similar brands.
It includes great safety features as standard such as the chain catcher which helps to stop the chain being thrown back at you and the auto safety brake chain with the kickbacks.
There is great back up service for parts and maintenance directly available from Hyundai Power Equipment in the UK who are based in Pembrokeshire as they are only a phone call away. Plus, you get a reliable 3 year warranty to protect your investment well into the future.
This machine is more than capable of dealing with heavy duty work or more demanding cutting jobs as the power and cutting power provided is fairly impressive for the amount of money you need to spend.
If you need a chainsaw for tree felling, forestry work or topping, then you don't need to look much further than this.
Typically, you will notice lower fuel consumption and emissions from this engine, the weight is less than 7kg which is very manageable and the auto chain brake being applied to kickbacks is a serious advantage to have when using a machine like this.
Lubrication of the chain is done automatically, the chain can be easily tensioned on the side of this tool and the multi tool based on the bottom of the machine is handy to have when you need to make any adjustments without having to leave your work area
Cons for the Hyundai 62cc 20 Inch Petrol Chainsaw
Stock availability can be somewhat unpredictable as this chainsaw is not always available for sale, especially in peak season. It would be better to book early in advance to secure it when in stock
Time will tell if this Hyundai petrol chainsaw can live up to it expectations so we would need to wait a further 6 months or so to see how it performs then, but for now it has worked exactly as expected.
Price Guide: £140 to £200

Further images of the Hyundai HYC6220 62cc 20 Inch Petrol Chainsaw are outlined below
What's Included in the Box?
A good range of accessories are included in the box delivery such as 2 Hyundai chains, a guide bar, a tool kit, the bar cover and a carry bag which is great for easier transportation and storage. These carry bags are usually at an extra cost from other brands or manufacturers. You also get a handy little multi-tool and a chainsaw file which are also great to have in the package rather than having to source them elsewhere. The main features associated with this Hyundai Petrol chainsaw are also outlined in the diagram below.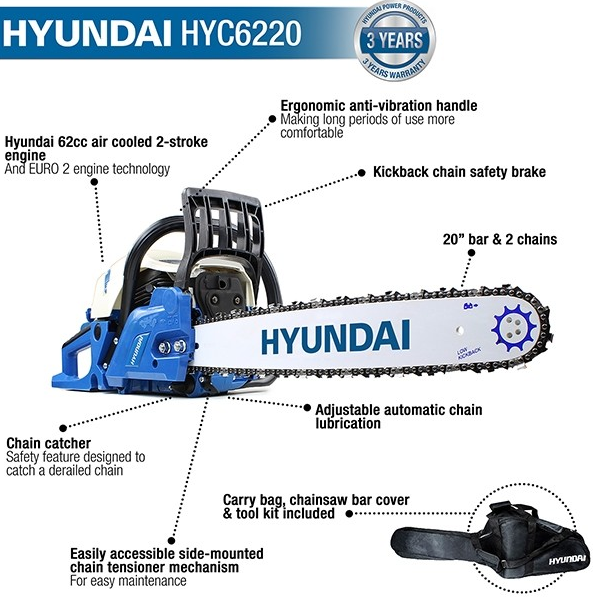 Safety Features
This chainsaw is packed full of safety features, so your own safety is at the forefront at all times when using this machine. You get the chainsaw cover to protect the tool itself, a shoulder strap carry bag for safer transportation to a work site and the handles have anti-vibration technology to protect your hands and arms to reduce overall fatigue levels.
Chain Catcher
The chain catcher feature is an added safety measure put in place as well as the double pivot brake which will stop the chain immediately in the event of a kickback which you can rely on for your own protection at all times.
Protective Clothing
You should always wear suitable protective clothing when using this machine such as gloves, safety goggles, boots and ear defenders and you should always test the safety brake first before you start by pushing it forward with lots of force to see if the chain stops movement. Further information about chainsaw safety measures from the HSE are outlined here.
Section 3: Hyundai Electric Chainsaw Overview – Corded & Cordless
In addition to the petrol chainsaw above, there are also electric chainsaws available be it corded or cordless and 2 of the main popular options are summarised below. The electric models are more designed for the DIY users and can be used by professionals alike, but the petrol version is superior when it comes to heavy duty work and larger cutting tree felling jobs. These electric chainsaws also have a 3 year warranty, a tool free chain adjustment, the auto lubrication and the safety brake chain stop in the event of any unexpected kickbacks.
1, Hyundai 1600W 230V 14 Inch Corded Electric Chainsaw - HYC1600E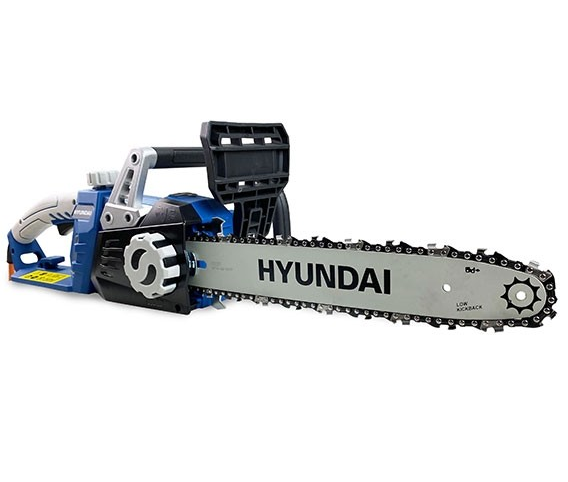 Key Features in Summary:
14 inch bar with 1 chain and 230V motor
Power level is 1600W, Power cable 3m long
Auto chain lubrication, Quick assembly
Ideal for domestic DIY work, Bar cover
Quick stop chain brake system
Tool free chain adjustment, 3 year warranty
Price Guide: Less than £100

2, Hyundai Cordless 12 Inch 60V Lithium-ion Battery Chainsaw - HYC60LI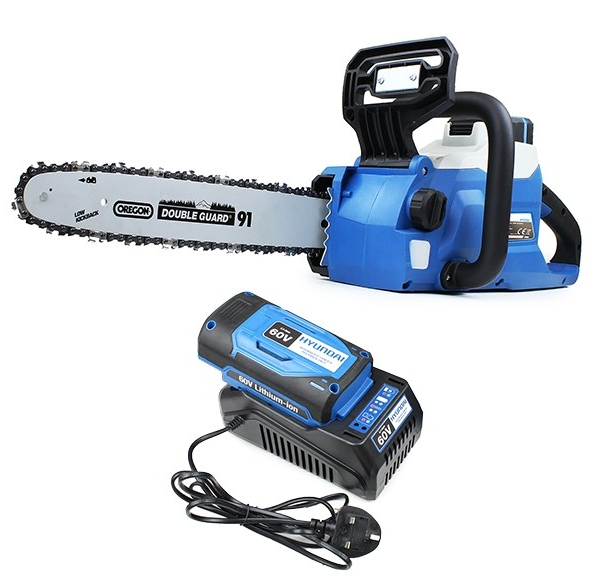 Key Features in Summary:
12 inch bar with 1 chain and 60V 2.5Ah battery
Suitable for DIY work, 100+ cuts on a single charge
Tool free chain adjustment, anti-kickback brakes
Battery charge time is 90 minutes on average
Battery runtime is 60 to 75 minutes on average
3 year warranty - Oregon bar and chain
Price Guide: Less than £300

Hyundai Cordless Chainsaw Solution
If you just need a chainsaw for lighter duty domestic work, then the cord free chainsaw from Hyundai offers a great solution with their Cordless Chainsaw HYC60LI which also has the tool free chain adjustor and the anti kickback brake system. The average battery runtime is generally 60 to 75 minutes on average and is plenty to deal with 100 plus cuts. It has a handy storage hook mount plus the chain lubricating oil level indicator which are all outlined in the diagram below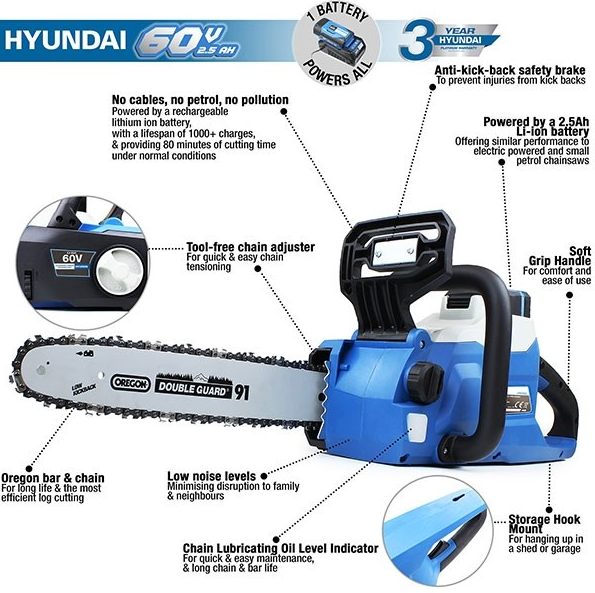 Section 4: Comparison Table
To help you compare both the electric and the petrol-powered chainsaws, then check out the comparison table below which includes the petrol, corded and cordless chainsaws in this review. There are further options available than just these 3 but this will give you a good idea of how they compare against each other so feel free to make whatever comparisons you need to make yourself.
| Model: | Petrol HYC6220 | Corded HYC1600E | Cordless HYC60LI |
| --- | --- | --- | --- |
| Power: | 62cc 2-stroke engine | 1600W, 230V | 2.5Ah 60V battery |
| Bar Length: | 20 inches | 14 inches | 12 inches |
| Chain size: | 3/8 inch | 3/8 inch | 3/8 inch |
| Chain Catcher: | Included | Included | Included |
| Net Weight: | 6.7kg | 3.9kg | 5kg |
| Anti-Vibration: | Included | Included | Included |
| Fuel Capacity: | 550ml | N/A | N/A |
| Chain Lubrication: | Auto pump | Auto pump | Auto pump |
| Dimensions: | 28H x 26W x 90L cm | 21H x 24W x 78L cm | 29H x 24W x 42L cm |
| Cable: | N/A | 3m long | N/A |
| Charge time: | N/A | N/A | 90 minutes |
| Battery Runtime: | N/A | N/A | 60-75 mins (100+ cuts) |
| Warranty: | 3 years | 3 years | 3 years |

Read also: Our Hyundai Grass Trimmer Review Here
View also: Popular Weed killers here
Section 5: Final Conclusion
From all these chainsaws, the petrol chainsaw was by far the most impressive. This petrol chain from Hyundai certainly surpassed our expectations and we have no hesitation in recommending it to the wider public in the UK. The cutting power, chain lubrication, safety features and accessories included in the pack delivery is superb and it worked exactly as it stated on the box.
Availability
The only thing that worries us is the level of stock availability as this chainsaw can be difficult enough to get your hands on it due to high levels of demand especially in peak season – the earlier you book and reserve the stock the better from what we have seen.
Brand Comparisons
The price level when compared to the more premium recognised brands is a lot lower and its performance against these other premium brands is on par if not better from what we have experienced. Overall, we were very pleased with the weight, design, power and construction of this tool and we found it hard to fault it in any way to be honest. It is great value for the money and certainly worth every penny and as it is backed with a 3 year warranty, so your investment is protected well into the future.

Feedback for Others
Have you ever used a Hyundai Electric or Petrol Chainsaw yourself in the recent past? Would you recommend either the electric or the petrol powered version yourself?
If possible, please share your own feedback with the wider community by leaving your comments in the comment box section provided below.