We were looking for reliable Bradstone Paving suppliers in the UK that can offer a diverse range of options and we came across one Bradstone Paving supplier in Halifax which has worked out well. Getting deliveries in the current situation means that deliveries are being pushed out by 2 or even 3 weeks but I guess that it the norm with many other online suppliers at the moment.
View also: Best treatments for Weeds here
Customer Service
The team are based in Yorkshire with a good customer service-led approach so there is always someone at the end of the phone to keep you updated or deal with any issues or problems that you may come across. We checked out their Trustpilot score and to be fair, they have scored quite well which can be difficult enough in the current circumstances trying to keep up with supplies, warehousing and dispatching.
The one thing that we liked straight off is the fact that they will send you a free sample to test out for yourself before you commit to any order.
Bradstone Paving Supplier Overview
| Paving Supplier: | Simply Paving in Halifax – View Stock Availability here |
| --- | --- |
| Founder: | Phillip Marshall (40+ years' experience in paving) |
| Deliveries: | 2 to 3 weeks currently (normally 3 to 5 working days) |
| Established: | Business was established in 2005 |
| Customer Base: | Currently serviced over 80,000 customers |
| Contact Information: | Call 0800 032 6306 with any queries (8am to 6pm 7 days a week) |
Paving Projects
Simply Paving in Halifax have a range of brands such as Bradstone to suit almost any type of paving project be it for driveways, patios, walling, garden paving, paths, block paving, edging and walkways and the price structures are well laid out which makes the whole process of ordering online that much easier to do. As they are available 7 days a week from 8am to 6pm, you can get whatever assistance you need to make sure you are ordering the correct colours, quantities and so on and so forth which certainly impressed us. They also can supply various building materials to help you get the project fully completed or if you need to take on new paving projects.
Types of Paving Solutions
Porcelain Paving – for giving a high-end quality paving finish
Natural Stone Paving – for giving a traditional look and appearance
Granite Paving – for giving a modern look and professional vision
Indian Stone Paving – for giving a contemporary appearance and diversification
Concrete Paving Slabs – for larger projects for more wear and tare
Driving Block Paving – for handling all types of vehicles.
Circular Paving – for creating an attractive centre piece attraction
Paving Slab Dimensions
There are larger paving slabs that are 600mm by 600mm available while they also stock smaller slabs that are 450mm by 450mm in size and these are supplied in a wide range of formats to suit your needs. The leading brands being stocked are Bradstone and Charcon to mention just a few and a free sample can be organised for you if you need to double check the appearance of the stock you plan to order.
Location of Simply Paving in the UK
This company Simply Paving are based on the 5th floor in the Elsie Whiteley Innovation centre in Halifax and their mainline number is 0044 800 032 6306
Read also: Popular Wheelbarrows here
Bradstone Paving Solutions – 5 Popular Options
We have compiled a short list of 5 popular Bradstone Paving Solutions that you can check out. Guide prices for each of these can only be published at the time of this review so please make sure to use the price checkers provided below to ensure you get the most accurate up to date price information
1, Bradstone Natural Granite Paving in Silver Grey
Bradstone Paving Overview:
This Bradstone Natural Granite Paving in Silver Grey is a very popular choice and one of the best sellers in the category to give a clean, level and contemporary appearance which can be ordered as single size packs or as individual slabs. The colour is an attractive silver grey which fits well into most garden and home landscapes and will blend in well to the home exteriors. The flamed side or the textured side is laid facing up and it offers beautiful style, durability and a professional appearance.
Borders of a different variety such as the Bradstone Natural Granite Setts in Silver Grey can be used to change it up a little to give attractive border experiences
The slab dimensions are 600 by 600, the country of origin is China and the joint width is 2 to 4mm. The thickness of the slabs can vary slightly from 23mm to 27mm.
Price Guide: From £38 per m2

Technical information & Order Guide:
To give you an idea of how many packs you need for your own area, check out the dimension table below which will outline how many units and packs are needed per meter squared. Most the packs offer coverage of 14 to 15 meters squared while the smallest slab size offers coverage of approx. 7 meters squared.
| Size mm | Units per Pack | m2 Per Pack | Units Per m2 |
| --- | --- | --- | --- |
| 900 x 900 | 18 | 14.58 | 1.23 |
| 600 x 600 | 40 | 14.40 | 2.8 |
| 600 x 300 | 80 | 14.40 | 5.6 |
| 300 x 300 | 80 | 7.20 | 11.1 |
2, Bradstone Manzano Porcelain Paving in Pearl Mosaic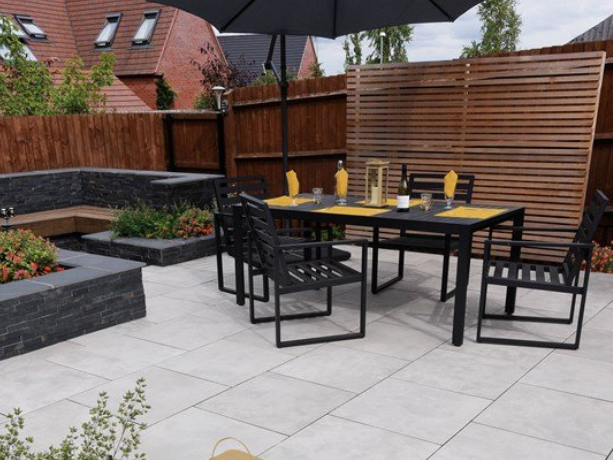 Bradstone Paving Overview:
Our second option that you may also like is the Bradstone Manzano Porcelain Paving in a Pearl Mosaic finish and this is also a very popular seller among UK buyers also as it incorporates a different and varied colour blend to create the appearance of contemporary polished concrete.
The Porcelain paving offers their users extended durability, more strength and it is available across various different sizes and there are 12 individual different mosaic design motifs that Bradstone can use to create their own mosaic flags so that your patio can be viewed as authentic. What we liked here was the fact that the Manzano mosaic flags are randomly designed and supplied in mixed packs to complement the plain flags in this range so these can be used as centre pieces, around corners or at specific featured corners.
The slab sizes applicable here are 600 by 600mm, the joint width is generally 5mm and the country of origin that applies here is Spain. There are 60 units in the pack and a pack offers coverage of 21.6 meters squared.
Price Guide: From £54 per m2

3, Bradstone Carpet Stones in Charcoal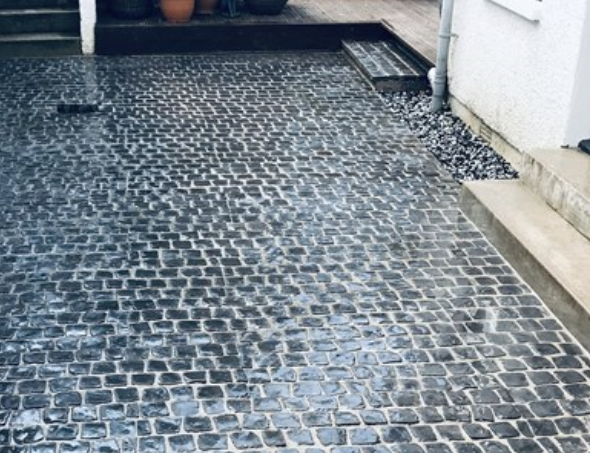 Bradstone Paving Overview:
For a totally different paving experience, the next option we liked and recommend also is the Bradstone Carpet Stones in Charcoal which creates a rustic appearance and can be used as decking, patios, driveways, footpaths or walkways.
These are a unique solution and laying them is a lot easier than you think and the cobbles are delivered laid out and attached to a specific flexible mat that can be cut to whatever size you want with a scissors. The joints are wider though at 10 to 15mm and each pack ordered will offer coverage of 14.9 meters squared. These Charcoal cobbles interlock quite easily so it helps when working on difficult shapes or corners.
Lastly, the thickness to note is 40mm, the nominal size of the cobble is 1200 by 400mm, there are 30 units in an individual pack and again you get coverage of 14.9 meters squared per pack. The country of origin that applies here is Holland.
Price Guide: From £50 per m2

4, Bradstone Monksbridge Block Paving in Croft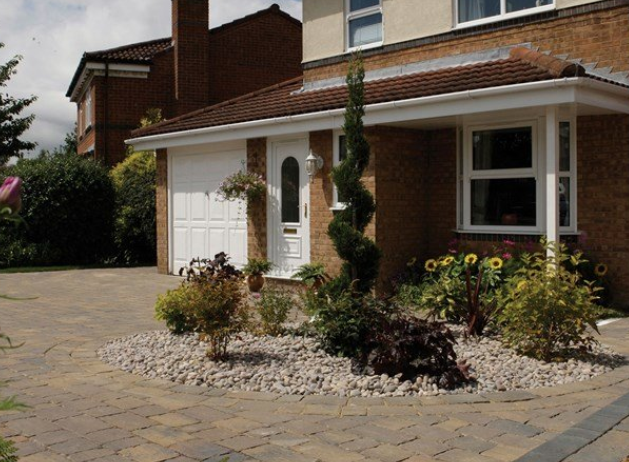 Bradstone Paving Overview:
Our fourth Bradstone solution on this list is the Bradstone Monksbridge Block Paving in Croft and this one of the more popular block paving designs enjoyed by many households across the country. They can work great around circular flower beds and circular patios and you can include a different type of stone on the orders to give it a unique appearance.
This would be one of the better and most popular driveway solutions which gives a traditional rustic feel to it and it sits in well against the background of stone featured houses, garages or colourful trees and plants. Not only can it used for the standard driveways, this Bradstone block paving can be used for a natural stone courtyard which will be the envy of your neighbours. Overall, this would have to be one of our all-time favourites and we would highly recommend it.
A pack includes 360 blocks which have 250 by 150mm x 80, 200 by 150mm x 100, 150 by 150mm x 120 and 100 by 150mm x 60 so there are 4 different sets of dimensions in each individual pack which creates a unique design to the paving layouts. The origin of this paving stone is in the UK and each pack will cover an area of 9.6 meters squared.
Price Guide: From £25.50 per m2

5, Bradstone StoneMaster Block Paving in Dark Grey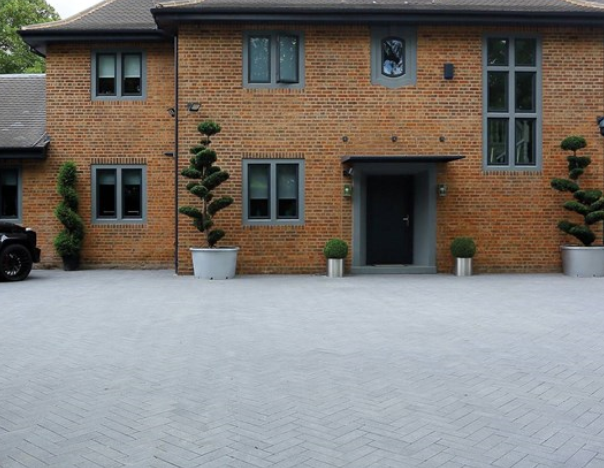 Bradstone Paving Overview:
Our final Bradstone paving solution on this list today is the Bradstone StoneMaster Block Paving in a dark grey colour scheme and again you get a mix of different sizes blocks in each pack which adds variety to the layout and the design schemes. The blocks you get in each pack are 80 blocks of 250 by 150mm, 80 blocks of 200 by 150mm, 160 blocks of 150 by 150mm and finally 80 blocks of 100 by 150mm. If you don't want mixed block dimensions, you can select a standard 300 by 100mm dimension instead which are 60mm thick (the mixed option is 50mm thick)
Again, the origin for this paving stone is based in the UK so you are supporting your own when you buy, and it can be laid in a single shade or even a mixed arrangement to fully replicate a natural stone feel to it. There is also the option of getting a standard size for the entire pack instead of the mixed dimensions if needed. The mixed pack of 4 dimensions will cover an area of 10.2 meters squared while the standard single size dimension option (300 by 100mm) covers an area of 7.2 meters squared.
One final thing to note here is that these paving stones are treated to protect them against outdoor substances such as mosses, grease, oil, dirt, drinks, etc which helps to maintain its new and clean appearance for longer.
Price Guide: From £56 per m2

View also: Great value Garden Benches here
Conclusion
We hope after reading our Bradstone Paving supplier post that we have given you some direction on a reliable Bradstone Paving supplier along with some of our favourite Bradstone paving types and solutions. The one thing we did like is the fact that there is a great online ordering system already set up which makes the process of getting the stock you want and the right quantity of stock you need that bit easier to do.
In addition, they are open 7 days a week 8am to 6pm which you don't see available in many other places which is a great level of service to have in the background. Further pricing and availability of their Bradstone Paving can be viewed at their official website below…

Other Bradstone Paving Suppliers?
If you know of or have used other reliable Bradstone Paving suppliers yourself in the recent past, please educate and share it with the UK wider community by leaving a comment in the comment box section provided below – so that others in the UK can learn from your recommendations!