Do you need to get your hands on a reliable Ride on Mower for your large garden in the coming days or weeks? If so, then check out our review for the best Ride on Mowers currently available in the UK at present which also include lower priced budget solutions as well as higher priced Zero turn Mowers.
Delivery Times
One of the main issues we see is that some of the more popular brands and models are out of stock or they have a very long lead time from order date to delivery date and in some cases you will have to wait 1 month or more for these Mower machines to arrive.
As a result, we have excluded many of these Ride on Mowers that take months to arrive and instead we have focussed on what is currently available in stock in the UK for a more prompt delivery. As guide prices can only be shown in this review, please make sure to view the price checkers provided below to help ensure you have the most accurate up to date price information
Read also: Qualcast Lawnmower reviews here (push and self-propelled)
Best Ride on Mower – High Performance
Toro Titan MyRIDE 137cm Timecutter Zero Turn Tractor XS5450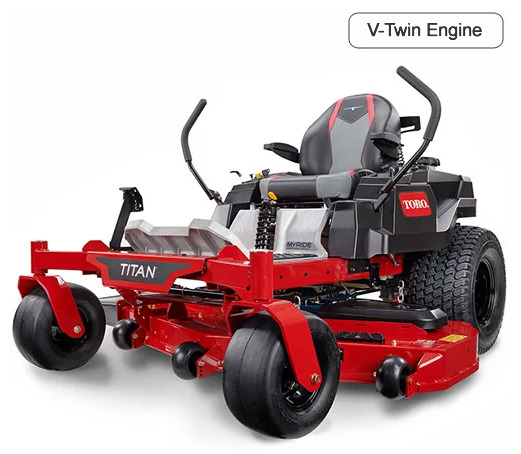 Our first recommendation when it comes to ride on lawnmowers would have to be the Toro Titan MyRIDE Timecutter Zero Turn Tractor 137cm XS5450 which is an absolute pleasure to work on and it won't disappoint you in any way from what we have seen (except the price).  At least with this supplier, you get a 90 day money back guarantee and a 3 year warranty for peace of mind as well as free deliveries and a reinforced front bumper for protection.
You should use the Toro SAE30 Premium Engine Oil in a 532ml pack and it comes with the smart speed technology so that the correct ground speed is chosen based on ground conditions. With the zero turn and mowing speed, you can save 35-40% mowing time and possibly more depending on what you are currently using. It has 2 dampened levers each side, it can handle large areas of up to 10k m2, the cutting width is 137cm and the fuel tank capacity is nearly 19 litres.
Working on tough ground conditions and slopes is no problem whatsoever and it is designed with the side discharge and mulching options. The engine used is a 725cc V-Twin Kohler, there are 13 mowing heights and overall we would have to say that this is a serious piece of reliable equipment to get large lawns, rough terrains cleaned up and mowed as quick as humanly possible as the speed level is nearly 13km per hour.
Price Guide: £6,000+ @ Mowers Online

Best Tractor Ride on Mowers – 3 Recommendations
Our 3 recommendations for Tractor Ride on Lawnmowers that can cover areas from 8,000 meters squared up to 10,000 meters squared. Usually this equates to areas that are roughly between 2 acres to 2.5 acres in size. Again these are based on immediate availability rather than having to wait months on end for the Mower machinery stock to arrive. A quick video overview is also summarised below if you wish to check that out also...
Option 1: Snapper Garden Tractor Mower - RPX310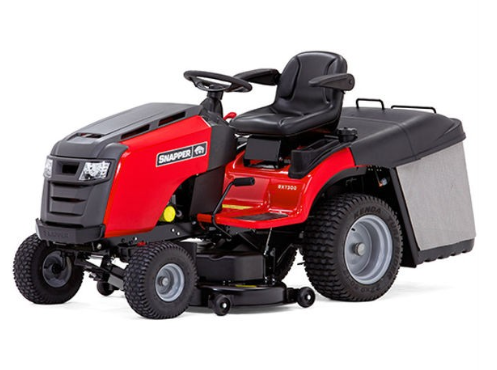 Brief Overview:
Briggs & Stratton V-Twin OHV engine
Large fuel tank for larger garden mowing jobs
724cc Intek 8270 professional series motor
Five stage cyclonic air-cleaner with cruise control
3 in one design – collect, mulch or rear discharge
Arm rest with anti-vibration technology
Variable hydrostatic drive & 136cm turn circle
Dashboard control display & LED headlights
Grass can be dumped from the seat lever
350 litre grass collection capacity
Cutting width 105cm for areas up to 10k m2
Delivered assembled and ready to mow
Price Guide: £4k to £5k

Option 2: Mountfield Garden Tractor Mower - 2240H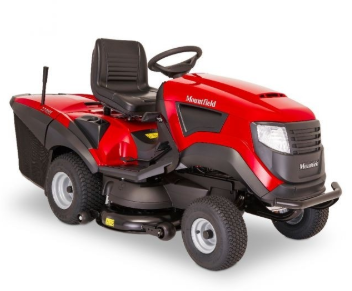 Brief Overview:
ContraFlow system for wet weather bagging
Durable and powerful Stiga ST 600 engine
Foot-operated hydrostatic transmission
5 year warranty protection included
Delivered fully assembled and ready to mow
Orders take up to 7 working days to deliver
No gear-shift hydrostatic transmission
Cutting width 102cm for areas up to 10k m2
Grass collection capacity is 300 litres
Grass can be dumped from the seat lever
Alarm sounds when the grass collection is full
Includes a tow bar and a mulch plug
Price Guide: Less than £3,000

Option 3: Stiga Estate Lawn Tractor Mower - 2398HW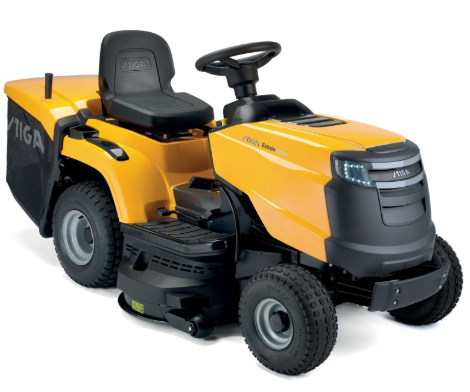 Brief Overview:
Lower priced tractor mower alternative
Delivery is usually up to 7 working days
Arrives fully assembled and ready to mow
5 year warranty protection included
Low vibrations operation for a smooth ride
Electric key start and Hydro drive speed control
Stiga OHV engine with V-Twin cylinders
Stiga ST550 engine 586cc four-stroke system
Easy to manage steering and 140cm turn circle
Hydrostatic transmission increment ground speed
7 mow heights that range from 2.5cm to 8cm
Grass container capacity is 240 litres with alarm
Alarm will sound when the grass collector is full
Headlights included along with 98cm cut width
For mowing areas up to 8k m2 as a guide
Price Guide: Less than £3,000

View also: Popular Cordless Lawnmowers here
Best Zero Turn Mowers UK
If the areas that you need covered are significantly higher than 8k or 10k meters squared, then check out our faster Zero turn Mowers instead that can cover larger territories from 20k square meters up to 60k square meters.
This equates roughly to 5 acre mowing jobs and up to 15 acre sized mowing jobs where speed is essential to get the job completed as quickly as possible with any delays. Again, this is based on immediate availability at the time of this review rather than having to wait months for stock to arrive in the UK
Option 4: Cub Cadet Zero-Turn Ride-On Mower - Z5-152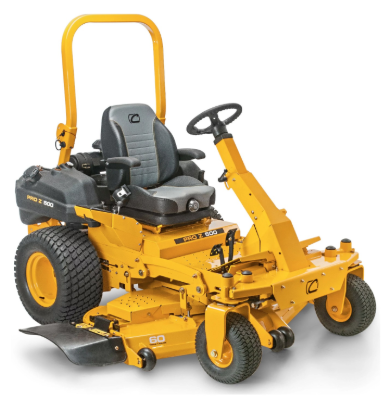 Brief Overview:
Instructional demo with deliveries
Covered with a 3 year protection warranty
Delivery normally takes 5 to 7 working days
Arrives fully assembled and ready to go
For areas up to 60k m2 or 15 acres
Zero turn capabilities for professionals
Ideal for contract type work and councils
Kawasaki FX850V engine high-torque V-Twin
Overhead-valve technology (OHV)
Multi-stage canister type air filter system
Fuel tank capacity is 56 litres (28L x 2)
4 wheel steering and dual hydro transmissions
Price Guide: Tends to be over £10k

Option 5: Snapper Zero-Turn Ride-On Mower - ZTX350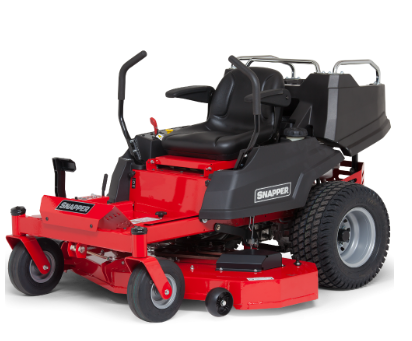 Brief Overview:
Full set up support included with delivery
Deliveries are 5 to 8 working days on average
Arrives ready to mow and fully assembled
Comes with a 3 year warranty protection
For areas up to 20k m2 or 5 acres in size
Excellent zero turn manoeuvrability's
Briggs & Stratton V-Twin engine support
Ideal for councils, large estates or contract work
Twin independent hydrostatic transmissions
724cc B&S 8270 Pro Series twin-cylinders
2 stage air filter and cast iron front axle
Adjustable seating with high back rest
Price Guide: £5K to £7k

Best Value Ride on Mower – Budget Alternative
If the areas that you need to get covered are smaller up to 4k square meters or up to approx. 1 acre in size, then check out this reliable lower priced Ride on Mower from Mountfield instead which has proven to be an extremely popular alternative when it comes to Ride on Mowing at a significantly lower priced level.
Due to the smaller frame, this is definitely the ideal solution for narrower entrance gateways and for people seeking a bargain at the lowest possible price for gardens that are up to 1 acre or less in dimensions.
Option 6: Mountfield Compact Lawn Rider Mower - R28M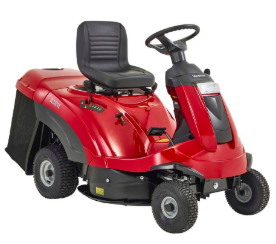 Brief Overview:
Lower priced Ride on mower solution
Support you own British Mountfield brand
Arrives fully assembled & ready to mow
Comes with a 2 year protection warranty
For areas approx. 4k m2 or roughly 1 acre size
Deliveries usually up to 12 working days
Smaller compact frame for narrow gateways
Key turn electric start Mountfield 7250 engine
Power capacity 352cc cylinder-displacement
Overhead-valve technology included (OHV)
Smaller fuel tank capacity of 4 litres in size
Grass collection capacity is 170 litres
Alarm buzzer emitted when grass unit is full
Price Guide: Less than £1.5k @ B&Q

Read also: Popular Robotic UK Lawnmowers here
Final Conclusion
After completing this review of Ride on Mowers in the UK, we hope this short list can help you out in some way and give you some ideas to think about when choosing your own Ride on Lawnmower. There were several other Ride on Tractor Mower brands that we liked but they were out of stock at the time of this review so we really based it on what is available for immediate deliveries.
We have included options to cover areas from 1 acre up to 15 acres and we included budget Ride on mowers, Tractor Ride on mowers and higher priced Zero Turn mowers so there should be something here that can cater for your own needs.
Which one would we choose? After taking everything into consideration, it would have to be the Mountfield Garden Tractor Mower code 2240H and further images along with todays updated price can be double checked below…

Optional Feedback
Have you any preferences yourself when it comes to Ride on Mowers in the UK? Or have you any suggestions you would like to make?
If possible, feel free to leave your feedback in the comment box section provided below…