After reviewing various other cordless lawnmower brands across the market, we decided to complete our Ego Cordless Lawnmower review so make sure to check it out before you make that all important final decision. Our focus will be on the Ego Power+ 21 inch self-propelled Cordless lawnmower but we will also include 2 smaller versions from Ego Power that come with lower price tags so at least you have more than just 1 option to choose from in this review.
View also: Popular Cordless Lawnmowers
Review Format
Included in this review will be a series of images, all the features, technical information and all the pros and cons that we came across which will definitely be of interest to you. We have also included several video inserts so that you can see it in action so to speak and you can also hear what other people have to say about it - several opinions are better than just one…
Video 1: How to start and manage the EGO Power+ 21 Inch lawnmower
Warranty
Some lawnmower brands only offer a 12 month warranty but you get a much longer 5 year warranty with this lawnmower so it is great to see the company having so much confidence in this mowing machine and standing over it like this. While you get a 5 year warranty on the mower itself, the warranty period of the battery and charger is lower at 3 years.
Ego Cordless Self Propelled Lawnmower Recommendation
Ego Power 21-Inch Select Cut Self-Propelled Lawnmower LM2135SP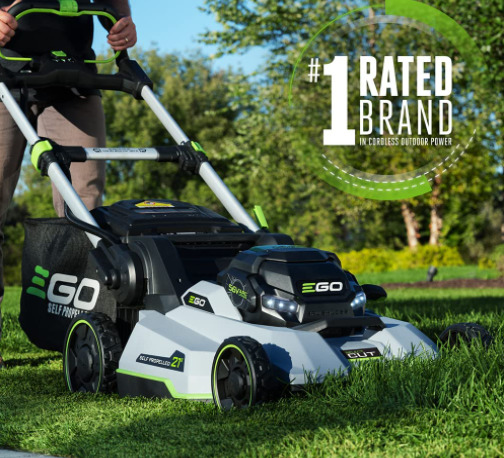 Our top recommendation in the Ego cordless lawnmower range would have to be Ego Power 21-Inch Select Cut Self-Propelled Lawnmower code LM2135SP which includes the rapid charger unit, a 7.5Ah battery and the user friendly touch drive system which allows better control of the mowing machine especially when it comes to awkward corners, trees and flower beds.
A unique feature for this mower is the select cut multi blade mechanism built in which cuts the grass in a higher performance and as good as petrol lawnmowers and you have the 3 in 1 system where you can mulch, bag or use the side discharge.
The mowing width is wider than many other electric lawnmowers coming in at 53cm or 21 inches (similar size to petrol lawnmowers) and there are 7 mowing height options that range from 3.5cm up to 7.5cm. It includes a powerful 56V 7.5Ah ARC Lithium battery which gives up to 60 minutes mowing time and it offers self-propelled support with variable speed that ranges from 0.9mph to 3.1mph.

Price Guide: £750 - £850 @ Amazon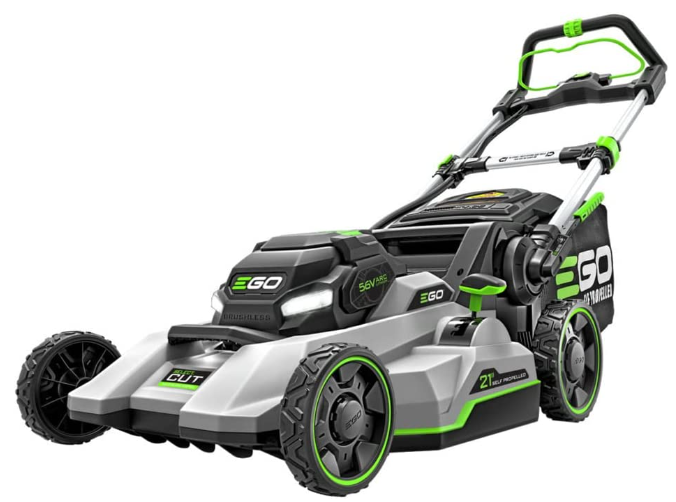 View also: Popular Hedge Trimmers here
Video 2: EGO 56V Cordless Select Cut Mower Review LM2135SP
Pros for the Ego 21 inch Cordless Lawnmower
You get premium cutting and mowing from the select cut multi-blade system that other cordless brands don't offer such as the mulching blade and the high lift bagging blade
The touch drive technology system works superbly and makes the job so much easier to do as you only need to apply hand pressure to manage the speed and drive.
Many batteries only give you 20-30 minutes runtime but the battery here provides a much longer runtime of up to 60 minutes long
It's a lot easier to push and manoeuvre around the lawn than a petrol lawnmower due to its lightweight design and components
You don't need to worry about any petrol or oils and you have the lights to support late evening time mowing
Cons for the Ego 21 inch Cordless Lawnmower
There is no rear roller available to give you attractive eye catching stripes like the Hayter Harrier lawnmowers
The price level is quite high even with all the bells and whistles and premium features so it won't be affordable for all families
Replacement batteries are expensive so you need to take extra care and attention with the battery provided by making sure it is stored and maintained properly at all times
The lowest mowing height is not as low as some other brands that offer tighter mowing finishes.

Lawnmower Select Cut Multi Blade System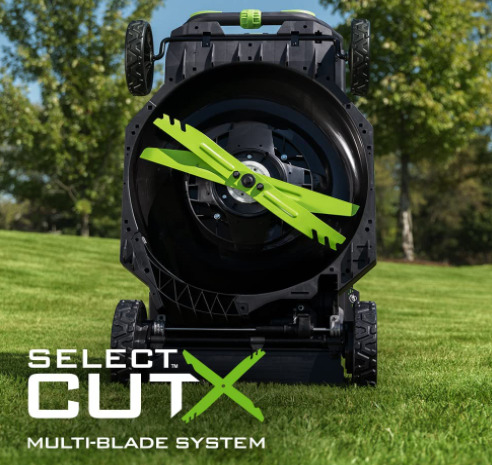 Ego Cordless Lawnmower 60 Minute Runtime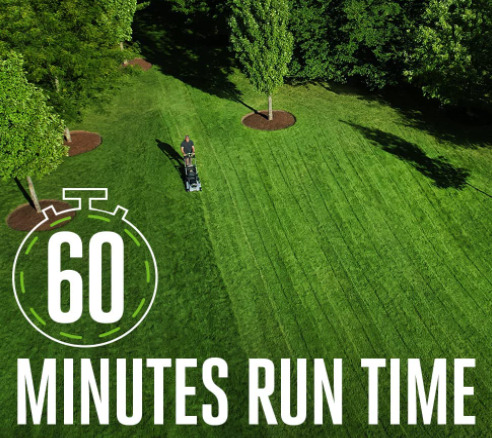 Ego Cordless Lawnmower Compact Storage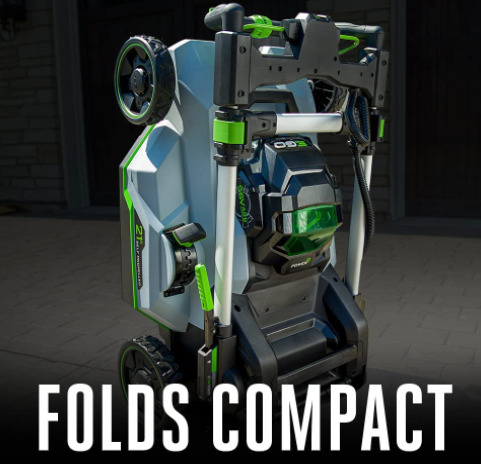 Ego Cordless Lawnmower Battery & Charger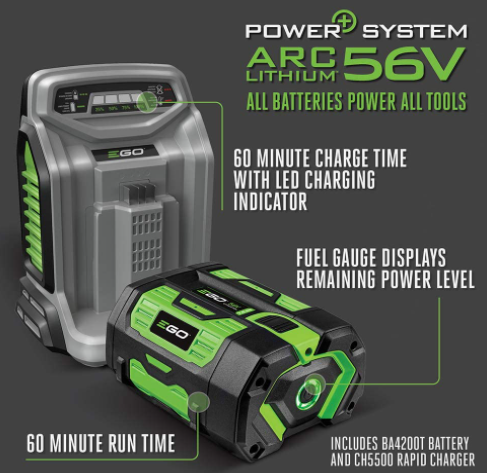 FAQ's about the Ego Cordless Self Propelled lawnmower
Q1, Is the self-propelled speed variable or fixed?
A, This lawnmower offers variable speed 0.9mph to 3.1mph
Q2, How long will the battery mow for once recharged?
A, You can expect it to last between 50 to 60 minutes depending on grass and terrain conditions
Q3, Does it include a mulching plug?
A, No, there is no mulching plug included in this lawnmower but you have the mulching blade
Q4, Are there smaller lower priced options than the 21 inch?
A, Yes, they also have a 16.5 inch and an 18.5 inch wide lawnmower in their range
Q5, How long does it take to recharge the battery?
A, It will take 25-30 minutes to have the battery fully recharged once again
View also: Popular Ride on Tractor Mowers
Alternative Ego Power Cordless Lawnmowers
If you need a lower priced Ego Power Cordless lawnmower, then check out the 2 smaller alternatives below which are also part of the Ego Power Cordless Lawnmower range. They offer lower price tags when seen at the time of our review as they are smaller lawnmowers with narrower mowing widths and the level of power from the batteries is also lower.
Video 3: Another EGO Cordless Self Propelled Lawnmower review
View also: Popular Corded Electric Lawnmowers
Price Comparisons
There are plenty of lower priced cordless lawnmower available in the market that are not self-propelled but they can offer significantly lower prices than this Ego Power Cordless lawnmower. If you need a much lower priced cordless push electric lawnmower, then check out the prices for our alternative recommendations below as follows…
View also: Popular Grass Trimmers here
Conclusion
After completing this Ego Power Cordless Self Propelled Lawnmower review, we hope all our work here can help you out in some small way and give you some direction on your next steps. We included the premium higher priced Ego Power 21 inch Cordless lawnmower plus 2 lower priced smaller alternatives in their range as well as video inserts to help give you a better understanding of what these lawnmowers from Ego Power are all about.
Would we recommend it? Without a doubt, the answer is yes and we would have no hesitation in recommending it to the wider public. Further updated prices and reviews can be checked out below

Community Feedback
Have you ever used the Ego Power Cordless Lawnmower yourself in the recent past? If possible, please share your own feedback or opinions by leaving a comment in the comment box section provided below – so that others in the wider mowing community can learn also…