If you need to get your hands on a reliable high performance self-propelled Electric lawnmower in the coming days, then make sure to check out our review for what we believe are 5 of the best self-propelled Electric lawnmowers to choose from in the UK at present.
One good thing to know is that all of these brand options can be ordered on line and delivered to your home hassle free in a matter of a few working days. As guide prices can only be shown at the time of our review, please make sure to view the price checkers provided below which will help ensure you have the most accurate up to date price information.
Read also: Best rated Electric UK Lawnmowers
Battery Power Guide
When it comes to the capacity of the battery powers for lawn sizes, you can use this as a general rule of thumb. The 2Ah battery can work on lawn sizes 300-350m2, the 4Ah battery can work on lawn sizes 550-650m2 and the 6Ah battery can work on lawn sizes 850-900m2. So before you even start thinking about the lawnmower you want to buy, start measuring a rough estimate of your own lawn size and the battery capacity power required to cover it.
Cordless Lawnmowers
These Cordless lawnmowers are getting more and more popular nowadays as they are more environmentally friendly and you don't have to worry about electric cords or extension leads for that matter on your lawn as your mow and work. They are a good deal more expensive than corded lawnmowers - the higher the battery power, the more expensive the overall package will be so keep this in mind when making your final selection.
Electric Self Propelled
Most of the cordless lawnmowers are push lawnmowers and they work fine for many gardens in our opinion. The self-propelled support on the electric lawnmowers are ideal for people who have tougher terrains, slopes to climb and people who may have some slight mobility issues. If your lawn takes a long time to complete, then the self-propelled versions can help to reduce the level of fatigue and get the mowing jobs done a lot quicker.
View also: Popular Hedge Trimmers here
Best Self Propelled Electric Cordless Lawnmowers – Top 5 Picks
1, Greenworks Self Propelled Cordless Lawnmower 600m2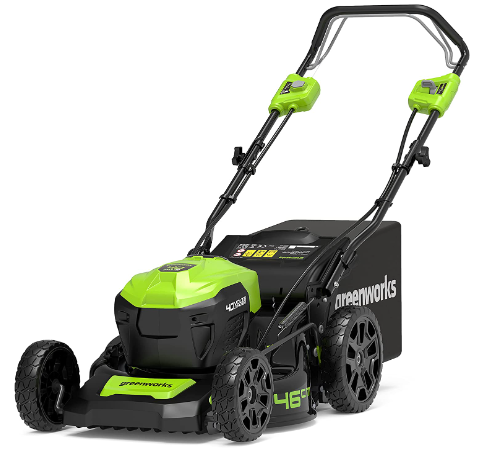 Our first recommendation is the reliable Greenworks Cordless Electric self-propelled lawnmower that has the heavy duty 46cm steel deck, a dual battery port and an easy to use speed control button beside the top lever. Its offers you the 3 in 1 mowing functions as well as 7 different height adjustments that can be changed using a single lever and of course the easy to start press button which works superbly every time.
You need to make sure that the 40V 4Ah battery and charger are included in the package (not the bare tool) and it comes covered with a 3 year warranty for peace of mind. The mowing width is 46cm, the grass bag has a capacity of 55 litres which is quite good and it can work on lawn sizes up to 500-600m2 which is plenty for many home gardens.
Included with the self-propelled support is the variable speed options to suit your own walking pace and the mow heights range from 2.5cm up to 8cm. They are an internationally recognised brand with a Global reputation to protect and it is certainly worth serious consideration before you make any final decision in our opinion.
Price Guide: £450 - £600 @ Amazon

2, Hyundai 42cm Cordless 40V Self-Propelled Lawnmower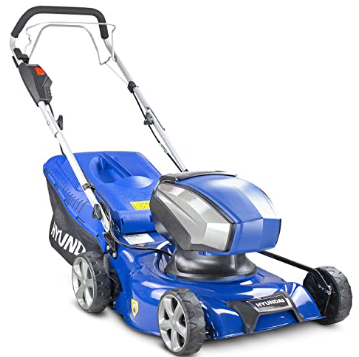 On the lower priced scale is the Hyundai 42cm Cordless 40V Self-Propelled Lawnmower with the battery and charger included. The battery power is lower at 2.5Ah so the price is a good deal lesser plus you can expect it to cover smaller lawn sizes average 350-400m2. The handles can be folded down when not in use, there are 6 mowing heights to choose from and the grass collection unit has a capacity of 45 litres.
The components are made with Alloy steel and the unit itself weighs less than 20kg which makes the chore of mowing that bit easier to do. For the mowing, it can cut 42cm wide or 16.5 inches and recharging the battery will take around 70-80 minutes on average. For the assembly, all you need to do it unfold the handles and this lawnmower can be stored vertically if needed in your garden shed.
You should get 12-20 minutes mowing time from the battery so again it is really designed only for the small and small-medium sized lawns plus it depends on grass conditions, dampness, grass height and thickness. For the mowing heights, it can cut from 2.5cm up to 7.5cm and it comes backed with a 3 year warranty for your protection.
Price Guide: £300 - £400 @ Hyundai

3, EGO Power+ 21-Inch Self-Propelled Lawnmower LM2135SP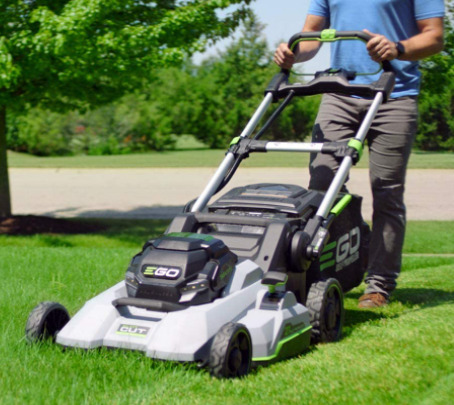 A self-propelled lawnmower with a stronger battery is the EGO Power+ 21-Inch Self-Propelled Lawnmower code reference LM2135SP which comes with a 7.5Ah 56V battery, a quick charging unit and the touch drive technology which helps you manage the mowing and the machine with ease. The mowing width is also wider than the previous 2 mowers at 53cm or 21 inches and you get 7 mowing height options that range from 2.5cm up to 7.5cm.
One big attraction here is the variable speed available on the self-propelled feature that ranges from 0.9mph up to 3.1mph max so you are not restricted to just 1 mowing speed pace. Also as the battery has a lot more power, you can expect the battery runtime to operate from anywhere from 50 to 60 minutes depending on garden and grass conditions.
It also comes with the 3 in 1 functions – collect, mulch or side discharge plus the brushless motor and the select cut multi-blade cutting mechanism which allows you to adjust it based on how you want to mow your lawn and collect the grass clippings. Overall, we found this lawnmower to exceed our expectations and we have no hesitation in recommending it to the wider public.
Price Guide £750 - £850 @ Amazon

View also: Popular Grass Trimmers here
4, Hayter Harrier 48 VS GreenSeries 7.5Ah Cordless Rear Roller Mower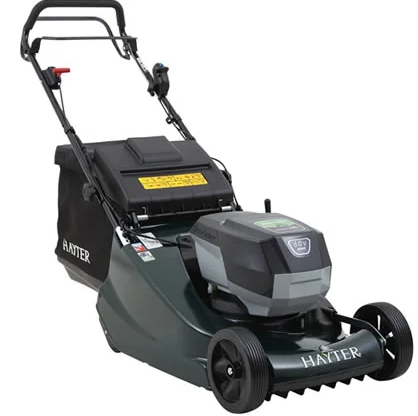 If you have more money to spend, then the self-propelled electric lawnmower we recommend is the Hayter Harrier 48 VS Green-Series Cordless Rear Roller lawnmower with the more powerful 7.5Ah battery and the auto drive self-propelled speed that is variable (not fixed).
Included with the variable speed 1pmh to 3.3mph is the Vari-pitch mowing height feature, the ribbed rear rollers for the stripes plus the sturdy aluminium deck and the power boost technology to deal with tougher mowing conditions.
It can be used on larger lawns as the battery will last anywhere from 50-60 minutes depending on grass conditions and there are 7 mowing heights that range from 1.3cm up to 6cm. This lawnmower is on sale in Gloucester with a 90 day money back guarantee, a 3 year warranty on the battery plus a 5 year warranty on the lawnmower itself.
Price Guide: £1200 - £1600 @ Mowers Online

5, Cobra Cordless Rear Roller Lawnmower with 2 Batteries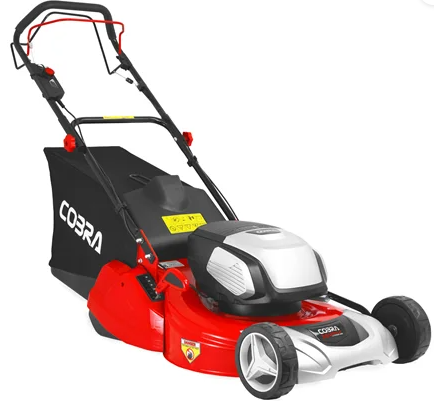 Our last recommendation today is the RM51SP80V Cobra Cordless Rear Roller Lawnmower with 2 5Ah batteries and 2 chargers included in the package and it comes with a lower price tag than we expected. The batteries themselves come from the brand of Samsung and they are a 40V 5Ah battery that have a value of approx. £150 each there or there abouts. Included from the supplier is a 90 day money back guarantee plus a 2 year domestic warranty for peace of mind.
Not only is it self-propelled, but it also has the rear rollers for the striped effect  and it offers a mowing width of 51cm so it can deal with medium sized lawns 500-600m2 no problem whatsoever. These batteries should give you a mowing time of 40-45 minutes depending on grass conditions and you have a choice of 7 mowing heights that range from 1.7cm to 7.5cm
The batteries will take around 30-40 minutes to recharge, the capacity of the grass collection unit is 60 litres and it certainly impressed us a lot more than expected offering good value for the amount of money you need to pay.
Price Guide £700 - £800 @ Gloucester

View also: Popular Corded Electric Lawnmowers
Community Feedback
What is your own preferred self-propelled electric lawnmower brand and why? If possible, please share your own opinions and feedback by leaving a comment in the comment box section provided below – so that others in the wider community can learn also…