Are you thinking about buying a Worx Grass Trimmer over the next few days? If so, then make sure to check out our brief Worx Grass Trimmer review based on our own personal experiences of working with this cordless grass trimmer over the course of a few weeks. This review will focus on the Worx 18V WG163E grass trimmer model which has 2 batteries included but we will also compare it to 2 other grass trimmers under the Worx brand also so at least you have more than just 1 choice when it comes to making your own final decision.
We have also included a series of frequently asked questions that hopefully can answer some of the queries that you may possibly have along with some price comparison options for you to take a look at also which could possibly save you some money while you are here.
Worx Grass Trimmer Review Content:
Section 1: Overview & FAQ's
Section 2: Worx WG163E Cordless Grass Trimmer Review – Features, Pros & Cons
Section 3: Further Worx Grass Trimmer options plus Comparisons
Section 4: Our Conclusion
Before you begin, please be aware that guide prices can only be published at the time of this Worx cordless grass trimmer review so please make sure to view the price checkers outlined below which will help ensure you get the most accurate up to date price information.
Section 1: Overview & FAQ's
Overview:
| Brand: | Worx Grass Trimmers |
| --- | --- |
| Model: | Worx WG163E 18V Cordless Grass Trimmer |
| Power: | 2 batteries – 18V (20V Max) |
| Trimmer Size: | 30cm wide |
| Low Price: | Less than £120 @ Argos UK – View Today's Price Here |
| Warranty: | 2 years provided – 3rd year if registered online |
Frequently Asked Questions about Worx WG163E Cordless Grass Trimmer:
Q. Does this include the 2 batteries?
A. Yes, model number WG163E includes 2 batteries in the pack used separately (not combined)
Q. Does it have the auto line spool feed?
A. Yes, the line is fed automatically with the auto spool feed by pressing a button
Q. Do you use both of the batteries at the same time?
A. No, you can charge one while using the other battery. Only 1 battery is used at a time
Q. How do you get the 3rd year warranty included?
A. To get the third year, you need to register the purchase online with Worx within 28 days of purchase
Q. Is the head of the unit fixed or can it be tilted to other positions?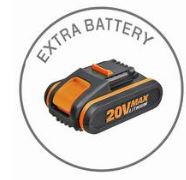 A. Yes, the head of this grass trimmer can be tilted to various positions when needed
Q. How long does it take to recharge the battery?
A. It will take on average 3 hours to fully recharge this battery
Q. How long does the battery last before having to recharge again?
A. It depends on the level of work being carried out but you can expect each of the batteries to last 25 to minutes each on average.
Q. Is the charger also included for the 2 batteries?
A. Yes, the charger is included with the batteries in the package.
Q. Is it suitable for trimming brambles?
A. No, it is designed for trimming grass so it will struggle to deal with brambles
Q. Does it have the mini mow feature?
A. No, this grass trimmer does not include the mini mow feature.
Q. What type of line is used in the spool for trimming the grass?
A. The line here is made from nylon.
Q. What are the box dimensions for this grass trimmer?
A. The box dimensions are 20cm by 16cm by 95cm
Q. What is the total height of the trimmer when fully extended out on the shaft?
A. The total height when fully extended is approx. 91cm
Q. What line spool is needed when you need to replace it?
A. You should replace the spool using a WA0004 line spool
Read also: Our Spear & Jackson Grass Trimmer Review – Check it out Here
Section 2: Worx WG163E Cordless Grass Trimmer Review
Worx 18V Cordless Grass Trimmer (WG163E)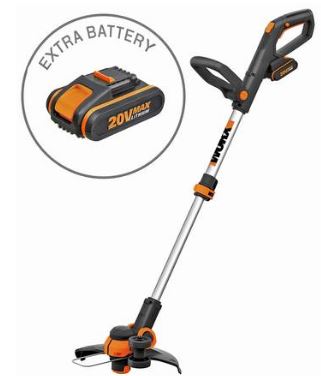 Brief Summary:
Maximum power is 20V (18V)
Cordless operation
Grass trimming 30cm wide
Supported wheel edging
Auto line feed – Button press
Adjustable shaft heights
90 degree pivot head
Includes 2 batteries (20V x 2)
Flower plant guard included
Charging takes 3 hours avg
Battery runtime is 30 mins avg
Weight 2.4kg / Warranty 2-3 years
Pros for the Worx Cordless Grass Trimmer:
One of the best benefits here is the fact that there are 2 batteries included in this pack so you can have one battery charging and work with the other at the same time which ensures longer trimming sessions.
While it is not the cheapest around, it is still competitively priced against other similar brands and the added cost of the 2nd battery doesn't inflate the overall price as much as expected.
There is the option of paying for this using a credit card plan with Argos instead of paying for it all up front if immediate cashflow is an issue. You can also get a further replacement care cover for less than £25 for more protection which is optional
The wheel for the edging works well to give a nice tidy finish around the borders and the pivot head can be rotated to 90 degrees which is great for those hard to reach places.
The auto line spool feed works well, no problems experienced whatsoever and more line can be generated by easily pushing on a button which their innovative Command feed line system
For more comfort, the shaft of this grass trimmer can be adjusted to suits various different heights and it also provides a nice sift grip handle which helps to reduce hand fatigue.
You get a great warranty of 2 years which can be extended to 3 years by simply registering it online within 28 days of purchase.
Cons for the Worx Cordless Grass Trimmer:
The battery here is not always interchangeable with all the Worx cordless powered tools. Only on 20V powered tools. The information on the line feed can also be a little confusing depending where you look
There is no power indicator on the batteries so there tends to be guesswork on the level of power that would be remaining. You won't know how much battery is left until it is fully depleted and turns off by itself
The charging of the battery is very slow here and will take 3 hours on average and in some cases more. Many other models and battery chargers can get the batteries recharged in a lot less time than this
The runtime on the battery can vary quite a bit. If you have wet heavy grass to work on, then you can find that the battery will deplete a lot quicker and in some cases, will last less than 20 minutes for heavy duty work.
Additional spools can be more difficult than expected to source.
Price Guide: Less than £120 @ Argos UK

Further images of the Worx 18V Cordless Grass Trimmer WG163E is outlined below (5)
Price Comparison Options
While you are here, feel free also to compare the 2 price options outlined below that can possibly save you money in the process…
Section 3: Further Worx Grass Trimmer options plus Comparisons
If the Worx 18V WG163E Cordless Grass Trimmer hasn't ticked all of your boxes yet, then feel free to check out 2 further options under the Worx brand which are also very popular across the UK general public summarised as follows…
A comparison table is outlined below to compare the 3 different grass trimmers in this review from Worx to provide further clarity if needed.
| Feature: | Worx WG163E | Worx WG157E | Worx WG184E |
| --- | --- | --- | --- |
| Max power: | 18V (20V max) | 18V (20V max) | 36V (40V max) |
| Batteries: | 2 batteries | 1 battery | 2 batteries combined |
| Operation: | Cordless | Cordless | Cordless |
| Width: | 30cm | 25cm | 33cm |
| Line Feed: | Auto feed - Command | Auto feed - Command | Auto feed - Command |
| Weight: | 2.4kg | 2.7kg | 6.5kg |
| Warranty: | 2 to 3 years | 2 to 3 years | 2 to 3 years |
Read also: Our Worx Pressure Washer Review – Check it out Here
Section 4: Conclusion Plus Feedback
Conclusion:
Is this Worx Grass Trimmer worth the money? From our experience anyway, yes - we definitely believe that this grass trimmer is worth the money. The battery doesn't have the indicator which is annoying but apart from that it did a really good job trimming the edges and borders and the battery lasts for between 25 and 30 minutes depending on how hard you are working the tool and the battery. The fact that the warranty can be extended to a third year adds further protection on your investment and having the 2 batteries included makes sure that you can always have a fully charged battery in place as back up if the trimming work will take longer than 30 minutes. One thing they could have done though is to include a spare spool line as it is more difficult than expected to source and get your hands on the required spools.

Feedback (optional)
Have you ever used a Worx Grass Trimmer yourself in the recent past? Did it work as expected or did you come across any problems that we need to be aware of?
If possible, please share your own feedback good or bad by leaving a short comment in the comment box section provided below – so that others across the UK can learn also!