If you are thinking about buying a Homebase Grass Trimmer or Garden Strimmer, then please make sure to check out our quick review for what we believe are the best Cordless Grass Trimmers and best Corded Grass Trimmers which are currently available at Homebase.
Please note though that there are only electric powered Grass trimmers available from Homebase so you won't be able to buy any petrol powered grass trimmers if that's what you are after.
View also: Popular Grass Trimmers here
Cordless vs Corded
You have the choice of selecting between 15-20 grass trimmers at Homebase and all of them are powered by electricity or batteries. Approx half of them use power cables while the other half are cordless battery powered grass trimmers so there is a good mix overall of both corded and cordless to choose from.
Brands
Homebase stock several popular brands in their Grass Trimmer portfolio such as Bosch, Flymo, Gardena and Powerbase. In addition to this, they also stock the brands of Yard Force, Stanley Fatmax, Sovereign and Worx. The brands that offer the more diverse range of grass trimmers within this trimmer group would have to be Bosch, Powerbase and Flymo.
Homebase Cordless Grass Trimmers – Top 3 Recommendations
1, Bosch 18-260 26cm 18V Universal-Grass-Cut Grass Trimmer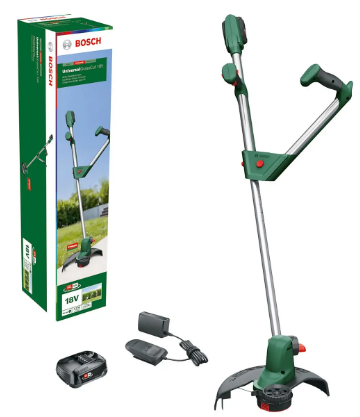 Our first recommendation would have to be the high performance Bosch 26cm Universal Grass Cut 18V Grass trimmer which includes one 2.0Ah battery and you should be able to get your hands on it for less than £170 when seen at the time of our review. The motor operates with 18V power and the big attraction is the V-type shaped handle to make the whole job of grass trimming easier to do with a lot less strain on the arms and body.
It can be used for edges and the head can be tilted at different angles to leave a nice clean finish. It is also lightweight by design at 2.5kg to reduce fatigue and it comes backed with a 2 year warranty as expected.
Price: £120 - £170

Read also: Best Electric UK Lawnmowers
2, Stanley Fatmax V20 18V Cordless 33cm Grass Trimmer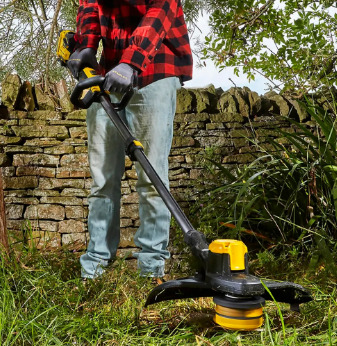 Another cordless grass trimmer at Homebase that we really liked is the Stanley Fatmax V20 Cordless 33cm 18V Grass Trimmer which provides plenty of cutting power from the very start and it also has the longer telescopic shaft for the harder to reach areas and to suit your own height level.
This has a much wider cutting path at 33cm so it is 7cm wide than the Bosch 26cm outlined earlier and there isn't a whole a lot of difference in the prices between the two.
The line feed works automatically and it has a brushless motor for more efficiency and longevity performance. Another thing we liked is the fact that you can control the speed level depending on the work at hand to maximise the runtime on the charged battery.
Price: £150 – £200

3, Worx GT 3.0 20V 2.0Ah 30cm Cordless Grass Trimmer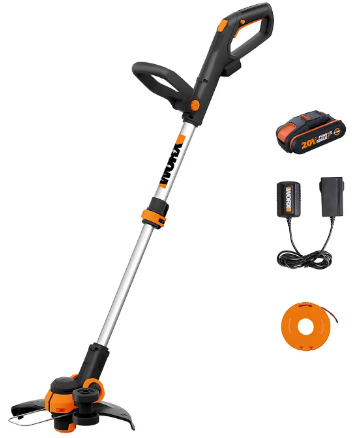 Our next cordless grass trimmer recommendation available at Homebase would have to be the Worx GT 20V 2Ah 30cm cordless Grass trimmer that offers the adjustable telescopic shaft so that it can suit your own height comfort levels especially when it comes to longer type trimming jobs.
It can be converted to from a grass trimmer to a wheeled edger from your surrounding kerbs and patios and the line feed operates with the push of a button to release more line as well as the auto line feed.
It includes a standard 2.0Ah battery, a charger, the cutting width is 30cm and it comes backed also with a 2 year warranty for peace of mind.
Price: £80 - £120

Price Comparisons vs Argos & Amazon
View also: Popular Hedge Trimmers here
Homebase Corded Grass Trimmers – Top 3 Recommendations
1, Flymo Contour 25cm 500W Corded Electric Grass Trimmer
The corded grass trimmers at Homebase are cheaper that the cordless but you most likely will need an extension cord so factor this in when making your final decision.
One of the corded grass trimmers that impressed us was the Flymo Contour 25cm 500W corded Grass trimmer which cuts 25cm wide and it has the flower plant guard at the front to keep them protected while trimming.
It has a shrub mode and well as edging and it also has the 1.5mm dual auto line feed which can handle several weeds and all grass types and it comes fitted with a 10m long power cord. This grass trimmer's shaft length can also be adjusted to suit your height and the cable storage works well to keep everything nice and tidy when not in use.
Price: £50 - £100

2, Powerbase 550W 30cm Corded Electric Grass Trimmer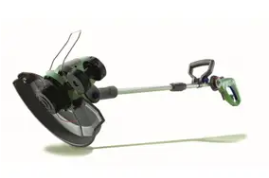 Another corded electric grass trimmer at Homebase that we recommend would have to be the Powerbase 550W 30cm corded Grass trimmer which offers a 10m long power cord and a longer warranty period of 3 years for extra peace of mind before making a purchase.
The head can be rotated at different angles to suit different jobs around the garden be it around flower beds, kerbs, slopes or under trampolines and there is plenty of power in the 550W motor to deal with stubborn weeds and tall grasses.
The shaft length can be adjusted to suit your own height and it works particularly good when it comes to guarding your precious flowers and plants from being damaged. Another thing worth noting is the fact that it works a 1.6mm thickness line and it has an auto double line feed system in place.
Price: £50 - £80

3, Bosch EasyGrassCut 23cm Electric Corded Grass Trimmer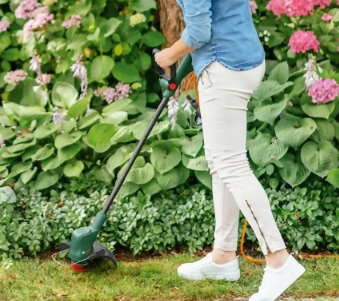 For those of you who need the absolute lowest price, then you should check out the Bosch Easy-Grass-Cut 23cm electric corded Trimmer which offers a smaller power cord of 6m but is usually on sale for less than £50 when seen at the time of our review. As the power cord is only 6m long, you will need to factor in an additional extension cord to get your own trimming jobs done.
The power on the motor is lower at 280W which explains the lower price point than the previous recommendations so it is really designed for smaller type trimming jobs instead of larger scale garden trimming. The weight is also only 2kg to work with and it comes backed with a 2 year warranty provided by Bosch.
Price: £30 - £60

View also: Popular Corded Electric Lawnmowers
Conclusion
After completing our review for the Grass trimmers at Homebase, we hope our work here can help you out and perhaps speed up the process when it comes to making your own purchase. We have included our top 3 Homebase Cordless Grass Trimmers as well as our top 3 Homebase Corded Grass trimmers with prices to suit everyone so there should be something here to cater for you own needs.
Which one would we buy? To be honest, it would have to be the Stanley Fatmax V20 Cordless Grass Trimmer outlined earlier and further information and updated prices can be double checked below…

Trimming Feedback
Have you ever bought a Grass Trimmer from Homebase before and which brand did you choose? If possible, please share your own feedback with the wider trimming community by leaving a comment in the comment box section provided below…