If you are thinking about buying a Worx Pressure Washer in the coming days, then make sure to first check out this brief review which will outline everything you need to know including the good points and also the bad points. This Worx Pressure Washer Review which take a look at all the key features that it has to offer you plus all the main pros and cons that you need to be aware of before you make any decision.
View also: Popular Weed killers here
Checkers
At the time of this review, guide prices can only be submitted as prices can change from month to month so please make sure to view the price checker provided below so that you get the most accurate up to date price information. If at the end of this review you that you need to look elsewhere, then feel free to also take a look at various other alternatives provided at the end of this page including from another UK supplier.
Pressure Washer Review Overview
| Brand: | Worx |
| --- | --- |
| Model: | WG629E.1 18V 20V MAX Cordless |
| Price range: | At the time of this Review - £130 to £160 |
| Cheap Place to Buy: | Amazon UK – View current stock levels here |
| Warranty: | 3 years when registered online |
| Deliveries: | Tends to be 1 to 5 working days depending on location |
Frequently Asked Questions
Q. How long does it take to charge it?
A. On average it will take 3 to 5 hours to charge it
Q. Are the batteries included?
A. Yes, the battery and charger pack are included.
Q. What is the voltage?
A. It operates with 20V
Q. What are the pressure angle settings?
A. The pressure angle settings are 0°, 25°, and 40° and pressure control is 94/320 PSI
Q. How long is the warranty?
A. The warranty is 3 years but you need to register it online first.
Q. Can the battery be used for other Worx Tools?
A. Yes, it can also be used for other 20V tools in the Worx range
Read also: Popular Wheelbarrows here
Worx Pressure Washer Review
1, WORX 18V 20V Max Cordless Hydroshot Portable Pressure Cleaner (WG629E.1)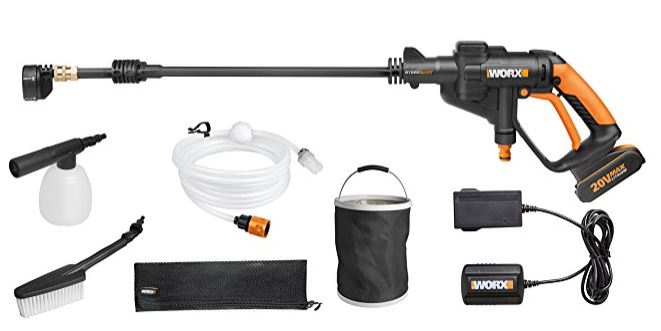 Main Features:
This is different to the normal pressure washers that require a big body unit, a mains connection and a garden hose attached to a tap. This Worx Hydroshot runs on a Powershare battery and draws fresh water from any source that is available to you so it is a portable water and cleaning washer which eliminates bulky hoses and cords that can get in the way.
Several types of water sources can be used such as rivers, ponds, bottles and buckets and it has the adjustable pressure angle settings that range from angles of 0°, 25°, 40°, shower and mist. It includes a range of accessories such as a Cleaning brush, the Soap bottle, a foldable water bucket, the long Lance and Short Lance, a multi-spray nozzle and also the carry bag to make it easier for a portable point of view.
It is capable of 320 PSI or a rated bar of 22 which is 10 times that of a water hose and it can be used for bikes, sports equipment, decks, patios, windows, gutters, tools and also your outdoor furniture. The dual system design allows both power cleaning and watering cleaning and the overall dimensions to be aware of is 60cm by 56cm by 34cm
The Lithium ion battery is included in the package, the delivery weight is just 4kg to work with and the price bracket tended to be in the £130 to £160 region when last seen on sale which depends on local discount activities and of course can be double checked below.
Pros:
No need for any hoses or cords – it operates from a Powershare battery and no mains connection is needed or a hose attached to a tap for that matter. Therefore you are never limited to the distance you need to work to
Can use water from either buckets, ponds, bottles, rivers or water tanks and has 3 to 4 times more pressure than a garden hose with a nozzle
Ideal for lighter type cleaning jobs such as cars, bikes, windows, outdoor furniture, patios and gutters. Some even use the rinse settings for their pets
A warranty period of 3 years is available which is more than enough if you are dissatisfied with your purchase.
Cons:
You always need to remember to have it charged prior to use – and will take a long time generally 3 to 5 hours duration. Some people go down the road of buying a second battery to combat this or even a 4Ah battery.
What happens if the battery gets damaged or worn out? You need to think about the possible replacement costs of a battery down the road and the associated added costs
Duration of the battery charge could be a lot longer – your working time is limited to the duration of the charge so you can't delay on the job whatsoever. If you intend to complete cleaning jobs that require a few hours work, then you will need to buy more batteries or start looking for a commercial pressure washer.
Lacks the tough power needed for heavy duty cleaning jobs and tasks. Pressure is quite low and lower than expected - If you need a pressure washer for tough hard and heavy-duty cleaning with high levels of power for a patio then you should start looking elsewhere… Its fine for cars, windows, bikes and light work etc but for stonework, patio and decking a commercial pressure washer would work much better.

Main Accessories, Points and Parts are summarised below:
Main Parts:
Main Accessories:
Key Points:
WG629E Washer
20V 2.0Ah Battery Pack
6m Hose
Dual system Design
Pressure of 94/320 PSI
Speed: Variable 100-320 psi
Dual design system
Cleaning brush
Soap bottle
Foldable Water Bucket
Long Lance
Short Lance
Multi-spray nozzle
Carry bag
Size: 60 by 56 by 34cm
Box weight: 4kg
Item Weight: 0.59kg
Charge Time: 5 hours
Pressure settings adjustable
Warranty: 3 Years
More Pressure Washer reviews that may interest you…
Nilfisk Pressure Washer Reviews – Read more here
Spear & Jackson Pressure Washer Reviews – Read more here
Karcher K2 Pressure Washer Review – Read more here
Alternatives
There are also 2 other alternatives in the Worx range that can be viewed also outlined as follows...
Price Comparisons
If you wish to compare prices further, then make sure to take a look at low prices on offer also from Argos UK as follows
Read also: Best Electric UK Lawnmowers
Community Feedback
Have you any previous experiences of using Worx Pressure Washers yourself in the past?
Then please share your feedback/comments with the UK community (good or bad) by leaving your thoughts in the comment box section below – So that they can learn also