Are the Bosch Grass Trimmers worth the money? To find out more, then check out our Bosch Grass Trimmer review which will explain everything that they have to offer and will include all the good and the bad points which we came across when using these grass trimmers.
Focus
Our focus will be on the cheaper and lower priced Bosch Corded 23cm Grass trimmer with the lower power level of 280W but we will also cover 2 other corded models namely the 24cm 400W and the 30cm 550W models so at least you have more than just 1 option when it comes to making your own final decision.
View also: Best treatments for Weeds here
Review Work
We worked with all 3 Grass trimmers over the course of a few weeks and this review will be presented based on our experience and feedback so hopefully this review can be helpful to you in some small way so you decide for yourself if indeed this is the Grass trimmer is for you or not.
Further below, we will also provide some FAQ's that you may have about Bosch Grass trimmers along with some price comparison options which possibly could end up saving you some money while you are here so feel free to check these out also.
Bosch Grass Trimmer Review Content
Part 1: Overview with FAQ's
Part 2: Bosch Corded 23cm Grass Trimmer Review
Part 3: Alternative Bosch Grass Trimmers – ART24cm and ART30cm
Part 4: Our Conclusion Plus Optional Feedback
Before you start, please be aware that guide prices can only be submitted at the time of this McGregor Grass trimmer review so please make sure to view the price checkers outlined below which will help ensure you get the most accurate up to date price information.
Part 1: Overview with FAQ's
Brief Overview
| Brand: | Bosch Grass Trimmers |
| --- | --- |
| Models: | Corded Models x 3 |
| Power: | 280W to 550W |
| Trimmer Sizes: | 23cm to 30cm wide |
| Low Price: | Available @ Argos UK – View Today's Price Here |
| Warranty: | 2 to 3 years provided |
| Support: | Bosch direct customer support is available on 03447360109 |
Frequently Asked Questions about Bosch Grass Trimmers (10)
Q1. Which model is the cheapest in the Bosch range?
A. From our experience, the cheapest is the 23cm corded grass trimmer which was seen for less than £35 at the time of this review.
Q2. Can they be used for small tiny lawns also as well as grass trimming?
A. Yes, if your lawn is very small, then it will be able to cut it but the quality of the finish will not be as good as a lawnmower finish
Q3. Which grass trimmer is the lightest option to work with?
A. The lightest grass trimmer tool is the 23cm corded model which weighs less than 2kg
Q4. Does it take long to assemble it?
A. No, the parts are click and connect so it will only take you less than a few minutes to assemble
Q5. How long is the cable for the Bosch 23cm grass trimmer?
A. The length of the cable is only 6m long so you will most likely need an extension cord also. The ART24cm model offers a longer cord of 10m in length.
Q6. Is the spool line feed automatic?
A. Yes, there is an auto spool line feed system included
Q7. What type of spool line is needed when the time comes to replace it?
A. The spool line you will need is a 1.6mm thick 4m long Nylon line which is widely available.
Q8. How long is the spool line for these trimmers?
A. The length of the spool line for the Bosch 23cm grass trimmer is 4m long
Q9. Can you manually rewind the spool when empty?
A. It is not recommended to rewind it manually as it will most likely get stuck. Buy a replacement spool instead
Q10. Do they have a rotating head for trimming hard to reach areas?
A. Only select models have the tilting head – further information is outlined further below
Read also: Our McGregor Corded and Cordless Grass Trimmer Review – Check it out Here
Part 2: Bosch Corded 23cm Grass Trimmer Review
Bosch EasyGrassCut 23cm 280W Corded Grass Trimmer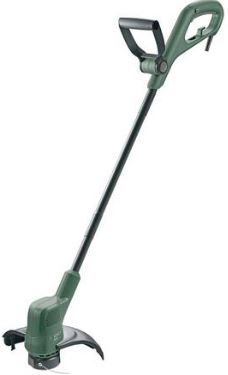 Brief Summary:
Ideal for bargain hunters
Cheaper and low-priced option
23cm wide / Power 280w
Corded Operation / Cord 6m
Adjustable handle shaft
Spool line is 4m long
Minimal assembly needed
Soft grip handle & guard
Anti-vibration system
Weight 1.7kg / Warranty 2 years
Pros for the Bosch 23cm 280W Corded Grass Trimmer
If you are looking for a bargain for the cheapest possible price, then you don't need to look much further than this as the price when last seen at the time of this review was for less than £35 which compares very well against other lower priced brands in the market.
If there are any problems, you have the 2-year warranty which protects your investment so you are fully protected in the event that you need to return it. You can also get a replacement care package from Argos for less than £10 also which is optional and it can run for 3 years.
As the weight of this trimmer is less than 2kg, it allows you to work the tool for even longer before fatigue in your arms starts to set in.
It includes an adjustable auxiliary handle for working the trimming at various different height levels, it is nicely balanced and the tool is more or less ready to work straight from the box as assembly takes no time at all.
The line spool feed is automatic and works as expected so no issues were experienced in this regard – overall the auto line feed worked without any problems on our end.
The size is quite small when compared to larger trimmers so it can hang up in the garage or be stored in the shed without taking up too much space – very compact size overall
Cons for the Bosch 23cm 280W Corded Grass Trimmer
There is no rotating head on this grass trimmer model so you are limited when it comes to trimming harder to reach areas in your garden.
Doesn't have the capability to deal with brambles or dense thicker coarse patches as the power level is too low. You need a 400W+ model instead for this type of trimming.
The cord provided for this model is only 6m long which is one of the shortest we have seen so you need to factor in the additional costs of extension cords as well if you choose to buy.
While not experienced by us, we have seen reports from other users that in some cases the line would break quite easily and get tangled around the rotating shaft which can be annoying.
Overall, this is one of the most lightweight and basic grass trimmers you will comes across which can only deal with lighter type work on fine grasses but thankfully is matched with the appropriate lower price tag.
Price Guide: £25 to £50

Price Comparison Options
To help you compare more low prices across the market place, feel free also to check out the 2 options outlined below that could possibly save you some money while you are here. A Bosch cordless grass trimmer option is also included if you wish to avoid cords but they do tend to cost quite a bit more.
Read also: Our Spear & Jackson Grass Trimmer Review – Check it out Here
Part 3: Alternative Bosch Grass Trimmers – 24cm and 30cm
If the lower powered and lower priced basic 23cm grass trimmer from Bosch hasn't ticked all of you boxes just yet, then check out 2 further grass trimmers also available from Bosch summarised as follows...
1, Bosch ART24 24cm 400W Corded Grass Trimmer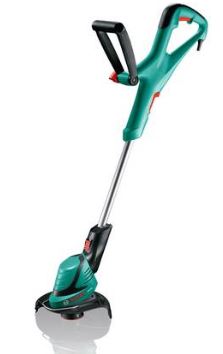 Main Features to Note:
More powerful 400W motor / 24cm wide
Longer cable cord of 10m available
Auto line spool feed / Shaft length is adjustable
Head can be tilted or rotated for tidier edging
Second handle is also adjustable / Dual line feed
Heavier at 2.6kg / Warranty also 2 to 3 years
Price Guide: £45 to £90

2, Bosch ART30+ 30cm 550W Corded Grass Trimmer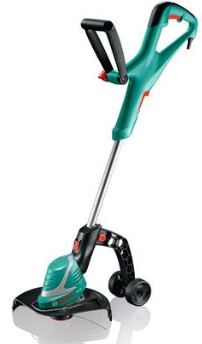 Main Features to Note:
Higher power again of 550W motor / 30cm wide
Wheeled support to reduce arm fatigue
Cord length is 6m / Auto line spool feed
Shaft length can be extended for taller people
Head can be rotated for hard to reach areas
Heavier again at 3kg / Warranty 2 to 3 years also
Price Guide: £50 to £100

Further images of the Bosch Art30+ Corded Grass Trimmer are outlined below
Comparison
A brief comparison table is outlined below to add further clarity if needed for the 3 Bosch corded grass trimmers in this review…
| Feature: | Bosch 23cm | Bosch ART 24cm | Bosch ART 30cm |
| --- | --- | --- | --- |
| Power: | 280W | 400W | 550W |
| Tilting Head: | None | Yes | Yes |
| Width: | 23cm | 24cm | 30cm |
| Cord: | 6m long | 10m long | 6m long |
| Wheel support: | None | None | Included |
| Weight: | 1.7kg | 2.6kg | 3kg |
| Warranty: | 2 -3 years | 2 -3 years | 2 -3 years |
Part 4: Our Conclusion Plus Optional Feedback
Conclusion
Do we recommend the Bosch 23cm Corded Grass Trimmer? Yes, but only for very basic lighter duty work and it is not powerful enough to handle tough, thicker grass patches and it certainly is not able to deal with brambles. The size is very small so it can be stored more easily in smaller type storage spaces and the weight of less than 2kg makes it that bit easier to work with for longer.
Cord and Line
The cord is very short, but the auto feed line works satisfactorily and you also need to be careful not to be continually powering it on and off all the time to avoid too much line being used. It is certainly not the best grass trimmer out there but if you need a small tool to do smaller lighter trimming work only, then this trimmer will do the job for you. It can be assembled in a matter of a few minutes, it is comfortable to handle and grip and it is easy to clean also while taking up minimal storage space in your garage or shed.
Verdict
Would we buy it? Probably not to be honest as we would prefer to go for a higher quality and more powerful spec grass trimmer instead as we have seen too many issues around the trimming line breakages and line feed issues. Our favourite trimmer in this range would have to be the Bosch ART24 24cm 400W Corded Grass Trimmer above as it is only slightly more expensive and we felt it offered so much more and of course it has the longer 10m cable cord and adjustable secondary handle. The ART24cm model also performs much better on heavier grasses, thicker coarse grass and weeds with the increased power of 400W.

Optional Feedback
Have you ever used a Bosch Corded or Cordless Grass Trimmer yourself in the recent past? Did it work as expected or did you come across any problems that we need to be aware of? Plus, was this review useful to you in any way?
If possible, please share your own feedback good or bad by leaving a short comment in the comment box section provided below – so that others across the UK community can learn also!