If you are interested in buying the Mountfield SP185 Lawn mower, then make sure to check out our quick Mountfield SP185 self-propelled Petrol Lawn mower review which will outline everything you need to know plus it will include some video examples so that you can see it in action for yourself.
Many self-propelled petrol lawnmowers can cost well over £500 but this Mountfield SP185 can be bought at a considerable lower cost level so we wanted to find out if it really can offer you great value for the money.
View also: Review of popular Petrol Lawnmowers
Mountfield Lawnmower Overview
This company Mountfield started back in 1962 in Maidenhead in the UK and they are now based in Bluewater Estate in Plymouth. They build a wide range of lawnmowers and garden equipment such as grass trimmers, chainsaws and hedge trimmers and they offer premium gardening tools as well as lower priced affordable budget type garden machines. The company is part of the Stiga Ltd group who are headquartered in Italy and they can be contacted directly on 0044 800 6696 325
Mountfield UK Location
Video 1 – How to Assemble the Mountfield SP185 Lawnmower
Mountfield SP185 Lawnmower Review
Mountfield SP185 Self-propelled 46cm 139cc Petrol Lawn Mower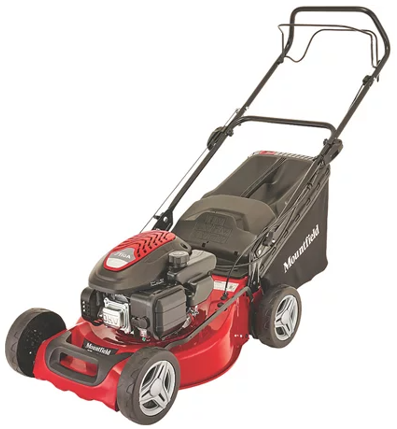 For people who are seeking a lower priced self-propelled petrol lawnmower, the Mountfield SP185 Lawnmower is the solution for many home owners and gardeners as it was seen on sale for less than £300 at the time of our review. It is one of the best sellers in the Mountfield range, it has the a Stiga ST140 OHV engine with 139cc and it offers a mowing width of 46cm or approx. 18 inches.
It is a self-propelled lawnmower which supports larger garden lawn areas, slopes and tough terrain and it comes designed with 2 in 1 mowing functions, a powder coated steel chassis and the option for the mulching plug. It is started using the pull cord and the handles can be folded down for more convenient storage in tight spaces.
This lawnmower can be used on lawn sizes 1500-1600m2 (approx. 40m long by 40m wide) and you have the option to collect in the bag or mulch to support nutrients back into the soil for a more healthier lawn surface. The grass box has a capacity of 60 litres, there are 6 mowing heights 2.2cm to 6.5cm and it comes backed with a 5 year warranty as long as it is serviced annually by an authorised reputable Mountfield dealer

Price Guide: £250 - £350 @ Gloucester

Read also: Best Electric UK Lawnmowers
Pros for the Mountfield SP185
You get a 90 day money back guarantee from the supplier in Gloucester which adds peace of mind before you commit to a purchase
Great value for money for a self-propelled petrol lawnmower as many other brands will cost well over £500 so this lawnmower is a budget alternative for people seeking a good bargain
Easy to get started and assembled and it offers plenty of power for dealing with damp and thicker grasses
Very affordable petrol self-propelled lawnmower and attractive promotion discounts tend to be in place quite regularly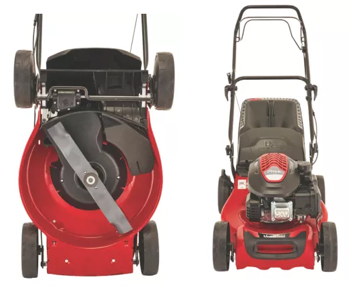 Cons for the Mountfield SP185
The mowing width is only 18 inches or 46cm so it is narrower than many other petrol lawnmowers that are 21 inches wide and more
Adjusting the mow heights on this mower was more difficult than other lawnmowers we have used.
When stated initially as a 3 in 1 lawnmower we were expecting the side discharge feature to be in place but there is definitely no side discharge available on this lawnmower (so in reality it's not a 3 in 1 lawnmower)
When left unused for a few weeks, a few pulls on the cord is needed to get it started with some heavy smoke emissions which subsides after a few seconds

FAQ's about the Mountfield SP185
Q1, What size lawns is it suitable for?
A, This lawnmower can be used in lawn sizes up to 1600m2 or 0.4 of an acre (or approx. 40m long by 40m wide)
Q2, What type of engine is used for the SP185?
A, This SP185 Mountfield lawnmower has a Stiga ST140 OHV 139cc 4 stroke engine
Q3, What is the capacity of the fuel tank?
A, The fuel tank can hold 0.75 litres of petrol
Q4, What is the warranty cover?
A, Some suppliers offer 2 years but the supplier in Gloucester offers a longer 5 year warranty
Q5, How do you start this lawnmower – button start or pull cord?
A, Yes the SP185 is started by pulling the starter coil
Video 2 - Mountfield SP185 Petrol Lawnmower Review
View also: Popular Grass Trimmers here
Technical Information
Engine Make - Mountfield Stiga
Engine Spec - ST140 OHV, 139cc
Fuel – Unleaded petrol
Drive - self-propelled
Grass Collector – 60 litres
Chassis - Powder coated steel
Cutting width - 46cm
Fuel tank - 0.75 litre
Weight - 26kg
Stroke - 4 stroke
Cutting Heights – 6 (2.2-6.5cm)
Deck – Rust resistant Steel
Grass collector – hard top
Mulching - Yes
Side Discharge - No
Handles - Foldable
Wheels Front - 165mm
Wheel Rear - 190mm
Sound Level - 96dB (A)
Mowing functions – Collect and Mulch
Warranty - 5 year (conditional)
Blade - steel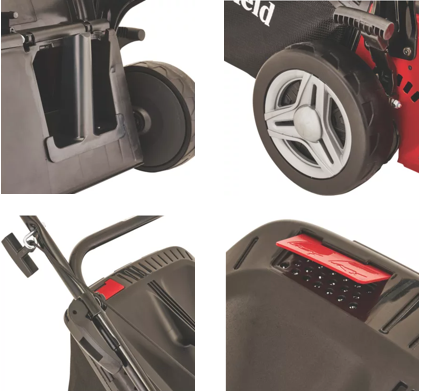 Engine
The engine for this lawnmower comes from the brand of Stiga in Sweden and it is a Stiga 140 OHV 4 stroke petrol engine with the Autochoke technology as standard for easier starting and no priming.
It is designed with the low tone muffler to reduce the noise levels and the Magnetron ignition electronic starter for fast reliable starting so it has become a very popular choice and seller within the Mountfield lawnmower range
Price Comparison Options
Before you decide on the Mountfield SP185 Petrol Lawnmower, feel free to compare prices elsewhere which can possibly save you some money in the process…
View also: Popular Hedge Trimmers here
Conclusion
Overall we would have to say that this is a very reliable, sturdy and affordable self-propelled petrol Lawnmower from Mountfield. There is no side discharge and the mowing widths are narrower than what we would like but it still does a great job all the same. Higher spec premium self-propelled lawnmowers can cost well over £500 but this SP185 lawnmower can be bought for less than £300 when promotions are in place so it is definitely great value for the money in our opinion.
Further stock availability, reviews and updated prices can be double checked below from the supply base in Gloucester who offer the 90 day money back guarantee…

Community Feedback
Have you ever used the Mountfield SP185 Lawnmower yourself – have you anything positive or negative to report? If possible, please share your own opinions or feedback by leaving a comment in the comment box section provided below – so that others in the wider mowing community can learn also…