Are you thinking about buying a Makita Cordless lawn mower over the next few days? If so, then please make sure to check out our brief Makita Cordless Lawn Mower Review which will give you a broader view about all the features that it has to offer you plus some of the pros and cons that we came across that you need to know also.
Throughout this review, we have included a short frequently asked question session which hopefully can answer some of the queries that you may have about this cordless lawn mower. In addition, we will also take a quick look at 3 different options under the Makita brand so at least you have more than just once choice when to comes to making any final decision.
If you are not fully decided about the Makita brand after this review, then please make sure to check out the alternative branded options outlined further below on this page that are certainly worth a closer look also as they have proven to be very popular among the UK public at present.
Makita Cordless Lawn Mower Review Content:
Section 1: Overview and some FAQ's
Section 2: Makita Cordless Lawn Mower Review – 3 Options
Section 3: Pros & Cons for the Makita Lawn Mowers
Section 4: Alternative brands to Consider
Section 5: Short Conclusion
Before you start, as consumer prices can vary slightly from week to week, only guide prices can be submitted at the time of this Makita cordless lawn mower review so please make sure to view the price checkers outlined below to ensure you have the most accurate up to date price information.
Section 1: Overview and FAQ's
Brief Overview
| Brand / Model: | Makita Cordless Lawnmowers - 3 models |
| --- | --- |
| Mow Heights: | Model dependant – tends to be from 2cm to 7.5cm |
| Power: | Rechargeable batteries (2 to 4 battery options) |
| Warranty: | 12 months (further 2 years when registered within 30 days of purchase) |
| Price Level: | £150 to £450 @ Amazon UK – Check todays updated price here |
FAQ's for the Makita Cordless Lawn Mower:
Q. Is this lawn mower self-propelled?
A. No, this lawn mower is not self-propelled and needs to be hand pushed manually
Q. What is the width of the mowing blades for the DLM431PT2 model?
A. The width of the mowing blades for this model is 43cm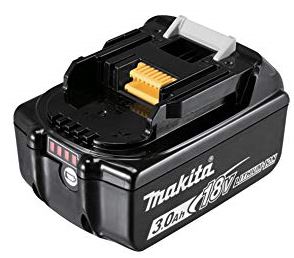 Q. What size garden can the DLM431PT2 mow?
A. This lawn mower is designed for gardens up to approx. 30m by 30m in size
Q. How long does it take to recharge the batteries?
A. It can take on average 40 to 50 minutes to recharge the batteries
Q. How long will the batteries mow and operate for?
A. The run time on the batteries will depend on mowing conditions (dampness / grass height / thickness) but should last for between 30 to 35 minutes long on average
Q. Does the DLM380Z model include a battery and charger?
A. No, this model is a bare tool so you would need to buy the charger and batteries separately
Q. Does it get clogged up with wet grass?
A. If the grass is very wet then yes, it will clog a bit (like most other electric lawn mowers)
Read also while you are here…
Section 2: Makita Cordless Lawn Mower Review – 3 Options
1, Makita DLM431PT2 18V X2 LXT Cordless Lawn Mower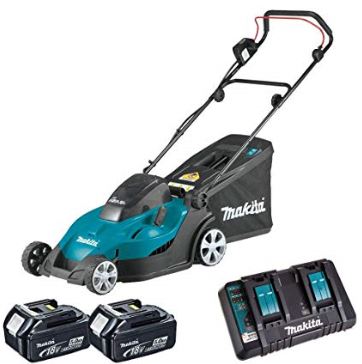 Key Features Available:
2 x 5.0Ah 18V Batteries (36V)
Dual Port charger included
For gardens up to 950m2
Foldable handles / electric brake
Weight 24kg approx.
Twin port charger / Socket wrench
Twin battery fuel gauge
Mow width is 43cm wide
Mow heights from 2.5cm to 7.5cm
Grass collection capacity is 50L
Warranty is 12 months long
Price Guide: £250 - £350 @ Amazon

2, Makita DLM380Z 36V Cordless Electric Lawn Mower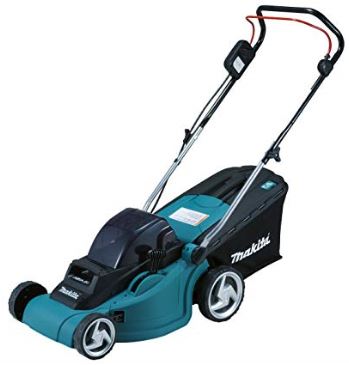 Key Features Available:
No batteries included (bare tool)
Needs 2 18V Li-ion batteries
Foldable soft rubber handles
6 different mow height settings
Weight 16kg approx.
For lawn sizes 500 to 700m2
Grass fill level indicator
Mowing width is 38cm blade
Mowing heights 2.5cm - 7.5cm
3700RPM & 620W / 40L grass box
Warranty is 12 months long
Price Guide: £130 - £170 @ Amazon

3, Makita DLM431PF4 36V Cordless Lawn Mower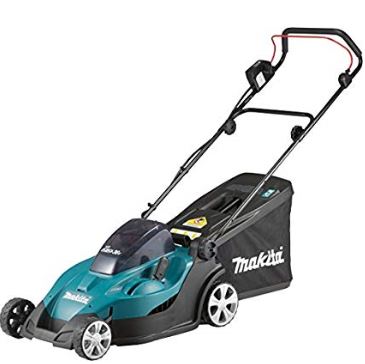 Key Features Available:
4 x 3.0 Ah Li-ion batteries
Twin Port charger / Soft start
Garden sizes up to 950m2
Electric brake / Foldable handles
Weight 18kg approx.
Single lever height adjustor
Twin battery fuel gauge
Mowing blade width of 43cm
Mow heights of 2cm to 7.5cm
Grass box capacity of 50 litres
Warranty is 12 months long
Price Guide: £400 - £450 @ Amazon

Further images of the Makita DLM431PT2 Cordless Lawn Mower are outlined below
Section 3: Pros & Cons for the Makita Lawn Mowers
Pros for the Makita Cordless Lawn Mowers:
It is well capable of dealing with medium sized lawns as the battery power and battery longevity was better than expected.
If you have limited storage space, then the ability of the handles to be folded down will certainly help in compact spaces in your shed.
The grass box is easy to use and they come with a grass fill indicator so you know when it needs to be emptied.
The noise level here is so much lower than your typical petrol lawn mower and there is no need to worry about cords across your lawn which makes it a whole lot safer in the long run.
These lawn mowers are seriously lightweight and much easier to work with and push around your garden when compared to petrol mower brands that can be 30-40kg+ in weight.
If you use other Makita tools and have batteries already, then you can choose the bare tool only option and save money that way.
This lightweight machine is great around flower beds, borders, tight corners and also pushing uphill and it can be carried with ease from the shed to the garden hassle free.
You have the option of getting an additional 2 years warranty if you register it online within 30 days of purchase. (total 3 years)
Unlike many very narrow electric mowers, you can get models here providing you with a much wider mowing path of 43cm which certainly saves time and reduces the number of mow paths
Cons for the Makita Cordless Lawn Mowers:
None of these lawn mowers are self-propelled so you will need to do all the pushing yourself which can be difficult if you have steep hills to deal with
The price level for the cordless is a lot higher than some of the corded lawn mowers seen elsewhere which can be available for approx. half the price and in some cases less than half the price of this cordless lawnmower
There are no rear rollers included to give you a nice striped effect on the mow paths.
You will always be limited to the length of time the battery will work before you need to recharge so you should avoid larger type gardens at all costs.
Tends to struggle with damp grass and lacks the higher power than you would normally get in a petrol mower when it comes to dealing with taller, thicker or wet grasses.
Unfortunately, the batteries for the DLM380Z model is not compatible with G-Series batteries
Section 4: Alternative brands to Compare
If you are not fully convinced yet about the Makita Cordless lawn mower, then check out 2 lower priced options outlined below from Argos which are also available to order online in the UK at present…
Section 5: Short Conclusion
Conclusion:
Even though the cordless options work really great, you are still limited to the run time on the battery which can be annoying if you have to stop and recharge with only 5 to 10 minutes work left to finish it. To make this lawn mower work better for you, it would be best to mow more frequently and keep the grass height under strict control. If you leave the grass not mowed for a number of weeks, then it will struggle to deal with the taller and thicker patches of grass and especially if the grass is damp (which tends to happen to most electric cordless mowers anyway).
The longer the grass, the more power is needed to get through it so you will find that that the battery charge depletion will be a lot quicker – so what could normally take you 30 minutes to complete could now take you 40 – 45 minutes to complete so the battery won't be able to finish the full lawn in one session. Finally, the price here is a little steep for our liking as the Spear and Jackson and Flymo comparison options outlined above are considerably lower priced than the Makita when seen at the time of this review. Apart from that, we were fairly pleased with it and have no problem recommending it.

Feedback – Educate the Wider Community:
Have YOU ever used the Makita Cordless Lawn mower yourself in the recent past? Did it mow and operate as expected or did you experience any problems that we should know about such as the batteries or blades?
If possible, please share your own experiences or feedback (good or bad) with the wider UK community by leaving a short comment in the comment box section provided below – So that others across the UK community can learn also!