Thanks again for taking the time to visit and welcome to this Nilfisk Pressure Washer Review which will cover 2 popular separate models so at least you have more than one choice when it comes to making a final decision.
Features & FAQ's
This review will outline all the main features and accessories that they have to offer plus the pros and cons associated to each. A number of frequently asked questions about Nilfisk Pressure washers are also outlined below along with comparisons and 2 other models in the Nilfisk range that you should consider also.
View also: Treatments for Weeds here
Price Level
As price will be important to you, please make sure to view the price checkers provided below as prices can vary somewhat from month to month (only guide prices can be given at this point) and you can also view prices from other suppliers in the marketplace at the end of this page if you wish to make further pricing comparisons.
Brief Background
Nilfisk Pressure Washers are engineered and developed in Denmark and they have the quick coupling system built in along with the click and clean mechanisms which make these Pressure washers very user friendly and easy to assemble. They include the tough Metal Pumps and the warranty available tends to be from 2 to 3 years depending on the model you select in the range and they have a vast selection of reliable options to choose from under their brand.
Pressure Washer Review Overview
| Brand: | Nilfisk |
| --- | --- |
| Models: | Compact 105 & Titan 120 |
| Price range: | At the time of this Review - £55 to £130 |
| Cheap Place to Buy: | Argos UK – View current stock levels here |
| Warranty: | 2 to 3 years Warranty depending on your selected Model |
| Deliveries: | Tends to be 1 to 5 working days depending on location |
Frequently Asked Questions
Q1. Does the Compact 105 include the accessory pack?
A. No, they are not included with the Compact 105 and need to be bought separately, limited accessories are provided only.
Q2. How do you attach the hose to your tap?
A. You need to attach it with the adaptor
Q3. Can you change the pressure on the Compact Lance?
A. No, the pressure does not vary with the standard compact lance
Q4. How long is both the cable and hose?
A. They are both 5m long each for the Compact, but the titan hose is longer at 8m
Q5. Is the Under Chasis Nozzle and Auto Nozzle included with the Titan 120?
A. Yes, both are included in the overall package
Q6. Can they be used for cars, trailers, BBQ's and garden furniture?
A. Yes, they are designed to clean all of the above and more.
Q7. Is the suction hose included with the Titan 120?
A. No, they need to be bought separately
View also: Popular Petrol Lawnmowers
Nilfisk Pressure Washer Review – 2 Models
1, Nilfisk Compact 105 Pressure Washer 1400W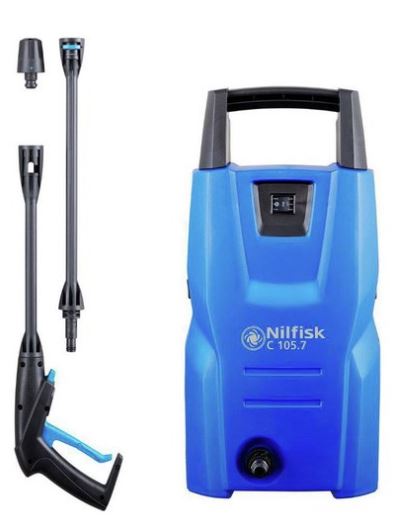 Quick Overview:
First up for review here is the Nilfisk 1400W Compact 105 Pressure Washer which is the smallest and lightest in the range but also comes with a lower level of accessories which warrants the lower price level that they have to offer. It can be used from a standard water butt tap and needs very minimal assembly on your behalf which is one less headache to worry about.
This model has the metal pump, the high pressure hose is 5m and the cable is 5m. It has the ergonomic gun, a Click&Clean lance and also the Tornado fan jet cleaning nozzle which is ideal for covering the basic requirements such as patio, decking, garden furniture or even your car.
It operates with a 1400 watt universal motor, it has a flow rate of 440 litres per hour and the rated bar is 75 (maximum bar is 105) and has the standard lance. The accessories include the extension lance a Quick connector, the Low pressure detergent gun and the on board storage.
There are the wheels to make the work that bit easier and it can be used easily with a standard water butt tap. The weight is very low coming in at just 5.1kg, the warranty is for 2 years and the price when last seen on sale was between £55 and £65 which can be double checked below.
Pros:
The lightest model in the range and very compact ideal for people with smaller type cleaning jobs and smaller living spaces or smaller garage sheds.
Price is the lowest in the range – if you are looking for a bargain – then look no further.
You get the on board storage which means the machine can be kept tidily away when not being used and it can be used direct from a water butt tap. The hose also doesn't kink
It has a number of safety features including the CB GS approval, the auto start/stop and the automatic self-resetting thermo protector. You also get the integrated hydraulic pressure safety valve.
Cons:
Only 2 years warranty where the Titan 120 has 3 years warranty
Not able to deal with heavy duty cleaning work – lacks the power one would need and is ideal only for lighter to medium type cleaning jobs.
The level of accessories provided is quite poor but then again that is the reason for the very low price level which proves to be great value for the level of money you have to spend.

Instructions
Brief Instructions with the Compact 105
First screw the male push fit hose pipe connector to the inlet port of your machine.
Then connect a hose pipe to the male push fit connector using a standard female push fit connector – not one that includes auto water stop.
Next you need to connect the other end of the hose to your water supply and turn the water on and plug in the power cable to a power socket
If you're using an extension cable make sure it is a heavy duty one designed for outdoor use and that you fully unwind it before use.
Lastly switch the machine on – you're now ready to clean
When finished you must always disconnect the high pressure hose after use and drain the machine of any water.
More Pressure Washer reviews that may interest you…
Karcher K2 Pressure Washer Review – Read more here
2, Nilfisk Titan 120 Pressure Washer 1400W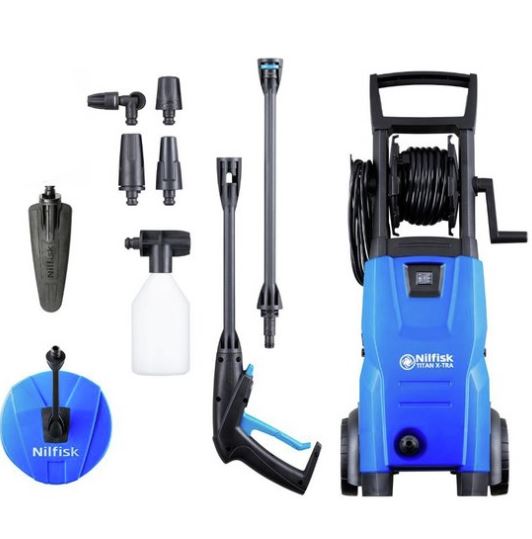 Quick Overview:
The second Nilfisk model under this review is the Nilfisk 1400W Titan 120 Pressure Washer which is more expensive that the compact version so be prepared in advance to dig deeper into your pockets for this one. This Titan 120 has a rated pressure of 85 Bar, the aluminium pump which will last longer and of course the air cooled universal motor.
It can be used direct from a water butt tap, it has 7 different cleaning accessories to choose from and work with such as the high pressure hose and the gun lance. There is also the auto start stop, the safety trigger lock, an inlet water filter, the push fit hose pipe connection, the click fit high pressure hose connection, the on board accessory, hose and of course the electric cable storage and large wheels to help keep it in motion as you work.
There is also the wash brush included which is excellent for cleaning windows, greenhouses and even conservatories when needed and also under Chassis nozzle and Foam Spray Nozzle with Detergent Bottle thrown in as well. The accessories included with this model are the extension lance, the Dirt-blaster lance, a pressure adjustable lance, the car wash brush a Quick connector, a patio cleaner, the low-pressure detergent gun and also a removable detergent tank.
It has the 1400 watt universal motor, operates off a flow rate of 440 litres per hour and it has a rated bar of 85 (Max bar of 120). The hose is 8m long, the mains cable is 5m and has the wheels included for easier operation. It has a longer warranty of 3 years and the price range tends to be in the £120 to £140 mark when last seen on sale which of course can be double checked again below.
Pros:
Longer hose than the Compact version by 3m which is important if you have further distances to travel
Warranty is one year longer than the Compact 105 1400W
Includes the aluminium pump that gives it a longer shelf life and has lots and lots of accessories for any job you need to complete!
You get the safety trigger lock and auto start stop system and is simple to assemble and get started with
Great storage ability with the Click&Clean Power-speed pencil jet intense cleaning nozzle, the Click&Clean Tornado pressure regulation nozzle, and the Click&Clean Detergent Bottle and Foaming nozzle which can all be stored on the rear of the pressure washer when not in use
Cons:
A lot more expensive than the Compact 105 and will cost you more by approx. £50+
Lacks the superior power than other brands offer with their premium models
Minor issues reported with the Patio cleaner attachment
Although more expensive than the compact version, it is well justified with the overall design for storage, the longer length and the additional power that it can offer for the tougher type patio jobs so we can highly recommend this across the board.

Comparison
A summary table is outlined below for further clarity.
| Feature | Nilfisk Compact 105 Pressure Washer 1400W | Nilfisk Titan 120 Pressure Washer 1400W |
| --- | --- | --- |
| High Pressure Hose | 5m & flexible | 8m & flexible |
| Cable | 5m | 5m |
| Warranty | 2 years | 3 years |
| Rated Bar | 75 (Max 105) | 85 (Max 120) |
| Motor | 1400W Universal | 1400W Universal |
| Flow Rate | 440 litres per hour | 440 litres per hour |
| Temperature | Maximum 40°C | Maximum 40°C |
| On board storage | Yes | Yes |
| Weight | 5.1kg | 6.7kg |
| Pump | Aluminium | Aluminium |
| Wheels | Yes | Yes |
Further Nilfisk Pressure Washers
Please also be aware that 2 further options are also available in the Nilfisk range that deserve a closer look also are the Nilfisk Compact 110 Home and Car Pressure Washer 1400W and the Nilfisk Compact 125 Pressure Washer 1500W which are outlined below which tend to be in the £90 to £170 price brackets…
Nilfisk Compact 110 Home and Car Pressure Washer 1400W
Nilfisk Compact Size 125 Pressure Washer 1500W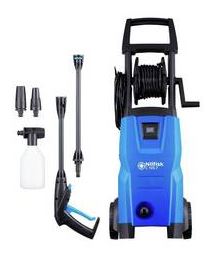 Price Comparisons
If you wish to compare prices further, then take a look also at another pricing option outlined below which is worth a closer look before making a final decision…
View also: Popular Grass Trimmers here
Community Feedback
Have you any previous experiences of using Nilfisk Pressure Washers yourself?
Then please share your feedback/comments with the UK community (good or bad) by leaving your thoughts in the comment box section below – So that they can learn also!!!