Thanks for taking the time to visit this brief review for the Karcher K4 Pressure Washer which is available in the UK market at present from multiple suppliers where orders can be placed online and get it delivered to your home hassle free. One less thing to worry about and it will certainly save you the hassle of unnecessary commuting!
View also: List of popular Petrol Lawnmowers
Overview
This Karcher K4 Pressure Washer Review will outline all the main features, pros and cons that it has to offer plus various other models are outlined so at least you have more than one choice when it comes to making a final decision. At the time of this review, only guide prices can be submitted so make sure to view the price checkers below to ensure you get the most up to date price information. In addition, a number of various other price options are also outlined at the end of this page for your convenience if you wish to compare prices against other suppliers in the marketplace.
Brief Background
Karcher comes from German Engineering with over 80 years' experience in the industry
Design and innovation is completed in their Karcher head office in Germany
The UK Karcher support team are based in Banbury
For enquiries, the UK helpline can be contacted at 01295 234020 or by emailing helpline@Kärcher.co.uk for any problems or questions you may have.
Pressure Washer Review Overview
| Brand: | Karcher |
| --- | --- |
| Model: | Karcher K4 Compact Pressure Washer 1800W |
| Price range: | At the time of this Review - £150 to £280 |
| Cheap Place to Buy: | Argos UK – View current stock levels here |
| Warranty: | 3-year Karcher Warranty |
| Deliveries: | Tends to be 3 to 5 working days depending on location |
Read also: Best Electric UK Lawnmowers
Frequently Asked Questions about the K4
Q1. Where is the compact Karcher actually manufactured?
A. It is designed in Germany yet made in Italy
Q2. What do you do if the distance between the tap and the cleaning job is longer than 6m?
A. You will need to buy an additional hose or buy the K7 which is 10m in length
Q3. Does the compact model have the LED display on the gun?
A. No, it is not included on the compact model but is available on the Full control K4-K7 models
Q4. Can it be used for a static water tank?
A. Yes, it can be done using a SHS suction hose and kit filter but needs 9L of water per minute
Q5. Can the Compact Karcher be used for commercial purposes?
A. No, it is intended for domestic purposes only
Q6. Is the warranty available of you decide to use it for commercial jobs?
A. No, the warranty no longer applies if you choose to use it for business purposes.
View also: Popular Grass Trimmers here
Karcher K4 Pressure Washer Review
1, Karcher K4 Compact Pressure Washer 1800W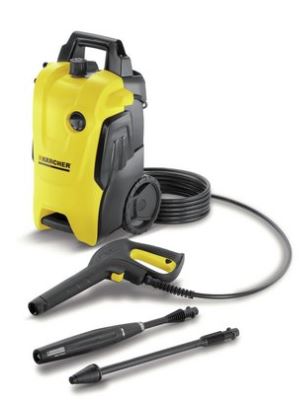 Quick Overview:
This Pressure Washer under the Karcher brand is the compact version and also tends to be one of the lower if not the lowest prices options to choose from. It has received numerous positive feedback comments and reviews from previous users in the past which gives additional confidence if you choose to buy.
It is perfect for cleaning medium type patios and decking as well as cars, motorbikes and garden furniture and it has a compact design which makes this machine the perfect choice if you have limited storage space in your home or garage. It has the water-cooled induction motor of 1800W, the hose is 6m and the mains cable is 5m in length.
The operation temperature is a maximum 40 degrees, it has a flow rate of 420 litres per hour and includes a range of accessories such as the Quick connector, the low pressure detergent gun and the Suction tube along with the standard on board storage. It can lay flat with the design which provides additional stability and the wheels included are great for improved and added mobility.
It can draw water from a static water source and the weight is 10.7kg. This model also has a 3 year warranty which gives great back up and the price range when last seen on sale was in the £150 to £180 region which should be double checked quickly below (can vary depending on discount activities).
Pros:
One of the lowest priced options in the range and the compact size is ideal for people with small living spaces or garages.
Excellent flow rate of 420 litres per hour and superior motor to the K2 versions
It has the water inlet filter to prevent dirt particles damaging the machine while you work.
The dirt-blaster lance provides up to 80% more cleaning power than various other lances to remove stubborn dirt
You get 4 pre-set cleaning settings on the Vario Lance
Cons:
Not capable of working on heavier type thicker cleaning projects and lacks the superb additional power from the K5 and the K7 models
Lower power than the K5 which as 2100W and lower power than the K7 which has 2800W
Lower max bar than the K5 by 15 and lower max bar than the K7 by 50.
Hose is shorter than the K7 by 4m and shorter than the K5 by 2m
Overall, the quality of this Pressure washer is second to none as it gives great value for the amount of money you need to spend and performs exceptionally well and we would highly recommend it.

More Pressure Washer reviews that may interest you…
Nilfisk Pressure Washer Reviews – Read more here
Spear & Jackson Pressure Washer Reviews – Read more here
Package
Key Operational Features and Accessories are summarised below
Key Points (Features)
Key Points (Operation)
Accessories:
Water-cooled induction motor – 1800W
Wheels Included: Yes
Jobs: Small to medium type
Weight: 10.7kg
Automatic safety cut off motor
Storage: On Board
Low pressure detergent gun
Telescopic handle
Hose: 6m
Mains Cable: 5m
Temperature: Maximum 40 degrees Celsius
Flow Rate: 420 litres per hour
Rated Bar: 110
Max bar: 130
Area: 30m2 patio/decking
Quick connector
Low pressure detergent gun
Suction tube.
On board storage
Quick connect system hose
Water Inlet filter for dirt
Dirt-blaster lance
Pressure adjustable lance
Further Karcher Pressure Washers
If you wish to look beyond the Karcher 1800W K4 Compact Pressure Washer and view other alternatives, then take a quick also at the 3 other Karcher Pressure Washer alternatives provided below as follows which tend to be priced anywhere from £170 up as far as £280…
Karcher K4 Full Control Home Pressure Washer 1800W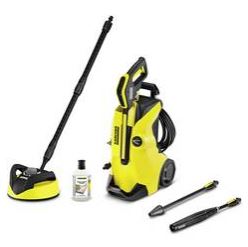 Karcher K4 Full Control Pressure Washer 1800W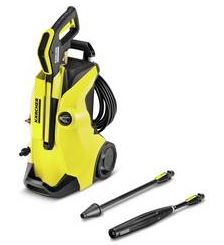 Kärcher K4 Premium Version Pressure Washer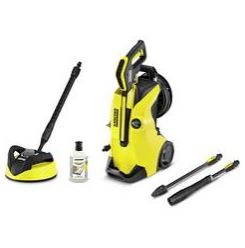 View also: Popular Weed killers here
Community Feedback
Have you any previous experiences of using the Karcher K4 Pressure Washers yourself?
If so, then please share your feedback/comments with the UK community (good or bad) by leaving your thoughts and opinions in the comment box section below – So that they can learn also...