Greetings once again and welcome to this Karcher K2 Pressure Washer Review which is available in the UK market place at present from various suppliers. This Karcher K2 Pressure Washer Review will outline all the main features, pros and cons that it has to offer plus various other models are outlined also so at least you have more than one choice when it comes to making a final decision.
View also: Popular Weed killers here
Guide Prices
Please note that at the time of this review, we can only submit guide prices as prices can change from week to week so make sure to view the price checkers below to ensure you get the most up to date price information. In addition, a number of various other price options are also outlined at the end of this page for your convenience if you wish to compare prices against other sellers or suppliers in the market.
Brief Company Background
The company Karcher comes from German Engineering with over 80 years' experience in the industry
The design and innovation is completed in their Karcher head office in Germany
Their UK Karcher support team are based in Banbury, UK
For any enquiries, the UK helpline can be contacted at 01295 234020 or by emailing helpline@Kärcher.co.uk for any problems or questions you may have.
Pressure Washer Review Overview
| Brand: | Karcher |
| --- | --- |
| Model: | Karcher K2 Full Control Home Pressure Washer 1400W |
| Price range: | At the time of this Review - £90 to £150 |
| Cheap Place to Buy: | Argos UK – View current stock levels here |
| Warranty: | 2-year Karcher Warranty |
| Deliveries: | Tends to be 1 to 5 working days depending on location |
Frequently Asked Questions:
Q1. What is the warranty of the K2 vs the K4?
A. The warranty on the K2 is 2 years while the warranty on the K4 is 3 years.
Q2. How long are the mains cable?
A. The cable length is 5m (hose is 4m on the K2)
Q3. What water pressure is needed?
A. A pressure of 3 bar will suffice
Q4. How loud is the K2 in Operation?
A. The noise level is 90 Dba which is quite noisy
Q5. Does it include the tap connection?
A. Yes, the quick connect is included
Read also: Popular Wheelbarrows here
Karcher K2 Pressure Washer Review
1, Karcher K2 Full Control Home Pressure Washer - 1400W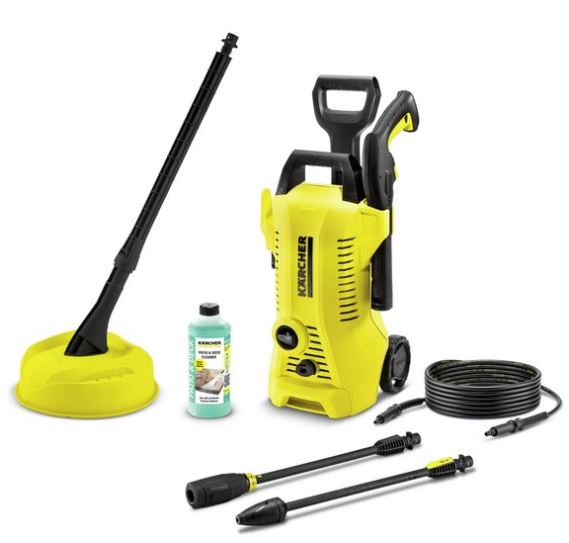 Quick Overview:
This Karcher K2 1400W Full Control Home Pressure Washer is built and designed to deal with tough cleaning jobs and the included patio kit gives you great results on all surfaces where needed and it is a lightweight, portable pressure washer with amazing cleaning power that you can expect.
It comes with a Vario lance which includes 4 pre-defined settings with usage iconography showing which pressure should be used where which is a significant help in dealing with problem dirt areas. There is the retractable handle which is great for transporting the washer around the garden as you clean as well as when the product needs to be stored away when not in use.
Please note that it includes in the home kit a T150 patio cleaner, a 500ml ready-to-use detergent and the T150 is capable of cleaning up to 5 times faster than a standard Vario lance. It operates off a 1400 watt air-cooled universal motor, it has a flow rate 360 litres per hour and has a rated bar of 74 (Maximum bar of 110). Please note also that the hose is 4m, the mains cable is 5m and there are wheels to help with easier operation. It also works off a maximum temperature of 40°C and the accessories include the Extension lance, the Dirt-blaster lance, a pressure adjustable lance, the Quick connector and the Patio cleaner. There is also the detergent a low pressure detergent gun, the Suction tube and also the on board storage as standard.
There is the manufacturer's 2 year guarantee included and the price when last seen on sale was in the £90 to £120 region which should be checked below if you are interested in taking a quick look.
Pros:
Lower prices on offer when compared to the K4/K5/K7
The T150 is capable of cleaning up to 5 times faster than the standard vario lance
You get the dirt-blaster lance which provides 80% more cleaning power compared to conventional high pressure lances
It has the vario lance with the "soft" setting in the Full Control range which is suitable for use on all soft surfaces such as decking, fencing or even garden furniture.
Has the quick-connect hose and a telescopic handle which makes storage a lot easier.
Can be set up easily to work on soft, medium or hard type surfaces.
Cons:
1 year less warranty than the Karcher K4 Pressure washer which as 3 years
400W less power than the K4 and 700W less power than the K5
Flow rate is 80 litres per hour less than the K4 and 140 litres per hour less than the K5
Hose length is 4m less than the K5 and 2m less than the K4
Coverage area is slower on average, example 10m² less than the K4 per hour and 20m² less than the K5 per hour so it will take you twice as long than the K5 to complete larger areas.
Overall, we found that this pressure washer although slower and not as powerful as the K4/K5, we still found it very easy to work with and performed better than expected and the results were excellent.

More Pressure Washer reviews that may interest you…
Karcher K4 Pressure Washer Review – Read more here
Nilfisk Pressure Washer Reviews – Read more here
Package
The overall Key operational features and accessories are summarised below again
Key Points (Features)
Key Points (Operation)
Accessories:
1400W Air-Cooled motor
Wheels Included: Yes
5m Mains cable
4m Hose
Max Temp: 40°C
Weight 5.4kg
Warranty: 2 years
On board storage
Retractable handle
Flow rate = 360 litres per hour
Rated bar = 74
Max bar = 110
Quick connector
Patio cleaner
Suction tube
20m² decking per hour
Vario lance with 4 settings
Retractable handle
T150 Patio cleaner
500ml detergent
Extension lance
Dirt-blaster lance
Low pressure detergent gun
View also: Popular Petrol Lawnmowers
Additional Karcher Pressure Washers
Further Karcher K2 Pressure Washers are also outlined below that you may want to consider also which have a price range of £85 to £150 with the Compact Version coming in at the lowest price tag…
Educate Others
Have you any previous experiences of using the Karcher K2 Pressure Washers yourself?
If so, then please share your feedback/comments with the UK community (good or bad) by leaving your thoughts in the comment box section below – So that they can learn also...