Are you considering buying a McGregor Pressure Washer in the coming days or weeks? If so, then make sure to check out this brief McGregor Pressure Washer Review which will let you know everything you need to know before you make that all-important decision.
This review will cover 2 separate models in the range and will analyse all the main features that you need to be aware of plus the pros and cons that we came across that will be of interest to you also. We will also outline some frequently asked questions that have come up in the recent past and also a summary table where you can compare both of these models side by side.
Guide prices can only be submitted at the time of this review so please make sure to view the price checkers provided below to ensure you have the most up to date price information. If you are still unsure about the McGregor brand after this review, then make sure to check out the alternatives suggested at the end of this page that deserve a closer look also. So, without any further delay, lets gets started…
Pressure Washer Review Overview

| Brand: | McGregor |
| --- | --- |
| Models: | 1400W and the 1800W |
| Price range: | At the time of this Review - £60 to £100 |
| Cheap Place to Buy: | Argos UK – View current stock levels here |
| Warranty: | 2 years |
| Deliveries: | Tends to be 1 to 5 working days depending on location |
Frequently Asked Questions:
Q. Is the foam sprayer included or do you buy it separately?
A. Yes, the foam sprayer is included
Q. What are the hose lengths?
A. The hose length for the 1400W is 3m and the 1800W version is 5m long
Q. What level of flow rates are available?
A. It can vary from 300 litres per hour to 400 litres per hour
Q. Do they include the Turbo lance?
A. It is included only with the 1800W model.
McGregor Pressure Washer Review
1, The McGregor 1400W Pressure Washer
Quick Overview:
First up for review here is the McGregor 1400W Pressure Washer which is a small compact sized pressure washer which tends to be priced as one of the lowest available across the market place when compared to various other brands. It has the foam sprayer included which makes cleaning much easier and it is ideal for most light to medium type duty tasks
One great feature is the adjustable spray lance which means you don't have to turn the machine off when spraying different type surfaces and the hose is compatible with other brands such as Hozelock, Karcher and Gardena.
The accessories include the low pressure detergent gun, a removable detergent tank, the on board storage, a standard lance, a pressure adjustable lance and also the easy to use quick connector. The weight comes in at 5.8kg and operates with a maximum temperature of 40°C. The flow rate is 300 litres per hour and also has a rated bar of 70 (maximum bar is 100)
The hose is 3m, the mains cable is 5m in length and the price is generally in the £60 to £70 region when last seen on sale which depends on local discount activities and can be double checked below.
Pros:
One of the best prices generally available around – if you are seeking a bargain without any of the expensive addons, then look no further
Includes the impressive adjustable spray lance which can tackle various types of jobs without having to switch the machine off.
Its compatible with various brands of hose including Karcher, Gardena and Hozelock and has the foam sprayer included.
The short cable of 3m can be tidied away easily when finished and includes the 2 year guarantee if you are not happy with your purchase.
Lightweight and very easy to move around and work with and is perfect if you have low storage space available. It can even perform as good as some of the more well known brands in this category and will cost you a lot less.
Cons:
Limited cleaning ability and can only perform on light to medium type cleaning jobs – lacks the tougher strength for heavy duty cleaning operations like the 1800W offers.
Hose is shorter than the Bosch Universal Aquatak 135 Compact version by 4m which can be a limiting factor
Hose is also shorter than the McGregor 1800W by 2m but overall this is a great little machine that will not let you down and the price is lower than one would one expect which is a great bonus for the reliability and quality you get. Ideal for your light to medium duty type cleaning jobs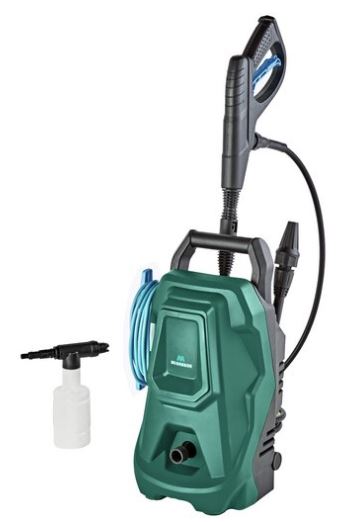 Further images of the McGregor 1400W Pressure Washer are outlined below: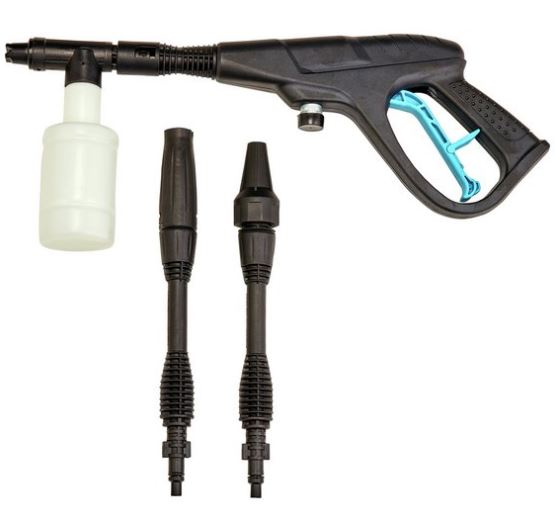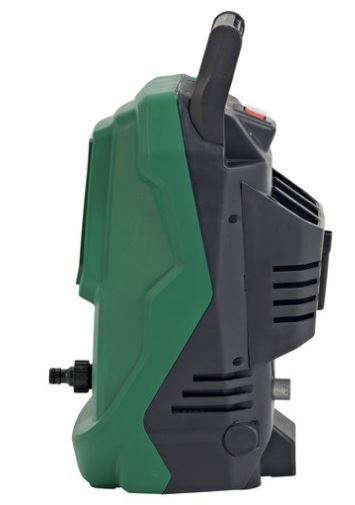 More Pressure Washer reviews that may interest you…
2, The McGregor Pressure Washer 1800W
Quick Overview:
The second model up for review is the McGregor 1800W Pressure Washer and is compatible with all the main brands of hose including Karcher and Gardena to mention just a few. It is a multi-position pressure washer and has a rated bar pressure of 100 via the turbo lance or the adjustable lance.
One main attraction is the built-in detergent tank which means you can switch between foam or water when needed and it has the ability to deal with both medium and heavy duty jobs such as decking, stonework, vehicles or patios.
There are transport wheels included for easier movement while you work and an easy to use handle to let you easily move the machine and spray at the same time. The accessories on offer here are the Quick connector, the standard lance, a pressure adjustable and turbo lance, the on board storage and on board tank and also the low pressure detergent gun.
Again, you get a 2-year warranty, it weighs just 9.2kg and the price bracket usually appears in the £80 to £100 region when last seen on sale which of course can be double checked again below if you are interested in taking a quick look.
Pros:
The built in detergent tank means you can change from foam to water without having a separate detergent bottle.
Ideal for the tougher heavy duty cleaning tasks and jobs such as patio, decking and stonework.
A superior rated bar of 100 which is 30 greater than the 1400W and the hose is longer by 2m.
Performs much quicker saving you a lot more time if you are under pressure to get other jobs done around the garden.
Easy to use handle and the wheels are included to help make the job that much easier. There is also the integrated cable tidy to have everything nice and tidy when the job is done
Cons:
More expensive than the 1400W in the region of £20 to £30
Hose length is longer than the 1400W but still shorter than a Bosch model in a previous review by 3m
Over 3kg heavier than the 1400W but still manageable for many people.
Despite the additional cost, this model actually costs less than various more expensive brands and is still capable of performing as good as many of them – great value overall and this tool will not let you down and comes highly recommended with its ability to remove tough dirt and stains and making surfaces look brand new again.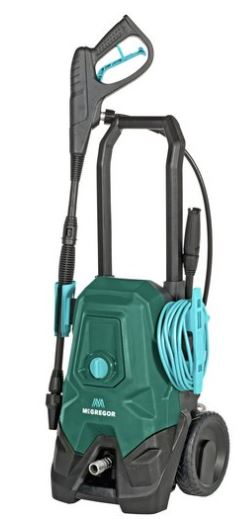 Further images of the McGregor 1800W Pressure Washer are outlined below: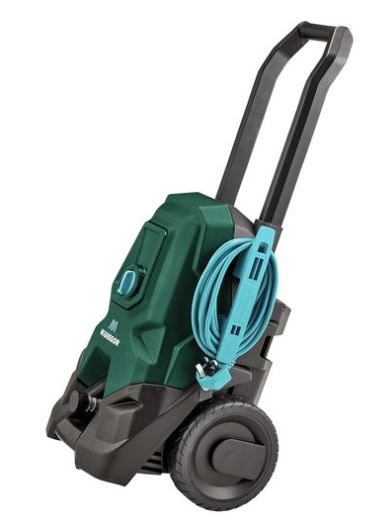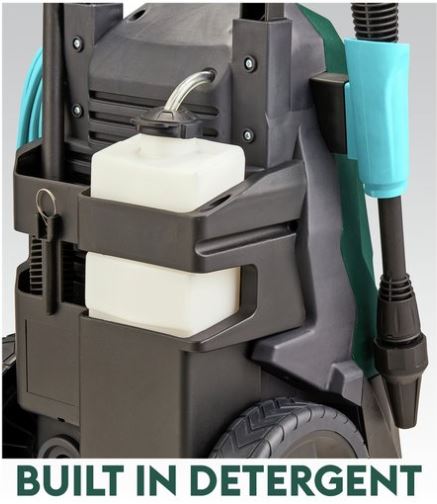 A short comparison table is provided below for your convenience

| Feature | McGregor 1400W Pressure Washer | McGregor 1800W Pressure Washer |
| --- | --- | --- |
| Motor | 1400W | 1800W |
| Rated bar | 70 (maximum 100) | 100 (maximum 130) |
| Hose | 3m | 5m |
| Mains Cable | 5m | 5m |
| Warranty | 2 years | 2 years |
| Flow rate | 300 litres per hour | 400 litres per hour |
| Weight | 5.8kg | 9.2kg |
| Temperature | Maximum 40°C | Maximum 40°C |
A quick summary of the accessories for both are also outlined below:

McGregor 1400W Pressure Washer Accessories
McGregor 1800W Pressure Washer
Removable detergent tank
On board storage
Pressure adjustable lance
Quick connector
Low pressure detergent gun
Standard lance
Low pressure detergent gun.
On board tank and storage
Standard lance
Pressure adjustable lance
Quick connector
Turbo lance
Transport wheels
Built in detergent bottle
If you are still undecided about the McGregor brand, then make sure to check out the 3 other options outlined below which are also worth a closer look before you make your final decision…
Have you any previous experiences of using McGregor Pressure Washers yourself in the past?
Then please share your feedback/comments with the UK community (good or bad) by leaving your thoughts in the comment box section below – So that they can learn also!!!
Finally, many thanks for taking the time to visit this review and best of luck with your final decision
Regards
Steve