So, how good is the Ryobi electric hedge trimmer? Is it reliable and can it trim your hedges to the desired effect?  To learn more, please make sure to check out our Ryobi Hedge Trimmer Review which will outline all you need to know about it if you are thinking about buying one over the next few days or weeks.
Focus
Our review will focus on the Ryobi 50cm 450W corded electric hedge trimmer model number RHT4550 as that one tends to have one of the lowest possible prices available and we have tested it based on a number of hours work to see if it really can do what it says on the box.
Read also: Popular Wheelbarrows here
Additional Options
Even though we will focus on the lower priced 50cm corded hedge trimmer from Ryobi, we will also compare it to 3 other options from Ryobi which include long reach Pole trimmers options and cordless options so at least you have more than just one choice when it comes to making your final decision. Our review will outline all the features that it offers to the general public along with the positives and limitations (pros and cons) that we came across which are outlined further down on this page which you should definitely take a quick look through.
Queries
Included in our review will also be a series of some frequently asked questions that should answer many of your possible queries along with some price comparison options from reliable UK suppliers that you can check out for yourself which could end up saving you some money while you are visiting here.
Ryobi Hedge Trimmer Review Content
Part 1: Overview with FAQ list
Part 2: Ryobi 450W 50cm Hedge Trimmer Review – Features, Pros & Cons
Part 3: Alternative Ryobi Hedge Trimmers (Pole & Cordless)
Part 4: Conclusion & Feedback
Before you begin, please be aware that guide prices can only be presented at the time of this Ryobi Hedge Trimmer review as prices can change slightly from week to week depending on local discount activities so please make sure to view the price checkers outlined below to ensure you have the most accurate up to date price information.
View also: Popular Grass Trimmers here
Part 1: Overview with FAQ list
Overview
| Brand / Model: | Ryobi 50cm 450W Electric Hedge Trimmer (RHT4550) |
| --- | --- |
| Blade: | 50cm long |
| Power: | 450W |
| Warranty: | Manufacturer's 3-year warranty (seller dependant) |
| Best Place to Buy: | Amazon - View Stock Availability Here |
FAQ list for the Ryobi Hedge Trimmers (12)
Q1. Can you get additional accidental cover for the Ryobi hedge trimmers?
A. Yes, you can get 3 years accidental damage at Argos for less than £15
Q2. What thickness of branches / bushes can the RHT4550 cut through?
A. The RHT4550 can cut through branches with a maximum thickness of 2cm
Q3. What warranty is provided as standard?
A. There is a 3-year manufacturer's guarantee when you buy from reputable suppliers such as Argos
Q4. How long is the cable and is an extension lead cord included?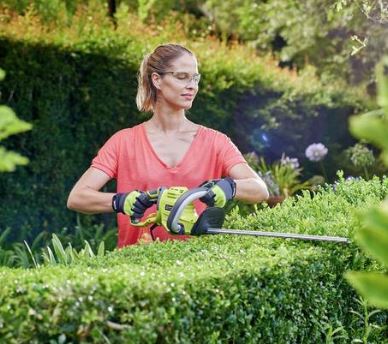 A. The cable cord for the smaller RHT4550 is only 6m and extension cords will need to be bought separately
Q5. Can it cut holly hedges?
A. Yes, as long as the thickness of the branches are less than 20mm
Q6. How high can the Pole hedge trimmers from Ryobi reach?
A. The RPT4545M and the RPT184520 models from Ryobi can reach up to 2.9m high
Q7. How many positions can the Pole head on the trimmer be adjusted to?
A. The Pole hedge trimmers has 4 positions on the articulating head
Q8. Can the pole hedge trimmers be reduced in size for easier storage?
A. Yes, the shaft can be removed to allow for easier storage in garages or sheds.
Q9. How heavy are the pole hedge trimmers to work with?
A. These Ryobi pole hedge trimmers in this review weigh less than 5kg
Q10. Does the cordless version include the battery and charger unit?
A. The cordless model in this review includes the battery and charger but there are also options elsewhere where you can buy the bare tool only (without the charger and battery at a lower price)
Q11. How long does it take to recharge the batteries on the cordless model RPT184520?
A. It takes on average 1 hour to fully recharge the 18V 2.0Ah battery.
Q12. How long will the battery trim and operate for?
A. It will depend on the level of work being carried out but should last between 25 and 35 minutes.
Read also: Cheap Hedge Trimmer in the UK - Take a look here
Part 2: Ryobi 50cm 450W Hedge Trimmer Review (Features / Pros / Cons)
Ryobi 50cm 450W Electric Corded Hedge Trimmer (RHT4550)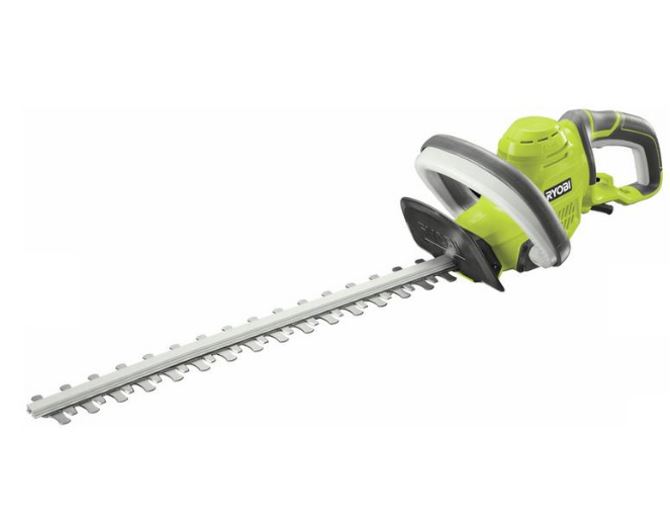 Key Features to Note:
Corded power supply 450W
Cord length is 6m long
Electric quick stop brake
Laser cutting blades
50cm blade / 20mm tooth gap
Soft grip handle
Weight is less than 3kg
Hand safety guards
Warranty of 3 years
Price Guide: £50 to £100

Pros for the Ryobi 450W 50cm Hedge Trimmer
There is a great warranty of 3 years available when you buy from Argos which they stand over hassle free and you can also get extra protection against accidental damage for 3 years also which costs less than £15 which certainly adds further peace of mind.
It has a larger tooth gap of 20mm where many other small hedge trimmers only offer a tooth gap of 15mm or 16mm – a slightly larger tooth gap.
The weight of this particular hedge trimmer is less than 3kg which certainly allows you to work longer when it comes to hand or arm fatigue and tiredness setting in
Handling and working this tool is quite nice and it provides a nice level of comfort be it the wrap around front handle, the lightweight design and the soft grip rear handle combined.
Unlike many other hedge trimmers, this model comes with the blade sheath when not in use so it's one less thing to worry about if you have young children about.
Cons for the Ryobi 450W 50cm Hedge Trimmer
As you have the corded version, there is always the added risk of getting tangled or cutting through the cord so extra precautions are needed to ensure you get the job done correctly without any accidents – better to take your time and go slower instead of trying to rush the job
It's not the smallest tooth gap we have seen but you are still limited to bushes or branches of 2cm maximum. If your hedging has branches wider than this, then you should skip to the larger options outlined further below
It lacks the Anti clogging system so it can get clogged up a little from time to time which can be a little annoying.
Further costs will most likely need to be covered when it comes to getting extension cords to reach your hedges as the cord supplied here is only 6m long.

Further images of the Ryobi Hedge trimmers are outlined below which also include images of the Pole trimmers and Cordless options available under the Ryobi brand
Price Comparison Options:
While you are here, feel free to check out and compare the options provided below from a reliable UK supplier which could possibly save you some money in the process...
Read also: Spear & Jackson Hedge Trimmer review - Take a look here
Part 3: Alternative Ryobi Hedge Trimmers - Pole & Cordless
If you need to look beyond the smaller Ryobi RHT4550 50cm 450W Electric Hedge Trimmer, then check out 3 larger alternatives from Ryobi outlined as follows…
1, Ryobi 45cm 450W Electric Pole Hedge Trimmer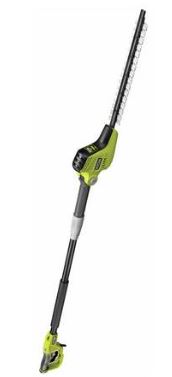 Key Features to Note:
Model number RPT4545M
Reaches a height of 2.9m
Corded power supply 450W
Tooth gap branch 20mm
4 positioning on the head
Extendable shaft (no ladders)
Shaft can be removed for storage
Weight is less than 5kg
Warranty is 3 years also
Price Guide: £120 - £185

2, Ryobi One + Pole 18V Hedge Trimmer & 2Ah Battery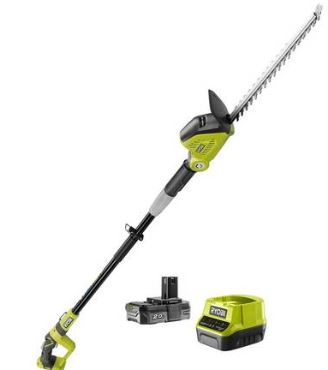 Key Features to Note:
Model number RPT184520
Also Reaches a height of 2.9m
Cordless battery power 18V
Removable shaft for storage
Lower Tooth gap branch 18mm
Four head positioning system
Shaft can be extended (no ladders)
Weight is less than 5kg
Warranty is 3 years included
Price Guide: £150 - £250

3, Ryobi Corded 600W Electric Hedge Trimmer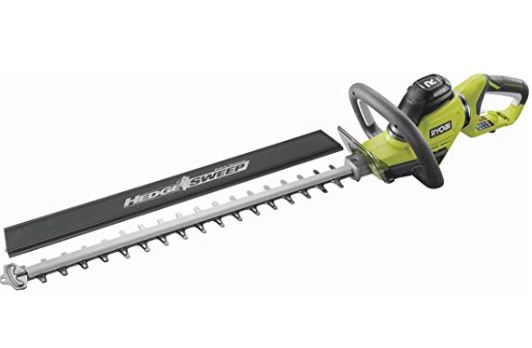 Key Features to Note:
Model number RHT6160RS
Lower Tooth gap branch 18mm
60cm diamond cut blades
Rear handle rotates 5 positions
Allows angle cutting
Built in saw blade function
Tooth gap is 28mm / Cord 8m
Weight is less than 6kg
3-year manufacturer's warranty
Price Guide: £100 - £150

View also: Popular Hedge Trimmers here
Comparisons
A short comparison table for the first 3 Ryobi models in this review are outlined below to add further clarity if needed.
| Feature: | Ryobi 50cm | Ryobi Pole Corded | Ryobi Pole Cordless |
| --- | --- | --- | --- |
| Model: | RHT4550 | RPT4545M | RPT184520 |
| Function: | Corded | Corded | Cordless |
| Power: | 450W | 450W | 18V battery |
| Blade length: | 50cm | 2.9m reach | 2.9m reach |
| Tooth Gap: | Max 20mm | Max 20mm | Max 18mm |
| Cable: | 6m long | 6m long | N/A |
| Brake: | Quick stop | Quick stop | Quick stop |
| Recharge Time: | N/A | N/A | 1-hour avg |
| Battery Runtime: | N/A | N/A | 30 mins avg |
| Weight: | 2.8kg | 4.1kg | 4.6kg |
| Warranty: | 3 years | 3 years | 3 years |
Part 4: Conclusion / Feedback
While this small hedge trimmer certainly wasn't the best we have worked it, it certainly is not the worst either and it did quite a good job across a 20-meter-long hedge with no issues whatsoever. The blades got clogged a little which we see in many other hedge trimmers but it was manageable all the same. The one thing we didn't like was the fact that the cord is so short at only 6m but again it is manageable with a dedicated extension wheel cord to keep the power coming. If you need a lower price than this, then check our some of the great offers from Argos below...

Feedback
How about you? Have you ever used a Ryobi Corded, Cordless or Pole Hedge Trimmer yourself in the recent past? Did it operate and trim the hedges as expected or did you experience any problems that we should all know about?
If possible, please share your own experiences or feedback (good or bad) with the wider UK community by leaving a short comment in the comment box section provided below – So that others across the UK community can learn also!