Is the corded electric Hyundai Leaf Blower and Vacuum any good? To find out more, then check out our Hyundai Leaf Blower review which will cover 3 different models under this brand so at least you have more than just one option when it comes to making your own final decision.
Compilation
We have tested and reviewed 2 electric leaf blowers from Hyundai namely the corded HYBV3000E and the cordless HYB60LI and we have also reviewed the Hyundai Petrol leaf blower HY4B76 and our number 1 preference among these will be outlined at the end of this page in our conclusion.
View also: Best treatments for Weeds here
We will outline some FAQ's that should be useful to you in some small way, all the key features that they can offer plus the main pros and cons to be noted which we came across. Before you buy your Leaf blower, you should take note of the following buying tips
5 Leaf Blower Buying Guide Tips
Corded Cable Length – if you wish to buy the lower priced corded leaf blower, then measure up the distance you need to work this tool as the cable is 12m long. If your work area goes well beyond 12m, then you will need to invest in an extension cord also which are generally available at affordable prices anyway.
Variable Speed Functions – this is important when you need to work on flower beds and reducing the blower levels or large heaps of wet leaves where you should increase the power levels. The variable speeds functions are only available on selected models and brands so check this out before you decide.
Carry Support – Will you need wheel support, hand support or shoulder padded straps? Think about what extras you would like to make the work more enjoyable and easier to do
Power Level – the maximum wattage on corded models that you should use is 3000W 13 amp, otherwise you will need an industrial socket.
Warranty – avoid some of the unknown brands in the sector where they offer little to no warranty unlike Hyundai to be fair who offer 3 years which is a great addition to have when they back their products like this
Benefits of Having a Leaf Blower
Some of the main benefits of having a Leaf blower are outlined below which include the various jobs they can do and the different times of the year where they can be used to work on different tasks around your home, car or garden.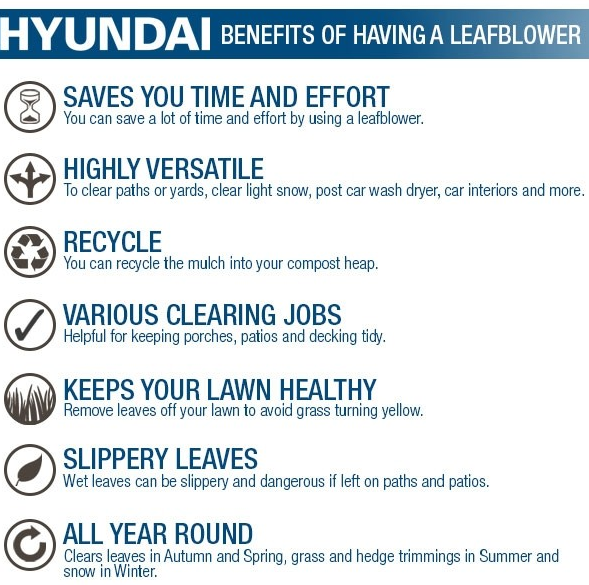 Hyundai Leaf Blower Review Content
Section 1: Brief Overview plus FAQ's
Section 2: Hyundai 3 in 1 Corded Leaf Blower & Vacuum review
Section 3: Alternative Hyundai Leaf Blowers – Cordless & Petrol
Section 4: Comparison Table
Section 5: Conclusion and Feedback
Before you start, please note that guide price levels can only be published at the time of this Hyundai Leaf blower review so please make sure to view the price checkers provided below to ensure you have the most accurate up to date price information.
Read also: Our Hyundai Grass Trimmer review here
Section 1: Brief Overview plus FAQ's
| Leaf Blower: | Hyundai 3 in 1 Electric Garden Vacuum, Leaf blower & Mulcher (HYBV3000E) |
| --- | --- |
| Blow Speed: | Variable 62 to 186mph (maximum 299km per hour) |
| Collection Bag: | Detachable with 45L capacity |
| Best Place to Buy: | Direct from Hyundai Power Equipment UK – View Stock Availability Here |
| Warranty: | 3 years duration |
| Support: | Customer support on 01646 687 880, info@hyundaipowerequipment.co.uk |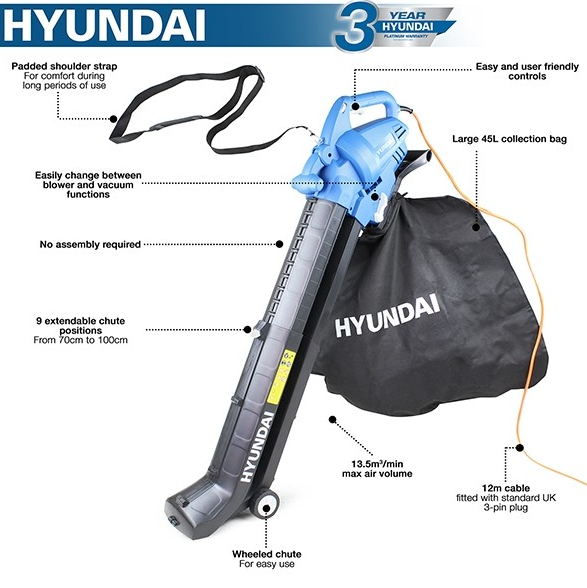 Frequently Asked Questions about Hyundai Leaf Blowers:
Q1. Can the length of the chute be extended for taller people?
A. Yes, the chute length can be adjusted to 9 different heights starting at 70cm up to 100cm
Q2. Can you also use this for clearing snow and car interiors?
A. Yes, this is a multi-functional blower and vacuum that can be used on more than just leaves. It can be used for cars, hedge trimmings, grass clippings and even snow during the Winter
Q3. How long is the cable on the corded Hyundai leaf blower vacuum?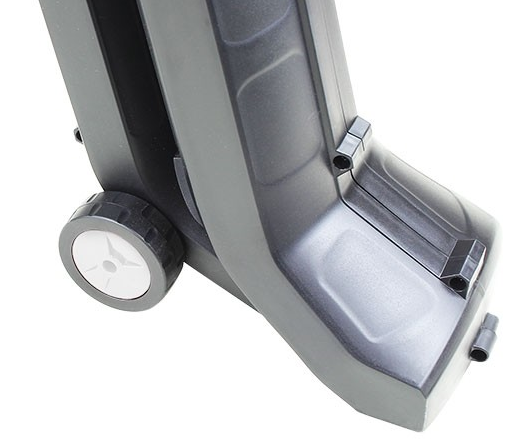 A. The length of this cord is 12m long so you may need an extension cord also - you are better off measuring up your area in advance of any purchase.
Q4. Can the HYBV3000E corded model vacuum also as be used as a blower?
A. Yes, this blowing tool can also be used as a mulcher and a vacuuming tool
Q5. How long does it take to get it assembled and up and running?
A. This 3 in 1 tool is ready to go straight from the box so there is no assembly needed on your end.
Q6. Can it be used for clearing dirt from machinery?
A. Yes, you can also use this for clearing dirt from patios, decking and machinery
Q7. How heavy is this tool to carry around?
A. The weight is only 3.3kg but you have wheel support and a shoulder strap also for further support
Q8. What are the dimensions of this vacuum and blower tool?
A. The dimensions when fully extended are 112cm L by 29cm W by 112cm H.
Read also: Popular Wheelbarrows here
Section 2: Hyundai 3 in 1 Corded Leaf Blower & Vacuum review
Hyundai 3 in 1 Corded Garden Vacuum, Leaf Blower & Mulcher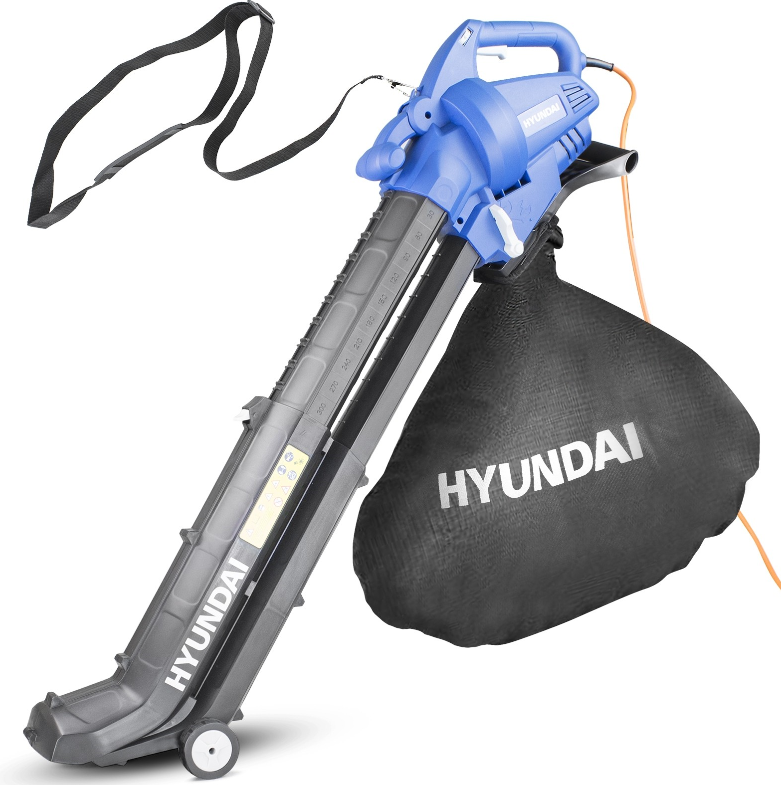 Key Features in Summary:
Blower, Vacuum & Mulcher
Motor power of 3000W
Front wheels & shoulder strap
Variable speed blower
Blow speeds 62 to 186 mph
Comes fully assembled
Large 45L collection bag
Adjustable chute lengths
Multiple uses home & garden
3 year warranty applies
Pros for the HYBV3000E
This machine is more than just a standard blower – you have the ability to mulch and vacuum as well as blowing so there is great diversity is getting use from this tool – it's not just for blowing leaves but can be used for clearing decking, vacuuming driveways, mulching leaves and also tidying up cars, machinery or garden equipment. You can even clear snow with this blower during the Winter!
The design is lightweight, so it is very manageable – plus you have the added support of the small wheels and a padded shoulder strap so working this tool is a hell of lot easier than we first expected.
It offers a great level of blowing power with its 3000W motor and you can adjust the levels of blow speeds which is a nice addition to have – especially when you need to reduce the blow power around delicate flower beds or if you need to increase the blow speed for larger wet or damp leaf heaps.
For taller people, this will work a treat as the chute length is adjustable so it can be lowered to 0.7m or extended to 1m which is a nice addition to have and works well. Another advantage also is the fact that there is no assembly needed at all as it ready to go straight from the box.
You get protection with their 3 year warranty, the size of the collection bag is big enough to cater for larger vacuum jobs and the process of switching from blowing to vacuum is as simple as turning a lever switch.
Cons for the HYBV3000E
The quality of the collection bag seemed a bit flimsy and could be better – not sure how long it will last but we would suggest using this collection bag very carefully and delicately
Stock availability especially in peak demand season could be better as this item was actually out of stock at the time of this review and I am unsure when it will be back in stock. Better to reserve the stock as early as possible rather than waiting around as it tends to sell out quite quickly.
As it is corded, you are limited to a distance of 12m so you will most likely need to invest in an extension cord also.
Price Guide: £40 to £60

Further images of the Hyundai 3 in 1 Corded Garden Vacuum, Leaf Blower & Mulcher are outlined below (swipe from side to side)
Section 3: Alternative Hyundai Leaf Blowers – Cordless & Petrol
If you dislike the idea of navigating a cord or having to buy an extension cord or if your garden is far too long, then check out 2 further solutions that we recommend from Hyundai – the Cordless battery solution and also the Petrol-Powered blower solution. Both of these are also backed with a 3 year warranty but will cost you a good deal more than the corded model already mentioned above.
1, Hyundai 60V Lithium-ion Battery Cordless Leaf Blower HYB60LI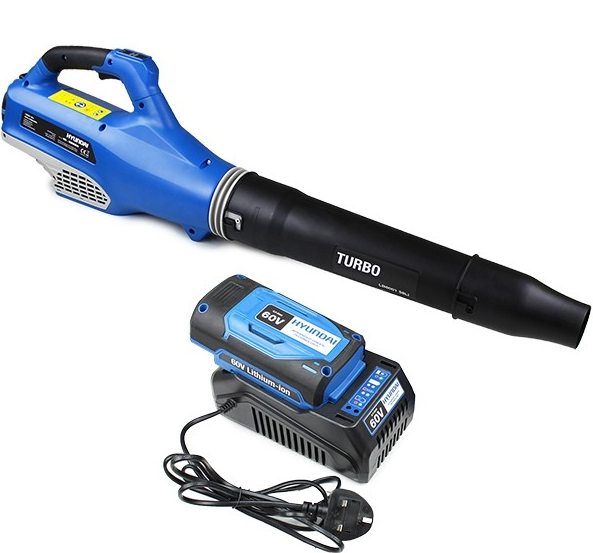 Key Features Available:
Cord free and fuel free solution
Powered with a lithium-ion 60V 2.5Ah battery
Lower blowing speed ability 129mph max
No wheels or shoulder strap support
Low, high & turbo settings, Weight is 5kg
Turbo boost available (depletes battery quicker)
Charge time 90 mins, Runtime 10 to 25 mins
Price Guide: £190 to £230 (3 year warranty)

2, Hyundai 76cc 4 Stroke Engine Backpack Petrol Leaf Blower HY4B76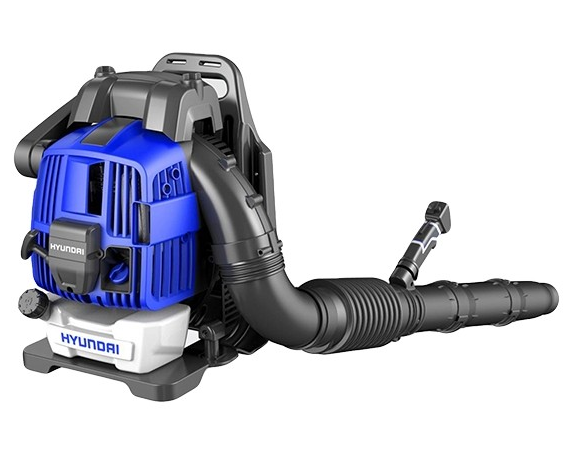 Key Features Available:
Powered with 76cc 4-stroke petrol engine
Maximum air speed available is 140mph
Easy to use trigger controls, lockable throttle
Backpack design with double harness support
Can be used domestically & professionally
Additional nozzle to adjust the air flows
Multiple uses – leaves, snow, driveways & dirt
Price Guide: £220 to £270 (3 year warranty)

Section 4: Comparison Table
To add further clarity about how each of these leaf blowers compare against one another, then check out the comparison table provided below which outlines power levels, functions, dimensions and weights side by side.
| Model | HYBV3000E Corded | HYB60LI Cordless | HY4B76 Petrol |
| --- | --- | --- | --- |
| Functions: | Blow, Vacuum, Mulch | Blower only | Blower only |
| Power: | 3000W cord | 2.5Ah 60V battery | 76cc 4-stroke engine |
| Wheel Support: | Included | N/A | N/A |
| Shoulder Support: | Shoulder strap | N/A | Double Harness |
| Blow Speed: | 186mph max | 129mph max | 140mph max |
| Collection bag: | 45L capacity | N/A | N/A |
| Rated Power: | 230-240V | 58V | 2.2KW |
| Cable Length: | 12m long | N/A | N/A |
| Charge time: | N/A | 90 mins | N/A |
| Fuel Tank: | N/A | N/A | 1500ml |
| Battery Runtime: | N/A | 10 to 25 mins | N/A |
| Dimensions: | L112 x W29 x 112H cm | L99 x W15 x 27H cm | L137 x W45 x 51H cm |
| Weight: | 3.3kg | 5kg | 12.3kg |
| Warranty: | 3 years | 3 years | 3 years |
Hyundai Cordless Leaf Blower Overview
Even though the cordless leaf Blower from Hyundai will set you back a lot more than the corded 3 in 1 option, it is a really useful tool to have in your shed as you don't have to worry about messy oils, fuels, ongoing maintenance costs or managing cords or extension cables for that matter. The level of battery power does deplete a lot quicker when on the turbo setting but it does have a lifespan of 1000+ charges, a low level of noise and various speed blowing power settings to choose from as outlined in the diagram below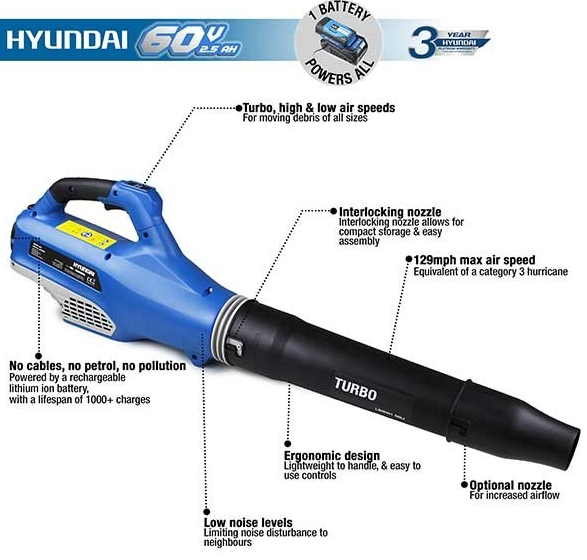 Read also: Our Hyundai Lawnmower review here
Section 5: Conclusion and Feedback
Without a shadow of a doubt, the corded Hyundai 3 in 1 Blower was our favourite tool to use in this mix – plus it is the cheapest by a long shot. Overall, we would have to say that the Hyundai Corded 3 in 1 Blower, Vacuum and Mulcher is great value for money with what it can do for you, your garden, patios and driveways. The variable speed blower settings are a great addition to have especially when you need to adjust the level of output and the wheel support along with the shoulder strap make the whole chore of clearing your leaves, garden and driveways that much easier to do.
Suction
Apart from being corded, this machine is very impressive and we would have no problem in recommending it to the wider public in the UK. Unlike many other blowers that just blow, this machine can mulch and vacuum up various debris, but you do need to be careful with pebbles or stones lying about to ensure they don't get stuck in the interior and damage the shredder.
Wet Leaves
That being said, the power to blow and suck up wet leaves and mulch them was excellent and it made light work of jobs that other branded leaf blowers struggled with. The suction on wet leaves was better than expected and a package like this for less than £60, you can't go too far wrong, especially when it is backed with a 3 year warranty that they stand over.
Read also: Popular Garden benches here
Availability
The biggest concern we would have though is stock availability as this item is not always available for sale from what we can see so it would be advisable to book as early as you can if you want to get your hands on it.

Optional Feedback?
Have you ever used a Hyundai Leaf Blower yourself in the recent past? Would you recommend either the corded, cordless or the petrol version?
If possible, please share your own feedback with the wider community by leaving your comments in the comment box section provided below