Hello once again and many thanks for taking the time to visit. After reviewing various types of leaf blowers in the UK, we decided to do a review for the best Petrol Leaf Blowers in the UK also and this time we have come up with 7 different models and brands for you to choose from and most of these brands you should already be familiar with.
Back-pack Blower
There were a lower number of petrol leaf blowers to test and work with, so we were able to get our hands on just 28 petrol leaf blowers and we have narrowed them down to our top 7 based on our own experiences which also includes a Back Pack Blower from Webb which was certainly impressive from the get go
Criteria
The 7 we have selected offer a good range of features, power, accessories and the prices range from £100 to £350 on average with a small number available for less than £150 also which are geared for people seeking the lowest possible price. So, if you are seeking a reliable and powerful leaf blower for your own home and garden, then take 5 minutes out of your time to scroll down through our results which we hope will be of benefit to you in some small way.
Please also be aware before you begin that guide price levels can only be shown at the time of this petrol leaf blower review so please make sure to view the price checkers provided below which will help ensure you get the most accurate up to date price information.
Read also: Our Spear & Jackson Leaf Blower Review – Check it out Here
Best Petrol Leaf Blowers in the UK – Top 7 Picks
1, Stihl 27.2cc Ergo Start Petrol Garden Leaf Blower (BG86CE)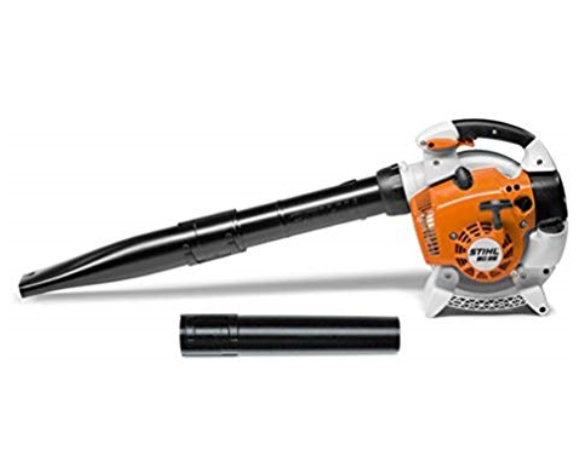 Main Features
Second on our list is the more powerful petrol leaf blower from Stihl and it's the Stihl Ergo Start Petrol Garden Leaf Blower reference code BG86CE which does come with a much higher price tag but is well worth it if you have the extra money to spend. Not only has it the ability to blow leaves, but it can be used for various other tidy up jobs around you home or even worksites when it comes to clearing work areas, tools, driveways, gardens and vehicles. Please note though that this is a blower only and does not include a vacuum feature.
The power of the engine here is 27.2cc, it is a 2-stroke engine and it comes with an anti-vibration system as standard. As you would expect, this tool is somewhat heavier which comes in around 5kg so it may not be the ideal solution for you if you are seeking a lightweight tool instead. This blower certainly will impress you and as it comes with the reduced fuel emission technology, so you can be sure that you are doing your small bit to help the environment.
The comfort level is great, it handles quite good and it is well balanced where it can be used by both homeowners and professionals alike. In addition, the start-up worked well and quite easily which is supported with the Ergo start system.
Price Guide: £250 to £350 @ Gloucester

2, McCulloch 26cc Garden Blower and Vac (GBV 322VX)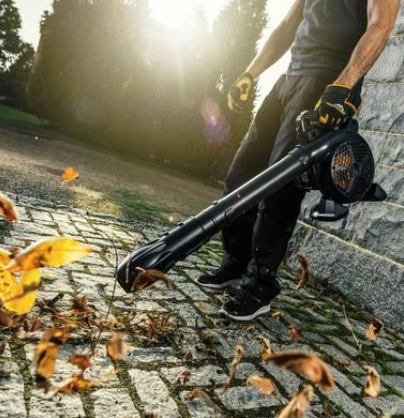 Main Features
First on our list is the reliable 26cc McCulloch Garden Blower and Vacuum which starts nice and easily as it has the sure-fire start and no choke, so this makes it so much easier to start every time. It has plenty of power for tidying up driveways, gardens, slab and slate surfaces and you also get a nice large bag included which has a capacity of 45 litres. One thing that stands out here is the concentrator nozzle which allows you to maximise the airflow to tackle stubborn and more difficult debris, dirt and leaves which is helped with its strong and powerful blower speed which can operate up to 370 km per hour.
Not only can it blow, but it can vacuum also quite well which ends up shredding and mulching the debris to allow the collection bag to hold more volume. The vacuum speed is also quite strong at 370 km per hour and the blower speeds can be adjusted higher or lower depending on how hard it needs to work. You will also like the harness strap included and the weight is less than 2kg which was a lot lighter than expected. In terms of warranty, you can expect a minimum of 12 months protection (some sellers may offer more)
Price Guide: £100 to £200 @ Amazon

3, Makita 24.5cc 4-Stroke Petrol Leaf Blower (BHX2501)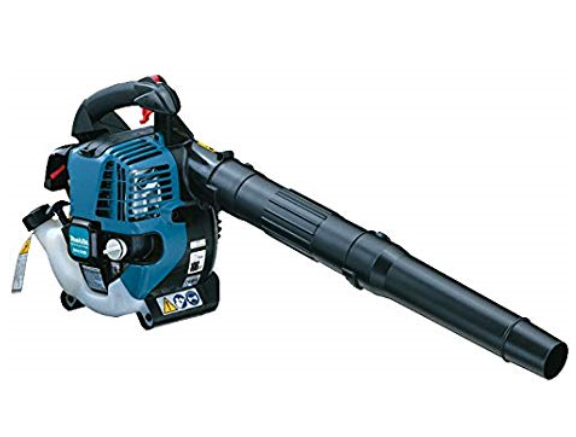 Main Features
At number 3, we have the 4-Stroke Makita 24.5cc Petrol Leaf Blower which would be considered as an easy start petrol engine due to the mechanical decompression mechanism included to allow an easier recoil pull start. From our experience, it sometimes took a second pull but that was it – no third pulls were required on our end to get it started.
The main feature and function here are for blowing and it is well capable of clearing away various types of different debris including leaves no hassle whatsoever with its powerful blow speeds and it also meets safety standards in terms of evaporative emission regulations. In addition to the blowing, it can be converted to a vacuum also for collecting leaves, but you will need to buy the vacuum attachment separately if you wish to use it as a leaf vacuum.
The 4 stroke means lower emissions also and better fuel efficiency and of course it will take standard unleaded petrol in its 0.52L fuel tank. It can be used single handed and the fuel added will last that bit longer as it consumes lower levels of fuel. In terms of weight, it is not too bad as it is only approx. 4.5kg but it does require a certain level of strength when using it for longer periods of time, but the balance and handle provided allows more comfort while you work.
Price Guide: £180 to £220 @ Amazon

4, ParkerBrand 26cc 3 in 1 Petrol Leaf Blower & Vac (PBV-2600)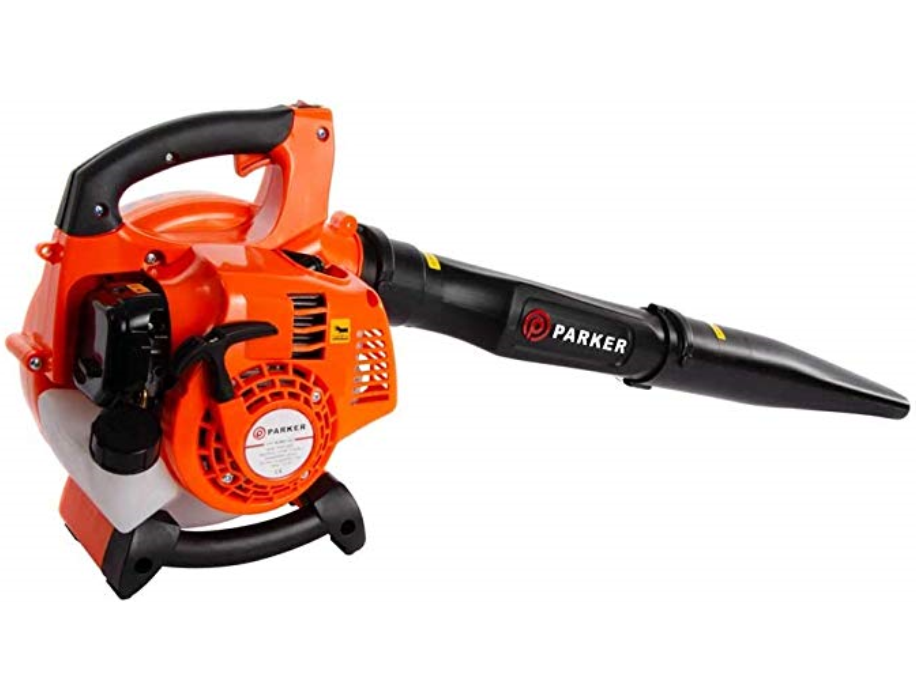 Main Features
Up next is the lower priced 26cc Parker 3 in 1 Petrol Leaf Blower & Vacuum which also has the ability to shred and mulch your leaves and debris and is certainly a great option as it certainly surprised us on how it really was. Unlike other models, this one comes with the necessary tubes and collection bags which is one less thing to worry about.
We weren't all that familiar with this petrol leaf blower before but after testing and reviewing it, it certainly deserves a place in our top 7 due to the easy starting, blow speed power and the vacuum capability. This petrol model is also backed with a UK sales support and a warranty and comes with the mulching function that definitely impressed us and worked really well. It operates with a 2-stroke engine and comes as a 3 in 1 tool where it can blow, vacuum and shred combined. There are some nice additions included also such as the canvas collection bag, a fuel mix bottle and a small maintenance kit to keep everything in order.
It delivers a blow speed of up to 170 mph with its 26cc engine and the vacuum is well able to collect damp and wet leaves but to be fair, they will need to be spread around instead of being stuck in a large thick pile. If you have less than £100 to spend, then take a serious look at this petrol leaf blower as it certainly surprised us how well it really worked.
Price Guide: £70 to £120

5, Webb 33cc Petrol Backpack Leaf Blower BPB33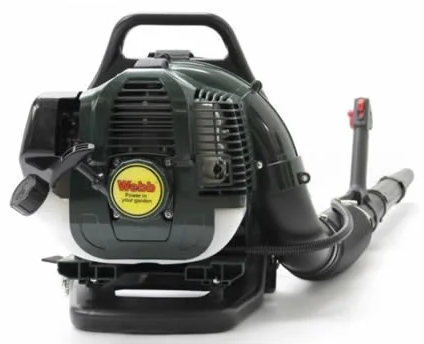 Main Features
If you prefer a Petrol Leaf blower with a backpack strap support, then you should definitely check out the Webb 33cc Petrol Backpack Blower code reference BPB33 which has become very popular with the reliability of performance and of course the ability to carry it as a backpack rather than carrying it by hand. People with larger garden and bigger jobs tend to invest in a Petrol leaf blower like this and it comes backed with a 2 year warranty and a 90 day money back guarantee from the supplier in Gloucester.
It comes with a 2 stroke engine and offers a blow power speed level of 179m per hour which is seriously impressive so it can deal effectively with wet leaves and higher volumes of dense debris. It is not just limited to leaves either as it can be used for grass clippings on the driveway, snow and decking areas and it is designed with a high-standard Walbro carburettor in tandem with a Champion spark plug.
In addition, it comes with the cruise control so you don't always need to have the trigger pressed with your finger all the time. It weighs around 7kg and the should straps are plenty strong enough to support it and provide comfort to your shoulder areas at the same time.
Price Guide: £150+ @ Mowers Online UK

6, Hyundai 26cc Petrol Leaf Blower & Vac (HYBV26)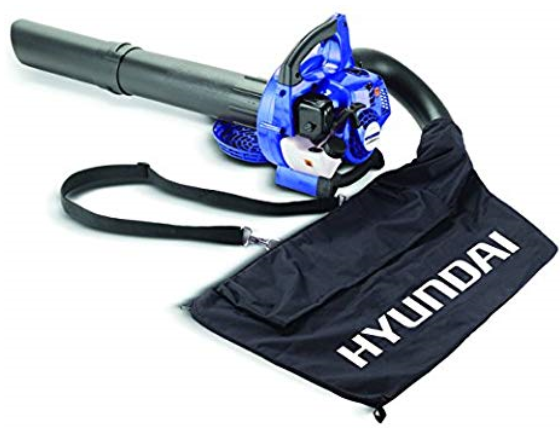 Main Features
At number 6, we have the Hyundai 26cc Petrol Leaf blower and vacuum which comes with a fairly higher price tag of over £200 so it may not suit everyone who need to work off a lower type budget. Generally speaking, we would say you would need to a have a really large garden with hours of work on end to do to justify spending this amount of money.
Nevertheless, even with the higher price, this machine is awesome from the very start and it is backed with the 26cc 2 stroke petrol engine with an output of 0.9HP and the internal shredder included to make the leaf collections more compact and easier to manage (increases the bag capacity) Again, this tool is quite heavy as it is over 7kg in weight (4.5kg in blower mode) so be prepared in advance for that, but you do get the harness belt for support included in the pack along with the branded collection bag (no need to buy separately unlike others)
Things to take note of - the collection bag capacity is 40 litres, the blow speed is 114 miles per hour and it includes a tapered nozzle at the end of the blower for stubborn debris which we particularly liked. Changing to the vac mode does require a small amount of work such as replacing the tubes and adding the bag which is not all that bad to be fair.
Price Guide: £100 to £150 @ Hyundai

7, Dealourus 65cc Petrol Backpack Leaf Blower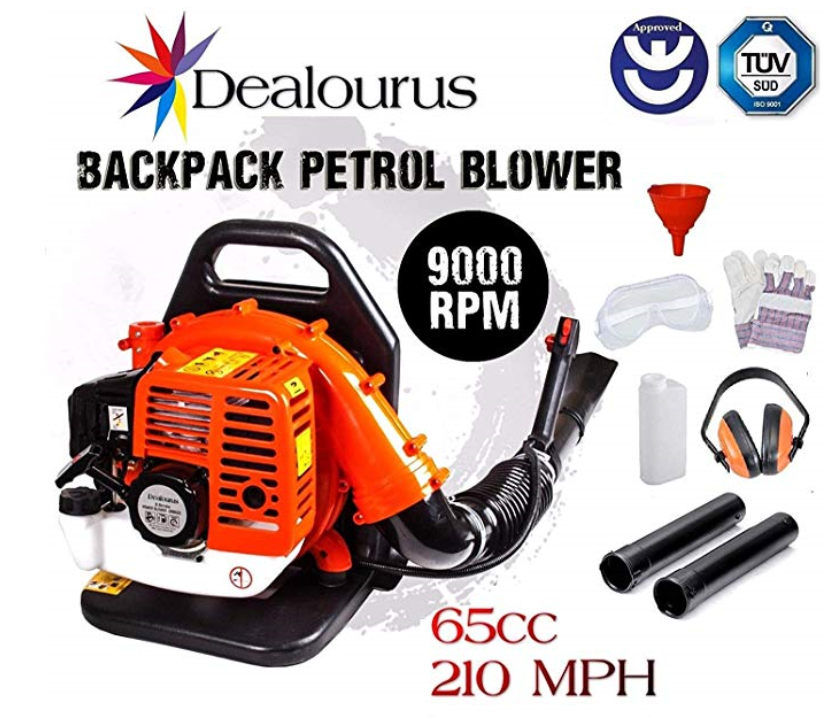 Main Features 
Last on our list and probably not a brand that you are too familiar with is the 2 stroke Dealourus 65cc Petrol Backpack Leaf blower with 65cc of engine power which certainly caught our attention with the extra blow speed power and engine power backed with the 12-month warranty and the lower price level than expected.
This is a 2-stroke petrol tool with a 65cc engine and a higher than expected power force of 3.8HP which delivers a fan speed of up to 7500 RPM and a blow speed of up to 210 miles per hour. Please note though that this won't vacuum up the leaves but is well capable of applying the necessary blow power to clear you gardens and driveways of annoying fallen leaves and unwanted debris.
The start system works fine as expected and it comes with the GS /CE necessary approvals. It also comes with some nice accessories and the fuel tank is a good deal larger with a capacity of 1.2 litres. For your support and comfort, it comes with the backpack design and wide shoulder harness straps and it can be operated single handed no problem whatsoever. The noise level is very manageable along with the vibration levels and compares very well if not better than many others we have used elsewhere. If a low-priced blower alone is what you need without the vacuum, then take a serious look at this option as it does perform as well as it says it does.
Price Guide: £100 to £150

Conclusion
After all our work, we sincerely hope that this review for the best petrol leaf blowers in the UK has been useful and helpful to you in some small way – it certainly wasn't as easy as expected but we do hope we made your job of selecting one that bit easier to do.
Which one would we pick? Its hard to say to be honest but our top 3 would most likely be the Stihl, Webb and the McCulloch models outlined above but don't let our preferences influence you too much. The Hyundai option follows very closely behind also in our opinion and possibly should be in our top 3 as the power level was great, it was easy to get started and overall performed every bit as good as the rest.
Feedback
What about you? Have you used any of these Petrol Leaf blowers yourself in the recent past?
If so, please feel free to leave your own feedback or experiences by leaving a comment in the comment box section provided below – so that others across the UK community can learn also!