Are you looking at sourcing a Diesel Generator for your home or business? If so, then make sure to take a quick look through our Hyundai Diesel Generator review which will outline some of the best options which we have come across that will be of interest to you.
Compilation
These Generators don't come cheap so we are have selected 4 different models for you to browse through on what we believe are the lowest price options, middle of the road price options and also the higher end premium priced options so at least you have more than just one option when it comes to making your own final decision and deciding how much you want to pay.
Read also: Ways to get rid of Weeds here
Payment Plan
One thing starting off to support such a large investment is the fact these can be paid for on a monthly basis that can start as low as £25 per month (or even less) up as far as £280 per month so you don't have to worry about paying for the full amount up front at Hyundai in Pembrokeshire.
Advantages of Hyundai Diesel Generators
These are designed to be silent and emit the lowest level of noise possible to give you reliable standby power to your home or business in the event of power outages or if the national grid fails or if power is lost due to extreme weather conditions. You also have the choice of getting a larger back up power generator which remains in place once installed or you can choose a portable diesel generator that can be moved from one location to another.
Budget Type
There is also over 20 options available to choose from, so you are not limited just to 1 or 2 models. There are single and three phase canopied silent diesel generators available that can range from 1500 rpm up to 3000 rpm or 10kva to 125kva generators so there are many options to suit almost every type of budget.
Diesel Generator Review Content
Part 1: Overview & FAQ's
Part 2: Hyundai Diesel Generator Reviews (4 options)
Part 3: Comparison Table
Part 4: Our Conclusion
As guide prices can only be published at the time of this Hyundai Diesel Generator review, please make sure to view the price checkers provided below to ensure you have the most accurate up to date price information.
Read also: Our Hyundai Inverter & Open Frame Generator review here
Part 1: Overview & FAQ's
| Generator: | Hyundai Diesel Generators (4 options selected) |
| --- | --- |
| Output: | Ranges from 1500rpm to 3000rpm (10kva to 125kva generator) |
| Deliveries: | 3 to 5 working days (typically) |
| Best Place to Buy: | Hyundai Power Equipment UK – View Stock Availability Here |
| Warranty: | Model dependant – 1 to 2 years duration |
| Support: | Customer support on 01646 687 880, info@hyundaipowerequipment.co.uk |
Frequently Asked Questions about Hyundai Diesel Generators (10)
Q1. Will they kick into power when the national grid falls?
A. Yes, they act as a standby back up power every hour of the day and week when power fails on the national grid
Q2. Do they offer 3 phase generators also?
A. Yes, in addition to single phase, there are also 3 phase generators in their portfolio
Q3. What does ATS stand for and what does it mean?
A. The ATS stands for Automatic Transfer Switch which means it will sense the power fail and it will start itself automatically even if you are not around.
Q4. How long will a 1500rpm diesel generator and a 3000rpm diesel generator last for before service?
A. If they are maintained properly, a 1500rpm diesel generator will last for 10k+ hours while the 3000rpm diesel generator will last for 2k to 3k hours.
Q5. What does the AVR represent?
A. AVR stands for Automatic Voltage regulator which maintains the voltage close to the 230V level for sensitive electrical devices or appliances.
Q6. Does it include glow plugs on the DHY6000SE?
A. Yes, these are included but you need to press and old the pre-heat button for 15 seconds if really cold before you start the engine with the key
Q7. How long do you need to wait for delivery?
A. Deliveries depend on stock availability but tends to be 3 to 5 working days on average
Q8. How often do you need to change the oil on a 3000rpm Diesel Generator?
A. After the first 20 hours use, then every one hundred hours after that (or every 12 months)
Q9. How often do you need to change the oil on a 1500rpm Diesel Generator?
A. After the first 20 hours use, then every two hundred and fifty hours use after that (or every 12 months)
Q10. What sizes are the fuel tanks?
A. These vary from model to model but the DHY6000SE has a 16L fuel tank and the DHY11KSEM has a 30L fuel tank
View also: Great value Garden Benches here
Part 2: Hyundai Diesel Generator Reviews – Our Top Picks
1, Hyundai DHY6000SE 5.2kW Silent Standby Diesel Generator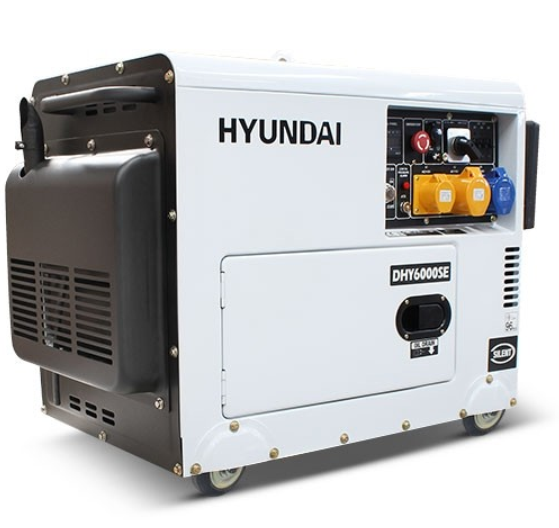 Key Features in Summary:
Includes a Hyundai D420 engine
Gives 5.2kW 6.5kVA max output
ATS compatibility & electric start
Safety features built in
Designed for low noise levels
Fuel tank has 16 litre capacity
Business finance available
Warranty is 1 year
Overview Description:
First on our list is the Hyundai DHY6000SE 5.2kW Silent Standby Diesel Generator which has a 6.5kVA maximum output level and this is the ideal solution if you need a basic and effective generator at the lowest possible price from Hyundai as the price is generally available for less than £1400 when seen at the time of this review.
This diesel Generator has the lowest level of power and range of features from what we have seen but it still has the capability to provide sufficient levels of backup power when needed. It is ATS compatible, it has a Hyundai D420 engine plus an electric start which works exactly as it states on the box.
There is the auto engine shut off system when the oil gets too low, it is designed to emit a lower than normal level of noise and it provides a fuel tank with a capacity of 16 litres. As with other highly reputable companies, Hyundai offer a full UK service and parts operation as backup which is great to have in the background and it comes backed with a 12-month warranty.
If you don't want to pay for it all up front, business finance can also be provided which generally works out at around £25 per month. You can expect 16 hours of run time at 50% load from this generator.
Pros: One of the lowest prices available – ideal for people seeking the lowest possible price and it is a compact size making it portable for field work. Plus, it can be run off red diesel making it more cost effective.
Cons: Limited only to 5.2kW or 6.5kVA max output and the warranty is lower at just 12 months. Plus, the runtime is on the low side but tends to be adequate all the same.
Price Guide: £1300 to £1700

Further images of the Hyundai DHY6000SE 5.2kW Silent Standby Diesel Generator are outlined below
2, Hyundai 14kVA Diesel Generator Single Phase (DHY11KSEM)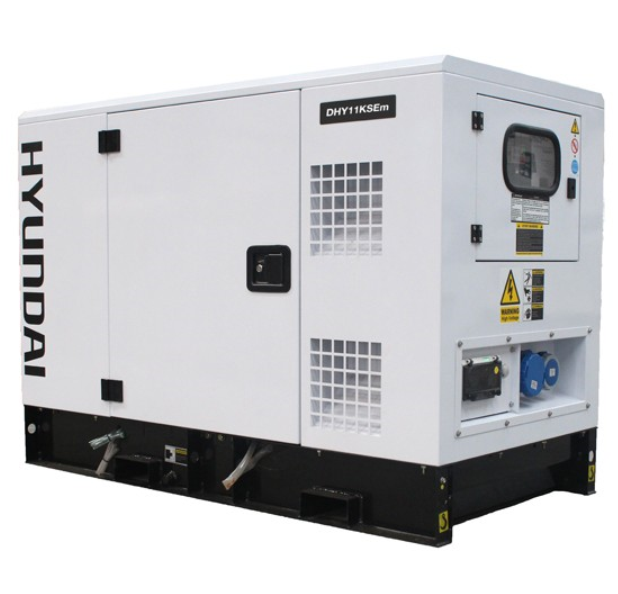 Key Features in Summary:
Diesel engine 1500 RPM
Up to 14Kva - Single phase
Engine displacement 1360cc
3 cylinders, speed 1500rpm
Includes the AVR alternator
ATS auto transfer power system
Canopy is weatherproof
Anti-corrosion exterior treated
Fuel tank capacity 30 litres
Lower priced Red diesel usage
Warranty is 2 years
Overview Description:
Second on our list of Hyundai Diesel Generators is the more expensive Hyundai 14kVA Diesel Generator with Single Phase reference code DHY11KSEM which tends to be available for less than £5500 when seen at the time of this review. This generator can be operated on red diesel which can lower the cost in the long term.
This generator is fitted with an AVR alternator which helps to produce a cleaner energy output for your home and appliances and it also includes a silenced weather-proof canopy which is treated to prevent any rust or corrosion. The AVR is needed for delivering the right amount of power to sensitive electrical devices and appliances.
It includes a powerful single-phase generator which can produce up to 14kVA and it comes powered with a Hyundai 1500rpm diesel engine. You can expect a low level of noise at only 65dBA at 7 metres away and it can be paired with the ATS Automatic Transfer Switch system which automatically turns on the generator when a loss of power to the property or dwelling is detected which is useful for people who have refrigeration units or computer servers.
The warranty here is longer than the first option above which is 2 years and finance is available from Hyundai to pay for this on a monthly basis if you wish instead  - the monthly fee that applies for this model tends to be around £100 per month if you want to go down this route.
Pros: Longer warranty of 2 years plus more speed 1500RPM and the exterior treatment against corrosion
Cons: Larger frame dimensions needs to be planned for.
Price Guide: £5000 to £6000

Further images of the Hyundai 14kVA Diesel Generator Single Phase DHY11KSEM are outlined below
Larger Hyundai Diesel Generators – 2 Options
If the 2 smaller diesel generators outlined so far are not powerful enough for you just yet, then take a look at 2 further larger diesel generators outlined below which may be of interest to you also. The prices go significantly up the larger and more powerful you go and again monthly finance options are available to you if you would rather not pay for them all up front.
3, Hyundai 1500rpm 22KW 27.5kVA Single Phase Diesel Generator (DHY22KSEM)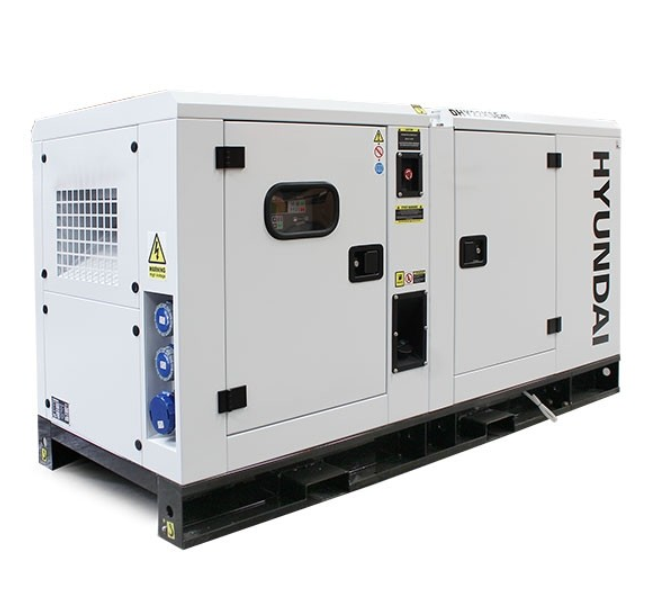 Key Features in Summary:
Higher power output 22Kw or up to 27.5kVA
Hyundai 1500rpm diesel engine
Used for prime or stand-by power supply
Corrosion free treated exterior
Can be used also for construction site cabins
Size is 220L by 95W by 124H cm
Weight is 870kg / 4 cylinders / Speed 1500rpm
Engine displacement is 3298cc
Warranty is 2 years long
Finance available from £130 - £140 per month
Price Guide: £7000 to £8500

4, Hyundai 125kVA 50Hz Three Phase Diesel Generator (DHY125KSE)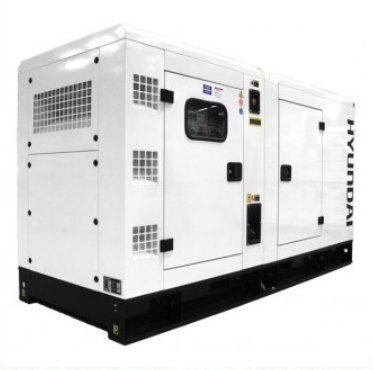 Key Features in Summary:
Largest diesel generator in the range
Highest power 85kVA of reliable standby power
Hyundai HY6B155L D21 engine with silent canopy
MRS10 control module - ComAp InteliLite
ATS compatible / AVR alternator / Speed 1500rpm
3 phase power supply – for larger buildings
Maximum output level of 125kVA
Can be used for large homes or estates
Warranty is 12 months long (6 cylinders)
Finance available from £270 - £290 per month
Price Guide: £15,000 to £17,500

Further images of the Hyundai 1500rpm 22KW 27.5kVA Single Phase Diesel Generator DHY22KSEM are outlined below
Read also: Our Hyundai 2000 Generator Review
Part 3: Comparison Table
To help you compare these diesel generators against one another, then check out the comparison table provided below so you can compare whatever features interest you the most (only 3 of the lower priced diesel generators in this review are included in the table)
| Model | DHY6000SE | DHY11KSEM | DHY22KSEM |
| --- | --- | --- | --- |
| Engine: | Hyundai D420 | Hyundai HY390 | Hyundai HY4100 |
| Output: | 5.2kW, 6.5kVA max | 11kW, 14kVA max | 22kW, 27.5kVA max |
| Fuel Tank: | 16 Litres | 30 Litres | 50 Litres |
| Sockets: | 115V and 230V | 230V | 230V |
| Alternator: | AVR | AVR | AVR |
| Oil Level: | Alarm indicator | Alarm indicator | Alarm indicator |
| Gross Weight: | 164kg gross | 710kg gross | 870kg gross |
| Cylinders: | 1 only | 3 | 4 |
| Displacement: | 418cc | 1360cc | 3298cc |
| Speed: | 3000 RPM | 1500 RPM | 1500 RPM |
| Rated kVA: | 5.6kVA (6.5 max) | 12.5kVA (14 max) | 25kVA (27.5 max) |
| Rated KW: | 4.5kW (5.2 max) | 10kW (11 max) | 20kW (22 max) |
| Remote start: | Included | Included | Included |
| Noise @ 7m: | 70 dbA | 65 dbA | 65 dbA |
| Dimensions: | 930L x 530W x 720 H mm | 1500L x 760W x 1070 H mm | 2200L x 950W x 1240 H mm |
| Warranty: | 1 year | 2 years | 2 years |
Read also: Ways to get rid of Weeds here
Part 4: Our Conclusion
With over 20 different options of diesel generators available from Hyundai, we hope this review for our own top picks has been helpful to you in some small way and given you some direction on which route you should take. We have outlined what we see as being the lowest price and smallest option while also outlining the largest generator available which can be used for larger family homes, construction sites or even smaller housing estates.
There was also 2 middle of the road options included which we believe would cater for the average home or business needs for prime or reliable backup standby power requirements. Further information is readily available from Hyundai Power Equipment based in Pembrokeshire UK below…

Feedback
Have you ever used a Hyundai Diesel Generator yourself in the recent past? Which option or size would you recommend in particular? Anything good or bad to say about them?
If possible, please share your own feedback with the wider community by leaving your comments in the comment box section provided below