How good are the Worx Leaf Blowers? To find out more, then please make sure to check out our Worx Leaf Blower review which covers both the Worx Corded Leaf Blower and also the Worx Cordless Leaf Blower so at least you are getting a wider and broader review instead of looking at just one model alone. Each model is covered separately below so feel free to skip to whatever part interests you the most be it the corded or the cordless.
Corded vs Cordless
Our focus will be to take a closer look and test the Worx WG518E Corded leaf blower and the Worx WG547 20V Cordless Turbine Leaf Blower so you can choose for yourself which option you believe will suit your own set of requirements.
If you wish to look beyond these 2 models, then we have also outlined 2 further popular options at the end of this page from this brand that are certainly worth a closer look before you make that all important final decision.
So, in summary – you should have a better overview of what they offer plus all the main pros and cons that we came across from 4 different types of Leaf blowers from Worx in this review.
Worx Leaf Blower Review Content
Part 1: Quick Overview plus FAQ's
Part 2: Worx WG518E Corded Leaf Blower Review
Part 3: Worx WG547 Cordless Leaf Blower Review
Part 4: Further Worx Leaf Blower Alternatives
Part 5: Conclusion + Optional Feedback
Instead of having the laborious task or raking up all the leaves or sweeping them from the driveway yourself, this tool from Worx claims to be able to solve all these problems for you, but we will put it to the test to find out how good it really is. Before you begin, please be aware that guide prices can only be shown at the time of this Worx Leaf Blower review so please make sure to view the price checkers provided below to ensure you have the most accurate up to date price information.
Part 1: Quick Overview plus FAQ's
Quick Overview
| Brand: | Worx |
| --- | --- |
| Garden Tool: | Leaf Blowers – Corded WG518E & Cordless WG547 |
| Power: | Corded = 2500W / Cordless = 20V |
| Lowest Price: | Corded for less than £75 @ Amazon – View Todays Price Here |
| Warranty: | 2 years standard (3rd year if registered online) |
| Support: | Customer services on 0345 202 9679 |
Read also: Our Spear & Jackson Grass Leaf Blower Review – Check it out Here
Frequently Asked Questions about Worx Electric Leaf Blowers (8)
Q1. How long is the cable provided on the corded WG518E?
A. The length of the cable on the corded WG518E is 10m long so you may need extension cords also
Q2. How powerful is the speed level for the WG518E?
A. The speed power is variable and operates from 97 to 177 km per hour
Q3. Can it be used for pebbles or grass clippings also?
A. As it can blow only, yes it can be used on other items other than just leaves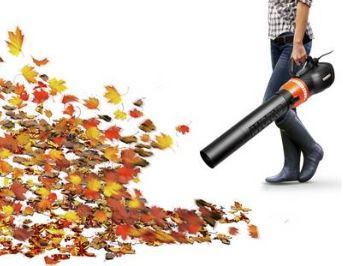 Q4. What generates the airflow?
A. The turbine fan inside generates the air flow speed and blow power
Q5. How much air can you expect to get?
A. This corded blower offers 13m³ per minute of air during operation
Q6. What is the diameter of the air vent nozzle?
A. The diameter of the air vent nozzle is approx. 8.9cm
Q7. How does the 3 year warranty work?
A. The first is from the retailer, the second is from Worx and a 3rd year can be added from Worx if you register with Worx online within 28 days of purchase.
Q8. Does the cordless WG547E include the battery and charger?
A. Yes, this model includes a 2.0Ah battery and a charger in the pack
Part 2: Worx WG518E Corded Leaf Blower Review
Worx WG518E 2500W Corded Leaf Blower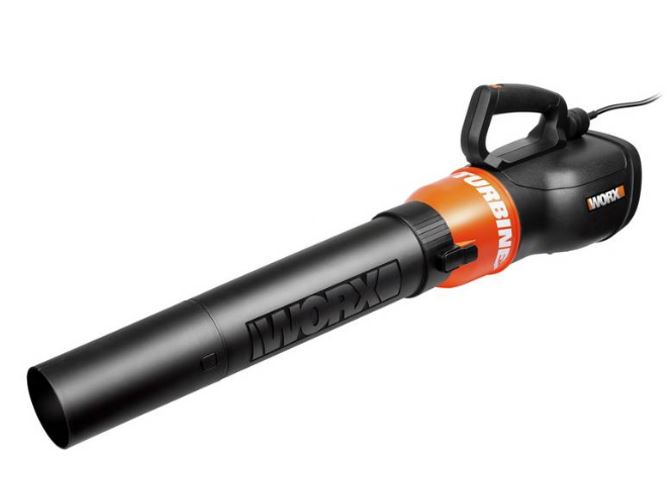 Main Features in Summary:
High volume Air turbine
Variable speed controls
Airflow 16.7m3/min
Blow speed 97 to 177 km/hr
Dynamic airflow design
One handed operation
Hyper-stream air nozzle
Variable speed / Cable 10m
Weight 2.8kg / Warranty 2-3 years
Pros for the Worx WG518E 2500W Corded Leaf Blower:
The level of blow power from this machine is excellent and it certainly had no problems in dealing with 20 minutes work across our garden be it for dry leaves, wet leaves, leaf piles and various other debris – it can really clear pathways and gardens as good as they say it does.
Even though you get 2-year standard warranty, you can also get the 3rd year if you register your purchase online with Worx within 28 days of purchase (a further 3-year replacement care package can be added also for less than £10 from Argos which is optional)
The variable speed options available work well and allow you to increase the power when needed for wetter patches or heavier piles of leaves
As the weight is so low (less than 3kg), there is no need for a shoulder strap or support wheels which helps to reduce the overall cost making it more affordable for you the consumer.
Overall, a very simple to use tool with plenty of blowing power for dry or wet leaves which can work off various different surfaces be it grass, soil, pebbles, slabs or slate no hassle whatsoever
The price for the quality you are getting is great value and at times can be discounted for less than £50 which is great value for the money you need to spend. Not only can it be used for blowing leaves, it also works brilliantly in getting your car dried quickly after washing / waxing and clearing driveways
Cons for the Worx WG518E 2500W Corded Leaf Blower:
There is no vacuum or shredding function included with this model which are available from other leaf blowers so you are restricted in what it can do, it really only has the ability to blow alone – nothing else.
If you need a blower to collect, shred and vacuum up leaves, then you should skip this one and start looking elsewhere (1 option further below on this page from Worx can vacuum if that is what you need)
The noise level was a lot louder than expected so you may need to invest in a set of ear muffs or ear protectors for more comfort while working.
The cable provided here is only 10m long so if your garden is anyway medium or big, then you need to start looking for extension cords also which are an added expense.
On occasion, starting it could be somewhat easier – you need to monitor the nozzle positioning and ensure the knob and nozzle are fastened correctly
Price Guide: £35 to £60

Part 3: Worx WG547 Cordless Leaf Blower Review
Worx 20V Cordless Turbine Leaf Blower (WG547E)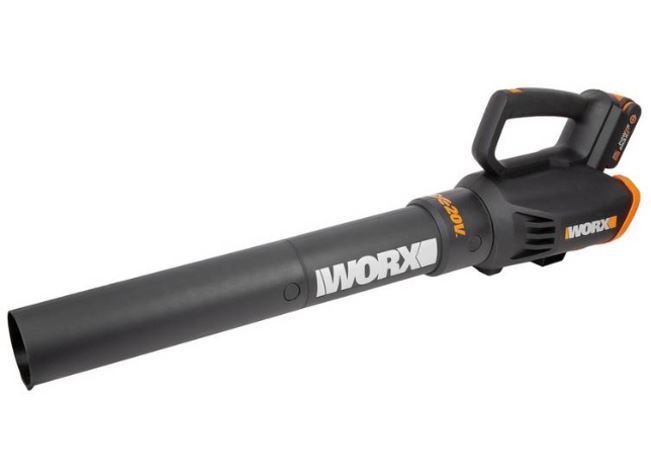 Main Features in Summary:
Cordless 2.0Ah battery x 1
High volume Cordless Air turbine
Includes 2 speed levels
Blow speed 90 - 125km per hr
10m per min air volume
Battery runtime 10 to 20 mins
For lighter duty work
1 hour recharge battery time
Turbine fan technology
Weight 2.7kg / Warranty 2-3 years
Pros for the Worx WG547 20V Cordless Leaf Blower:
Unlike many other bare tool options, the battery and charger are actually included in this pack so you don't need to worry about buying these separately
Like the corded version, you also get a standard 2-year warranty and then a 3rd year added if you register online which can protect your investment further into the future.
As there are no cords or cables, you have more freedom around your garden and house with the areas you can walk to and work on. Overall you have a lot more flexibility with work areas, further away patios or driveways without having the need to drag cords around with you
There is no need to worry about buying additional extension cords so that it a cost that can be avoided and you get the option of 2 speed levels (90km/hr to 125km/hr) to give more flexibility with the level of power you need to apply.
The battery power of 2.0Ah is adequate for lighter type leaf blowing jobs and it can operate up to 20 minutes when used on the lower power setting. It is also interchangeable with other Worx tools such as power drills
As the weight is less than 3kg, it can be carried around single handed if you wish. Plus, it can be used for other functions around the home other than leaf blowing such as clearing your driveways, patios, car drying etc.
Cons for the Worx WG547 20V Cordless Leaf Blower:
The motor included here is not a brushless motor which is seen available on other higher spec models and brands
The batteries can be charged fairly quickly however the runtime on the battery is only 10 to 15 minutes from our experience when used on high power – if your job requires an hour's work, then you are better off with the corded model instead or use the lower speed setting which gives a slightly longer battery runtime of between 15 and 20 minutes.
Like the corded, there is no shredding function or vacuum mode setting so you are limited to blowing only from this tool. Other models can offer these also that you may wish to consider especially if you rather leaves being picked up instead or just blowing them from one position to another.
Price Guide: £100 to £130

Comparison Table
A brief comparison table of the WG518E vs the WG518E is outlined below to add further clarity if needed
| Feature: | Worx WG518E | Worx WG547E |
| --- | --- | --- |
| Operation: | Corded | Cordless |
| Power: | 2500W Cable | 20V battery |
| Length: | 102cm approx. | 91cm approx. |
| Blow speed: | 97 to 177 km per hr | 90 to 125 km per hr |
| 90 to 125 km per hr | 10m long | N/A |
| Airflow: | 16.7m3 per min | 11.3m3 per min |
| Weight: | 2.8kg | 2.7kg |
| Warranty: | 2 to 3 years | 2 to 3 years |
Part 4: Further Worx Leaf Blower Alternatives
If you need to look beyond the 2 models WG518E and the WG518E already reviewed, then feel free to take a closer look at 2 alternative leaf blower options from Worx that we found to also work quite well but will cost you more if you have the extra money to spend
2, Worx 20V Cordless Li-Ion Leaf Blower (WG549E)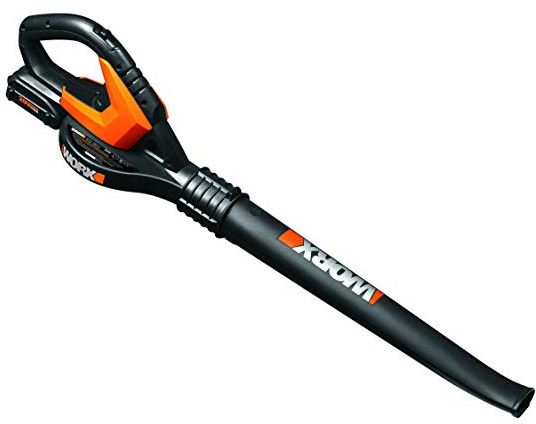 Main Features to Note:
More expensive and higher spec alternative
Cordless power supply 20V battery
Powershare battery capability with other tools
Angled nose pipe / Battery & charger included
Lighter weight of 2.4kg / Warranty 2 - 3 years also
Price Guide: £200 to £250

Part 5: Conclusion + Optional Feedback
To be honest, we cannot fault the WG518E 2500W Corded Leaf Blower at all as it certainly gave us plenty of blowing power and we much preferred it over the cordless which didn't last long enough to complete the full job in its entirety. It is up there with any other leaf blower at similar price levels and it was also able to clear the slab and slate surfaces no problem whatsoever.
Verdict
Which one would we choose? Instead of just blowing the leaves from one area to the next, the model we would choose is the Worx 3000W 3 in 1 Electric Leaf Blower WG501E which can actually vacuum up and shred the leaves so at least the areas are completely cleared of leaves and debris instead of just moving them from one region to another area of your garden.

Feedback
What about you? Have you used a Worx Leaf Blower yourself in the recent past? Did it meet your expectations or did you come across any issues that we all should know about?
If possible, please share your own opinions or feedback on this list by leaving a short comment in the comment box section provided below – so that others across the UK community can learn also!