If you are thinking about buying a McGregor Cordless Leaf Blower in the coming days, then make sure to check out our brief McGregor Leaf Blower review which will outline everything you need to know about it before you make that all-important final decision.
Lightweight
The one good thing to know starting off is that this lightweight leaf blower can be easily ordered online and delivered to your home hassle free which is one less thing to be worrying about if you feel that it can tick all of your boxes after reading our review. We also took a quick look through their instructional manual and we will pick out some of the more important information from it that you need to know in advance instead of you having to read it all yourself which hopefully can save you some time in the process.
Read also: Popular Wheelbarrows here
Additional Tips
In addition, we will include a short series of FAQ's that will be of interest to you along with all the main features it has to offer along with the main pros and cons that we came across which are outlined further down on this page. We will also cover some safety tips when using this leaf blower along with maintenance tips and provide information about the battery and the LED lights display that come with it.
McGregor Leaf Blower Review Content
Part 1: Overview and FAQ's
Part 2: McGregor Cordless Leaf Blower Review – Features, Pros & Cons
Part 3: Safety, Maintenance and Battery Tips
Part 4: Conclusion and Feedback (Have Your Say!)
Please note that guide prices can only be displayed at the time of this McGregor Leaf Blower review so please make sure to view the price checkers provided below to ensure you have the most accurate up to date price information.
Read also: Our Black & Decker Leaf Blower Review – Check it out Here
Part 1: Overview and FAQ's
| Brand: | McGregor |
| --- | --- |
| Garden Tool: | Cordless Leaf Blower |
| Power: | 2.0Ah Battery 24V (detachable) |
| Best place to Buy: | Argos UK – View Today's Price Level Here |
| Warranty: | 2 years standard warranty |
| Support: | Customer services helpline directly on 0345 605 2063 |
Frequently Asked Questions about the McGregor Cordless Leaf Blower
Q1. Can the black tube be detached?
A. Yes, the black tube can be easily detached for more compact storage
Q2. Are there any LED light indicators for the battery level?
A. Yes, you will always know how much battery life is left with the LED lights on the battery display
Q3. Do you need to register to get the 2 year warranty?
A. No, there is no need to register but keep your receipt in a safe place
Q4. Can the tool be used without the blower tube?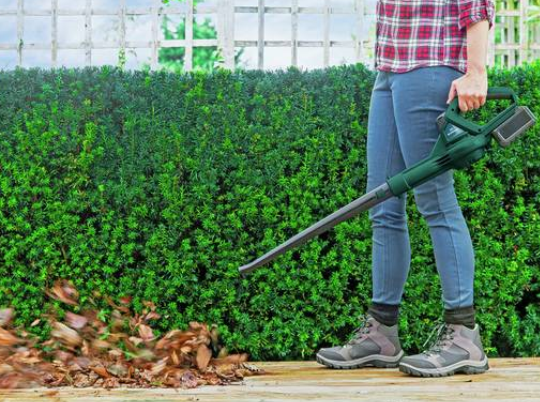 A. No, this leaf blower needs to have the tube attached at all times while in operation
Q5. Is both the charger and battery included in the box?
A. Yes, the battery and charger are included in the box along with the blower tube, hanger and handle
Q6. Do you leave the charged battery on the tool or on the charger when fully recharged?
A. No, the best practice is to remove the battery from both the charger and the tool when fully recharged
Q7. What is the weight of the tool without the battery?
A. The weight of the McGregor cordless leaf blower without the battery is only 1.13kg (2.1kg with the battery)
Q8. What is the sound level emitted from this tool?
A. The sound level generated is 96 dB(A)
Q9. How long does it take to recharge the batteries?
A. On average, it can take anywhere from 3 to 5 hours to fully recharge the batteries once again
Q10. How long will the battery blow for when fully recharged?
A. From our experience, the battery here will last for between 15 to 18 minutes on average
Part 2: McGregor Cordless Leaf Blower Review – Features, Pros & Cons
McGregor Cordless 24V Garden Leaf Blower (MCBL24)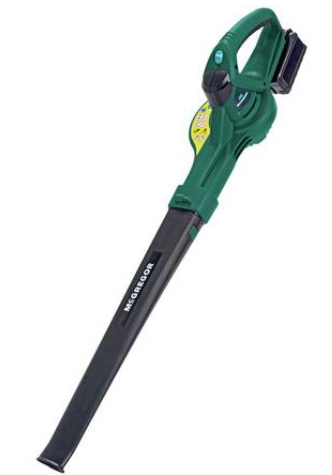 Main Features in Summary:
Cordless 24V 2.0Ah battery
Battery LED light indicators
2.0Ah Lithium-Ion battery
Aluminium fan provided
Lightweight design of 2.1kg only
Blow speed is 217 km/hr
Tube can be detached
Hanger included for storage
Charger and battery included
Standard warranty 2 years applies

Pros for the McGregor Cordless 24V Garden Leaf Blower:
Many cordless leaf blower tools will cost you close to £100 and in many cases more than £100 but this cordless leaf blower is priced considerably lower and is usually seen on sale for less than £60 which is a bargain and is ideal for people seeking a very basic tool at the lowest possible price.
You get a solid 2 year warranty which they stand over hassle free, plus you can take out an additional replacement care package for 3 years if you want which costs less than £15 at Argos and can protect your investment that bit longer.
Unlike many corded blowers, you are not restricted to the areas you can walk to and work on – plus you don't have the hassle of dragging cords around with you which can be a headache after a while.
Not only can it be used to clear Autumn leaves, you can also use it in other times of the year for drying cars and clearing patios and driveways from loose debris that may be lying around after the Winter.
If a basic low-priced leaf blower is what you are after for small gardens, then this will do the job for you but wont be strong enough for larger 20 minute jobs or large gardens. Plus, if you need a lightweight tool, then this will be perfect as the weight including the battery is only approx. 2kg in weight.
One last thing we liked was the LED battery light display so you always know in advance how much battery life is left at all times while working.
Cons for the McGregor Cordless 24V Garden Leaf Blower:
The recharging time is quite long as it can take anywhere from 3 to 5 hours to recharge the battery. Other brands and models offer rechargeable batteries that are a lot quicker than this which can be 1 hour only and in some cases less than 1 hour.
The battery runtime is only 15 to 18 minutes from our experience so if you have jobs that take 1 hour to complete, then you should really consider a stronger battery or even a corded power supply to get these longer type leaf blowing jobs completed.
There are no variable speed options, no vacuum or no shredding feature that many other blowers can offer so you are limited with what it can do for you.
There appears to be a lack of alternatives from the McGregor brand range also (at the time of this review). It would be better if they could offer corded powered 3000W blowers, shredders and vacuums in their range as well.
The battery here is not interchangeable with the McGregor Cordless lawnmower which is a little disappointing and it works a lot better on dry leaves rather that wet heavy leaves from our experience.
Price Guide: £45 to £65

Further images of the McGregor Cordless 24V Garden Leaf Blower MCBL24 are outlined below (6)
Price Comparisons:
If you have reached this stage and you feel that you need to consider other options from other brands, then make sure to check out 2 further options outlined below from Worx and Hyundai that are certainly worth a closer look before you make your own final decision.
Safety Tips:
Do not expose this blower to rain or moisture – store in a dry cool place.
Don't use the tool without the blower tube in place
Wear ear and eye protection at all times as debris can be blown in unexpected areas.
Do not expose the battery to strong sunlight over long periods of time
Don't leave the blower running while unattended – always make sure to turn it off when not in use
Only handle the battery and the blower handle with dry hands for your own protection
Do not expose the charger unit to moisture or wet conditions
Only use on stable footing – don't use on ladders or rooftops or anything unstable
Battery Maintenance Tips:
Make sure to keep the charger cavity clear of any debris at all times
Wipe with a dry cloth only – do not soak it in water
Unplug the charger unit when the battery is not in place
When putting into storage, make sure the battery is fully recharged
Don't start to charge the battery again if it is already fully charged as this will shorten its life
Don't allow the battery to become completely depleted – start to recharge once it is nearly empty instead
Don't store in direct sunlight and keep it in a dry cool place when not in use.
Included in the box
Blower Tube
Handle
Hanger
Charger
24V 2.0Ah Lithium ion battery
Power switch
Assembling Tips 
Remove all parts and associated packaging and recycle the packaging responsibly
Read the instructions and follow the steps provided
Keep all the packaging until the unit is fully operational
Start recharging the battery when 1 red Led light is showing minimum (instead of depleting it completely)
LED Battery light display
The level of battery life left in the battery will be displayed with the LED lights on the battery. When you have 4 LED's with 2 green, the unit is fully recharged. 3 LED's with 1 green means it is approx. 50% charged. 2 LEDs with an orange and a green means it has approx. 25% life left and when there is just 1 LED red light, then it is less than 25% and needs to be recharged straight away.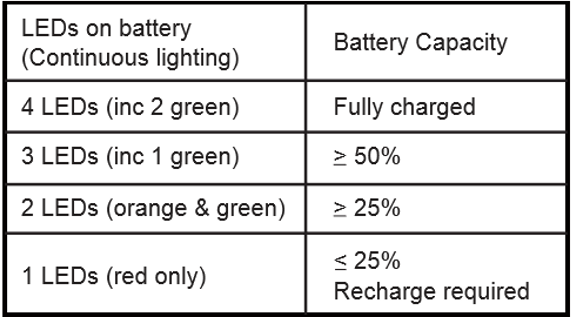 Technical Information for the McGregor Cordless Leaf Blower:
| McGregor Leaf Blower | | | |
| --- | --- | --- | --- |
| Number: | CLBL2406-1 | Battery Capacity: | 2.0Ah |
| Voltage: | 24V | Battery Type: | Lithium Ion |
| Max Air Volume: | 2.8m3/min | Rated Voltage: | 24V |
| Max Air Speed: | 53 m/s | Charger Weight: | 0.65kg |
| Weight: | 1.13kg (bare) | Recharging time: | 3 to 5 hours |
| Charging Temp: | Minus 5c to 50c | Sound Level: | 96 dB(A) |
Part 4: Conclusion and Feedback
The first things you will like here straight away is the really low price that it is available for which can be less than £55 and also the really light weight of the tool as it is only approx. 2kg in weight which certainly allows you to work the 15 minutes or so no problem whatsoever without arm or hand fatigue setting in.
Please be aware though that it is certainly not the best leaf blower out there that we have worked with – the blow power is only average, there is no vacuum or shredding feature included, there is no speed control and you only get 15 to 18 minutes runtime on the battery so there are certainly many limitations in what it can do.
Larger Areas
If you have a large acre site or more, then you would be better off with a larger more powerful leaf blower in our opinion that gives a longer battery run time or even a corded 3000W model instead that can vacuum up the leaves instead of just blowing them from one area of your garden to the next.
However, if you are seeking a low spec blower only at the cheapest possible price for smaller gardens or smaller jobs that take less than 15/18 minutes to complete, then this could certainly work for you as it is certainly well capable of dealing with these smaller jobs or lower duty leaf blowing tasks fairly effectively in our opinion. Again, as it is only 2kg approx. in weight, it does make the chore of leaf clearing and blowing that bit easier to do and of course there is no hassle of the plug-in cords or extra extension cables to worry about either.

Feedback – Have your Say
What about you? Have you ever used a McGregor Cordless Leaf Blower yourself in the recent past? Did it meet all of your expectations or did you come across any battery or blower problems that we all should know about?
If possible, please share your own opinions or feedback by leaving a short comment in the comment box section provided below – so that others across the UK community can learn also!