Are you thinking about buying a DeWalt Cordless Hedge trimmer in the coming days? If so, then make sure to check out our short DeWalt Hedge Trimmer Review which will focus on 2 cordless options under the DeWalt brand so at least you have more than just 1 choice when it comes to making your final decision.
Our DeWalt Cordless Hedge Trimmer Review will outline the key features that they have to offer that you need to be aware of plus all the main pros and cons that we came across that you can see for yourself what is involved and these are outlined further down on this page.
Read also: Best Electric UK Lawnmowers
Possible Queries
In addition, we will also outline some FAQ's that should answer some of your possible queries along with further comparisons against other brands that are worth a closer look from a reliable supplier also based in the UK as the price level for these Hedge trimmers are higher than normal.
DeWalt Hedge Trimmer Review Content
Part 1: Quick Overview & FAQ's
Part 2: DeWalt Cordless Hedge Trimmer Review x 2 – Main Features
Part 3: DeWalt Cordless Hedge Trimmer Review – Pros and Cons
Part 4: Alternative Brands & Models to Consider
Part 5: Final Conclusion & Feedback Submission
Please be aware also that guide prices can only be submitted at the time of this DeWalt Hedge Trimmer review as prices can change slightly from week to week depending on local discount activities so please make sure to view the price checkers outlined below to ensure you have the most accurate up to date price information.
Part 1: Quick Overview & FAQ's
Quick Overview
| Brand / Model: | DeWalt Hedge Trimmers (DCM563P2 & DCM563PB-GB) |
| --- | --- |
| Blade: | Both 55cm long |
| Power: | 18V 5.0Ah battery |
| Warranty: | Register for 3 years warranty |
| Price Level: | £120 to £320 @ Amazon UK – Check Todays Updated Price Here |
Frequently Asked Questions about DeWalt Hedge Trimmers
Q1. What batteries are available in the DCM563P2 DeWalt hedge trimmer?
A. You get two 5.0Ah Batteries included in the DCM563P2 DeWalt hedge trimmer
Q2. What branch thickness can the DCM563P2 cut through?
A. This model from DeWalt can cut through branches with a max 19mm thickness
Q3. How long will the batteries operate and hedge trim for?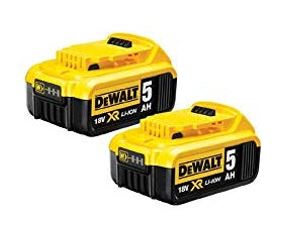 A. It will operate and hedge trim for a longer period of up to 75 minutes (depends on level of work being carried out)
Q4. Does the DeWalt DCM563P2 hedge trimmer include a battery and charger?
A. Yes, the DCM563P2 includes the battery and charger but the DCM563PB-GB does not
Q5. Do they include the blade protector guard when not in use?
A. Yes, there is a plastic blade protection cover included which can be used when not in use
Q6. Can it be operated using one hand only to reach higher hedges?
A. No, you must have both hands on the tool for operation for your own safety
Q7. Do the batteries display a power indicator?
A. Yes, the level of power remaining in the battery is displayed.
Read also: Our Cheap Hedge Trimmer list for the UK – Check them out here
Part 2: DeWalt Cordless Hedge Trimmer Review – Features
So that you have more than just one choice, take a look at 2 highly popular and highly rated hedge trimmers from DeWalt below – the first includes the battery and charger set while the second is a bare tool only option.
1, DeWalt DCM563P2 18V Cordless Hedge Trimmer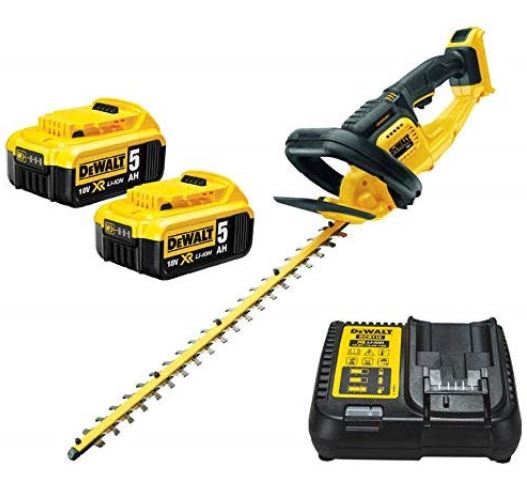 Key Features Available:
18V Cordless Hedge Trimmer
Long lasting 5.0Ah Battery & Charger
Lightweight and compact design
Laser cut blades / Tooth gap is 19mm
Blade length is 55cm long
Battery runtime is approx. 75 mins
5.0Ah Batteries x 2 & charger included
Weight is less than 4kg
Price Guide: £260 - £320

2, DeWalt DCM563PB-GB 18V XR Cordless Hedge Trimmer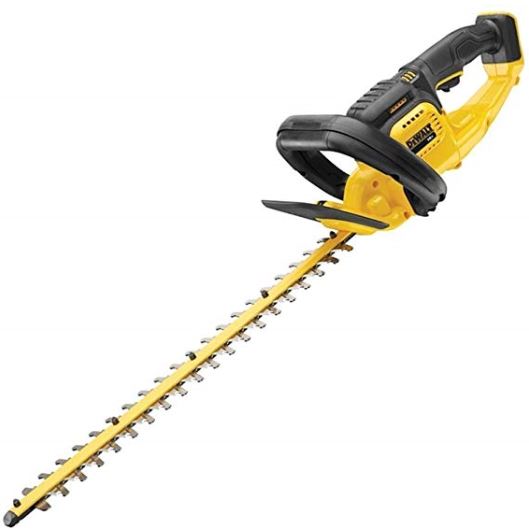 Key Features Available:
Bare tool unit – without battery/charger
18V 5.0Ah battery & charger required
Dual action laser cut blades
Tougher hardened steel – lasts longer
Blade length 55cm / Tooth gap 19mm
Wrap around aux handle for safety
Extended battery runtime 75 mins avg
Xenoy TM housing for impact protection
Price Guide: £110 - £150

Pros for the DeWalt Cordless Hedge Trimmers:
The feel and workability of these hedge trimmer tools is excellent and far superior in terms of quality backed with a Wraparound aux handle for extra comfort helping you work it for longer trimming sessions.
Most other batteries only last for 30 minutes and sometimes less where the batteries supplied here will give you a much longer operational time of up to 75 minutes which is far superior for larger and longer types hedge trimming jobs.
The bare only tool option at the lower price is an ideal solution if you already have the DeWalt XR batteries in stock in your garage as these XR batteries are interchangeable.
Even though they can be slightly heavier than other hedge trimmers, they are nicely balanced and designed to allow maximum comfort for your hands.
For your safety, it requires both hands on the switches which makes sure you don't try to cut any corners or you don't try to operate it single handed.
Not only do the batteries last a lot longer, they display the battery power indicator so you know how much time and energy is left in it for forward planning.
Overall, a powerful hedge trimmer tool that leaves a professional finish and there are no cords or cables to worry about
Cons for the DeWalt Cordless Hedge Trimmers:
Even though you get the 2 batteries included, the price is usually over £260 for the DCM563P2 which is quite excessive as other cordless hedge trimmers can be easily bought for less than £100 across the UK market at present (see options below x 2)
The tooth gap for both models in this review is only 1.9cm so you are limited to the thickness of the branches you can cut which will all need to be less than 2cm wide.
You are also limited to the height of the hedge you can cut as it is only 55cm long so you may need to invest in a small ladder also or even a cordless Pole model (like those offered by Ryobi – view review here)
Registering online for the 3 year warranty could be a lot easier in our view – more difficult than initially thought.
The noise level experienced here is slightly louder than others we have worked with but manageable all the same.
Although quite powerful, it still lacks the same level of power than you would normally see in the high-powered petrol powered hedge trimmer models
Part 4: Alternative Brands/ Models to Consider
If you are still undecided about the DeWalt Hedge trimmers outlined in this review, then feel free also to check out 2 lower priced cordless hedge trimmers outlined below (Spear & Jackson and McGregor) that were both priced at less than £100 at the time of this review which are certainly worth a closer look before you make your final decision.
Part 5: Final Conclusion / Feedback Submission
Final Conclusion
Without a doubt, the quality of these Hedge trimmers from DeWalt are excellent and they did a great job on our own hedges which where 30m in length. Plus, the battery was able to complete the entire hedge in one sitting without having to recharge it so we were very pleased with that.
We didn't expect any hassles or problems and we certainly didn't get any and we were certainly thrilled with the quality of this tool for dealing with low lying hedges with branches of less than 2cm in thickness as it cut through the hedges with so much more ease than many other brands that we have tried.
Hedge Height
The height of our hedge was only 1.7m high so it was fine but if your own hedge for trimming is very high, then you may need to consider getting a mini ladder or a Pole Type Hedge trimmer instead that can cut hedges up to 2.9m high like those offered under the Ryobi brand - check out that review here. Overall, the cordless models here from DeWalt are not the cheapest option around but they are an excellent investment if you have the extra disposable money available as the battery does last a lot longer than many other brands and the quality of the tool for hedge trimming is excellent in our opinion.
Therefore, we have no hesitation in highly recommending these DeWalt cordless hedge trimmers to do a professional looking job for your own hedge as long as the branches are max 2cm in thickness.

Feedback Submission
Have you ever used or tried a DeWalt Cordless Hedge Trimmer yourself in the recent past? How long did the battery last for and did it trim your hedges as expected or did you experience any problems that we should all know about?
If possible, please share your own experiences or feedback (good or bad) with the wider UK community by leaving a short comment in the comment box section provided below – So that others across the UK community can learn also!