Hello once again and many thanks for taking the time to visit our Black & Decker Hedge Trimmer review which will compare both the corded and cordless model options so at least you have more than just 1 choice when it comes to making any final buying decision. There are advantages and disadvantages to both so many of them will come down to your own personal preferences - having to deal with tangling cords, paying the lowest possible price or having to worry about charging batteries and the possible replacement of batteries in the years ahead which can cost a lot more than expected. The quality of the batteries from Black and Decker have proven to be quite reliable but there will always be the chance that in 10+ years from now or so, that you will have to fork out a substantial amount of money to have the battery replaced so this should be taken into consideration also before you make your final choice.
Our review for the Black and Decker Hedge Trimmers will focus on both the 55cm 500w corded model and also the 55cm 36V Cordless model so you can see what yourself what is involved when it comes to working with these hedge trimmer tools. Throughout this review, we will outline all the key features that they have to offer along with the main pros and cons that we came across for both of them so you can see for yourself what exactly is involved further down on this page. In addition, we will also provide some price comparison options so you can compare prices yourself and also some frequently asked questions about Black & Decker Hedge Trimmers which hopefully can answer some queries that you may possibly have.
Black & Decker Hedge Trimmer Review Content:
Part 1: Brief Overview with FAQ's
Part 2: Black & Decker Corded Hedge Trimmer Review
Part 3: Black & Decker Cordless Hedge Trimmer Review
Part 4: Alternative Hedge Trimmer Options from Black & Decker
Part 5: Conclusion & Optional Feedback
Part 1: Brief Overview with FAQ's
Brief Overview
| Brand / Model: | Black & Decker Hedge Trimmer – Corded & Cordless |
| --- | --- |
| Blades: | Both 50cm long |
| Power: | Corded 500W / Cordless 36V |
| Warranty: | Manufacturer's 2-year warranty |
| Price Level: | £70 to £170 @ Argos UK – Check Todays Updated Price Here |
Frequently Asked Questions about Black & Decker Hedge Trimmers:
Q. How wide are the blade tooth gaps?
A. The blade tooth gap for both is 22mm wide
Q. What thickness of branches can the corded cut through?
A. With the saw blade, it can cut through branches up to 35mm in thickness
Q. Which is the lighter tool to work with?
A. The corded version is lighter by approx. half kilo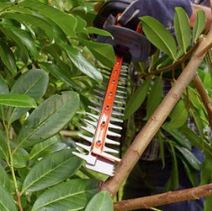 Q. Can you get additional cover such as replacement care?
A. Yes, you can get a 3-year replacement care cover if needed for less than £20 for the corded or a 4-year breakdown care for the cordless for less than £50
Q. Can these hedge trimmers be bought using a credit card plan?
A. Yes, you can pay for this over 12 months instead using an Argos credit card plan (optional)
Q. What is the standard warranty provided for these hedge trimmers?
A. The standard warranty for these hedge trimmers from Black & Decker is 2 years
Q. How long is the cable for the corded model?
A. The length of the cable for the corded model is 12m long
Q. How many strokes per minute can the cordless provide?
A. The cordless model can provide up to 1300 strokes per minute
Q. Does the cordless model include the battery and charger unit?
A. Yes, the cordless model includes the charger unit and the battery in the pack
Q. How long does it take to recharge the battery?
A. It can take approx. 1 hour on average to fully recharge the battery
Q. How long will the battery operate or trim for when charged?
A. It depends on the level of work being carried out (lighter vs heavy duty work) but should last anywhere from 25 to 35 minutes.
Read also: Our Spear & Jackson Hedge Trimmer Review – Check it out here
Part 2: Black & Decker Corded Hedge Trimmer Review
Black + Decker 55cm Corded 500w Hedge Trimmer (BEHTS401-GB)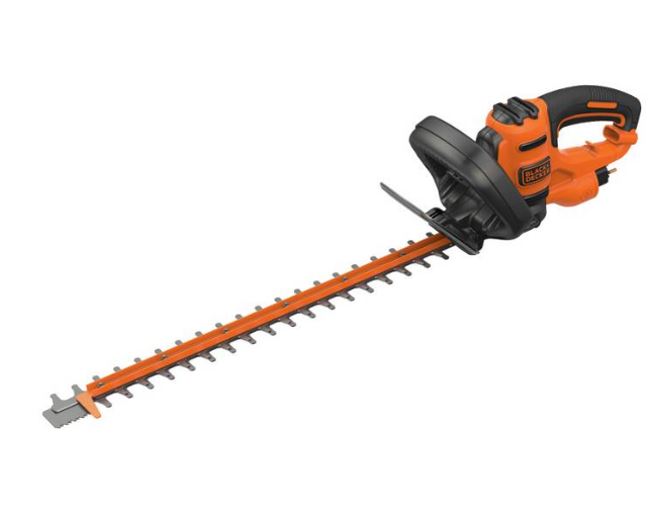 Key Features to Note:
Corded power supply 500W
Lower priced Alternative
Blade length is 55cm long
Tooth blade gap of 22mm
Patented 35mm saw blade
2 trigger points for safety
2 handed grip / Cable 12m
Transparent blade guard
Bale handle switch included
Anti- Vibration system
Weight is 2.54kg approx.
Dual safety switch / Warranty 2 years
Price Guide: £70 - £100 @ Argos

Pros for the Black & Decker 55cm Corded Hedge Trimmer:
The first big advantage for the corded over the cordless is the price tag as the corded version was half the price of the cordless version at the time of this review so there is certainly money to be saved going down the corded route.
You can get an additional 3-year replacement care package cover if you want which costs less than £20 at Argos (optional)
You get a nice neat finish with the dual action asymmetric blades and it is lightweight to work with which allows you to work the tool for longer without arm fatigue setting in.
Many of the cables for hedge trimmers are 6m or 10m long while this hedge trimmer offers a longer cord of 12m which gives you more room to work and hedge trim.
The patented saw blade is a great add on feature which allows thicker branches of 3.5cm in thickness to be cut, it has the 2-handed grip and a transparent blade guard for better visibility and there is also a nice bale handle switch that you will like and works well when it comes to working it horizontally or vertically.
Cons for the Black & Decker 55cm Corded Hedge Trimmer:
There is always a slight risk of using the corded hedge trimmer with cables lying around so you always need to be extra careful not to cut through the cord – you are better off going slower instead of trying to rush the job
Even though the price is lower than the cordless, it is certainly not the lowest price hedge trimmer around. Some brands offer hedge trimmers for less than £50 while this one normally costs over £70
As it is only 55cm in length, it will be unable to deal with taller high reaching hedges that pole hedge trimmers can trim

Part 3: Black & Decker Cordless Hedge Trimmer Review
If your preference is for a cordless hedge trimmer instead of a corded model, then check out the features, pros and cons for the Cordless 55cm Hedge trimmer from Black & Decker below
Black + Decker 55cm 36V Cordless Hedge Trimmer (GTC36552PC-GB)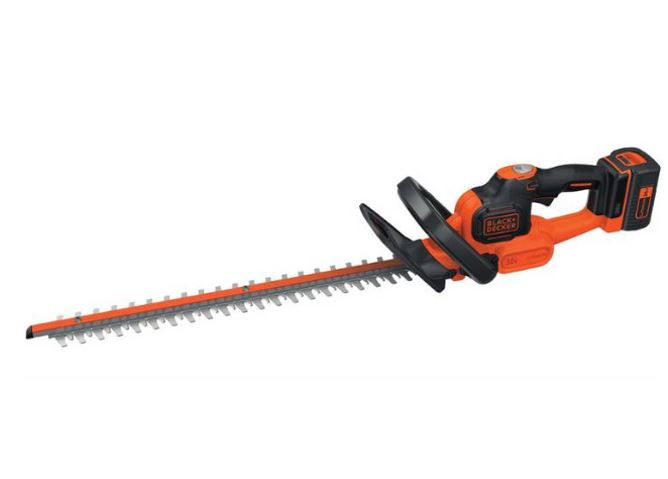 Key Features to Note:
Cordless battery 36V power supply
36V 2.0Ah battery included
Charging unit also included
Blade length is 55cm also
Tooth blade gap of 22mm
Provides 1300 stokes/min
Anti - Jamming technology
Bale handle design included
Hand guard for safety / Anti vibration
Quick stop electronic brake
Dual safety switch / Weight is 3.1kg
Warranty 2 years also
Price Guide: £150 - £180 @ Argos

Pros for the Black & Decker 55cm Cordless Hedge Trimmer:
The one thing that you will like straight away is the anti-jamming technology here which warrants the additional costs involved as the blades can be easily cleared from any twig jams by simply pressing a button which proves to be also a great added safety feature. The blades are able to re-track themselves once cleared!
Another thing that we liked was the feel and comfort level provided which reduces hand fatigue when working for long periods of time. It has the hand guard included as standard, a soft grip and the weight is only 3kg approx. which certainly helps you are working the tool for longer.
A bale design handle is included to provide balance especially when it comes to vertical trimming and of course you are not limited to the length of a cable or even an extension cord for that matter in the areas you need to work.
There is the obvious advantage also of having no cords or cables to worry about lying around while you work which gives you greater peace of mind as you complete your hedge trimming.
You can get extra cover for approx. £50 if you want which will cover it for 4 years as part of a breakdown cover package and you get the standard 2 year warranty also hassle free.
Cons for the Black & Decker 55cm Cordless Hedge Trimmer:
The first thing that stands out is the fact that the cordless model is twice the price of the corded version so you will definitely need to dig deeper into your pockets for this one.
Although the battery will last for a number of years, there is a chance that the battery will need to be replaced in time due to wear and tear which will be an added expense
Your hedge trimming work is limited to the runtime on the battery so it may not be able to trim your entire hedge in one sitting if it is too large.
You always need to remember to charge the battery prior to the commencement of any trimming work being carried out so it needs to be planned well in advance.

Further images of both the Black + Decker Electric Cordless and Corded Hedge trimmers are outlined below – scroll from side to side (5)
Read also: Our Cheap Hedge Trimmer list for the UK – Check them out here
Part 4: Alternative Hedge Trimmer Options from Black & Decker
If you need to look beyond the 2 options outlined already above, then check out 2 further popular Black & Decker Hedge Trimmers that also work well and are certainly worth a closer look before you make that final decision.
1, Black + Decker 550W Double Blade Electric Hedge Trimmer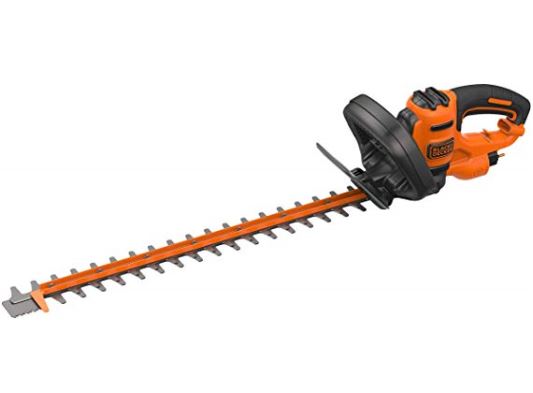 Key Features to Note:
Model number BEHTS451GB
Corded power supply 550W
500W & 600W options also
Blade length is 60cm
2nd saw blade – extra cutting
For Hedges 1.8m high
2 handed start switch
Weight is less than 3kg
Warranty 2 years long
Price Guide: £45 - £70 @ Amazon

2, Black + Decker 600W 60cm Electric Hedge Trimmer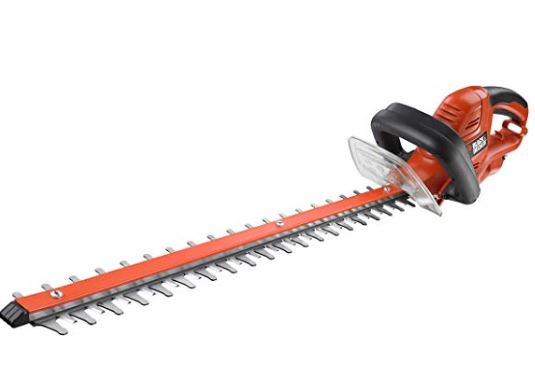 Key Features to Note:
Model number GT6060
Performs 1960 strokes/min
Corded power supply 600W
Blade length is 60cm
In built cable management
Tooth blade gap 25mm
Bale handle design system
Weight is less than 5kg
Warranty of 2 years
Price Guide: £75 - £100 @ Amazon

Part 5: Conclusion & Optional Feedback
Conclusion:
After reading our review, we sincerely hope that it gave you some clarity on which model can best suit your own individual of requirements. Choosing between corded or cordless will always come down to personal preferences. Which one would we buy? After further testing, it would have to be the cordless GTC36552PC-GB 55cm hedge trimmer as the battery worked sufficiently, there were no cables lying around to worry about and the anti-jamming system built in was great to clear the blades when needed. Overall, we were very pleased with its performance and workability.

Optional Feedback
How about you? What are your preferences? Have you ever used a Black & Decker Corded or Cordless Hedge Trimmer yourself in the recent past? Did it trim your hedges as expected or did you experience any problems that we should all know about?
If possible, please share your own experiences or feedback (good or bad) with the wider UK community by leaving a short comment in the comment box section provided below – So that others across the UK community can learn also!