Are you thinking about buying a Hyundai Generator in the coming days or weeks? If so, then please make sure to take a quick look through our Hyundai Generator review which will outline our top 3 options when it comes to choosing your own Hyundai Generator. We have included our top 2 Leisure inverter generators which are used for power supply in camping trips, motor homes or appliances and also our top choice when it comes to choosing an open framed petrol generator for use in building or construction projects.
One good thing to note starting off is that there is a great variety of generators to choose from in Hyundai and at the time of this review, there was over 20 types to choose from – the only bad thing here is which one is best suited for your own needs and requirements so we have narrowed down our review to what we believe are 3 of the best under this brand.
What do Generators Offer?
The leisure inverter generators offer pure sine wave energy which are used for delivering the right amount of energy to specific electrical devices and sensitive electrical tools and can be used for caravans, camping trips or motor homes
They can be bought as an electric start option or a recoil pull option and the inverter generators range from 1kW up to 3.4kW and can be powered by petrol
You get back up power supply in your home in the event of power outages, power for camping trips and also power for tools in construction projects.
The diesel generators from Hyundai deliver long lasting power for a business site, work site or even a home and provide power levels up to 120kVA with three or single-phase systems.
Read also: Our Hyundai 2000W Portable Petrol Inverter Generator here
Hyundai Generator Review – Our Top 3 Options
1, Hyundai 1000W Portable Petrol Inverter Suitcase Generator (P1000i)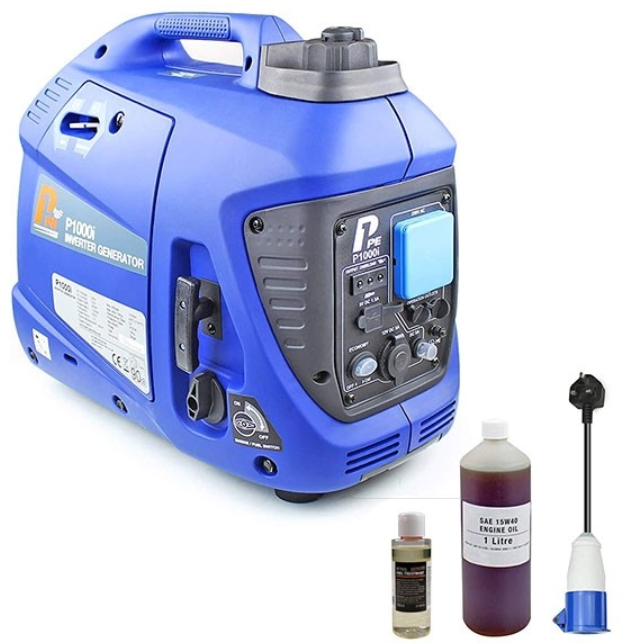 Main Features in Summary:
Budget type low price solution
Hyundai IC54D 4 stroke engine
Maximum output 1000W
For lighter type power needs
Lightweight, compact design
Eco mode for fuel efficiency
Range of accessories included
Warranty is 2 years long
Generator Description:
First on our list that you should consider if you need something lightweight at an affordable price, is the Hyundai P1000i 1000W Portable Petrol Inverter Suitcase Generator which is usually available on sale for less than £330 when seen at the time of this review.
If you need a portable power supply for delivering power to appliances such as laptops, TV's, lighting, battery charging, electric heaters etc, then you don't need to look much further than this as it has the ability to supply all the power you would need to make that camping trip more enjoyable.
This petrol inverter generator is lightweight, portable, includes a robust top handle for easy transportability and it comes in a compact size similar to a suitcase that you would normally carry around – plus it comes powered with a Hyundai IC54D 4-stroke engine.
In terms of size, it comes in at only 45cm by 24cm by 40cm, so it is very manageable, and you also get the Eco power mode which conserves energy when it needs to make it more efficient overall. Another thing we liked is the fact that there is a UK service and parts division at Hyundai Power Equipment in the UK who are there to support you with any issues or problems that may arise.
A range of accessories are also thrown in such as the engine oil, oil filling bottle, spark plug spanner, a screwdriver and a fuel additive along with an easy to follow manual outlining clearly all the steps you should follow.
It can cope with extreme inductive loads applied whenever using various power tools and electric motors with high start-up currents, the weight is only 14kg and it is powered by a Hyundai 54cc 4-stroke OHV engine. There is a 230V 3 pin socket supplied plus a 12v DC battery charging outlet and a 5v USB charging port which is always great to have along with the 2-year warranty they provide.
Price Guide: £300 to £330 @ Hyundai Power Equipment UK

2, Hyundai 3200W Portable Inverter Generator (HY3200Sei)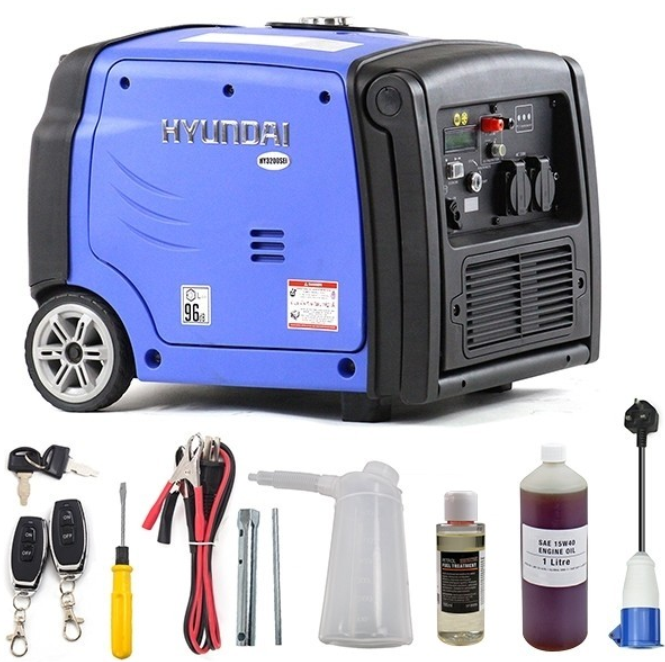 Main Features in Summary:
More powerful 3200W solution
Rear wheels for extra support
Easy to read & follow LCD display
Used for motorhomes/power tools
Convertible to run on LPG
Eco mode to conserve energy
Remote electric start key fob
Produces energy 3200w/4.0kVA
Range of accessories included
4-Stroke, OHV, Single Cylinder
3-year platinum warranty
Generator Description:
Second on our list is a more powerful and robust Portable Inverter Generator and this time it's the Hyundai 3200W Portable Inverter Generator reference code HY3200Sei which normally sets you back less than £850 when seen at the time of this review.
This generator has rear wheels and a front handle for easier transportability on your trips, it has a user friendly LCD display to monitors times, frequency and you also get a remote electric start key fob which is a nice addition of control to have.
This generator has the ability to provide power to power tools, motor homes, TV's, electric heaters, compressors for air beds, computers, chargers and many more. In addition, it can be converted to run on LPG for use as a dual fuel inverter generator where needed.
We also liked the Eco mode which conserves energy and improves efficiency and the noise levels were Lower than expected. It includes a wide range of accessories such as a 13A to 16A caravan or motorhome hook up lead, 12v charging cables and an oil filling bottle. In addition to this, they also include some engine oil, a fuel additive, a spark plug spanner and a handy little screwdriver.
The weight is not too bad to manage at 35kg which again is supported with the wheels, it is powered by the Hyundai 210cc 4-stroke OHV engine and it comes with a longer 3-year warranty backed with a UK service and parts team.
This generator has two 230v sockets that can be used with any appliance you need, a 12v DC battery charging outlet and it comes with the pure sine wave power output to make sure sensitive electrical devices are protected and not overloaded.
The last thing worth noting here also is the fact that it has a digital overload protection system which will shut the generator down should the load pass the maximum threshold. Plus, it has a low oil shutdown mechanism which turns off the generator should the oil levels drop too far which again is a great addition to have for protection of the engine.
Price Guide: £800 to £850 @ Hyundai Power Equipment UK

3, Hyundai 3.2kW / 4.00kVa Electric Start Site Petrol Generator (HY3800LEK-2)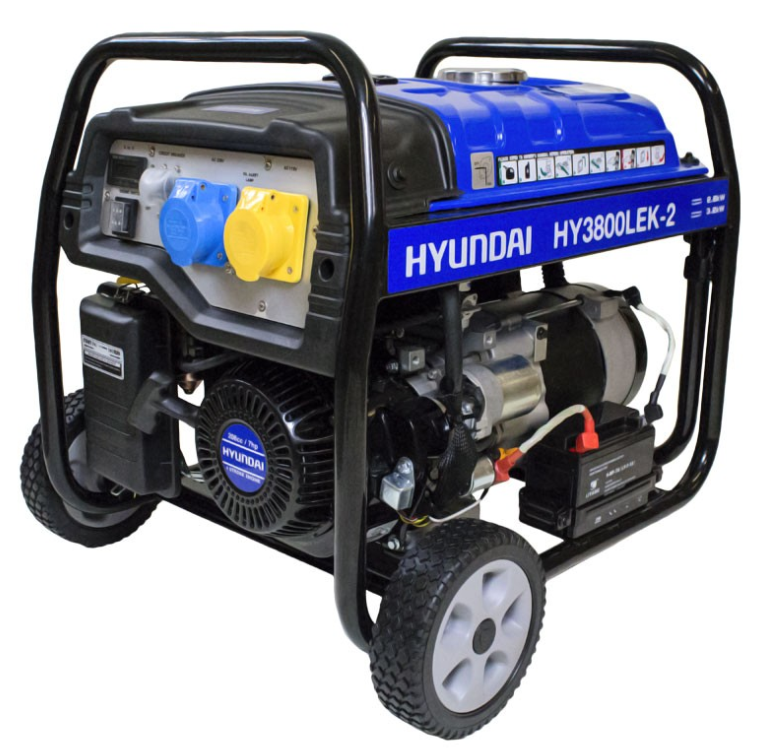 Main Features in Summary:
Hyundai 210cc 4-Stroke engine
3.2kW 4kVa open frame generator
Single cylinder 4-Stroke 7.0hp
Professional tradesman solution
Can be used commercially or home
High quality Hyundai AVR alternator
Muffler design to reduce noise
Auto shut off with low oil levels
Integrated wheel kit support
Built in overload protection
Weight of the unit is 57kg
Backed with a 3-year warranty
Generator Description:
Third and last on this short list is the Hyundai 3.2kW 4.0kVa Electric Start Site Petrol Generator reference code HY3800LEK-2 which is a perfect solution for job sites, home use, professional tradesmen and this unit is usually available for sale for less than £500 when seen at the time of this review.
It comes equipped with a powerful Hyundai 210cc 7.0hp 4-Stroke engine which is coupled with a superior quality Hyundai AVR alternator which helps to keep the level of power output stable at all times. This tends to be plus or minus 3% of 230V which ensures it can be used safely for sensitive tools, appliances and equipment.
Another feature you will like also is the integrated wheel kit for easier portability, it has a reliable built in overload protection system and also a muffler design mechanism to assist in reducing the levels of noise emitted.
When the oil levels drop too low, the engine will shut down automatically which in turn stops any potential engine damage and it is backed with a UK service and parts team which is always good to have as well as a 3 year warranty to protect your investment well into the future.
In terms of power you get the single cylinder 4-stroke OHV air cooled engine which generates a maximum power level of 3.2kW for dealing with a vast majority of demanding jobs that you will come across. It has the rugged open frame and folding handles which come as standard and it has the ability to work on demanding power tools, building site projects as well as being sensitive enough for home appliances, computers etc in the event of power outages in your home.
The noise level you can expect is only 65 dBA at 7m which was better than expected, it has an electric key start function as well as a recoil starter and the generator recharges its own battery when it is not being used.
Price Guide: £450 to £500 @ Hyundai Power Equipment UK

Conclusion:
After reviewing all the Hyundai Generators we could get our hands on, we hope our short list of our top 3 picks has helped you out in some small way and given you some direction on the different options available to you. You can choose the lower priced 1000W portable inverter generator, a more powerful 3200W inverter generator and also an open frame 210cc 4-Stroke engine generator to meet the needs of your construction or DIY projects. You can also check out further information and view larger images at Hyundai Power Equipment in the UK below

Educate Others in the UK?
Have you ever used a Hyundai Generator yourself in the recent past? Which one would you recommend in particular?
If possible, please share your own feedback with the wider community by leaving your comments in the comment box section provided below.