Are you considering buying a Qualcast Petrol Lawnmower in the UK over the next few days? If so, then make sure to take a quick look through our Qualcast Lawn Mower UK review which will outline both push and self-propelled petrol options under this brand so at least you have more than just 1 choice when it comes to making any final decision. Including in our review will be an outline of some back up support available along with some additional requirements you will need to organise such as the lawnmower starter oil and fuels.
We will also provide a comparison table further down on this page so you can see how they compare side by side plus a short video overview, which will cover the main points you need to know and give you a better understanding overall of what these Qualcast Lawnmowers are all about.
Qualcast Lawn Mower UK Overview
| Brand: | Qualcast |
| --- | --- |
| Powered: | Unleaded petrol & SAE Oil |
| Models: | Both push and self-propelled |
| Price Guide: | £200 up to £450 |
| Best place to buy: | Amazon – View stock availability here |
| Warranty: | 2 years |
Qualcast Lawnmower Support
If you need further support for your Qualcast Lawn mower, there is a UK dedicated customer helpline which can answer queries in relation to technical support, assembly or parts. The number to call Monday to Friday 9am to 5pm is 01904 727500 or you can email them directly at support@gardenservicecentre.co.uk.
There is also the possibility to call them Saturday's or Sundays from 11am to 4pm which tends to be slower due to lower staff numbers but have your query well prepared in advance to have the issue resolved as quickly as possible (including photos)
Additional Requirements
While you get all the things you would expect with the delivery, there will also be a few obvious things to have organised to get the lawnmower up and running. Some of the items to prepare are a small container with unleaded petrol, a funnel for pouring it in and also some SAE30 or 4 stroke oil.
Some small assembly tools are included such as a bolt tightener and mini spanner are provided to get the frame fully assembled lock tight. It is extremely important NOT to start the engine without the 500ml SAE oil added in first so please make sure this is completed as quickly as possible to avoid damaging the engine.
Read also: List of popular Cordless Lawnmowers here
Video Overview – Qualcast Petrol Lawnmowers
Qualcast Lawn Mower UK Review – 3 Recommendations
Option 1: Qualcast 41cm Petrol Push Lawnmower 450E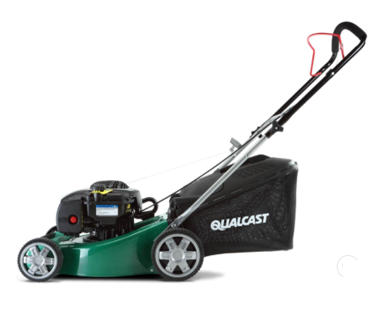 Brief Overview:
Briggs & Stratton engine
Engine 450E 125cc power
Push petrol operation
Lower priced solution
Cutting width 41cm
Hybrid grass collection bag
Carry handle front bumper
Grass bag capacity 45L
5 mow height settings
Mow heights 2.5-7.5cm
Warranty 2 years long
Qualcast Lawnmower Overview:
The first Qualcast lawnmower that you should consider is the lowered priced Qualcast 41cm Petrol Push Lawnmower which comes with the Briggs & Stratton 450E 125cc engine and stock levels appear to be quite good when seen on sale. Price wise you can expect to get your hands on this for less than £250 and further information can be double checked below including todays price tag.
While it is on the smaller side, it does have a mow cutting width of 41cm (slightly over 16 inches) so this lawnmower is more geared towards your smaller to medium sized gardens only. If you have a half acre site, then a wider larger lawnmower would work far better instead
The handles work fine as long as they are assembled correctly and you get a good quality hybrid grass collection bag on the rear which comes with the top flap to secure it into place. There is a carry handle when you need to lift it into a storage position or carry across difficult terrain and there are 5 mow height settings that range from 2.5cm up to 7.5cm
Grass clipping collections into the rear bag work fine with very little left behind and the weight of 23kg is not too difficult to push around the garden but can be more challenging around slopes. Overall a good quality lawnmower covered with a 2 year warranty and dedicated UK support back up team
Price Guide: Less than £250

Qualcast Self Propelled Petrol Lawnmowers
If you are prepared to spend more for a self-propelled lawnmower instead of a push lawnmower, then take a closer look at the 2 options available summarised briefly as follows that we recommend…
Option 2: Qualcast 41cm Petrol Self Propelled Lawnmower 300E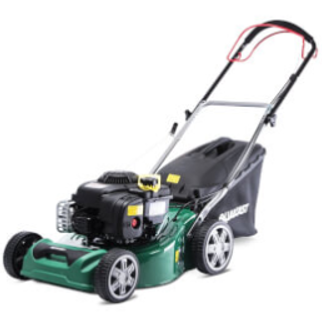 Brief Overview:
Briggs & Stratton engine 300E 125cc power
Self-propelled support for slopes
Cutting width also 41cm (approx. 16 inches)
Hybrid collection grass bag with flap seal
Grass collection capacity of 45L
5 height settings for mowing
Mow heights range from 2.5cm to 7.5cm
Warranty also 2 years long
Price Guide: Tends to be less than £300

Option 3: Qualcast 51cm Petrol Self Propelled Lawnmower 625E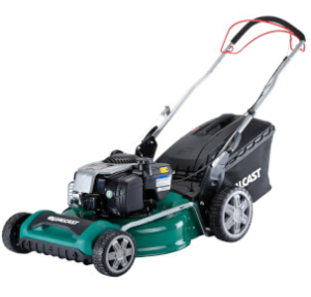 Brief Overview:
Briggs & Stratton 625Exi 625E 150cc engine
Support with self-propelling for difficult terrain
Wider cutting width 51cm (approx. 20 inches)
Approx. 4 inches wider than the 41cm model
Larger grass collection capacity of 65L (20L more)
7 height settings for mowing (2 more)
Same mow heights from 2.5cm up to 7.5cm
Warranty protection is for 2 years
Price Guide: £400 plus

Pros to Note:
Offers good value for what you get – in particular the 41cm push lawnmower for less than £250
Back up support in the UK (01904 727500) as well as 2-year warranty for peace of mind
Deliveries tends to be reliable and completed within a few working days
The self-propelled lawnmowers provide the support you need around slopes and difficult terrain
Good performance when it comes to starting, if not the first pull then normally on the second or third works fine
Cons to Note:
Speed settings from the self-propelled lawnmowers takes a bit of getting used to, especially around corners and flower beds
Limited availability in the UK from what we see – only a specific number of suppliers carry a reliable stock cover
Some of the parts are a little flimsy and could be more robust for hard wearing and heavy-duty mowing
Grass clipping collections into the bag could be better and the customer service back up can be unreliable at times
Comparison Table - Qualcast Lawnmowers
To add further clarity on the 3 Qualcast Lawnmowers in this review, feel free to check out the comparison table outlined below where you can see how they compare side by side
| Lawnmower | Qualcast 41cm | Qualcast 41cm | Qualcast 51cm |
| --- | --- | --- | --- |
| SKU Code: | 484343 | 499253 | 484346 |
| Operation: | Push | Self-propelled | Self-propelled |
| Fuel: | Unleaded petrol | Unleaded petrol | Unleaded petrol |
| Engine: | B&S 450E | B&S 300E | B&S 625E |
| Cut Width: | 41cm | 41cm | 51cm |
| Cut settings: | 5 | 5 | 7 |
| Cut Heights: | 2.5cm – 7.5cm | 2.5cm – 7.5cm | 2.5cm – 7.5cm |
| Noise level: | 96 dB(A) | 96 dB(A) | 96 dB(A) |
| Power: | 125cc | 125cc | 150cc |
| Grass capacity: | 45 litres | 45 litres | 65 litres |
| Warranty: | 2 years | 2 years | 2 years |
Read also: List of popular Petrol Lawnmowers here
Final Conclusion
After completing this short review for Qualcast Lawnmowers, we hope this short list can help you out in some small way – in particular the comparison table and video overview. From what we have seen, they are not the best we have ever used but they did the job just fine all the same – the push lawnmower in particular offers good value for the amount of money you need to spend and further information along with todays updated price can be double checked below.
The biggest problem though is the fact that they tend to out of stock so getting your hands on one is more difficult than you think...

Optional Feedback - Educate Others:
Have you ever used a Qualcast Lawnmower yourself in the recent past? Anything good or bad to report?
Feel free to have your own say and share your feedback in the comment box section provided below – so that others across the community can learn from your experiences…