Many thanks one again for taking the time to visit and welcome to our Makita String Trimmer review which will be based on our results of working with these grass string trimmers over the course of a number of weeks. Our review is based on 3 of the Makita Cordless grass string trimmer models and we will outline all the main features, pros and cons further down on this page which we came across that you should definitely check out before you make your own final decision.
Introduction Overview
Straight away, the first thing that jumps out at us is the higher prices associated to this brand of grass trimmers as they cost so much more than many other brands of string trimmers that we have reviewed in the past such as Spear and Jackson grass trimmers and McGregor grass trimmers who offer cordless grass trimmers at a much lower price levels and are certainly a lot more affordable for the average home owner in the UK.
We will also outline some FAQ's that have come up that should answer many of the queries that you may possibly have along with some lower price comparison options for you to take a look at below which possibly could save you some money while you are here.
View also: Popular Weed killers here
Makita String Trimmer Review Content
Part 1: Overview & Selection of FAQ's
Part 2: Makita Cordless String Trimmer Review – 3 Options to Consider
Part 3: Pros and Cons for the Makita Grass Trimmers
Part 4: Alternative Price Comparison Options x 2
Part 5: Conclusion
Please note also that price guides can only be shown at the time of this review so please make sure to take a closer look at the price checkers provided below to ensure you have the most accurate up to date price information
Part 1: Overview & Selection of FAQ's
Overview
| Brand: | Makita Cordless Grass Trimmers |
| --- | --- |
| Models: | Cordless - DUR181Z / DUR181 / UR180DW |
| Power: | Cordless 18V battery |
| Trimmer Sizes: | 26cm wide |
| Lowest Price: | Bare tool for less than £110 @ Amazon – View Today's Price Here |
| Warranty: | Minimum 12 months |
Frequently Asked Questions for Makita Grass String Trimmers (12)
Q1. How long can the telescopic shaft be extended by?
A. The shaft on the DUR181Z model can be extended by 18cm
Q2. What are the box dimensions when delivered?
A. The box dimensions are 24cm by 13cm by 124cm
Q3. What batteries can be used for these cordless grass trimmers?
A. The batteries recommended for these trimmers typically are 3.0, 4.0 and 5.0Ah Lithium-Ion batteries
Q4. What type of line is used for these grass trimmers?
A. These grass trimmers use a 1.65mm Nylon line which are widely available
Q5. How is the spool line fed out through the head?

A. The line is automatically fed out by tapping the cutting head against the ground
Q6. Do the batteries include a battery depletion warning light?
A. Yes, unlike many other batteries, the batteries here include a warning depletion light.
Q7. Are the batteries compatible with the G-series batteries?
A. No, the G-series batteries are not compatible so you may need to buy a separate battery if you choose the bare tool option.
Q8. Do they include an additional spare spool?
A. Yes, generally speaking, a second spare spool is included in the pack -you need to check with your individual seller
Q9. Will a 6.0Ah 18V battery work on these grass trimmers?
A. Yes, you can use a 6.0Ah 18V battery with these grass trimmers if you have them in stock already. You can also use a 3.0Ah / 4.0Ah/ 5.0Ah 18V battery also.
Q10. Can you use a 2mm nylon cord line for these trimmers?
A. Yes, you can also use a 2mm as well as a 1.65mm line with these grass trimmers.
Q11. Can they be used to mow the grass on small gardens?
A. Yes, they can but the quality of the finish will not be as neat or as tidy as a lawnmower finish.
Q12. How long will the battery trim or work for when fully charged?
A. It depends on the level of work being carried out but should last for average 25 to 35 minutes depending also on the power of the battery, the more powerful  -the longer it will last.
Part 2: Makita Cordless String Trimmer Review – 3 Recommendations
1, Makita 18V Bare Unit 26cm Cordless Grass Trimmer (DUR181Z)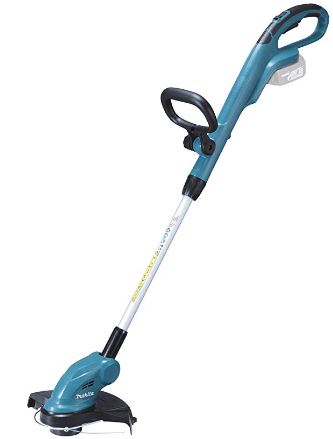 Main Features to Note:
Bare unit tool cordless option
Battery & charger not included
Reinforced metal spool cap
Needs 18V 3/4/5.0Ah battery
Adjustable shaft and handle
Head can be tilted or rotated
Metal bump line feed
Includes blade & battery cover
Cutting width 26cm / Weight 3.1kg
Price Guide: £80 - £130

2, Makita LXT 18V Li Ion Cordless Grass Trimmer (DUR181)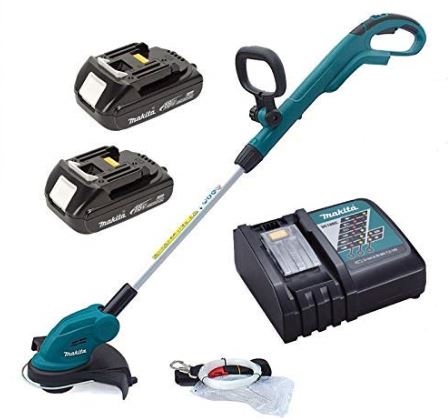 Main Features to Note:
Includes 2 batteries & charger
1 battery is used as back up spare
Adjustable loop handle for posture
Shaft length is extendable
Bump feed line spool system
5 position pivot head for flexibility
Single nylon cord 1.65mm
Battery provides a warning light
Cutting width 26cm / Weight 2.5kg
Price Guide: £150 - £200

3, Makita 18V Lithium Cordless Grass Trimmer (UR180DW)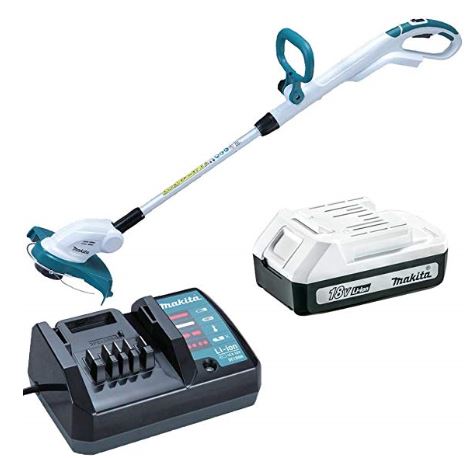 Main Features to Note:
Includes 1 battery and charger
180-degree Rotating Head
Includes a Built-in lock-off lever
Lightweight comfort design
Battery included is 1.3Ah 18V
Bump feed line is reinforced
Pivot head can be easily adjusted
Soft grip with safety plant guard
Cutting width 26cm / Weight 2.9kg
Price Guide: £100 - £150

Pros for the Makita Cordless Grass Trimmers
The handle and the shaft can be adjusted to maximise comfort levels while you are working and trimming so it's great to get all the possible help you can get.
The batteries for these units have a battery duration warning lamp so you know in advance how much battery you have left and when you need to start recharging
It offers a solid adjustable pivoting head for those harder to reach areas or patio edging, the spools can be changed very easily and also the bump and feed single line cutting system mechanism works exactly as expected (easy to rewind and attach)
These grass trimmers can handle a number of different batteries such as 3.0Ah, 4.0Ah, 5.0Ah and 6.0Ah 18V batteries and you can have a backup charged battery in place while using another battery at the same time
The angles that the head can be tilted to works really great and is very easy to adjust and overall has the ability to give a really clean, neat and tidy finish across your garden
The noise level is so much lower than a petrol grass trimmer and the vibration levels are also significantly lower.
As with all cordless trimmers, there are no cords to be pulled around as you work so there is a lot more freedom and no restrictions on the areas across the garden that need trimming.
Cons for the Makita Cordless Grass Trimmers
The first thing that stands out here is the higher price level for these cordless grass trimmers so you will certainly need to dig deeper into your pockets for this brand. When you add in the price of the charger and battery, you are talking around £100 more than previous grass trimmers reviewed on this website.
You need to clearly know that the model DUR181Z DOES NOT include a battery and charger. That is the reason why it offers the lower price level so don't buy it unless you intend to fund the cost of a charger and battery separately or if you already have a battery / charger in stock.
The G-series batteries and the 1.5Ah battery are not compatible with these grass trimmers so you need to be careful if you decide to go down the bare unit route.
Lacks the superior power offered by petrol based grass trimmers but tends to be adequate all the same for lighter type trimming work.
Doesn't perform as well on thick denser grasses or heavy weeds and certainly is not strong enough to deal with brambles.
Part 4: Alternative Price Comparison Options x 2
As the prices for these Makita Cordless Grass trimmers may be seen as a little too high for some people, please make sure to take a quick look at the 2 cordless options outlined below with were both on sale for less than £80 at the time of this review and are certainly worth a closer look before you make your own final decision.
Read also: Our Spear & Jackson Grass Trimmer Review – Check it out Here
Part 5: Conclusion plus Feedback
Conclusion
If you have the 18V battery already in stock then, the bare tool unit option here would be the perfect choice for you as you can save money without having the additional expense of a charger and a battery. The fact that they are cordless also without having the issue of pulling cords around the lawn as you trim is a major plus. The one thing that we did not expect is for the price to be as high as it is when you need to buy the charger and battery separately or indeed the models with the battery and charger included with them as many other cordless models that nearly match them are offered at significantly lower price levels that them.
While they lack the stronger power offered by petrol operated grass trimmers, they are still a great option for lighter trimming work across your lawn and the batteries last long enough to deal with most trimming jobs. Therefore, we have no problem whatsoever in highly recommending them – as long as you don't mind spending a little more than normal…

Feedback
Have you ever used a Makita Cordless Grass Trimmer yourself in the recent past? Did it work as expected or did you come across any problems that we should all know about?
If possible, please share your own feedback or thoughts good or bad by leaving a short comment in the comment box section provided below – so that others across the UK community can learn also!