If you are interested in buying the Mountfield 1538H Ride on Tractor mower in the coming days, then check out this brief Mountfield 1538H Garden tractor review which will outline everything you need to know about it plus the main pros and cons outlined further down on this page that we came across which will be of interest to you. As we can only show price guides at the time of this review, please make sure to view the price checkers provided below to help ensure you have the most accurate up to date price information.
View also: Popular Ride on Tractor Mowers
Mountfield Garden Tractor Range
The focus of our review will be on the Mountfield 1538H Petrol Hydrostatic Garden Tractor but we will also include 2 other alternatives in the Mountfield range namely the Mountfield MTF98 MSD 1538 Side Discharge Mulching Tractor mower and the Mountfield MTF 92H Twin 1736H Petrol Hydrostatic Garden Tractor mower so at least you have more than just 1 option when it comes to making any final decision.
Whichever tractor mower you decide upon, it can be delivered mow ready with a 90 day money back guarantee from the supply base in Gloucester.
Mountfield 1538H Tractor Review
Mountfield MTF98H 1538H Petrol Hydrostatic Garden Tractor

This impressive garden tractor from Mountfield comes with a fair price range that many homes can afford and you should be able to get your hands on it for less than £3500 when seen at the time of our review. It is designed for larger garden lawns up to 2 acres in size or 8000m2 and it comes with the Stiga ST450 engine 432cc capacity and a power output of 7.2kW @ 2600 rpm.
It offers you the automatic hydrostatic transmission, a large grass collection bag of 240 litres, the anti-scalp wheels and a mowing width of 98cm or 38 inches. The mulch plug and tow bar are optional extras and it comes backed with a 5 year warranty as long as it is serviced annually by a reputable Mountfield dealer.
The grass box can be emptied from the drivers seat, there are 7 mowing height options that range from 2.5cm up to 8cm and the overall dimensions for the machines are 234cm long by 103cm wide. Starting the machine is done with the electronic key ignition and the fuel tank has a petrol capacity of 6 litres.
Price Guide: £2800 - £3300 @ Gloucester

Video: Introduction to the Mountfield 1538H Garden Tractor
View also: Popular Cordless Lawnmowers
Technical Specification
Model - MTF98H
Engine type - Stiga ST450
Type – Grass Collection
Dashboard Display - 1 LED
Transmission – Hydrostatic
Capacity - 432cc
Fuel – Petrol
Power Output - 7.2kW @ 2600rpm
Fuel Tank Capacity - 6 litres
Starter - Key start
Area – up to 2 acres / 8000m2
Anti-Scalp Wheels - Yes
Mow height - 7 levels 2.5cm – 80cm
Deck Engagement – Electromagnetic
Deck Width - 98cm or 38 inches
Blades – Twin blades untimed
Collection Capacity - 240 litres
Optional - Tow bar, Mulch Plug
Dimensions - L234cm x W103cm
Weight - 160 kg
Warranty - 5 year (subject to conditions)
Pros for the Mountfield 1538H Tractor
You get the garden tractor mower delivered ready to mow with a 90 day money back guarantee and a 5 year warranty for peace of mind
It can deal with larger lawn garden sizes up to 2 acres no problem whatsoever or 8000m2 or approximately 90m long by 90m wide
It comes with the automatic gearbox hydrostatic transmission which works superbly in managing the tractor machine and getting the mowing jobs done faster and with less strain
Cons for the Mountfield 1538H Tractor
Struggles with steep slopes  especially when it comes to power requirements on rough ground as you can hear the engine struggle a small bit. More power in the engine would be preferred for the slopes
The tow bar, grass deflector and mulch kit are not included in the standard package and will cost extra
There is no side discharge available and it is considerably less powerful than the Mountfield 92H Twin 1736H tractor mower

View also: Popular Cordless Hedge Trimmers
Alternative Mountfield Tractor Mowers
If the Mountfield 1538H Garden tractor mower hasn't ticked all of your boxes just yet, then check out 2 further alternatives from Mountfield that we liked and can recommend to the wider public outlined briefly as follows…
1, Mountfield 98 1538 MSD Side Discharge Mulching Tractor Mower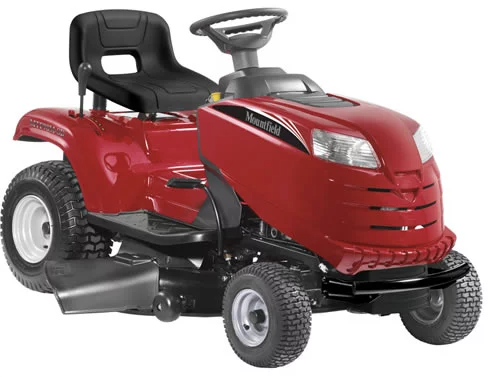 Main Features
Lower priced garden tractor alternative
Side discharge only with no grass collections
Stiga ST350 single cylinder engine 352cc
Manual transmission (5 forward &  1 reverse gear)
Mowing width 98cm or 38 inches
Rear wheels are larger to support traction
Speed range from 2km/hr to 9.7km/hr
5 year warranty (conditions apply)
Price Guide: £1800 - £2300

2, Mountfield MTF 92H Twin 1736H Petrol Hydrostatic Garden Tractor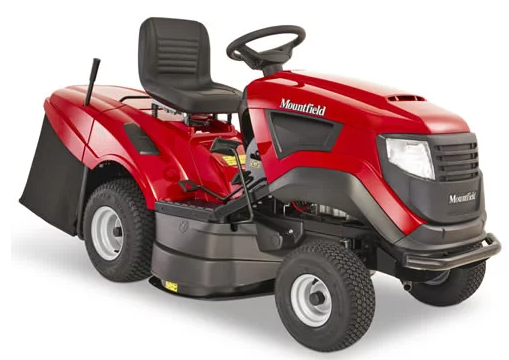 Main Features
Higher priced more powerful alternative
Better at dealing with steeper slopes
Includes the Stiga ST600 twin engine
For larger grass areas up to 2.5 acres (10000m2)
Automatic gearbox Hydrostatic Transmission
Larger engine capacity 586cc
More power at 11.2 kW @ 2700rpm
Speed levels up to 8.8 km per hour
Price Guide: £3600 - £4200

View also: Popular Robotic Lawnmowers
Conclusion
After completing this review for the Mountfield 1538H Garden tractor mower, we hope our work here can help you out in some small way and perhaps give you a better idea of what to expect from this Garden tractor ride on mower. We have included an intro video, our pros and cons, a lower priced less powerful alternative and a higher priced more powerful alternative so there should be something here to cater for your own mowing needs.
It will come down to your own budget at the end of the day and how much you are prepared to invest for getting grass cut and having a nice, neat and tidy garden lawn finish.
Verdict
Would we buy it? Yes we would have no hesitation in buying the Mountfield 1538H Garden tractor mower but to be honest, we much preferred the superior model Mountfield 92H Twin 1736H Petrol Hydrostatic Garden Tractor as it offers so much more in terms of power output, performance, comfort and versatility. Further pricing updates and information can be checked out below from the supply base in Gloucester who offer the 5 year warranty and the 90 day money back guarantee…

Community Feedback
Have you ever used a Mountfield Tractor Garden Mower in the past? If possible, please share your own opinions and feedback by leaving a comment in the comment box section provided below – so that others in the wider mowing community can learn also…