Hello again and many thanks for taking the time to visit our Hyundai 2000 Generator review which will outline as much information as we possibly can and will also include some safety tips for you to follow plus some assembly tips to get you up and running as quickly as possible. Our focus for this particular review will be on the Hyundai 2000W Portable Petrol Inverter Generator (HY2000Si) which includes some frequently asked questions that hopefully can answer some of the queries that you may have along with the main pros and cons which we came across and these are outlined further down on this page.
How it Works?
Inside the inverter Generator is a delivery of clean power which is needed for sensitive electronic equipment such as computers so that a stable signal is given. The digital inverter system regulates raw power from the engine alternator into pure electricity to safely power sensitive electronic devices and appliances. It receives rough AC and varying frequency from the engine alternator. The AC is converted to DC and then converts to clean AC in the digital invertor unit. What you get in the result is then a clean AC power of 230V 50Hz pure sine wave clean power for caravans, camping and motor homes and overall a simple to use source of portable power at your disposal.
Generator Review Content:
Part 1: Overview plus FAQ's
Part 2: Hyundai 2000W Generator Review
Part 3: Safety and Assembly Tips
Part 4: Technical Information
Part 5: Conclusion
Guide prices can only be published at the time of this review so please make sure to view the price checkers provided below to ensure you have the most accurate up to date price information.
Read also: Our Hyundai Lawn mower review here
Part 1: Overview plus FAQ's
| Generator: | Hyundai 2000w Portable Petrol Inverter Generator (HY2000Si) |
| --- | --- |
| Output: | 2000 watts or 2kW maximum output |
| Runtime: | 8 hours |
| Best Place to Buy: | Hyundai Power Equipment UK – View Stock Availability Here |
| Warranty: | 3 years standard |
| Support: | Customer support on 01646 687 880, info@hyundaipowerequipment.co.uk |
Frequently Asked Questions for the Hyundai 2000W Generator:
Q1. How big is the fuel tank capacity?
A. The fuel tank here has a capacity of 3.8 litres.
Q2. How long will it operate and run for?
A. The estimated runtime is up to 8 hours long.
Q3. How noisy is this machine to listen to?
A. The noise level is quite low and has a noise level of just 58 dBA at 7m.
Q4. How heavy is this machine to carry around?
A. The weight for the 2000w Generator from Hyundai is only 21kg.
Q5. Does it include leads, oil bottles and fuel additive?
A. Yes, included in the box are fuel additive, oil filling bottle, 12V charging cables, a hook up lead and engine oil.
Q6. What type of engine is it?
A. This generator is a single cylinder OHV 4 stroke engine
Q7. What level of oil capacity with this generator?
A. The oil capacity here is 0.41 L
Q8. What are the dimensions involved?
A. The size dimensions for the 2000W Generator from Hyundai is 28cm H by 45.5cm W by 51cm L
Part 2: Hyundai 2000W Generator Review
Hyundai 2000w Portable Petrol Inverter Generator (HY2000Si)

Main Features in Summary:
Solution for camping or caravans
2kW maximum output level
2 x 230V standard 13 Amp sockets
12V 5 Amp output 12V batteries
8 hour runtime, 3.8L fuel tank
Lightweight design 21kg
Eco mode available to conserve
Easy to use LCD display
Includes range of accessories
Warranty is 3 years long
Pros for the Hyundai 2000W Portable Petrol Inverter Generator:
Having the Eco mode on this generator is a great way to help you get the most out of this machine with improves efficiency across the board and helps you save money in the long run.
It is easy to carry around and weighs only 21kg which is very manageable with a solid handle. The expected runtime compares very well against other generator brands at 8 hours long with the 3.8 litre petrol fuel tank.
The display dashboard is very impressive with all the key parameter and all the key technical information that you would need. Everything worked exactly as stated and we found the LCD screen to be easy to read and follow.
We also liked the fact that it has the built in overload system and a low noise level of just 58 dBA at 7m so the level of noise was a lot lower than expected and compares better than many other noisy generators that we have come across in the past which is perfect for motor homes, camping or caravan parks.
The range of accessories included in the box is excellent and provides all you need to get you started so you don't need to worry about sourcing stock elsewhere. You get the spark plug, charging cables, engine oil and a fuel additive to mention just a few so we were impressed that all of this was also included in the package.
This machine comes backed with a 3 year warranty which gives great peace of mind and protection when making a purchase of this size and it can also be used as a back up in your home for power loss incidents
Cons for the Hyundai 2000W Portable Petrol Inverter Generator:
The price here is not all that bad to be fair but is will still set you back generally over £500 which won't be affordable for everyone.
The level of power is adequate but there are plenty of other more powerful generators available out there that give superior levels of power than this.
Price Guide: £500 to £600

Further images of the Hyundai 2000w Portable Petrol Inverter Generator are outlined below
Part 3: Safety and Assembly Tips
Safety Tips and Features:
This machine has an impressive range of safety features built in such as the digital overload protection and also the low oil shutdown which will prevent any overloading or engine failure due to low oil levels. You can visually monitor the key functions and levels with the LCD display to make sure it is fully operational and trouble free. Another thing also is the fact that there is no messy mixing of fuels either as all you have to do is add fresh unleaded petrol when needed. The main parts, functions and their locations for this generator are outlined in the image below.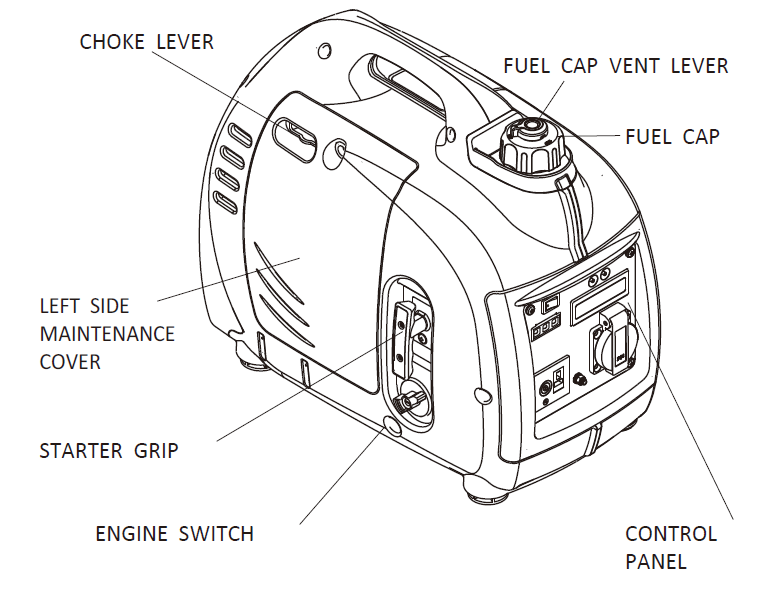 The main safety tips to note when using this Generator is as follows:
Never use in an enclosed area as the engine exhaust contains carbon monoxide – always use outdoors in a well-ventilated area
Always stop the generator before refueling again and it should be kept 1 meter away from all other equipment or tools.
It should always be placed on a level surface to avoid it overturning and spilling fuel and do not let the generator come into contact with rain, water or snow.
Assembly and Quick Start Tips:
All of the assembly steps and a quick start guide is provided for you in the box and some of the main steps involved are outlined in the sliding images provided below which can give you a sneak preview before you buy. This will show you how you go about adding oil, refitting the oil filler cap, adding petrol and turning on the air fuel vent on. It also shows you how to get it started by moving the choke lever to the start position, pulling the recoil and then turning the choke lever back to the run position after 20 seconds. These steps can be viewed below for a sneak preview…
Part 4: Technical Information
Technical Information Part 1:
Engine: 80cc Hyundai 4 stroke engine
Sockets: 2 x 230V standard 3 pin 13 Amp
Batteries: 1 x 12V 5Amp charging 12V batteries
Output: Pure sinewave output (for sensitive devices)
Type: 4 stroke OHV single cylinder
Oil Volume: Capacity of 0.41ml
Dimensions: 51cm long, 45.5cm wide, 28cm high
Technical Information Part 2:
Weight: 21kg Net / 28kg Gross
Noise Level: 58 dBA at 7m
Fuel tank: Capacity of 3.8 litres
Runtime: Up to 8 hours on average
Rated Power: 1.6Kw / Max 2.0Kw
Support: Full UK parts and service
What's in the Box?
You get more than just a generator here when you buy as it included the Hyundai HY2000Si Leisure Generator, the 13A to 16A caravan hook up lead and 12v charging cables. There is also the oil filling bottle, engine oil and a fuel additive to get you up and running from the start. In addition, you also get in the box a spark plug spanner, a screwdriver and also a well laid out instruction manual which provides all the technical and operational information you would need. The spark plug maintenance cover and the exhaust locations are outlined in the image below.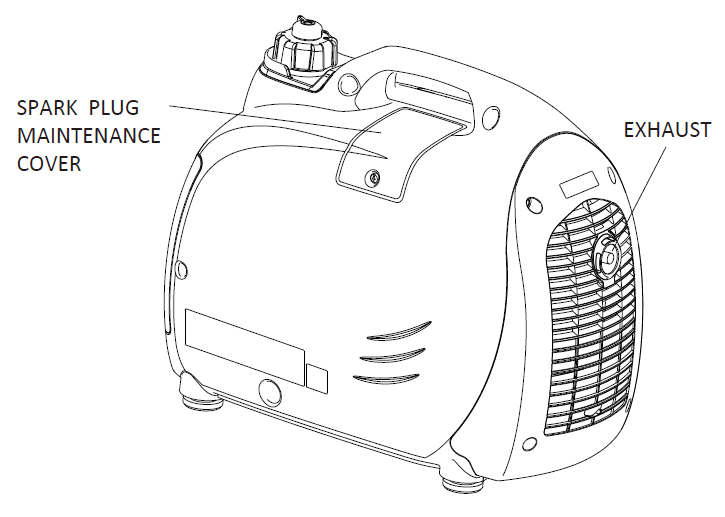 Part 5: Conclusion
Would we recommend this Generator from Hyundai? Yes, as we found it difficult to find any faults with it in any way to be honest and it performed exactly as was stated on the box. It has the ability to provide a simple source of effective power supply at a really low level of noise emitted so we have no hesitation on recommending it to the wider public based on our own experiences.

Feedback?
Have you ever used a Hyundai Petrol Inverter Generator yourself in the recent past? Any positive or negative experiences?
If possible, please share your own feedback with the wider community by leaving your comments in the comment box section provided below.