Many thanks for taking the time to visit and welcome to this brief McCulloch Lawn Mower Review which you should definitely check out if you are thinking about buying one in the coming days or weeks.
Options
This McCulloch Lawn Mower Review will cover 3 different models in their range so at least you have more than one choice when it comes to making a final decision and we will outline all the main features that they have to offer plus the pros and cons associated to each that you need to be aware of.
Read also: Popular Electric UK Lawnmowers
Guides
Price guides can only be given at the time of this review so please make sure to view the price checkers provided below to ensure you get the most up to date price information. A comparison table is also outlined below if you need further clarity and a series of some frequently asked questions that will benefit you also. In addition, a selection of different price options is outlined at the end of this page if you wish to compare prices further elsewhere. So, without any further delay, let's get started with this review…
Lawnmower Review Overview
| Brand: | McCulloch |
| --- | --- |
| Models: | Compilation of Petrol x 3 – Push (1) and Self Propelled (2) |
| Price Range: | At the time of this review - £130 to £360 |
| Cheap Place to Buy: | Amazon UK – View Available Stock Levels Here |
| Orders Online: | Yes, Orders accepted online with delivery available |
| Deliveries: | Location dependant – tends to be 3 to 7 working days |
| Warranty: | 12 months duration |
Frequently Asked Questions about McCulloch Petrol Lawn Mowers:
Q1. Is oil included with the delivery?
A, No, oil is not included with the delivery
Q2. Are the handles foldable?
A. Yes the handles are foldable for easier storage
Q3. What warranty period is available?
A. The warranty provided for these lawn mowers is 12 months
Q4. Do they include Rear rollers?
A. No, they do not include rear rollers for stripes.
Q5. What is the maximum speed of the self propelled M51?
A. The maximum speed for the M51 is 4km/hr
Q6. Are they front or rear wheeled self propelled?
A. The M51 is rear wheel and the M53150APX is 4 by 4 self propelled driven
Q7. Is a mulching plug included with the M51?
A. No, it is not included with the M51 but can be bought separately (included with the M53150APX)
McCulloch Lawn Mower Review - 3 Models
McCulloch M40-120 40cm Push Petrol Lawnmower 120cc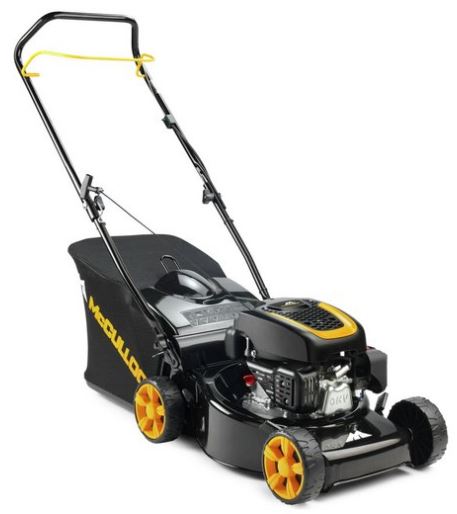 Pros:
Price point is lower & affordable
Reliable and robust engine
Includes large fabric collection bag
No cables to worry about
No battery charging to worry about
Handle is foldable for easy storage
5 mow heights to choose from
Large grass collector (50L capacity)
Grass discharge from the rear
Steel deck included
Overall basic but great value
Cons:
Difficult on steep slopes
Not self-propelled
Not environmentally friendly
Added oil and fuel costs
Additional maintenance costs
Several pull cord attempts
No rear roller for stripes
No side discharge
No mulching ability


McCulloch M51 51cm Self Propelled Petrol Lawnmower 150cc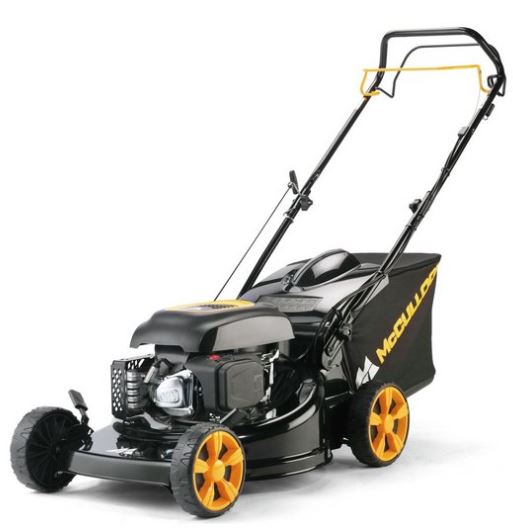 Pros:
Ideal for steep slopes & hills
No heavy pushing is needed
Much wider mow path (51cm)
Heavy duty steel deck
Larger grass collector by 5L
1 more mow height available
Total 6 mow heights included
No cables across the lawn
No recharging of batteries
Foldable handles-easy storage
Can mow up to 9cm high
Central mow height lever
Starts quite easily  & robust
Cons:
Quite heavy coming in at 33kg
Price level tends to be £200+
Ongoing fuel and oil costs
Ongoing maintenance costs
No rear roller for stripes
No mulching plug included
No oil is included


McCulloch M53150APX 53cm Self Propelled Mower 150cc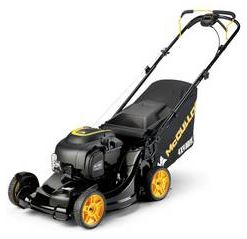 Pros:
Widest mow path of 53cm
Superior 4 by 4 drive system
Robust metal deck
No recharging of batteries
No wire cable across the lawn
Largest grass collector (65L)
Superior with thick/long grass
Ideal for hill & steep slopes
Innovative flexispeed drive
Briggs & Stratton engine
Auto prime is included
Mulching kit included
Performs well with damp grass
Overall superior power
Extremely reliable Mower
Cons:
Unaffordable price for many
Most expensive in this range
Very heavy to work with
No rear roller included
Includes no oil on delivery


Comparison Table
A comparison table is also outlined below if you need further clarity on the main features that each of these models has to offer…
| Feature: | McCulloch M40-120 40cm | McCulloch M51 51cm | McCulloch M53150APX 53cm |
| --- | --- | --- | --- |
| Power Level: | 120cc | 150cc | 150cc |
| Mow Width: | 40cm | 51cm | 53cm |
| Operation: | Petrol Push | Petrol Self Propelled | Petrol Self Propelled |
| Lawn Sizes: | Small & Medium | Small & Medium | Medium & Large |
| Handle: | Foldable | Foldable | Foldable |
| Mulching kit: | N/A | N/A | Yes |
| Rear Roller: | N/A | N/A | N/A |
| Mow Heights: | 5 (2cm-7.5cm) | 6 (3cm-9cm) | 4 (2.5cm-9cm) |
| Grass Collector: | 50L Capacity | 55L Capacity | 65L Capacity |
| Weight: | 23.8kg | 33kg | 38kg |
| Warranty: | 12 months | 12 months | 12 months |
| Price Guide: | £120 to £150 | £220 to £250 | £330 to £380 |
Price Comparisons
One big problem seems to be that the McCulloch Petrol lawnmowers tends to be out of stock so getting your hands on one can be more difficult than you think. So, we would suggest taking a look a look at alternative brands where stock availability tends to be a whole better
Mountfield Petrol Lawn mowers - Check prices here
Hayter Harrier British made Petrol Lawnmowers - Check Prices here
Community Feedback
Have you any previous experiences of using Lawn Mowers under the McCulloch brand yourself in the past?
Then please share your feedback/comments with the UK community (good or bad) by leaving your thoughts in the comment box section below – So that they can learn also