If you are interested in letting you Robotic Lawnmower do all the mowing work for you during the mowing season, then check out some of the Robotic Lawnmowers reviews here that we liked and most of them come with prices that most people can well afford.
We have included Robot lawnmowers for small gardens of 250m2, medium sized gardens of 500-600m2 and larger gardens up to 1200-1500m2 so there should be something here that can cover your own garden dimension sizes.
In addition, we have included options that work with boundary perimeter wires as well as options that can work without the boundary cables installation.
View also: Reviewed list of Grass Trimmers here
Robotic Lawnmower Review Recommendations (8)
1, Flymo EasiLife GO 250m2 16cm Cordless Robotic Lawnmower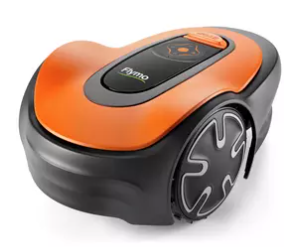 Our first recommendations for small gardens is the Flymo EasiLife GO 16cm Cordless Robotic Lawnmower which is suitable for gardens up to 250m2 in size and it can handle slope inclines of 25% there or there abouts.
Setting up requires the boundary wire and it can be connected to your smart device via Bluetooth for monitoring and scheduling the mowing work to be done. It includes the mulching feature as standard, the cut mowing heights range from 2cm to 5cm and it comes covered with a 2 year warranty.
Price Guide: £600 - £700 @ Argos

2, LawnMaster VBRM16 Robotic Lawnmower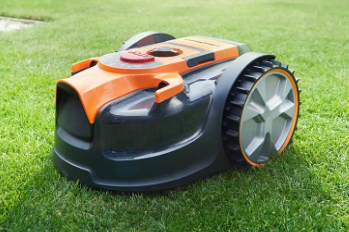 Our next recommendation doesn't require a boundary wire as it uses ultrasonic sensors instead and it's the LawnMaster VBRM16 Robotic Lawnmower that includes the charger, a 24V 4Ah battery and a smaller mowing width of 15cm.
The price is much lower than other models as this robot lawnmower is really for smaller scale lawns of up to 100-120m2 and it needs hard borders such as gravel or paving for the sensors to work right. It can mow for up to 4 hours long, recharging takes an hour or so and it also comes covered with a 2 year long warranty cover.
Price Guide: £300 - £450 @ Amazon

3, Gtech Robot Lawnmower RLM50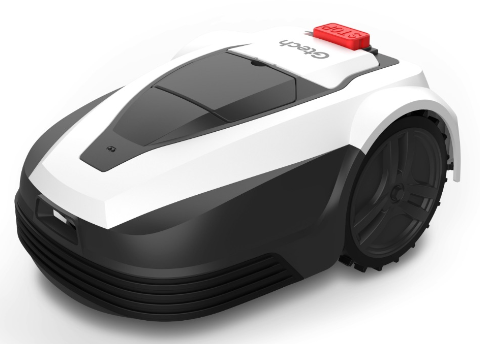 Another Robotic lawnmower that deserves a closer look is the Gtech Robot Lawnmower RLM50 that can be set up to work on different programs and it will mulch up all the grass clipping as well as returning to the docking station automatically for recharging. It can be set to work on specific timings during the day, the noise level is hardly noticeable and it will require a boundary wire perimeter installed before use.
There are 3 different modes to choose from also as well as the ability to cut radically and it is available directly from Gtech in the UK. Finally, it can cover lawn sizes of up to 625m2 and the mowing heights range from 2.5cm up to 5.5cm.
Price Guide: £800 - £950 @ Gtech UK

4, McCulloch ROB S400 Robotic Lawn Mower
The next robotic lawnmower is for lawns up to 400m2 and it's the McCulloch ROB S400 Robotic Lawnmower which has been around for a long time and one thing we liked is the lawn grass growth sensors where it can target specific areas using its build in sensors and program settings.
The slopes it can work on are higher also than many others at 35% and the keypad settings are simple to use without any complications whatsoever. You will need to install the boundary wire perimeter and you get lots of installation tips and information to get you up and running in no time at all.
Price Guide: £650 - £800 @ Amazon

View also: Popular Hedge Trimmers here
5, Gardena Sileno Robotic Mower 500m2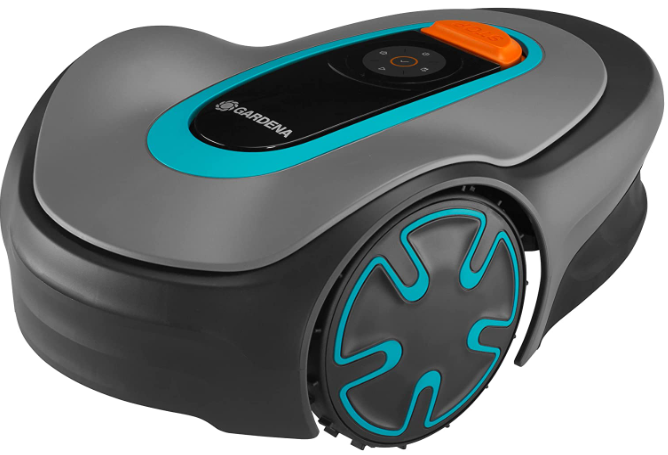 Another brand that has gained increased popularity in recent years is Gardena and their Gardena Sileno Robotic Mower that covers 500m2 is certainly a popular choice. Included in the package is the 150m boundary perimeter wire cable, 150 hook cables, 4 connectors, 5 terminals and of course the docking station for recharging.
It is quite good on smooth to rough terrain as well as slopes and it will take approx. 1-1.5 hours to have it fully recharged once again. You will need to register online to work the Gardena Bluetooth app and it can be programmed, monitored and adjusted where needed.
Price Guide: £700 - £800 @ Amazon

6, Einhell Power X-Change 18V Robotic Lawnmower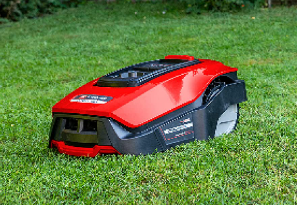 Another robotic lawnmower we liked is from Einhell and it has the LCD screen and App control on the display as well as the theft protection with a warning signal alarm and the pin code activation requirement.
The mowing heights can be adjusted from 2cm to 6cm and the blades work with alternating rotations to give a nice clean cut finish. This robotic lawnmower in particular can work for lawns up to 1200m2 and it includes a brushless motor for extra efficiency and cutting performance.
It also has the multi zone cutting as well as the Bluetooth app control and the cutting width is standard at 18cm wide
Price Guide: £700 - £800 @ Amazon

7, Mowbot 1200 28V 3Ah Robotic Lawnmower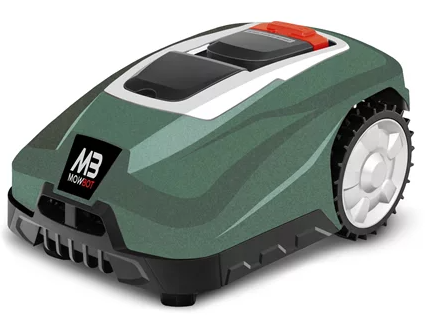 The next robotic lawnmower that we liked is the Mowbot 1200 28V 3Ah Robotic Lawnmower that can cover lawn sizes of up to 1200m2 and it has the UV protection as well as cutting width of 18cm and it can be controlled with Bluetooth using the Mowbot App.
While this model covers 1200m2, there are also other models in their range designed for small lawn sizes of 400m2 and 800m2 so you are not just limited to one size fits all.
Not all suppliers can sell this brand but it is available from Mowers Online in Gloucester which can be checked out further below. Mowing heights range from 2cm to 6cm and it comes backed with a 2 year warranty to protect your investment.
Price Guide : £750 - £850 @ Mowers Online

8, Stiga A 1500 Experience Series Autonomous Robot Mower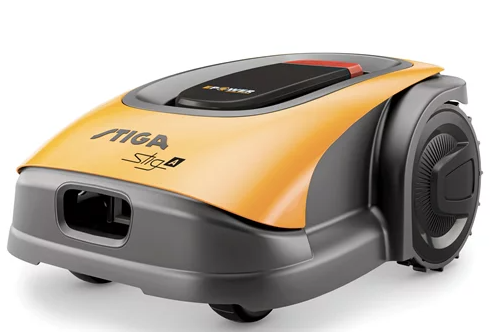 For larger lawns up to 1500m2, you should consider the Stiga A 1500 Experience Series Autonomous Robot Mower which has wireless installation and full remote control via the 4G Stiga app plus the theft alarm, rain sensors and the 4 pivoting blades as standard.
It works with the active guidance system and even the mowing heights can be adjusted using the App. When it senses the rain, it will return to the docking station automatically and it can work on slopes up to 45%. There is no wire boundary required here as the GPS antenna are included in the pack for the predictive satellite mapping of the designated mowing areas.
Price Guide : More Expensive £2k+

Read also: Best Electric UK Lawnmowers
Video Tips - How to Install a Robotic Lawnmower
Video Tips - How to Set Up Robomow Robotic Lawn Mower
Community Feedback
Have you any previous experiences of using Robotic Lawn Mowers in the past?
Then please share your feedback/comments with the UK community (good or bad) by leaving your thoughts in the comment box section below – So that they can learn also!!!
Finally, many thanks for taking the time to visit and best of luck with your final decision