There are several people in Scotland looking for good value cheap Garden Sheds so we have decided to compile a short review list for some of the best value cheap Garden Sheds which are available to be ordered online and delivered to your home specifically in Scotland. Many of these suppliers have businesses throughout the Scottish region and they all offer online deliveries which normally take 5 to 10 working days on average.
In cases where stock is in higher demand, you could have to wait up to 21 days for a home delivery so it is advisable to book your stock well in advance to avoid disappointment – other deliveries then can just be a few working days.
Read also: Popular Wheelbarrows here
Metal or Wood
If the cheapest Garden Shed is what you are after, then the cheapest Garden sheds tend to be the metal type Garden shed but we have included some wooden Garden Sheds also in the mix for those of you who prefer a wooden Shed over a metal Garden Shed. Even though the metal sheds are lower priced, there is also the advantage that you don't need to worry about wood eating insects when choosing a metal garden shed.
The disadvantage then is that the cheapest metal Garden Sheds don't tend to come with any floors as the ground surface be it tarmac or concrete acts as the actual floor surface (making it cheaper again for you the end consumer)
Tools for Assembly
As a guide, the types of tools required when taking on the build of these Garden sheds are a Philips head cordless drill and a Philips head screwdriver as well as a small 6ft to 8ft step ladder. You should make sure to use durable heavy duty gloves especially when assembling metal garden sheds and have a measuring tape to ensure all the parts match up in their exact frame locations.
Lay out all the parts into their separate sections and plan to build on a solid surface such as concrete or tarmac. One last tool that will come in handy is a carpenters square so make sure to have all the tools in place prior to assembly so that it can be completed as quickly as possible.
Price Guides
As guide prices can only be published at the time of this review, please make sure to view the price checkers provided below which will help ensure you have the most accurate up to date price information. Prices can change regularly due to local promotional or discount activities so we have given our best price guide estimations based on the latest prices that we have seen.
Read also: List of best Garden Shears here
Video Demo - Metal Garden Shed Assembly - Yardmaster
Cheap Garden Sheds in Scotland – 7 Recommendations (Metal & Wood)
Option 1: Yardmaster Metal Garden Shed – 6ft x 4ft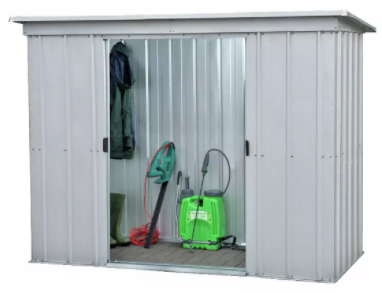 Main Points to Note:
Budget type small metal shed
Pent roof type for garden tools & bikes
2 sliding doors for easy access
Width of door opening is 80cm
Includes air ventilation slots
Parts are predrilled for easy assembly
No floor provided so build on a solid base
Examples paving, concrete, tarmac or slabs
Anchor fittings kit is provided
Anchor points are predrilled also
Avoid placing directly on soil or grass
Wear working type gloves when assembling
Weather resistant with a galvanised finish
10 year UK anti-rust guarantee
Price Guide: Less than £200 @ Argos

Option 2: Arrow Apex Metal Garden Shed – 8ft x 6ft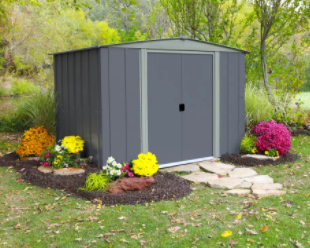 Main Points to Note:
Comes in a dark grey coloured finish
Slightly larger frame of 8 ft by 6 ft
Resistant to rust and corrosion
Can be painted with other colours later
Made from treated galvanised steel
Access using the sliding doors
Handles can be padlocked for security
All parts are predrilled for assembly
All panels are pre-cut to size
Floor not included so build on solid base
Examples paving, concrete or tarmac
Zero rust with polyester enamel finish
Anchor kit is sold separately
12 year rust free guarantee
Price Guide: £150 to £200

Option 3: Arrow Tall Metal Green Garden Shed – 8ft x 6ft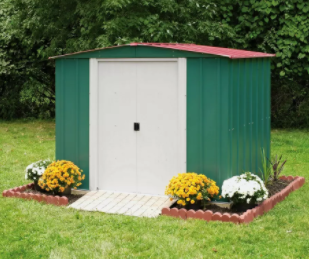 Main Points to Note:
2 tone coloured finish from Arrow
Requires 2 people for assembly
Build on a solid base (no floor included)
Examples are paving slabs or concrete
Anchor kit is sold separately
Needs to be anchored down securely
Anchor points are predrilled
All panels are pre-cut to required sizes
Easy to follow assembly instructions
Double sliding access doors
Made with galvanised steel
Resistant to rust and corrosion
Maximum internal height 1.85m
12 year manufacturer's anti-rust guarantee
Price Guide: £280 - £330

Option 4: Mercia Overlap Reverse Apex Wood Shed – 6ft x 4ft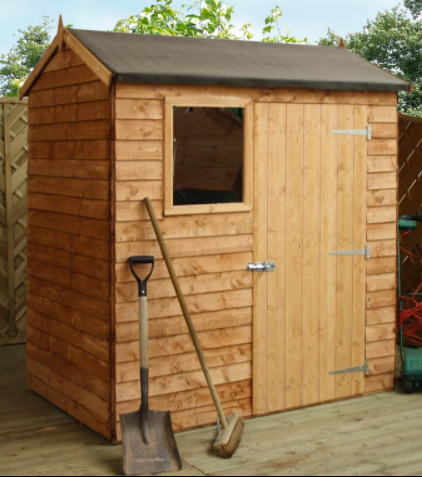 Main Points to Note:
Small wooden type garden shed
Ideal for small spaces or compact spaces
FSC certified sourced timber
Order lead-time can be 2 to 3 weeks
Made in the UK to support your own
Fixed Styrene glazed windows
Waterproof roofing felt covering
Requires self-assembly at home
Assembled using overlap cladding
Conditional 10 year anti-rot guarantee
Requires an annual re-treatment
Made from solid sheet boards
Floor base included in build design
Boxes are delivered flat packed
Price Guide: £250 - £350 @ Homebase

Option 5: Outsunny Garden Metal Treated Storage Shed – 9ft x 6ft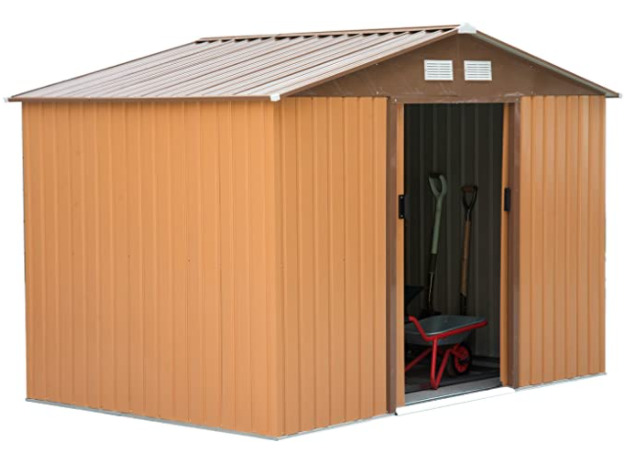 Main Points to Note:
Larger frame size of 9 ft by 6 ft
Assembly service is an optional extra
Ventilation slots for air circulation
Apex designed metal roof
Sliding double door accessibility
Use heavy duty assembling gloves
Assembly can take 3 to 5 hours
2 people are required for the frame
Colour type is a brown Khaki
Ideal for bikes and mixed garden tools
Galvanised metal for rust protection
Anti-rust metal paint can be applied later
Vents slots at the front and back
Indoor floor foundation included
Price Guide: Less than £400 @ Amazon

Option 6: Duramax Eco Galvanized Metal Garden Shed- 6ft x 6ft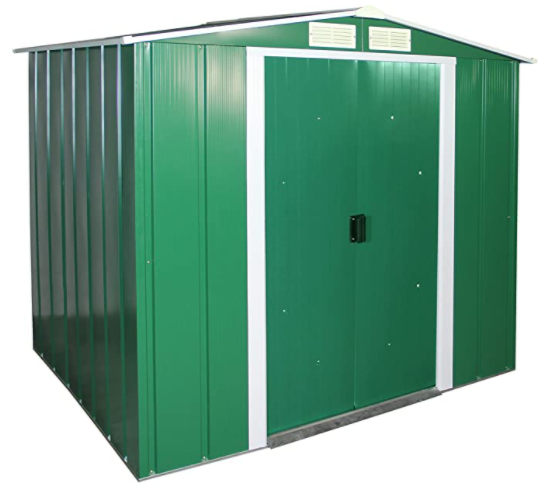 Main Points to Note:
Adequate frame size of 6ft by 6ft
Dark green colour finish with white trim
Requires heavy duty assembly gloves
Also requires 2 person assembly
All parts are predrilled and enamel painted
Made with hot dipped galvanised metal
Weatherproof resistant to rust and corrosion
Anti-rust metal paints can be applied later
Fade free & 15 year anti rust warranty
Assembly support optional extra
Dimensions are 1.8H x 2W x 1.8Dm
Durable metal roof Truss, panels & exit ramp
Double sliding door accessibility
Air circulation vents on both sides
Price Guide: £250 to £350 @ Amazon

Option 7: Shire Overlap Wooden Value Garden Shed – 6ft x 4ft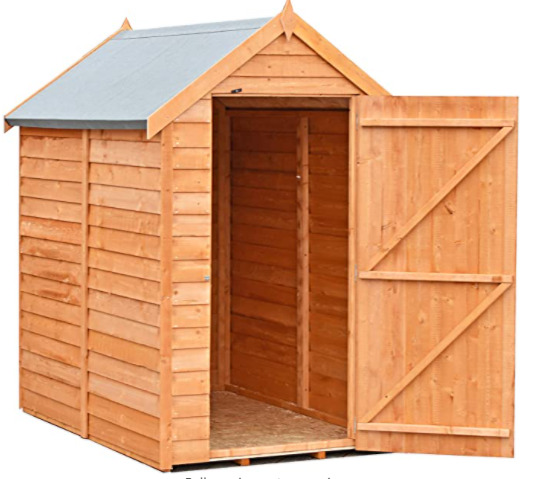 Main Points to Note:
Budget type small wood garden shed
Ideal for people seeking lowest prices
Assembly services are an optional extra
Made in the UK – you can support your own
Manufactured using overlap pine boards
Timber used is FSC certified sourced
Single door access and floor frame
Requires a 2 person assembly support
European pine cladding boards
Roof and floor are solid sheet OSB
Padlock can be added (not included)
Basecoat treated already applied
Will require a wood stain after assembly
Annual treatment maintenance required
No windows included for security
Price Guide:  £300 - £350

View also: List of best Weed and Slug treatments here
Conclusion
After completing this review list of cheap Garden Sheds for the people of Scotland, we hope you found this researched review useful in some small way and perhaps given you some ideas to think about. We have included both metal and wood Garden Sheds so it really depends on how much you have to spend at the end of the day.
If you want the absolute cheapest price, then the earlier metal Garden sheds outlined above without the floor foundations will do the trick for you and if you want the cheapest wooden Garden Shed, then you really are looking at the smaller frame sizes of just 6ft by 4ft so there will be limitations when it comes to storage capabilities.
Either way, best of luck with your final decision and thanks for taking the time to visit our review list which hopefully can save you some money in he process. Further shed option, prices, review and images can be checked out below

Optional Feedback – Educate Others
Did you find this short list of cheap Garden Sheds useful in any way? Or do you know of cheaper options elsewhere?
If possible, please feel free to educate the wider Scottish community by leaving your opinions or feedback in the comment box section provided below…